'Foundation' showrunner prepares audience for ambitious Apple TV+ series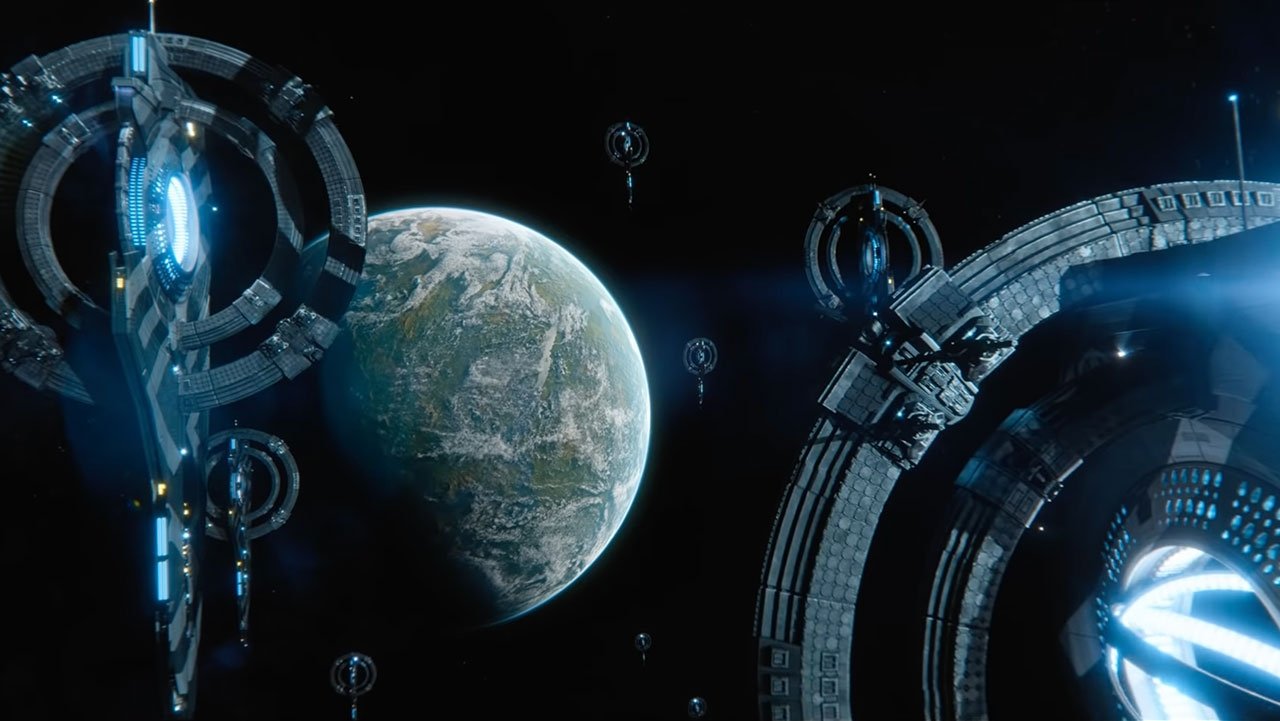 AppleInsider is supported by its audience and may earn commission as an Amazon Associate and affiliate partner on qualifying purchases. These affiliate partnerships do not influence our editorial content.
Apple TV+ original "Foundation" will in many ways be the service's most ambitious series to date, with a thousand-year galaxy-scale sci-fi tale told through expert screenwriting, deft acting and, of course, copious special effects.
On Monday, Apple released a second trailer for "Foundation" and set a firm air date for Sept. 24. Ahead of the series premiere, showrunner David S. Goyer, known for his work on the the "Dark Knight" and "Blade" trilogies, walks viewers through the teaser and offers background on approaching the epic Issac Asimov adaptation.
In an interview with Entertainment Weekly, Goyer explained the foundation of "Foundation," a story about an eponymous institute created by "psychohistorian" Hari Seldon (Jarred Harris) during the decline of the 12,000-year-old Galactic Empire. Seldon, who predicted the fall of civilization by analyzing complex calculus, places hope in the Foundation to ameliorate a pending dark age by collecting and preserving human knowledge.
"When Asimov was writing [the books], his family, they were Jews, immigrated from Russia before World War II, but they saw that things were getting bad with the rise of Nazism," Goyer said. "He was wondering why this terrible thing happened with the Holocaust. If we look back through history, could we have prevented it from happening? There were a lot of antecedents leading up to the Holocaust going back generations and generations. Asimov responded to the idea of, how do we prevent these things from happening again? Humanity seems like it keeps falling into the same trap."
The trailer opens with a shot of Brother Dusk (Terrence Mann), a member of the Cleon Genetic Dynasty, who is witnessing the birth of his clone. Dusk is the eldest of three clones who, together, rule the Galactic Empire.
"They raise each other," Goyer said. "They call each other brothers, but they're not exactly brothers. They relate to one another as father and grandfather, but they're not exactly that. When they see an older version of themselves, they literally know what they're going to look like when they get to that age. There's reassurance in that, but they also hate each other because of it. Even though they're the most powerful guys in the galaxy, each one of them desperately wants to prove that they're unique, even though there's been 14 of them before. They're all living in the shadow of the first."
Seldon is introduced by the empire as a rebel who threatens the balance of power.
"No one understands his mathematics. They know he's really smart, but they don't know whether he's lying or not. And that's what makes the empire really nervous," Goyer adds. "That's why they reach out to Gaal."
Gaal (Lou Llobell) is a rising mathematician invited to join the psychohistory project and who, in Asimov's series, becomes Seldon's biographer.
"One of the things that I'm excited to explore with [Seldon's] character is what it takes to be a person who realizes the world's going to end in a really bad way, realizes he has to break that news to everyone, and realizes that none of those people can be saved. It's going to be their grandchildren and their great-grandchildren," Goyer said. "How does he try to get people on board to build something that'll be beyond their lifetime? So, he's got this incredibly heavy weight on his shoulders and this burden of like, 'I'm just telling you what the math is. Don't blame the messenger,' which of course everyone wants to do."
Goyer goes on to liken Seldon's work with that of Dr. Anthony Fauci during President Trump's term in office.
"You're entertaining people first and maybe getting them to think about things after the fact, whether it's global warming, whether it's globalization, whether it's Brexit, whether it's the polarization of what's happening in America today," Goyer continues. "The irony is they are not new upheavals. They're upheavals that have happened again and again and again throughout society going back tens of thousands of years. An optimist would say, 'Hey, the cycles happened before. Can we learn anything from it?' In a way, that's what the show's about."
"Foundation" doesn't skimp on visuals. The trailer shows austere landscapes and exotic environments, some of which are underwater. According to the report, the series was filmed across six different countries.
"I was determined that we really went to these places," he says. "It's a show I wanted to be very textural. We went to the Canary Islands, we went to Berlin, we went to Malta, and we went to Iceland. The proof is in the pudding. The shoot was incredibly arduous. It's the hardest shoot that I've ever been involved in, but I really believe as much as possible in doing things for real and having as many real elements as possible. So when you see these sumptuous locales in episode 1 and episode 3, we weren't faking it."
Keep up with everything Apple in the weekly AppleInsider Podcast — and get a fast news update from AppleInsider Daily. Just say, "Hey, Siri," to your HomePod mini and ask for these podcasts, and our latest HomeKit Insider episode too.

If you want an ad-free main AppleInsider Podcast experience, you can support the AppleInsider podcast by subscribing for $5 per month through Apple's Podcasts app, or via Patreon if you prefer any other podcast player.