Each Twitter Super Follow gets its own in-app purchase SKU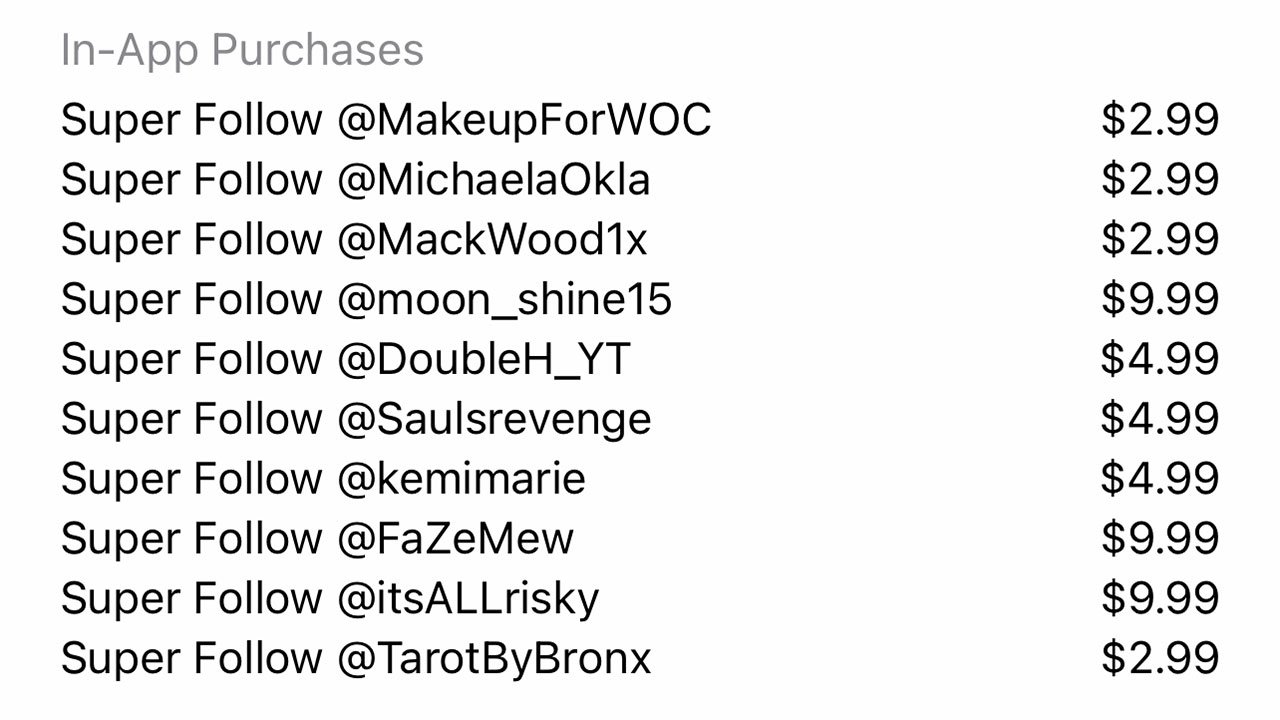 More details about Twitter's new Super Follows feature are coming to light, with reports on Friday noting the company is creating a unique SKU for every account using the feature.
First spotted by researcher Jane Manchun Wong, Twitter appears to be generating separate SKUs for account holders using the new Super Follows feature, with each viewed by the App Store as a distinct in-app purchase.
"Each Super Follow is an In-App Purchase on the App Store, but because there are too many IAPs for the Twitter app, the App Store only shows 10 instead of the full list," Wong said in a tweet Friday.
Wong references Twitter's App Store product page, which shows the top ten most popular in-app purchases. Because Super Followers are handled like discrete IAPs, and the App Store prioritizes SKUs based on popularity, the current list is populated by individual accounts that have activated the feature.
As noted by Daring Fireball's John Gruber, the solution reveals granular data about the service to Apple, information Twitter might want to keep private.
Twitter could also hit Apple's cap for IAP SKUs. While mere conjecture, the App Store limitation is potentially one reason why Super Follows is currently restricted to a select number of users in the U.S. and Canada.
Super Follows launched on Thursday as Twitter's latest attempt at direct monetization.
Account holders can charge followers $2.99, $4.99 or $9.99 per month for exclusive access to tweets, behind-the-scenes content, private conversations and more. Creators retain 97% of proceeds until total revenue hits $50,000, at which point the rate drops to 80% after in-app purchase fees. The feature is available to accounts with at least 10,000 followers, though slots are limited and there is a waiting list.
For now, Super Follows must be purchased through Twitter's iOS app. Subscriptions are tied to accounts, however, meaning users can access exclusive Super Follows content on other platforms.