Moment expands accessory range to iPhone 13, AirPods, Apple Watch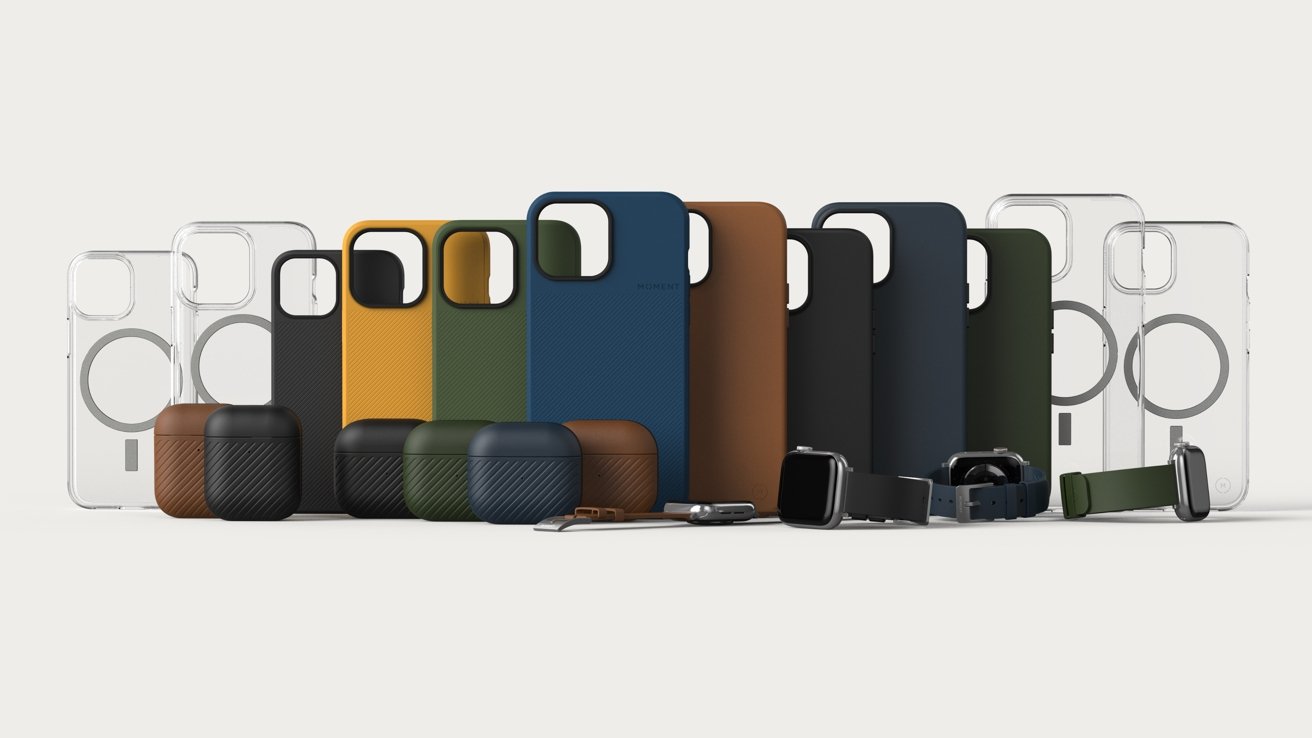 AppleInsider is supported by its audience and may earn commission as an Amazon Associate and affiliate partner on qualifying purchases. These affiliate partnerships do not influence our editorial content.
Moment has expanded its accessory offerings beyond just iPhone cases with a full lineup including Apple Watch straps, AirPods cases, and new case styles for iPhone 13.
Apple Watch
For the first time, Moment is offering new Apple Watch bands that were "designed for creatives" and can be dressed up or beat up.
They are made of an ultra-soft leather and sized for the larger sizes of Apple Watch — i.e. 42mm, 44mm, and 45mm. That includes the new Apple Watch series 7.
The bands will get better with age as they develop their own patina unique to their wearer. The inner side is embossed which helps provide ventilation for added comfort during extended wear.
They come with polished stainless steel hardware and black, Cognac, Olive Green, Indigo Blue colors of leather.
Moment also introduced a thin leather band that is compatible with the 38mm, 40mm, and 41mm models for a more slender look. It is available in the same color options.
The new bands are priced at $49.99.
iPhone
For iPhone, Moment has updated its popular slim case for the iPhone 13. These everyday cases include Moment's (M)Force magnets to work with MagSafe, an optional Moment lens mount, and six feet of drop protection. They can also work with a lanyard. It comes in black, Olive Green, Yellow, & Indigo Blue
To go with the classic case, Moment has developed its own leather case as well as a clear case.
The clear case has six feet of drop protection, an anti-scratch coating on the outside, and is Moment's thinnest MagSafe case at only 1.9mm thick. Both the classic case and the clear case are priced at $49.99.
Then the leather case, which is available in black, Olive Green, Yellow, & Indigo Blue as well, has a premium leather exterior, soft microfiber lining, and still six feet of drop protection. It costs a bit more at $59.99.
AirPods
With AirPods, Moment is offering slim cases to match its other accessories. They are made from a durable polycarbonate shell, wrapped in premium leather.
They have an integrated anchor to connect a wrist strap or lanyard and have a soft microfiber lining to protect your earbuds. They retain wireless charging support and allows the cases to stand up on their edge, instead of being stuck flat.
You can grab these for $39.99 in the same colors as Moment's leather cases and bands for both AirPods and AirPods Pro.
Available to order
All of Moment's new gear is backed by a two-year warranty and ships in 100 percent post-consumer recycled packaging.
You can shop for any of the new products on Moment's website. Some are available now while some are available to preorder.