Original iPad mini versus iPad mini 6 - how far we've come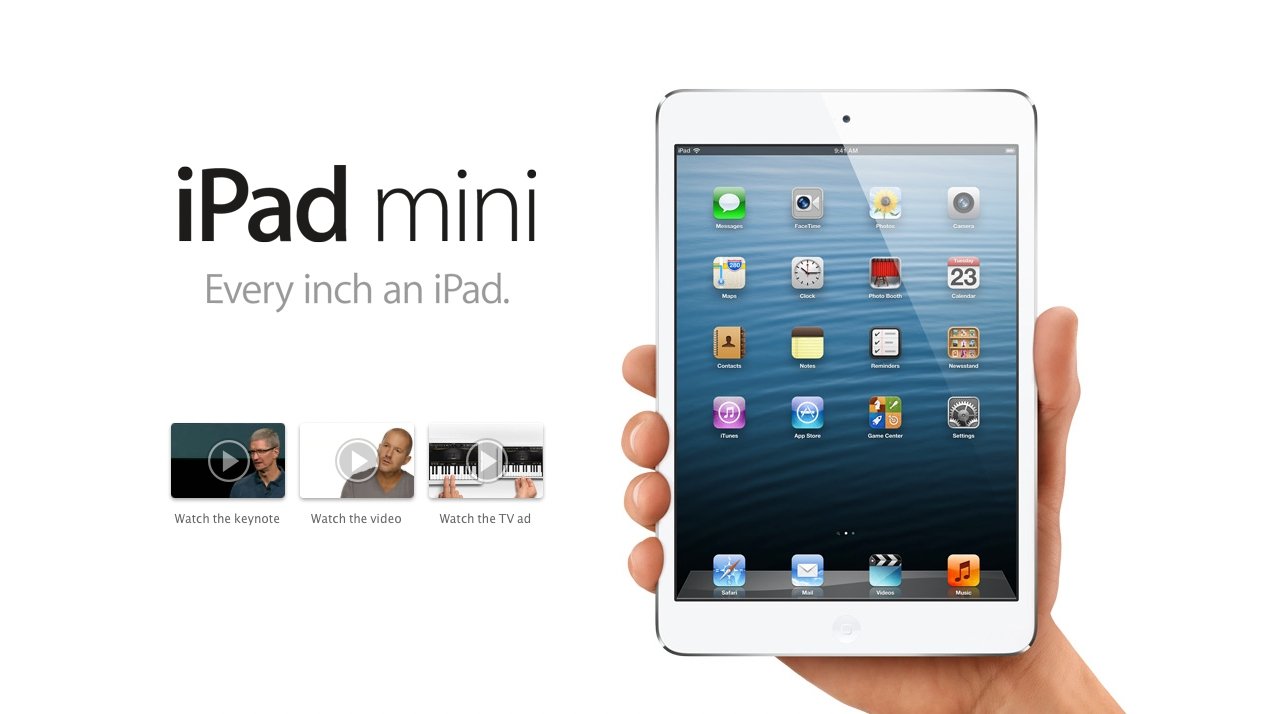 AppleInsider may earn an affiliate commission on purchases made through links on our site.
Over nine years, Apple has released six versions of the iPad mini, and taken it from a cut-down iPad in both price and features, to a premium device.
The new iPad mini 6 is faster than the latest iPad, or the iPad Air 4. It has a better camera than that iPad Air, plus both the same USB-C connector and the same 5G connectivity as the iPad Pro.
Apple's 2021 iPad mini is a powerhouse that could be the only device you need. Apple's 2012 iPad mini was none of that.
"iPad mini is every inch an iPad," said Apple's Phil Schiller in a statement in 2012. "With its gorgeous 7.9-inch display, iPad mini features the same number of pixels as the original iPad and iPad 2, so you can run more than 275,000 apps designed specifically for iPad.
"iPad mini is as thin as a pencil and as light as a pad of paper," he continued, "yet packs a fast A5 chip, FaceTime HD and 5 megapixel iSight cameras and ultrafast wirelessall while delivering up to 10 hours of battery life."
Original iPad mini versus iPad mini 6 - Size, scale and price
Apple could talk up the specifications all it wanted, what the iPad mini originally offered was a small size, and a slightly smaller price tag. The iPad 4, released at the same time, started at $499, while that original iPad mini went for $329.
Today the price difference is literally reversed. The iPad mini 6 starts at $499, and the newest iPad is from $329.
But what's changed more dramatically is that the iPad mini is no longer a cut down iPad, no more a cheaper one, designed to get customers who couldn't or wouldn't afford a full iPad. Instead, it's a device of its own, practically a category of its own.
And in getting there through six iterations over nearly a decade, it has steadily seen each key specification improve as the iPad mini became more popular.
Comparing the original and 6th generation iPad mini
| | Original iPad mini | iPad mini 6 |
| --- | --- | --- |
| Year | 2012 | 2021 |
| Price (starting) | $329 | $499 |
| Dimensions (inches) | 7.87 x 5.3 x 0.28 | 7.69 x 5.3 x 0.25 |
| Weight (pounds) Wi-Fi only) | 0.68 | 0.65 |
| Weight (pounds) (Cellular) | 0.69 | 0.66 |
| Processor | Dual-core A5 | A15 Bionic |
| Storage | 16GB, 32GB, 64GB | 64GB, 256GB |
| Display Type | 7.9-inch | 8.3-inch Liquid Retina with True Tone, 500 nits brightness |
| Resolution | 1024 x 768 at 163ppi | 2266 x 1488 at 326ppi |
| Connectivity | 802.11n, Bluetooth 4.0. | 5G (sub-6 GHz), Gigabit LTE, Wi-Fi 6, Bluetooth 5 |
| Battery | Up to 10 hours | Up to 10 hours |
| Rear camera | 5MP | 12MP Wide, f/1.8 aperture, 5x digital zoom, Smart HDR for photos, Quad-LED True Tone flash |
| Rear camera video | 1080p HD video | 4K at 24fps, 25fps, 30fps, 60fps, or 1080p HD at 25fps, 30fps, 60fps; 3x zoom; Slow-Mo 1080p at 120fps or 240fps; extended dynamic range for video up to 30 fps |
| Front camera | 1.2MP | 12MP Ultra Wide, f/2.4 aperture, Retina Flash, Smart HRD 3 for photos |
| Front camera video | 720p HD | 1080p HD video at 25, 30, or 60 fps |
| Center Stage | No | Yes |
| Connector | Lightning | USB-C |
| Apple Pencil support | No | Second Generation |
| Audio | Stereo speakers; 3.5mm headphone | Two speaker audio landscape mode |
| Touch ID | No | Yes |
| Colors | Black & Slate, White & Silver | Space Gray, Pink, Purple, Starlight |
Original iPad mini versus iPad mini 6 - Display changes
Schiller could call the original iPad mini display "gorgeous," and mean it at the time, but now you wouldn't look at it. While it was 7.9 inches, and every model since up to the latest has remained that size, nothing else is the same.
It began with a 1024 x 768 resolution screen, at 163ppi. The new model has increased the screen size to 8.3 inches, but it's also bumped up the resolution to 2266 x 1488, at 326ppi.
So the new screen is twice the resolution in almost every respect. But it's also now a Liquid Retina display with True Tone, the same technology used in the higher end iPad Air, and iPad Pro.
Original iPad mini versus iPad mini 6 - Case changes
The physical size of the iPad mini has remained remarkably constant, as if Apple hit the sweet spot right out of the gate. The original one was 0.28 inches deep, and the iPad mini 6 is only 0.25 inches for instance.
There was a more noticeable difference by the time of the iPad mini 5. That had a height of 8.0 inches, where the original was 7.87 inches.
But despite having a larger screen area, the new iPad 6 has more than pulled back the chassis dimensions. It's now 7.69 inches high.
The overall width has remained steadily at 5.3 inches. So in most respects, the original iPad mini is very similar to the new one, unless you look at the screen.
Or unless you spot the now long-forgotten 3.5mm headphone jack. There are still speakers, though until AppleInsider has finished testing the iPad mini 6, we won't know just what a difference the sound has.
Apple says that the new model provides "two speaker audio landscape mode," but the original had stereo speakers too.
Original iPad mini versus iPad mini 6 - Processor and connectivity
Apple's original iPad mini packed "a fast A5 chip," but even in 2012, the regular iPad was on the A6X processor. Today's new model is the A15 Bionic, the same as in the iPhone 13 range.
That A5 processor powered a rear camera that was 5MP and could shoot 1080p video. Today's rear camera is a 12MP wide one, with Quad-LED True Tone flash, and the ability to record 4K video at up to 60 frames per second.
And if there is one feature that marks the original iPad mini out as an antique, it's the front-facing camera. While Apple called it a FaceTime HD one — and kept using that term for years — it was just a 1.2MP one.
Small is beautiful
Apple's original advertising line for the iPad mini in 2012 was, "Every inch an iPad." All of the marketing was around how "there's less of it, but no less to it."
Now it's "mega power" and "mini sized." And while it is described as having "the magic of iPad... in the palm of your hand," Apple calls it "a device unlike any other."
The price means this will no longer appeal to entry-level customers. The combination of a lower cost and a bigger screen is likely to keep the regular iPad being the most popular model.
First you bought iPad mini as a cut-down iPad, then when the prices flipped around, you were paying extra for that smaller size.
Now you're paying extra for a small device that is extraordinarily capable.