iPhone 12 mini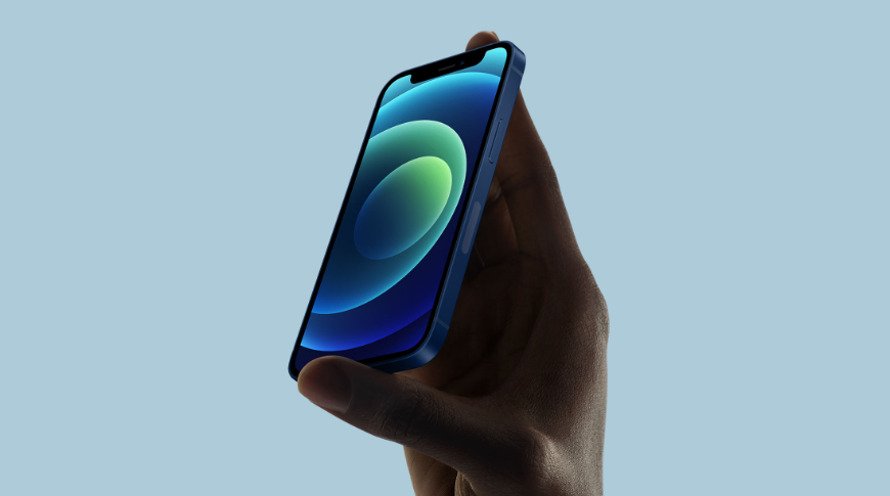 The iPhone 12 mini is the smallest of four iPhone models Apple revealed in its October 2020 "Hi, Speed" event. It has a 5.4-inch Super Retina XDR display, the A14 Bionic processor, and a dual-camera system.
● Smallest of four 2020 iPhones
● 5.4-inch Super Retina XDR display
● 5G
● A14 Bionic chip
● Starts at $699
---
Apple launched the iPhone 12 mini as the smallest of four distinct models at its October 13 "Hi, Speed" event. The new iPhones differentiate themselves with screen size, camera technology, and materials. The smaller of the two non-pro models, it has a 5.4-inch Super Retina XDR OLED display with a dual-camera system and 5G connectivity.
Apple announced the iPhone 12 mini on October 13, 2020, and it went up for pre-order on November 6. It and the iPhone 12 replace the old iPhone 11, with a smaller display at 5.4-inches compared to the iPhone 11's 6.1-inch display. It's also larger than the current iPhone SE's 4.7-inch screen, with a similar footprint to that device.
Apart from screen size, the handset is effectively the same as the iPhone 12. The handsets have flat sides, instead of the rounded edges found on previous flagship iPhones. It continues to made of glass and aluminum.
Some analysts believe the new design and 5G may cause another iPhone 6-like super cycle of demand. Early demand sparked analysts to double down on that prediction.
iPhone 12 mini Features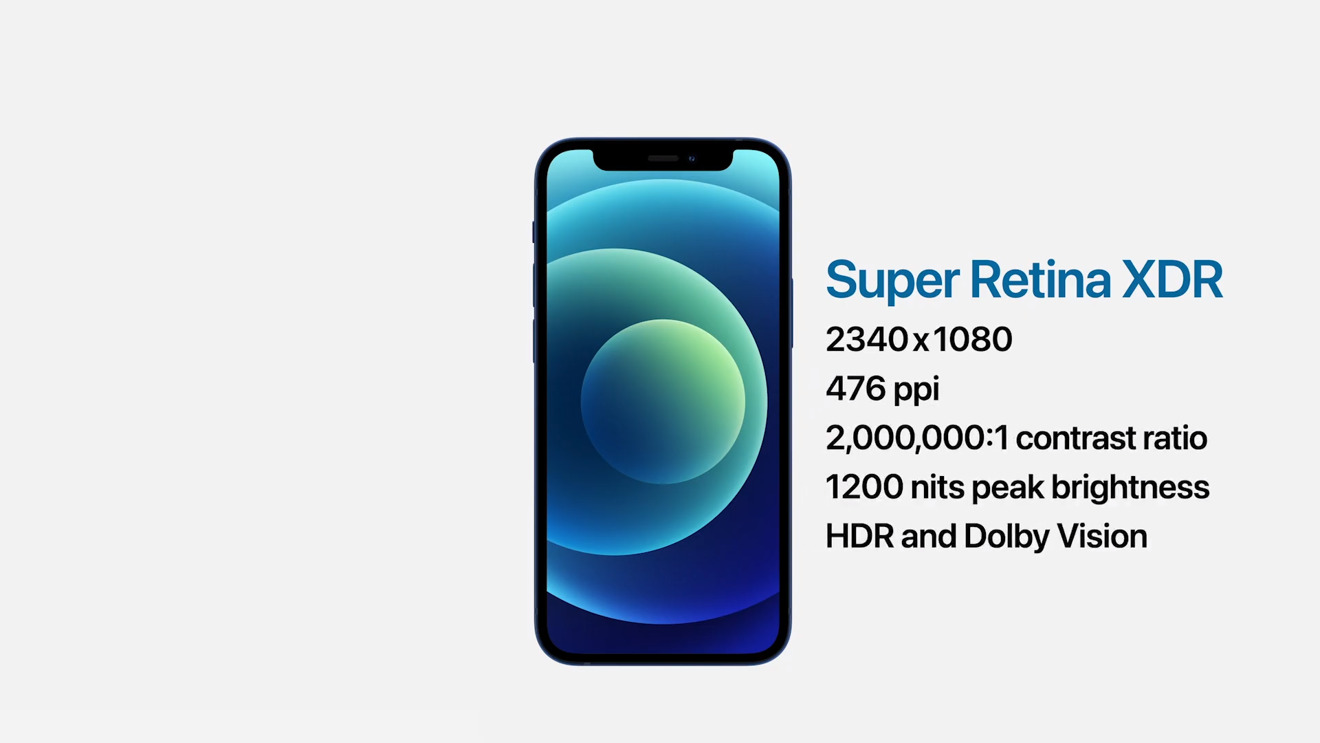 There are four models in the fall 2020 lineup, and two occupy the non-pro space for the first time. This smallest model has a 5.4-inch OLED display with a dual-camera system. The larger iPhone 12 is a 6.1-inch model that replaces the current iPhone 11.
"[The phone] fits in the palm of your hand while still keeping the expansive edge-to-edge Super Retina XDR display," said Kaiann Drance, vice president, iPhone Product Marketing. "It's smaller and lighter than our 4.7 inch models like iPhone 8, but with a larger 5.4 inch display that lets you see so much more with its compact size."
The small handset has 5G connectivity, including mmWave tech.
Design
After three years of using the iPhone X design, Apple changed some characteristics of its entire lineup in its fall 2020 lineup. While it has the same edge-to-edge screen with a notch, an old design paradigm returned in the 2020 models by making the sides flat rather than rounded-off. Apple first used this in the iPhone 4, refined it in the iPhone 5, and last utilized it in the original iPhone SE. The flat edges give the new iPhones a distinctive yet classic look and feel.
All four of the 2020 iPhones have these flat sides. The 2018 iPad Pro was the first modern product line to revisit the flat-sided design. The iPad Air 4 followed in its 2020 refresh. With the iPhone 12 lineup following suit, Apple seems to be pushing its entire device lineup to the same design language.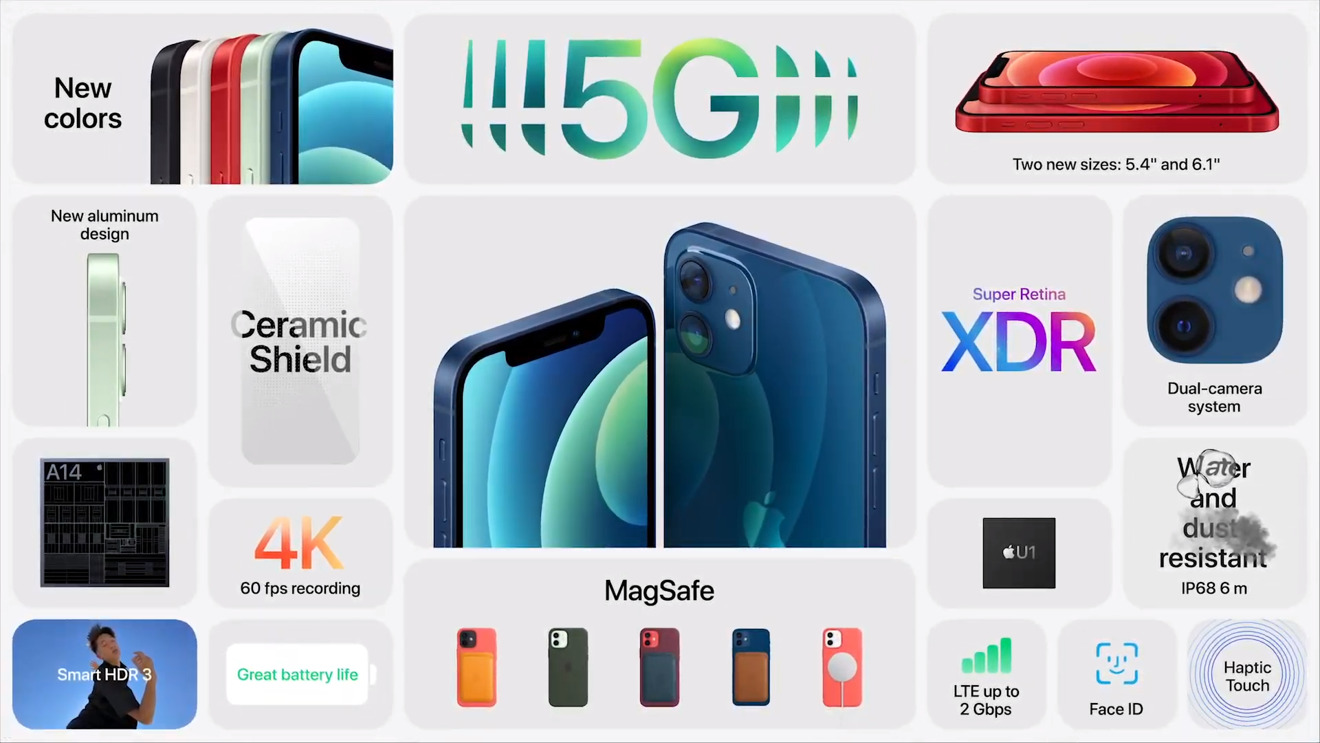 The phone's display is 5.4 inches. The addition of a smaller screen size might appeal to those looking for something with Face ID and the modern all-screen design in a much smaller package.
The handset is available in blue, green, black, white, and (Product)Red.
Display
The iPhone 12 mini has a 5.4-inch Super Retina XDR display with 2340 x 1080 resolution. Its pixel density comes out to 476 ppi.
All four 2020 models have OLED screens, with the non-pro models receiving cheaper displays. Apple is expected to use lower-quality display types to maintain budget pricing while moving to thinner Y-Octa type displays for the premium range.
The new phones uses Apple's Ceramic Shield front cover, which the company developed in partnership with Corning. It adds "a new high temperature crystallization step that grows nano-ceramic crystals within the glass matrix, increasing drop performance by 4x."
Rear Cameras
Apart from some small updates to its processing engine, the rear camera system on the phone is relatively the same as that of the iPhone 11.
That setup includes a dual 12MP camera system with ultra-wide and wide cameras. The ultra-wide camera has a ƒ/2.4 aperture and 120° field of view. The Wide camera has ƒ/1.6 aperture. The two-camera setup allows for 2x optical zooming out. However, the lack of a telephoto lens means zooming in requires digital zoom, which can lead to lower-quality results. Only the pro-level iPhones have a tele lens for optical zoom.
All four of the new models can shoot in Dolby Vision, a kind of HDR used in filmmaking.
Face ID
Processor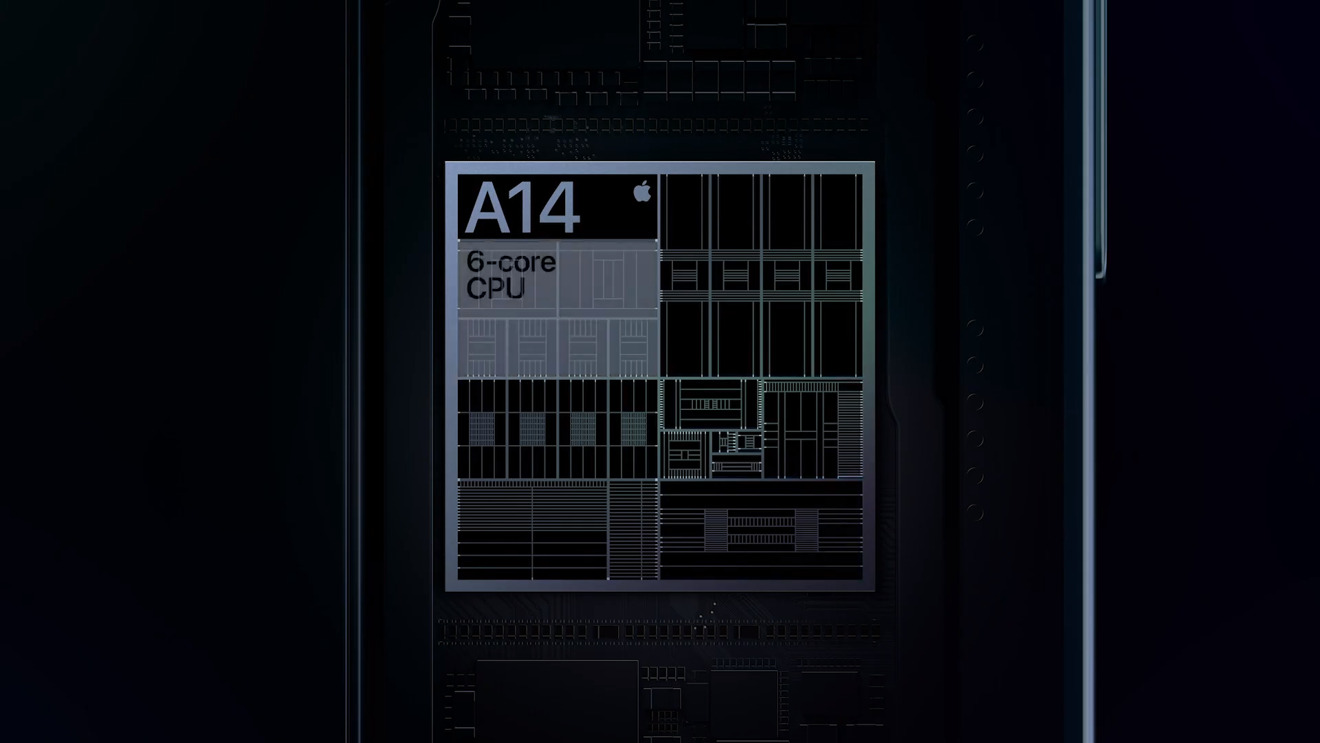 Apple introduced the A14 alongside the iPad Air 4 at its September "Time Flies" event, and the new chip is also inside the iPhone 12 series.
TSMC supplies some of the current A-series processors for Apple using a seven-nanometer process. The company announced a new 6nm process is ready for mass-production as of April 2019, and the 5nm process was in a pre-production phase. It was then no surprise to learn that the A14 Bionic used the 5nm process.
A benchmark for an unknown A-series processor showed up in Geekbench that may be for the A14. This benchmark showed a 50% gain in single-core performance over the A12Z Bionic used in iPad Pros. This benchmark indicates the A14 would also be the first A-series chipset to ever clock over 3GHz.
In 2020, Apple announced that it is moving its Mac processors from Intel to Apple Silicon. The company then launched its first custom Mac processors with the M1 chip in the late-2020 models of the 13-inch MacBook Pro, MacBook Air, and Mac mini. This process won't directly affect iPhone chips, but what Apple learns from producing Mac-class processors will likely trickle down to the mobile line.
5G and Wireless Connectivity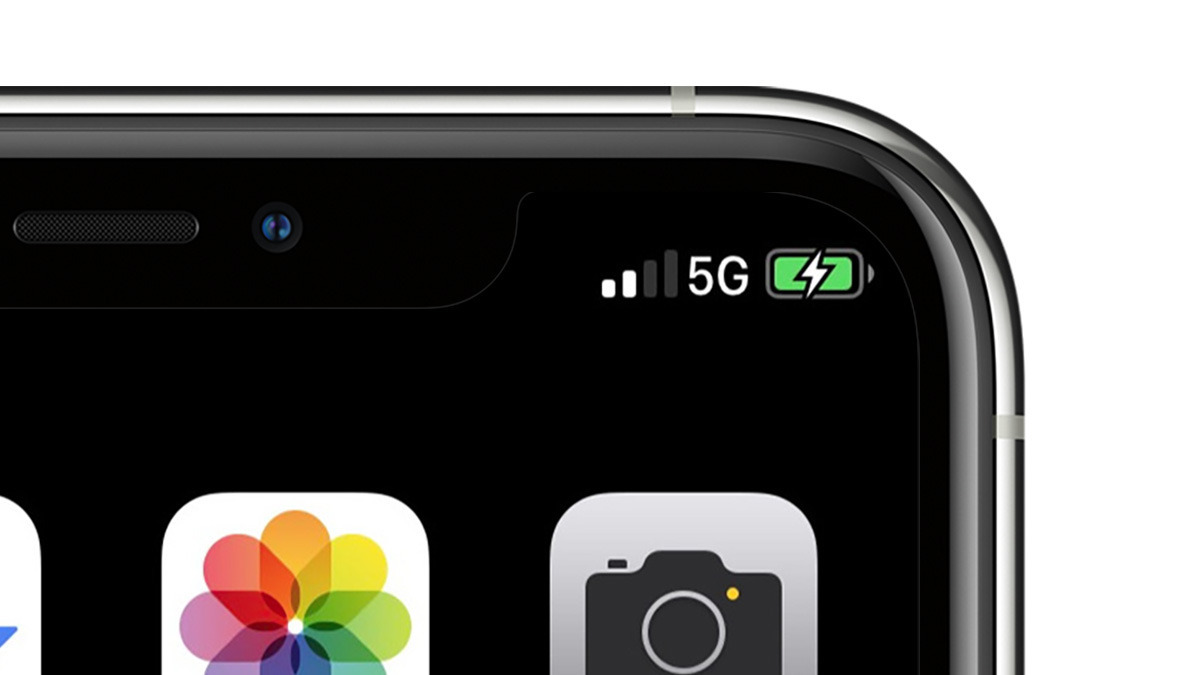 Apple upgraded from 4G LTE to 5G in the next-generation iPhones. After Intel exited the 5G modem business, Qualcomm is now providing the modems in the 2020 iPhones.
Apple may start making modems after acquiring the patents from Intel in a billion-dollar deal. However, the Apple-designed modems wouldn't be ready until 2022 at the earliest.
MagSafe
MagSafe returns for the iPhone 12 lineup. Apple has added a magnetic charging and accessory solution to the new iPhones which allows users to attach and swap cases and other accessories.
MagSafe cases have a special magnetic coil that makes them compatible with other MagSafe accessories. The charger can output up to 15W to the iPhone, and will still charge Qi compatible devices at 7.5W.
Accessories like wallets and stands can be attached via MagSafe as well, which has created a new ecosystem of iPhone accessories.
Size and Weight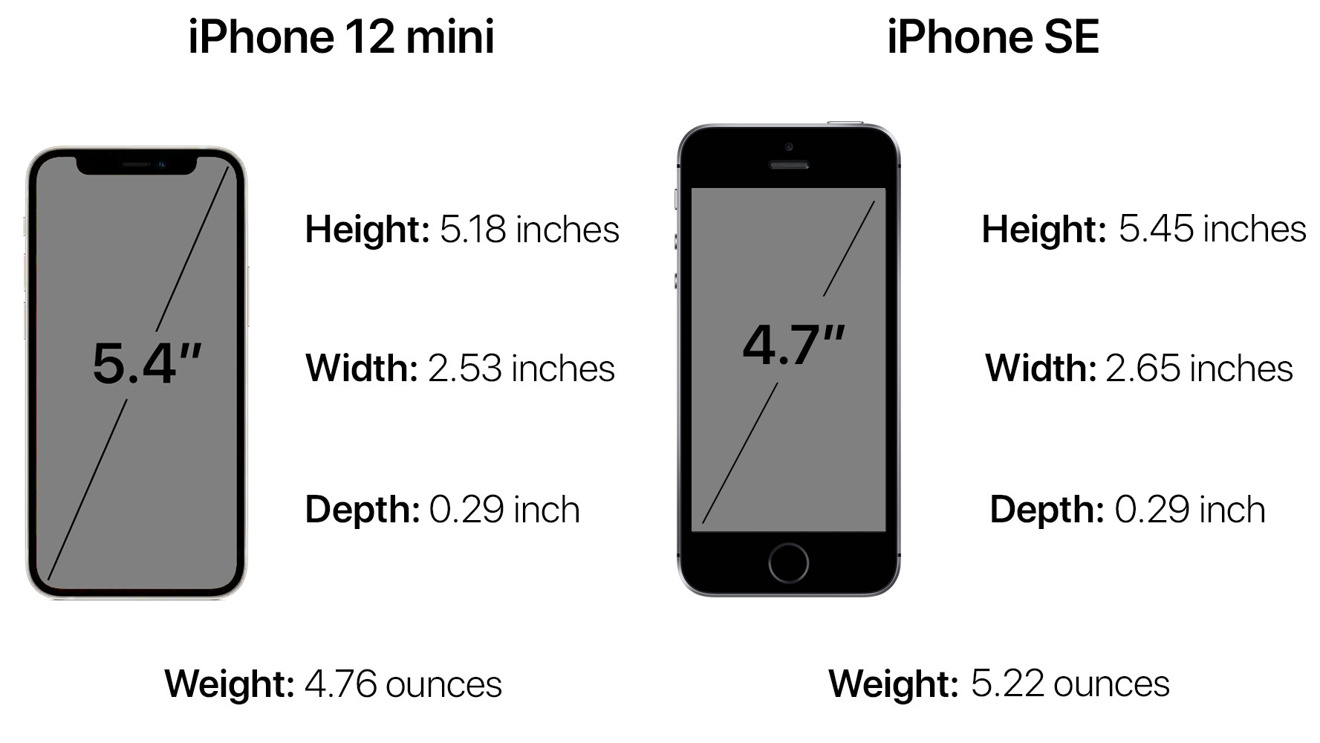 The iPhone 12 mini is the smallest all-screen iPhone Apple has made. Compared to the second-generation iPhone SE, it is 5% shorter, 4.5% narrower, and the same thickness. The new miniature phone is also 8.8% lighter.
However, the iPhone 12 mini has a much bigger display and higher-end internals.
| | Height (mm/inches) | Width (mm/inches) | Depth (mm/inches) | Weight (grams/ounces) |
| --- | --- | --- | --- | --- |
| iPhone 12 mini | 131.5/5.18 | 64.2/2.53 | 7.4/0.29 | 135/4.76 |
| iPhone 12 | 146.7/5.78 | 71.5/2.82 | 7.4/0.29 | 164/5.78 |
| iPhone 12 Pro | 146.7/5.78 | 71.5/2.82 | 7.4/0.29 | 189/6.66 |
| iPhone 12 Pro Max | 160.8/6.33 | 78.1/3.07 | 7.4/0.29 | 228/8.03 |
| iPhone SE (2020) | 138.4/5.45 | 67.3/2.65 | 7.3/0.29 | 148/5.22 |
| iPhone 11 | 150.9/5.94 | 75.7/2.98 | 8.3/0.33 | 194/6.84 |
| iPhone 11 Pro | 144/5.67 | 71.4/2.81 | 8.1/0.32 | 188/6.63 |
| iPhone 11 Pro Max | 158/6.22 | 77.8/3.06 | 8.1/0.32 | 226/7.97 |
| iPhone SE (2016) | 123.8/4.87 | 58.6/2.31 | 7.6/0.3 | 113/3.99 |
Additional Features
iPhone 12 mini review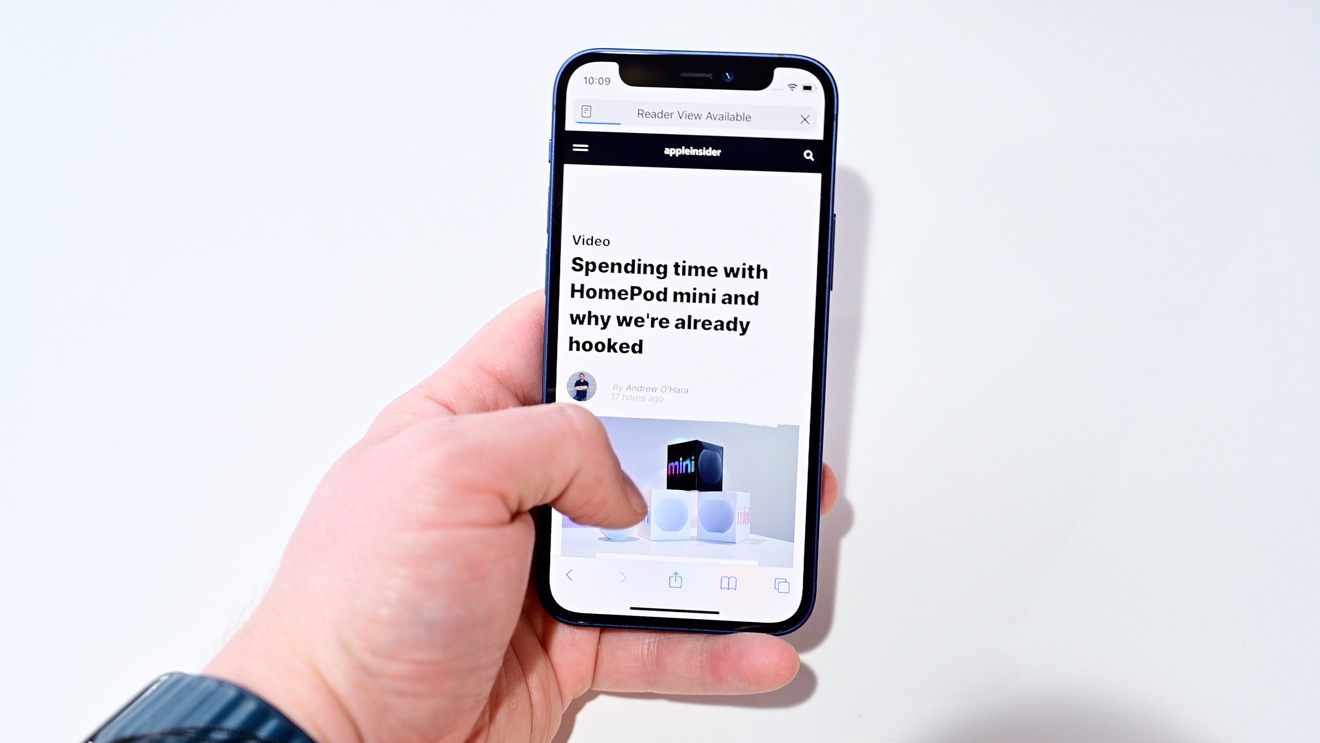 In the AppleInsider review, we were struck by the phone's big power in a small package. We gave it a 4.5 out of 5, praising the handset's compact size, fun colors, MagSafe, and performance. We also noted reservations about its mediocre battery life and lack of telephoto camera.
"The high-end iPhone 12 Pro Max is the unabashed winner in terms of smartphone cameras at the moment, with several noticeable differences. But that doesn't mean the smaller phone's cameras are of poor quality.
"Apple has still boosted the cameras from the iPhone 11. The aperture has widened slightly on the wide, going from f/1.8 to f/1.6. This allows more light to hit the sensor, yielding slightly better low light photos and increased bokeh. The lens covering for the wide-angle also was upgraded with a new seventh element, which helps ensure edge-to-edge sharpness.
"While this isn't the best iPhone camera, it is just as capable as the iPhone 12 and other than the lack of tele lens, very close to the iPhone 12 Pro."
On size and its compromises:
"The first thing we noticed when we picked up the phone is how small it is — in a good way. We come from the max-sized iPhones, so carrying around this tiny handset was something else entirely. We know several people who made the jump (or drop?) down to the mini size this year after Apple failed to release a more compact option generation after generation.
"The non-pro iPhones only have two cameras on the back (wide-angle and ultrawide-angle cameras) and lack the telephoto lens. They also lack LiDAR scanners, a stainless steel body, and support for Apple ProRAW photos.
"They are mildly limited in their Dolby Vision HDR video recording, capped at 30 frames per second rather than 60 frames per second which won't make one bit of difference for most users."
A14 chip and performance:
"Despite its small size, we didn't feel like we were giving up much. It feels as fast and powerful as the larger, more expensive options. It's compact yet mighty. We love how Apple isn't making tradeoffs in performance to fit the small size. We do get less battery life here, but we can live with that."
"Of everything, the only real compromise that we've found is the battery life. With its small size, there is physically less room inside for a larger capacity. Between 5G and the more power-hungry processor, it can take its toll on the phone.
"Apple says that the smaller device can stream video for an hour less than the iPhone 12. That smaller battery in the smaller device also cuts video watching down by two hours and 15 hours less music playback. Our own testing bears this out.
"In our daily use, we were running low by early evening. It was average use — scrolling on Twitter, reading in News and Safari, and using Messages, but we still struggled to make it from the wake-up alarm to the bedtime warning without some supplemental charges.
"We are a bit spoiled but the large battery of our 'max' phones, but it still is likely that you will need to charge at some point during the day. The good news is that seems easier than ever now with the introduction of MagSafe, wireless charging, and USB-C to Lightning fast charging to power up."
iPhone 12 mini Pricing
The handset starts at $699 for 64GB storage. That moves up to $749 for 128GB and $849 for 256GB.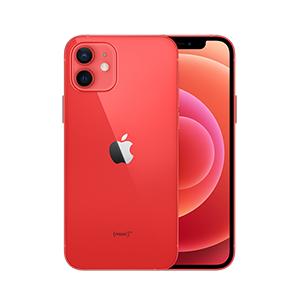 iPhone 12 mini
---