Developer disputes Apple's take on 'FlickType' removal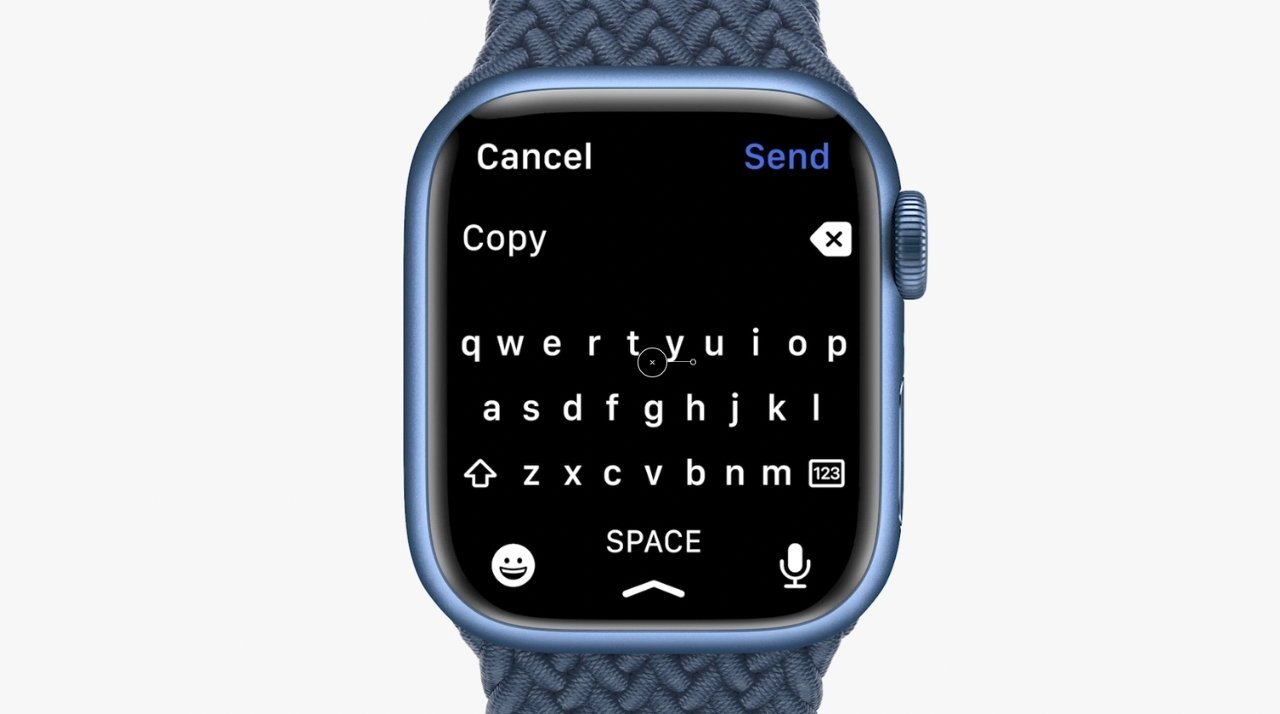 AppleInsider is supported by its audience and may earn commission as an Amazon Associate and affiliate partner on qualifying purchases. These affiliate partnerships do not influence our editorial content.
Kosta Eleftheriou, developer and vocal App Store critic, says it took a year of appeals to get his "FlickType" Apple Watch keyboard approved, with those hard-fought gains potentially wiped clean now that Apple "Sherlocked" the app.
Apple introduced the QuickPath keyboard during the unveiling of Apple Watch Series 7 on Tuesday. The feature displays a full QWERTY keyboard on Watch's diminutive display and allows users to slide a finger to type, with on-device machine learning leveraged to anticipate subsequent words.
FlickType, which was introduced in 2019 and unceremoniously pulled from the App Store for violating then-active guidelines restricting keyboards on Watch, uses a very similar swipe-to-type mechanism and user interface. In response to the introduction of QuickPath, Eleftheriou posted an App Store rejection letter from 2019 to Twitter and referenced an ongoing lawsuit related to the matter.
In a lawsuit filed against Apple in March, Eleftheriou lobbed allegations of fraud, abuse of monopoly power, and enablement of scam apps. As it pertained to FlickType, the developer claims he was approached by Apple over a potential acquisition, but when negotiations stalled, the app was denied for seemingly no apparent reason. FlickType would go on to sustain "repeated, unwarranted, & unreasonable rejections."
Apple in a statement to AppleInsider disagreed with Eleftheriou's retelling, noting that while the app was initially rejected, it fairly quickly allowed an updated version onto the App Store after considering a resubmission that included an explanation of its accessibility functions.
On Thursday, the developer hit back and in a statement to The Verge said it took a year of resubmissions and appeals to get FlickType to users.
"From [January 2019] on, I was simultaneously discussing a FlickType acquisition with them, while also being rejected," he said.
Eleftheriou also expanded on claims regarding Apple's interest in the software. He said that the company's chief keyboard engineer appreciated the app, exclaiming that "Apple should buy this from you" because it "could be a key feature for the watch." The developer demoed the app for the Apple Watch team on Jan. 24, 2019, but that night received a message from Apple saying FlickType would be removed for violating App Store guidelines.
In his lawsuit, Eleftheriou paints a picture of suppression, alleging that Apple continued to reject FlickType to force a sale "at a discount."
For its part, Apple in 2019 revised its guidelines to allow Watch keyboards in light of the larger screen provided by Apple Watch Series 4. The company notes a number of keyboard apps are now available, adding that FlickType was highlighted as one of the top paid apps of 2020.
Eleftheriou has not been appeased, however, and in August discontinued FlickType's iPhone feature for blind users, citing a bungled App Store review. Apple told AppleInsider that it believes the accessibility keyboard falls within its rules and welcomes Eleftheriou to resubmit the app.
That scenario is unlikely to play out, according to the developer's statement to The Verge.
"I will be delighted to bring back the accessible FlickType Keyboard for iPhone when Apple finally fixes their broken 3rd-party keyboard APIs on iOS and allows developers to fairly compete with Apple's own keyboard," he said. "They must also ensure that every single reviewer has basic VoiceOver training - we keep getting rejections due to reviewers not knowing or even understanding how to use VoiceOver."
He goes on to say that he's "really looking forward" to improvements regarding the App Store review process and Apple's keyboard API, which has "countless" issues. FlickType VoiceOver will be resubmitted once Apple makes progress in those areas. He also calls on Apple to enable developer access to their respective rejection histories.