Native Union Snap 2-in-1 magnetic charging stand review: An Apple user's companion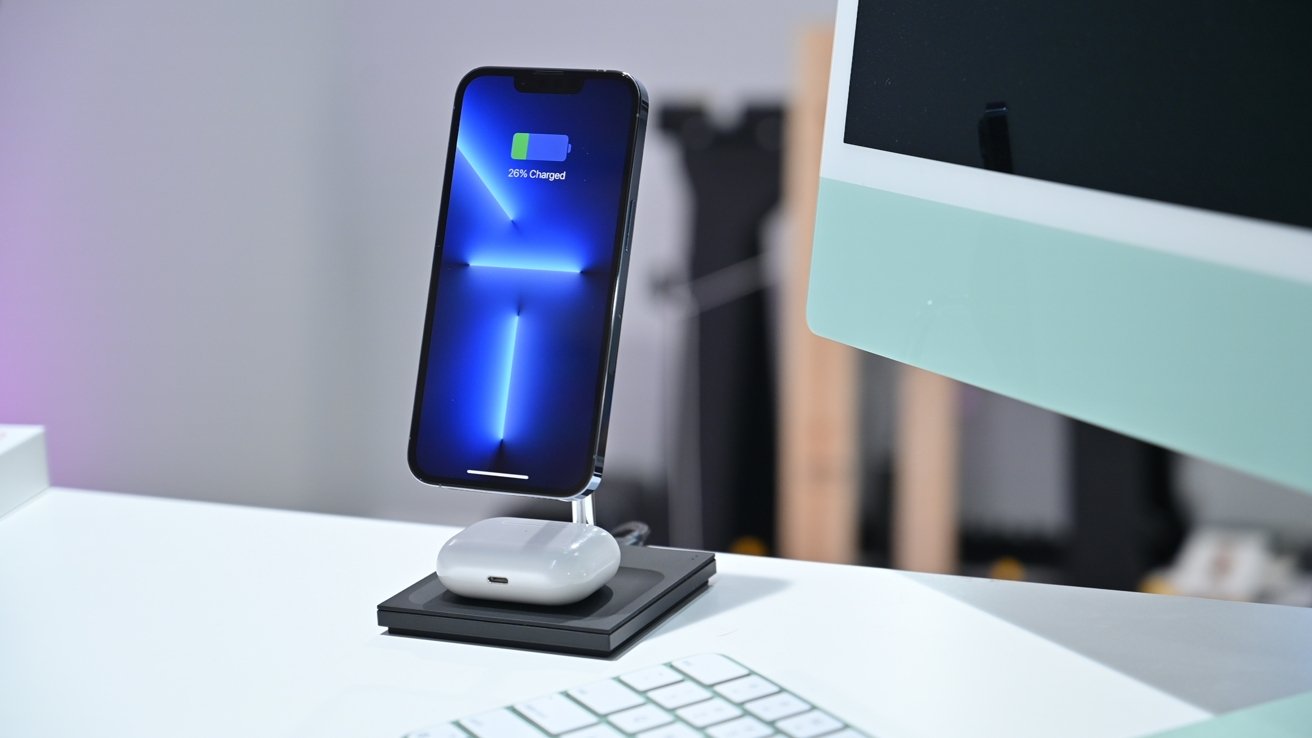 AppleInsider is supported by its audience and may earn commission as an Amazon Associate and affiliate partner on qualifying purchases. These affiliate partnerships do not influence our editorial content.
The Native Union Snap 2-in-1 may be our favorite multi-device charger yet and it arrives just in time for new iPhone 13 users who want a stylish magnetic charger for their phone and AirPods.
MagSafe remains one of our favorite features of the iPhone 12 and the feature lives on in iPhone 13. It is incredibly handy at connecting accessories like wallets, batteries, or stands, but can also be ideal for charging.
The bottom is a sleek, weighted base that has metal edges and a plastic top. The underside is silicone to help prevent it from sliding around on your desk or nightstand. A slight depression in the soft-touch plastic top accommodates a set of AirPods or AirPods Pro.
If using AirPods Pro or AirPods with a wireless charging case, they can wirelessly charge on the base at up to 5W of power.
A subtle Native Union wordmark is molded into the plastic. You don't notice it though as there is no color to it, but you can read it if you are close enough. We're just happy the logo isn't distracting.
Located to the far back-right corner are two LED status lights. They are stacked on top of one another, one assigned to the AirPods pad and one to the iPhone magnetic charger.
Since they are facing up instead of towards the front, it doesn't cause disruptions to your sleep. Some people are very sensitive to lights in the bedroom, and we couldn't see these at all on our nightstand. We could, however, see them when we looked from above.
Included in the box is the requisite USB-C to USB-C charging cable. Native Union specializes in premium cables and we're excited to see one included here in the box. It is a nylon-braided cable that measures six feet in length. This is ample length to reach behind your bed or route under your desk. We have a standing desk so we appreciate the extra length.
MagSafe, but not
So here's the thing: this is not a MagSafe charger. What Native Union created, and what almost every accessory maker has done, is create a magnetic Qi charger that can attach to iPhone.
That means instead of MagSafe's 15W maximum, the Snap 2-in-1 only maxes out at 7.5W. But that said, Native Union has done an incredible amount of work in reducing the heat emitted during charging.
Heat is the killer of wireless charging speeds and when it gets too hot, charging is slowed down to prevent overheating. By optimizing the heat output so well, Snap is able to stay at higher speeds for longer.
Much of it is the same as MagSafe. Your phone can be securely held in place via magnets. Your phone can rotate to any orientation, including sideways. Horizontally it is great for watching videos and relaxing.
The ball hinge that secures the magnetic charger to the base is a little deceiving. With a ball joint, you'd think it would rotate in any direction, but it actually can only pivot up and down. This is still good and we can't imagine needing to rotate it left and right anyway.
Should you buy the Native Union Snap 2-in-1 Magnetic Wireless Charger?
Previously, we loved Belkin's 2-in-1 charger as it was the most premium option around. Now, the Snap 2-in-1 sits right there next to it. Belkin has a softer look with white plastic and a round base, but sometimes users want something not as bright.
The Snap charger has a more refined, modern look to it and the darker aesthetic fits into more homes.
Even though it isn't real MagSafe, it still charges quite efficiently for a Qi charger and the difference in speed won't matter for nightly use. Plus, for third-party Qi chargers, it's as good as it gets.
If you have an iPhone 12 or a newer iPhone 13 that supports MagSafe, this is a great charger to consider.
Strong magnetic connection
Up to 7.5W of power
Charges iPhone and AirPods at the same time
Premium 6ft USB-C cable included
Solid design and built
Phone works in any orientation
Low-profile status lights
Not real MagSafe
Only pivots up and down
No power adapter included
Rating: 4.5 out of 5
Where to buy the Snap 2-in-1 Magnetic Wireless Charger