Compared: New AirPods vs second-generation AirPods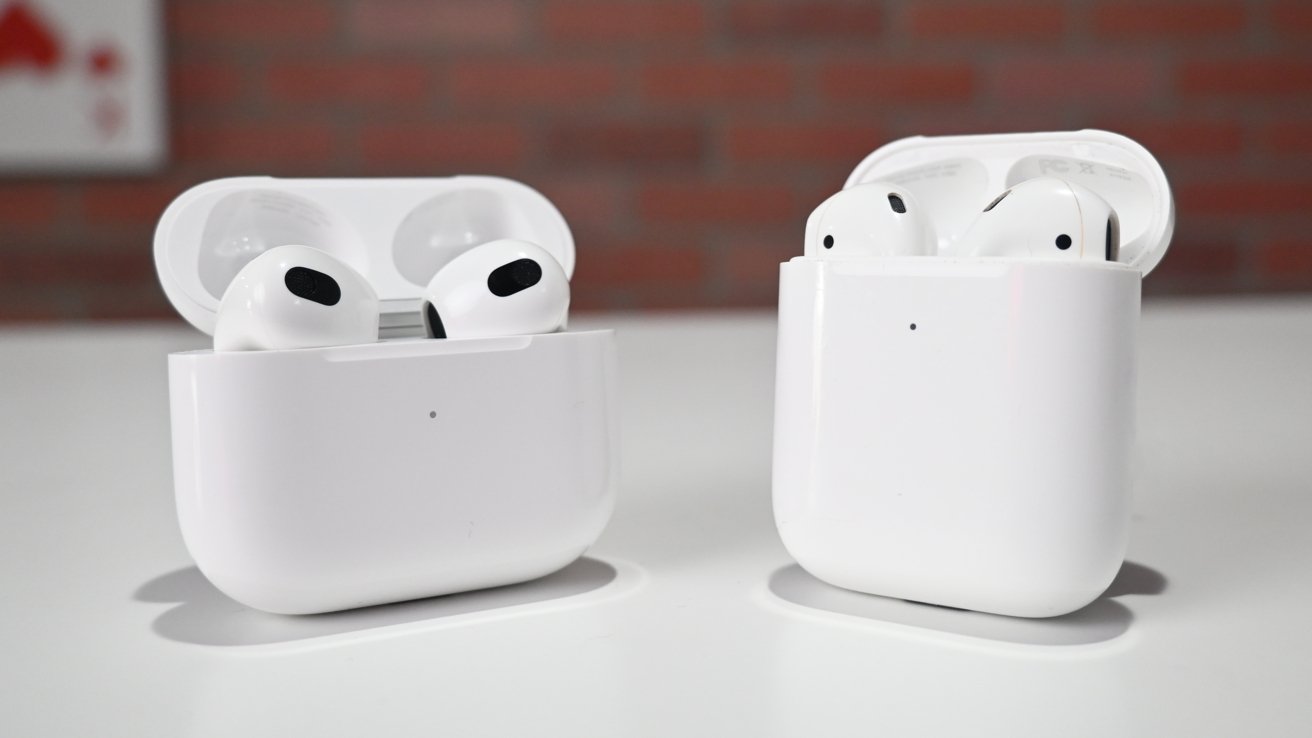 Apple has launched the latest update to the AirPods line, with the third-generation model offering Spatial Audio support alongside design refinements. Here's how the new personal audio accessories fare compared against its predecessor, the second-generation AirPods.
Unveiled at the "Unleashed" Apple Event on Monday, the new AirPods are the third iteration of Apple's wildly popular wireless earphone range. Arriving two and a half years after the last update to the range, the third-generation benefit from a variety of changes.
While the new model has some big boots to fill, Apple also fits in the latest version as a mid-range model, as it continues to sell the second-generation version. Here's how the new models fare.
Specifications
AirPods (Gen 2)
AirPods (Gen 3)
Price
$129
$179
Dimensions (inches)
1.59 x 0.65 x 0.71
1.21 x 0.75 x 0.76
Weight (ounces)
0.14
0.15
Case Dimensions (inches)
2.11 x 1.74 x 0.84
1.83 x 2.14 x 0.84
Case Weight (ounces)
1.35
1.34
Battery Life (earbuds)
5 hours
6 hours
Battery Life (with case)
More than 24 hours
Up to 30 hours
Connectivity
Bluetooth 5.0
Bluetooth 5.0
Microphones
Dual Beamforming
Dual beamforming microphones,
Inward-facing microphone
Sensors
Dual Optical Sensors,
Motion-Detecting Accelerometer,
Speech-Detecting Accelerometer
Skin-detect sensor,
Motion-Detecting Accelerometer,
Speech-Detecting Accelerometer,
Force Sensor
Sweat and Water Resistance
No
IPX4
Active Noise Cancellation
No
No
Spatial Audio
No
Yes
Third-generation AirPods vs Second-generation AirPods - Design and Dimensions
The second-generation AirPods are known to be light earwear, with their signature white stalk adding to the overall length of each earbud. Each AirPod measures 0.71 inches by 0.65 inches and 1.59 inches long.
The third-generation initially appear to be the same design as their predecessor, but they're not. At a close examination, you can tell that the main head of the new models is slightly more angled than before, which should assist with wearing them for long periods comfortably.
The signature stems are also slightly shorter than before, bringing them much closer to the AirPods Pro in concept.
On the weight side, the second-gen AirPods are light at 0.14 ounces apiece. This is even lighter than the 0.19-ounce AirPods Pro, though admittedly, it's at a scale that most people won't be able to tell the difference in weight when wearing them.
Apple did increase the weight of the third-gen models to 0.15 ounces for each earbud. That's a quarter-gram difference that the vast majority of wearers won't really notice at all.
Third-generation AirPods vs Second-generation AirPods - Cases
The second-generation version is sold in its basic form with the Charging Case, used to provide power to the AirPods while on the move. The case measures 1.74 inches wide, 2.11 inches long, and 0.84 inches thick.
In 2021, Apple did make a small change to the case design to make it lighter. While it was previously 1.41 ounces, the Charging Case now supplied with the second-generation AirPods weighs 1.35 ounces.
However, it's not the only option Apple offers for the second generation, as you can get a Wireless Charging Case. Previously sold as an upgrade as part of the initial sale, it's no longer available from the outset, but can be bought as a separate accessory.
Functionally similar to the non-Wireless version, complete with an LED on the front and Lightning port, the Wireless version adds in support for Qi-based wireless charging as well. While including an extra feature, the Wireless Charging Case is practically the same as the Charging Case, complete with identical dimensions, weight, and styling.
The third-generation AirPods use a different case design that is much closer to that of the AirPods Pro's version, in that it is a wider case rather than a tall one, as for the previous AirPods. It's shorter at 1.83 inches, wider at 2.14 inches, but the same thickness at 0.84 inches.
It's also a tiny bit lighter than the updated AirPods Charging Case at 1.34 ounces.
Another difference is that the third-generation AirPods are sold with the MagSafe Charging Case by default, an effective renaming of the wireless charging case that naturally includes wireless charging.
Third-generation AirPods vs Second-generation AirPods - Features
AirPods provide an experience that is deeply integrated with the Apple ecosystem. Everything from quickly pairing the AirPods to your iPhone or other devices, to the Find My support, to how they work with the operating system is best described as very seamless.
You can speak to AirPods to bring Siri to life for queries, though you can also take advantage of the stems for a tap-based control.
The interaction with the AirPods also extends to whether you're using one or two. Optical sensors and motion accelerometers in the second-generation AirPods work together to determine if you're wearing one or both of the earbuds, with it able to play or pause music when ears are detected.
In the third-generation model, this is largely handled by a skin-detect sensor, which can also determine if the AirPods are being worn or placed in a pocket or table.
That speech-detecting accelerometer in both generations also assists in capturing your voice in the AirPods, as it can work with a pair of beamforming mics to filter external noise from the environment, as well as to concentrate the mics on your mouth's position.
For the third-generation model, the mics also include an inward-facing placement, which is required for Adaptive EQ. The feature uses the inward-facing mic to monitor for sound, with Adaptive EQ then tuning low and mid frequencies to adjust the audio in real-time, specifically for that user.
While the improved audio from Adaptive EQ is a good thing, the real big deal is Spatial Audio. The feature, which is available on the AirPods Pro and other hardware, mimics a three-dimensional experience, placing sound in different positions relative to their head.
This, in tandem with Dolby Atmos support, gives the effect of being immersed in the middle of a performance.
Furthermore, Apple includes head tracking as part of Spatial Audio. This means that users can move their head around, and the positions of music will change so they will still remain in the same location relative to the user. For example, if you turn your head to face where an audio source is "located," the sound played to you will shift so it's in front of your head as if you're looking in its direction.
This is useful in a number of fields, with the separation of audio sources especially helpful for Group FaceTime calls, as positional audio can make it easier to discern who is speaking among multiple speakers with similar voices.
Third-generation AirPods vs Second-generation AirPods - Battery Life
The second-gen AirPods offer five hours of listening time on a full charge when applied to music. If you engage the microphones, the battery life drops down to a maximum of 3 hours per charge.
The Charging Case and the Wireless Charging Case both offer extra power to top up the AirPods throughout the day. When taking into account the charging cases, the second-generation version is claimed by Apple to supply more than 24 hours of music listening and up to 18 hours of talk time.
If you need to quickly recharge the second-generation AirPods, putting them into either charging case for a mere 15 minutes will provide you with up to 3 hours of listening time, or up to 2 hours of talk time.
For the third-generation AirPods, Apple says they offer an improved 6 hours of listening time, an hour more than the second generation. This does erode down to 5 hours if you enable Spatial Audio.
Talk time gains a similar one-hour increase to a maximum of four hours.
When used with the MagSafe Charging Case, the third-gen model manages up to 30 hours of total listening time, and up to 20 hours of talk time.
The fast-charging capability is arguably similar to the second-gen, at an hour of listening time or an hour of talk time for a five-minute charge.
Third-generation AirPods vs Second-generation AirPods - Connectivity and Other Details
Both generations connect over Bluetooth 5.0 to the host device, such as an iPhone or iPad.
Apple didn't include any sort of sweat or water resistance in the second-generation AirPods, but it is included at an IPX4 rating for the third-generation AirPods.
While both sets of AirPods are only available in white, the cases could be personalized with an engraving. A vast aftermarket of case stickers, wraps, and covers also exist to further personalize the second-generation case, and it's pretty likely a similar collection of accessories will become available for the third generation soon.
Third-generation AirPods vs Second-generation AirPods - Pricing
Second-generation AirPods with the Charging Case previously cost consumers $159 to buy, but Apple has reduced the price down to $129.
You could previously get the second-gen AirPods with the Wireless Charging Case for $199, though that's not offered by Apple anymore. You can still buy the Wireless Charging Case for the second-gen model separately, for $79, which puts the total purchase cost at $208.
Apple charges $179 for the third-generation AirPods, complete with the MagSafe Charging Case.
Small but worthwhile upgrade
For generational changes of devices, consumers usually expect major alterations to the form. While iPhones and the MacBook Pro afford new features that are quite obvious, the AirPods line doesn't quite operate the same way.
You're never going to get significant changes in features as you would see between the AirPods and AirPods Pro. But there are still changes worth caring about.
Those changes include Spatial Audio support, which will become a bigger thing as Apple embraces the idea and builds more support for it into its apps and services. The sweat and water resistance will also be welcomed by those who rely on AirPods for entertainment while working out.
The battery life is probably going to be the most welcomed, as it means an all-day user will spend more time listening to music between charging instances.
For this time around, Apple's decision to continue selling the second-generation model at a lower cost and without a Wireless Charging Case bundle gives users a very cheap entry point into AirPods ownership. At the price point of the third-generation AirPods, it makes sense for those looking for wireless charging to look there rather than to spend more on the older model with the separate charging case.
Existing AirPods owners probably won't see enough changes to warrant upgrading, especially if they already own a Wireless Charging Case. For that group, they're more likely to be looking at the AirPods Pro as their next personal audio purchase.
Those looking to own AirPods for the first time can't really go wrong in buying the all-new AirPods. Potential AirPods owners will probably find the extra $50 for the third generation worthwhile to pay for Adaptive EQ, Spatial Audio, and wireless charging capability, leaving the now-cheaper second-generation AirPods only to the most price-conscious consumers.