iMessage reaction support rolling out in Google Messages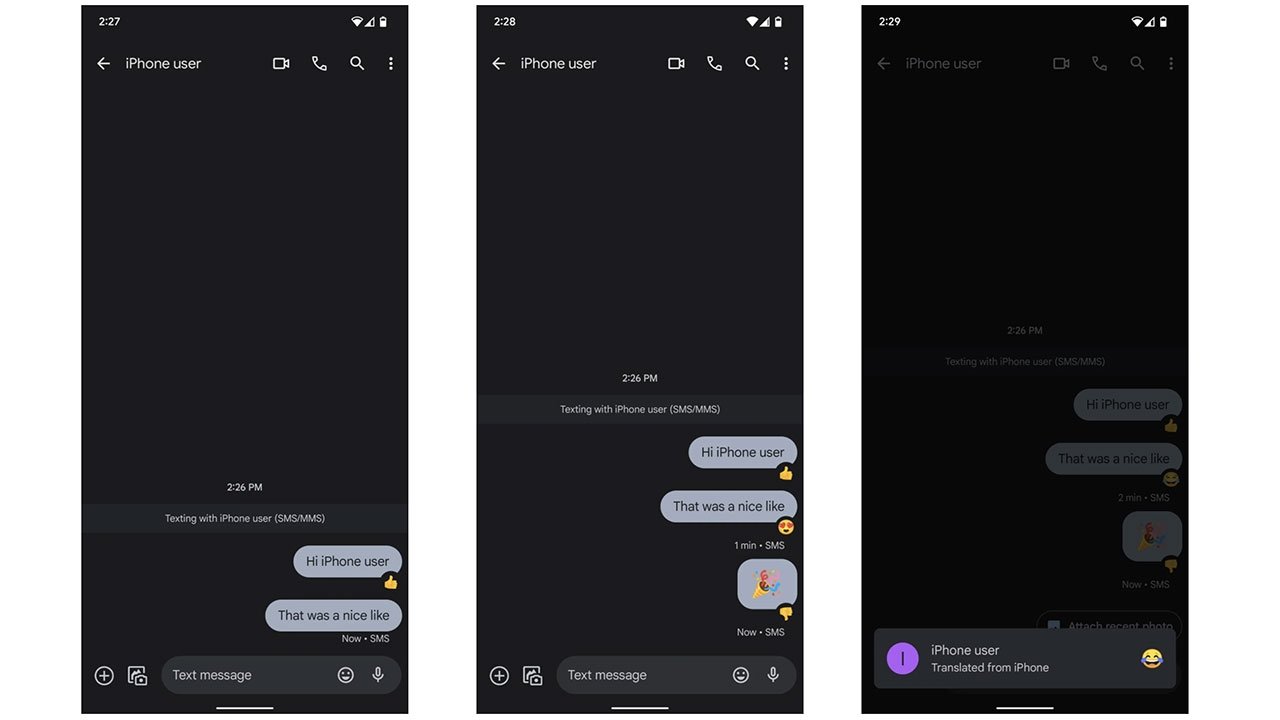 A Google Messages update rolling out now enables Android device users to see iMessage reactions as attached emoji instead of confusing strings of inline text.
Last week, code discovered in a beta version of Google Messages suggested a new feature would build in robust support for iMessage reactions, which appear as heart, thumbs up, thumbs down, laughter, exclamation point, or question mark emoji linked to a text message. According to 9to5Google, the update is rolling out to end users now.
Prior to the change, Google Messages users receiving reactions from iOS devices would see a text description of the accompanying emoji instead of the character itself. For example, a response from an iMessage user who reacted to a particular text with a heart emoji would yield the text "[User] loved [entire text message]" on Google Messages.
A mere formatting compatibility issue, the lengthy text descriptions were a bane for some Android users, especially those who were repeatedly exposed to iMessage reactions in group chats. Instead of a readable text string, a chat would quickly fill with descriptions of reactions and redundant references to messages that were already posted.
The result was hardly ideal for a system designed to cut down on clutter.
With the update in place, Google Messages users will now see reaction emoji attached to appropriate messages as intended. The solution remaps iMessages emoji to those offered by Rich Communications Services (RCS), meaning Apple's heart and laughter emoji are replaced by a face with heart eyes and laughing face, respectively.
Google Messages also shows a "Translated from iPhone" notification when tapping on a message's reaction.
RCS promises to deliver to Android a number of advanced messaging features like typing indicators, read receipts, end-to-end encryption, Wi-Fi texting, dynamic group chats and more, niceties that have long been enjoyed by Apple device owners. The system is not compatible with Apple's proprietary messaging system, meaning texts sent between Android and iOS devices switch back to an SMS backbone.