B&H revamps Payboo Credit Card, now offers choice of sales tax refund or special financing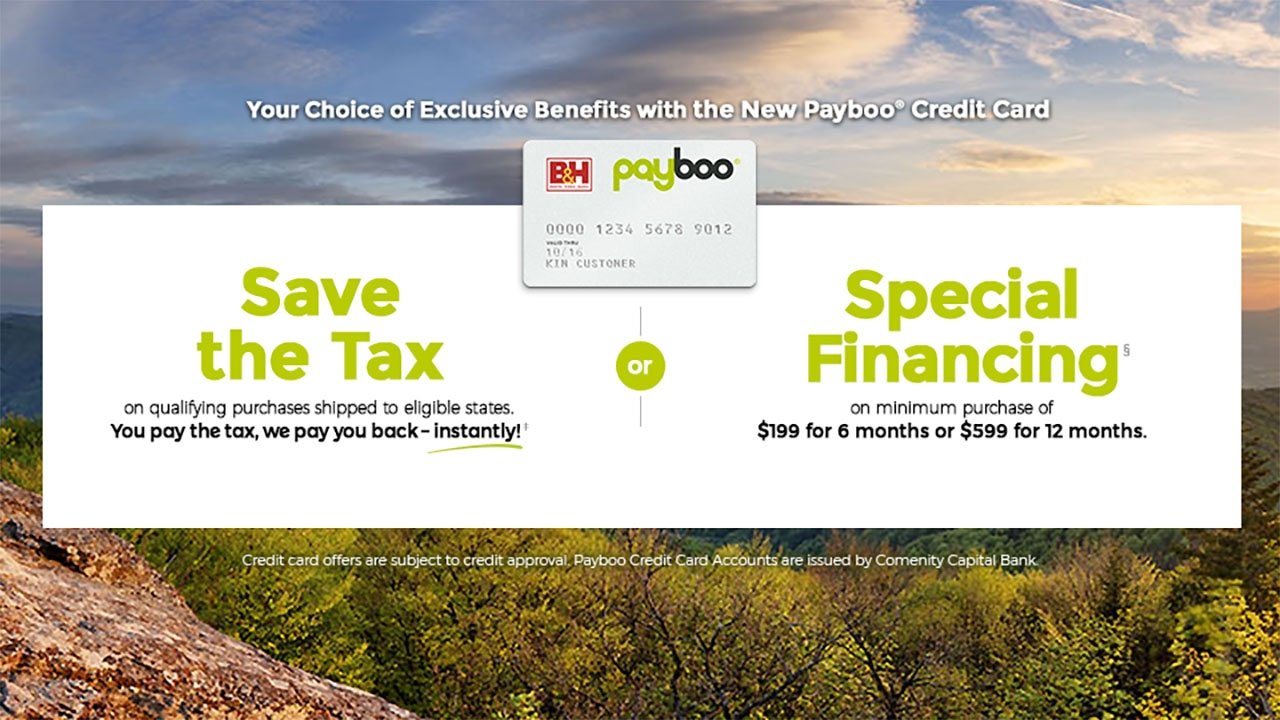 B&H has relaunched its Payoo Credit Card, now offering shoppers a choice of a sales tax refund or special financing of up to 12 month on qualifying purchases. The Payboo benefits can also be stacked with the latest Apple deals and exclusive offers for hundreds of dollars in savings.
New and improved Payboo Credit Card
Having launched in May 2019, B&H's Payboo Card has become an easy way to save hundreds of dollars on purchases of photography equipment, Mac computers, iPads and more.
But one common complaint was the fact that shoppers could not select between a sales tax refund in eligible states and special financing with the same card. That has since been addressed, as B&H has relaunched the Payboo Credit Card and partnered with Comenity Capital Bank as the issuer.
Now Payboo cardholders can save on sales tax on qualifying purchases or get special financing up to 12 months on purchases of $199 or more. B&H's dedicated Payboo page even lets you know the percentage you would get back in tax based on your local zip code, and there's no annual fee on the card.
Further adding to Payboo's allure is the fact that the card is valid on purchases made through B&H's B2B and EDU portals.
If you were a Payboo cardholder prior to Jan. 17, 2022 (through Synchrony Bank), you will have to reapply for the Comenity Capital Bank-issued version of the card. But considering a well-equipped 16-inch MacBook Pro can run you $3,500, you can easily save several hundreds of dollars with Payboo in qualifying states that collect sales tax. The benefits can also stack with the exclusive offers B&H has in place this week for AppleInsider readers, discounting current MacBook Air and 24-inch iMac models by as much as $200. Several of the deals can be found below.
The Payboo sales tax refund is best suited for those that plan on paying off the balance quickly, as the current purchase APR for the card is 29.99% for new accounts in January 2022. You can view the specific terms and conditions on this B&H page.
Latest MacBook Air deals
Exclusive 24-inch iMac savings
(*) Activation instructions
To activate the exclusive pricing, you must shop through the B&H pricing links in this post or the special links in our M1 MacBook Air Price Guide and 24-inch iMac Price Guide from a laptop or desktop computer. We're sorry, but the offers cannot be redeemed in B&H's mobile app at this time.