OtterBox's Disney Anniversary iPhone case review: Fun, but lacks MagSafe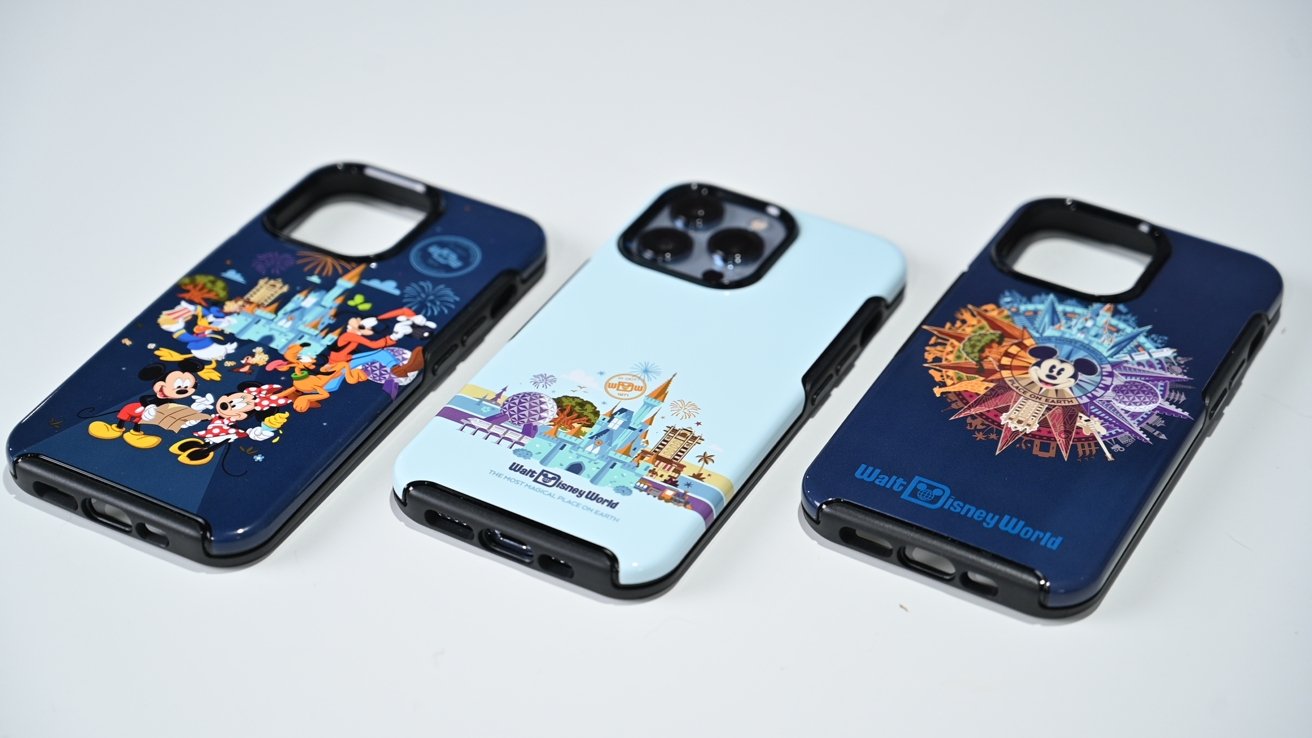 Otterbox Symmetry Disney 50th Anniversary Collection
3.5 / 5
---
AppleInsider may earn an affiliate commission on purchases made through links on our site.
OtterBox's collection of Disney World iPhone cases pair the popular Symmetry case with nostalgic and retro imagery, though they lack support for Apple's MagSafe.
This new lineup was released at the tail end of 2021 to celebrate Disney World's 50th anniversary. It's a limited edition run and only available until they sell out.
The cases are available in three unique styles.
One variant has the iconic Cinderella castle on a dark blue background. Mickey and the gang are in the foreground, while fireworks are in the background alongside a weathered Disney stamp.
The second one opts for light blue background and highlights several highlights from Disney World, including the Epcot ball and the aforementioned castle. Finally, the last case appears to be a stylized compass rose.
Disney has woven plenty of little details into the case's artwork, giving it a vintage vibe. Eagle-eyed users can spot multiple iconic Disney World attractions such as the castle and the Epcot globe.
Your phone is well-protected
This collection is based on the OtterBox Symmetry collection. Symmetry cases are popular because they offer a great balance between protection and bulk.
The inside of the case is bare-bones with just a topographical map pattern and a Disney logo. Despite the stark interior, these cases offer plenty of drop protection, with OtterBox claiming they can withstand tumbles three times the mil-spec rating.
MIL-STD-810G 516.6 says a phone can withstand repetitive drops from 48 inches onto concrete, which means the Symmetry case should protect your phone during a 12-foot drop.
All parts of your phone are protected, including the bottom ports and the display. Since the case wraps around the edge of the phone, your screen is safe if you ever place it face down.
The buttons can be a little stiff, which is a common note about the Symmetry cases. They're easy to find, but the rubber-like material doesn't provide as much feedback when pressed.
Should you buy the 50th anniversary Disney collection from Otterbox?
It's hard to argue with the style of these cases. They're undoubtedly fun and will be loved by any Disney fan.
Our only issue is the lack of MagSafe. Our frustration is compounded because OtterBox already makes other MagSafe-enabled cases, including versions of the Symmetry series.
Without MagSafe, we can't use any MagSafe chargers, any MagSafe stands, any MagSafe wallets, or any other accessories that rely on Apple's magnetic system. We already have a collection of these accessories, and it would be a dealbreaker for a case not to support it.
If you haven't bought into MagSafe yet, there's no reason not to check out these cases. But if you have, you may need to wait for the next Disney anniversary collection.
Uses popular Symmetry case design
Nostalgic and lovable images for Disney World's 50th anniversary
Plenty of protection for daily use
Lack any support for MagSafe, despite support on other OtterBox cases
Buttons can be hard to press
Rating: 3.5 out of 5
Grab yours, while you can