The best USPS, UPS, and Fedex tracking apps for iOS and macOS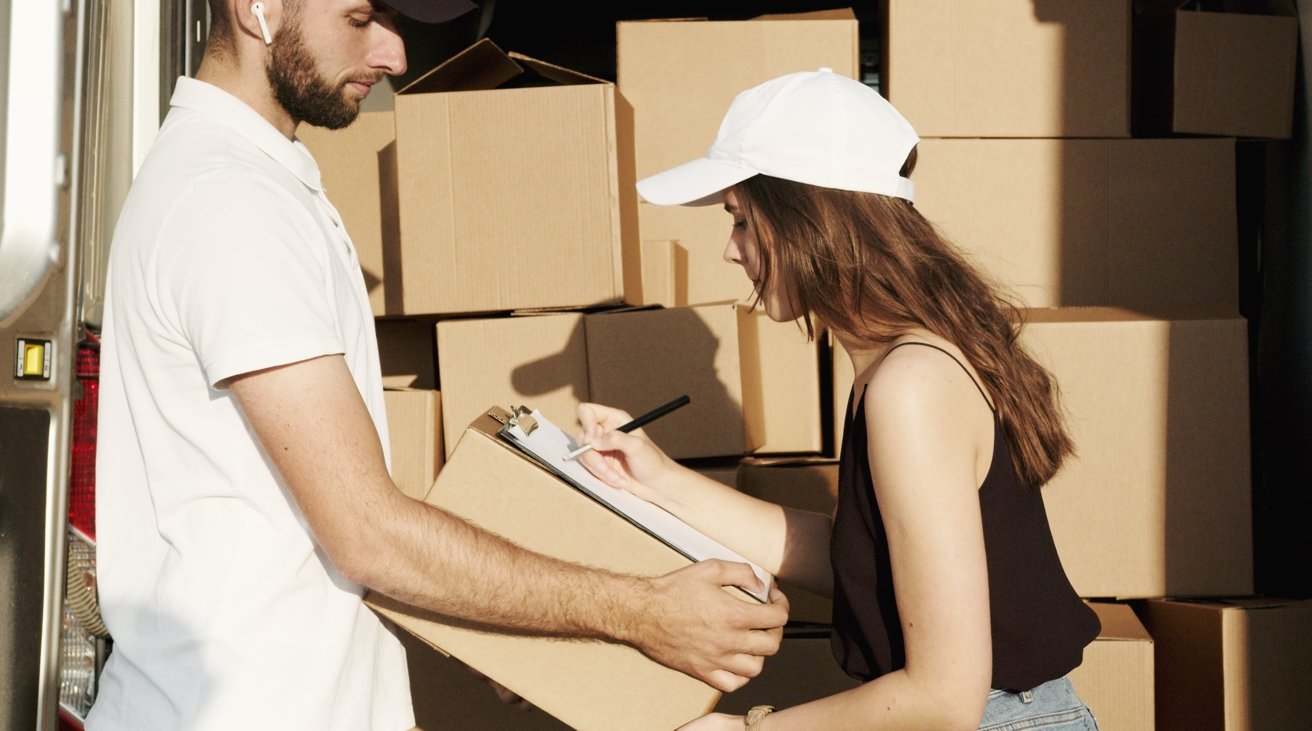 If you get deliveries regularly, there are many ways to track what's on the way. Here are the best iPhone, iPad, and macOS apps for tracking parcels going through major delivery networks.
Not all that long ago, sending a package to someone was a set-and-forget task. You would send it off and hope to get an update from the other end that it would appear safely and on time.
This lack of knowledge of what's happening with a delivery was also quite apparent for people who ordered goods and services. You'd get told of a dispatch, but updates were few and far between unless you paid for more expensive delivery options that offered updates.
Delivery services have advanced over the last few years, with tracking features in apps and websites providing customers with updates on where their package has traveled on its way to the recipient for most customers. Updates about entering and departing regional depots and warehouses have also evolved, with some services even offering tracking of the final delivery van as they go along their route.
Even with this advancement in technology, there's still the problem for users knowing where to look. With many options available to send a package from A to B, you have to monitor multiple delivery apps simultaneously.
This is especially true at peak times, such as when you're waiting for holiday shopping orders from multiple retailers to turn up at your door. It's unlikely that they will collectively use just one of USPS, FedEx, UPS, or DHL.
Thankfully, instead of constantly checking multiple apps, there are options that simplify the process. Apps are available for keeping tabs of packages going through more than one service, giving you just one place to monitor.
Here are the apps you should be looking at to take the stress out of waiting for a package to arrive.
What about the delivery company apps?
While this list primarily deals with apps covering multiple delivery companies, you should also keep an eye on the apps those delivery firms offer to users:
All four of these apps provide features specific to each service. They all include tracking for packages entered into their systems, but they also offer other services.
This can include calculating shipping prices, scheduling pick-ups, creating shipments, printing labels, measuring packages, and changing delivery dates.
These extra features certainly make the apps indispensable for someone who repeatedly sends out packages, such as a small business owner who uses a small number of delivery firms a lot. For people who tend to receive parcels than send them, they are not quite as useful as a less specialized app.
Parcel - Delivery Tracking
Parcel is a great example of a delivery tracking app done well. Available in two versions, Parcel for macOS and Parcel for iOS enables users to get notifications on practically the entire Apple device ecosystem, including the Apple Watch.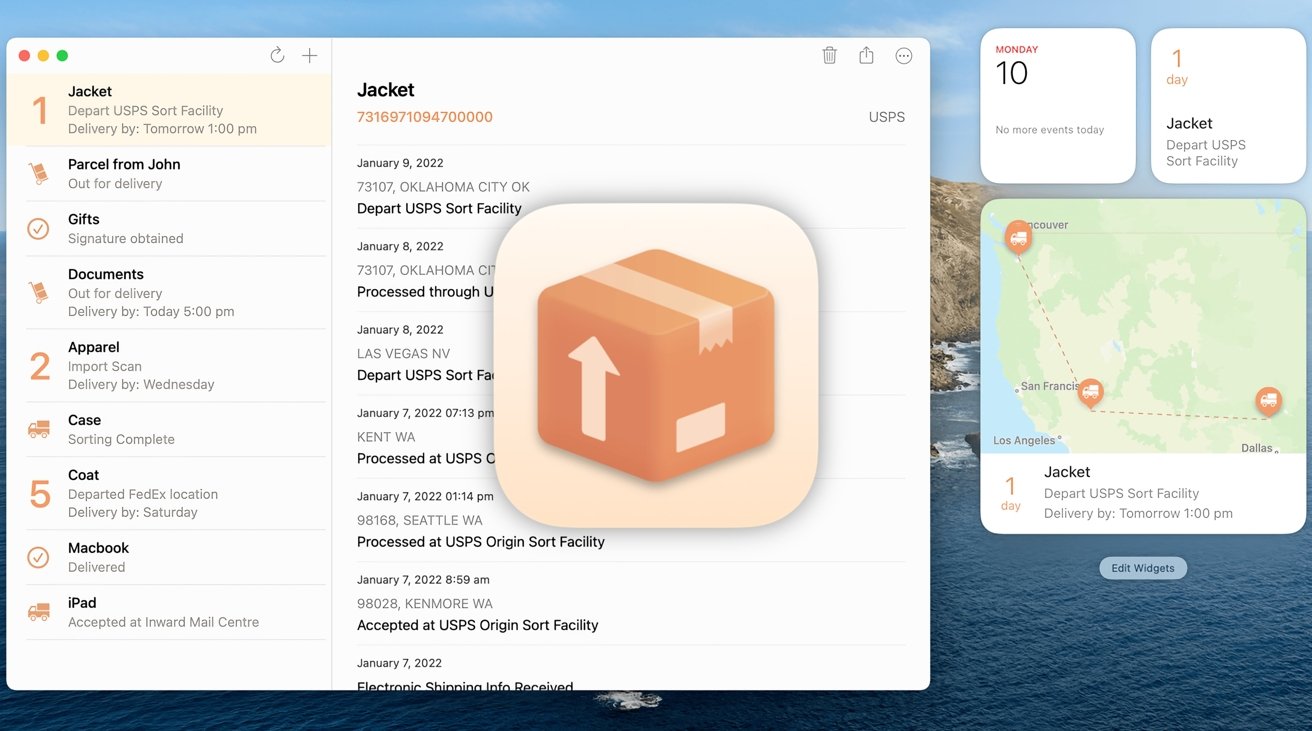 The app can acquire tracking information for 300 delivery services around the world. Major US delivery services are included and Amazon Logistics and other firms.
Amazon tracking doesn't stop with logistics. Integration with Amazon lets the app automatically add orders for tracking without needing any intervention from the user.
A Notification Center widget can display expected deliveries for today or tomorrow. Push notifications from the app are also limited to surface between 8 am and 10 pm by default, but this can be disabled.
Parcel is free to download, but features including push notifications and tracking more than 3 deliveries require a premium subscription. Currently, that premium option is $4.99 per year.
Deliveries: a package tracker
In a similar vein to our first pick, Deliveries is a cross-platform delivery-tracking tool that does so on macOS, iOS, iPadOS, and Apple Watch. Where it differs is in its use of color between carriers to make the app more visually interesting and easier to understand.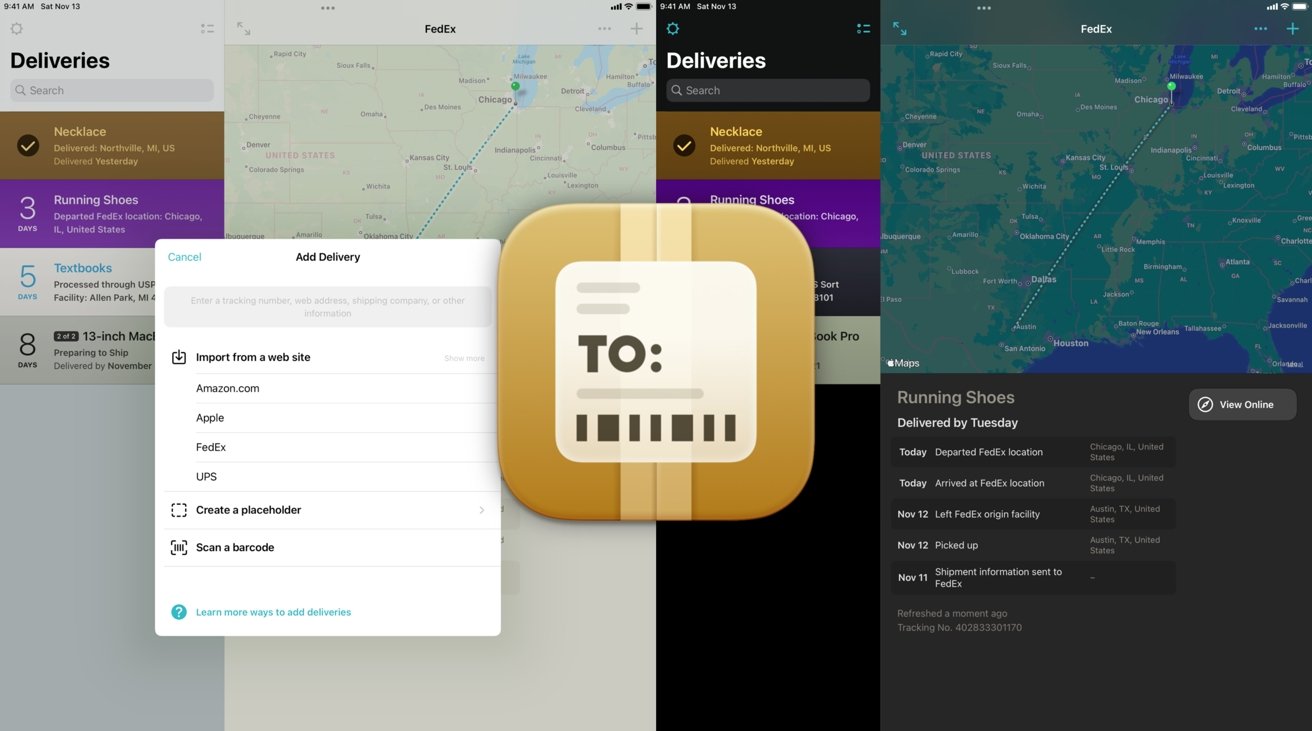 With the support of dozens of services in the U.S. and beyond, the app can also monitor orders from Amazon and Apple, even before they ship. For services not supported by the app, you can enter a delivery date and a website you can visit, with it counting down the days to the package's theoretical arrival.
You also don't have to keep the tracking information within the app. It is possible to share the shipment with others over email, AirDrop, or iMessage.
There's a Notification Center widget for at-a-glance updates. You can even have the estimated delivery dates added to Calendar, so you could potentially plan events around package deliveries.
Free to download, Deliveries costs $0.99 per month or $4.99 for a yearly subscription.
Route: Package Tracker
Route for iOS and iPadOS provides similar tracking features to the others, including live tracking and real-time push notifications, but it offers a more shopping-centric experience.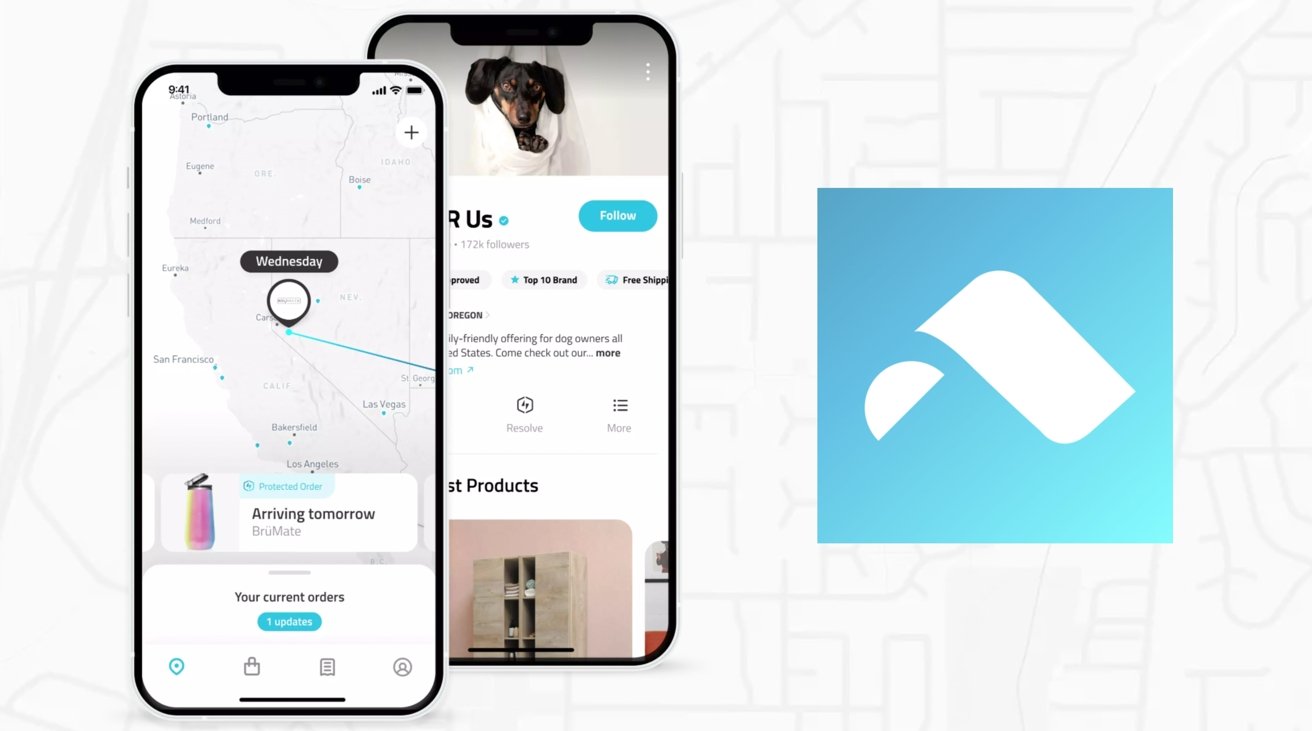 For a start, it supports over 600 shipping carriers worldwide, but it also benefits from connections to many retailers and online stores. A lot of this is handled by connecting Route to your inbox so that it can detect new orders and deliveries.
This connection also brings order resolution options for over 11,000 merchants so that you can claim for missing orders or damaged goods right from the app. There's also a universal order history, so you can search multiple stores for products you ordered in the past at the same time.
Being so retailer-centric, the app also includes shopping tools, including product discovery and being able to follow brands for new products.
Route is free to download, with no in-app purchases.
AfterShip Package Tracker
Boasting support for over 700 carriers around the world, AfterShip is an iOS and iPadOS package tracker that again offers a considerable number of services it can check at a time. Handily for users, it will automatically detect which carrier a package uses based on the tracking number. However, it can also do the same for parcel senders with its barcode scanner.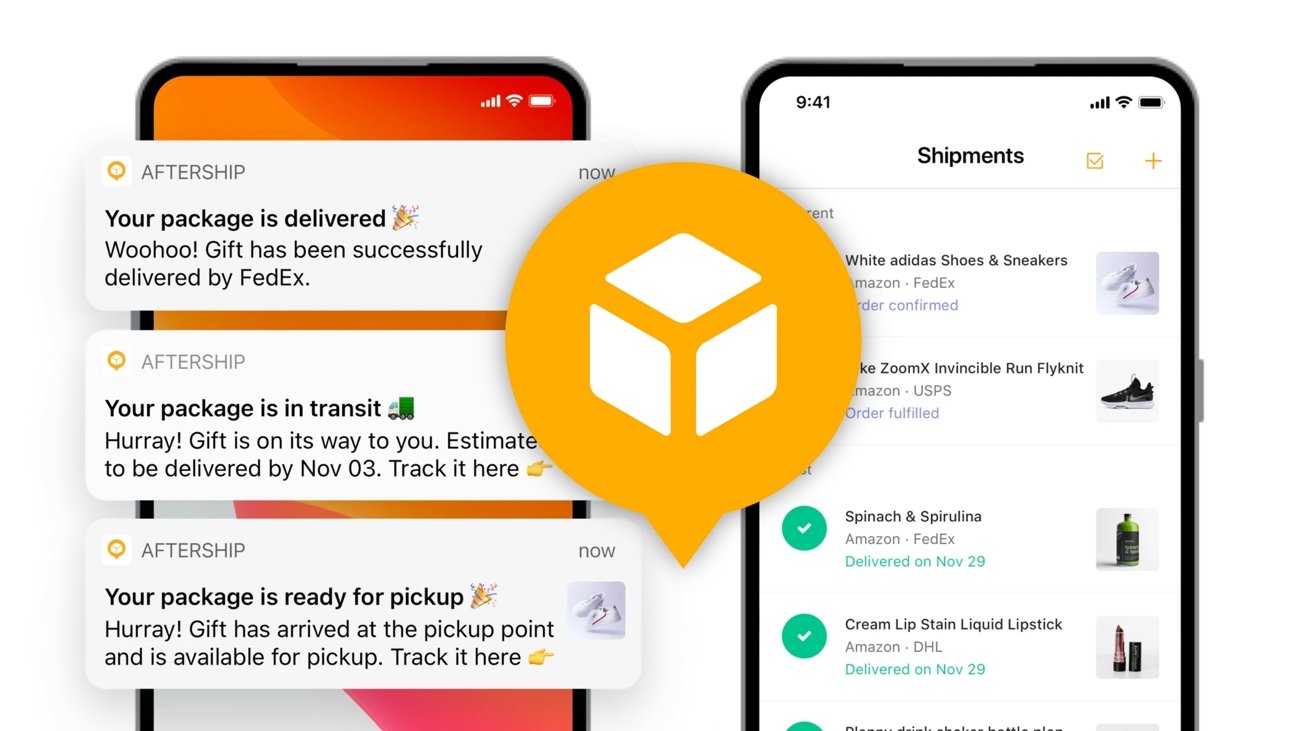 If you have a tracking number list, you can also copy and paste them in en masse to save time. There are options to share tracking links easily, so others can see the order's progress for themselves.
Like Route, AfterShip provides an enhanced retail-based experience, with it able to check the delivery status of orders from retailers like Amazon, eBay, AliExpress, and others. Automatic importing of shipments from Amazon, Etsy, and Walmart is included and monitoring shipment details sent to a Gmail account.
The app is free to normal users wanting to see shipments of packages, but this is down to AfterShip offering chargeable services to retailers, such as branded tracking pages and shipment analytics.
Really speaking, this app and services will be more beneficial to those operating storefronts than their customers. But it's hard not to argue with the price when all you want to know is when your order of gym attire is going to arrive.