Apple TV+ 'Friday Night Baseball' starts with big-time divisional matchups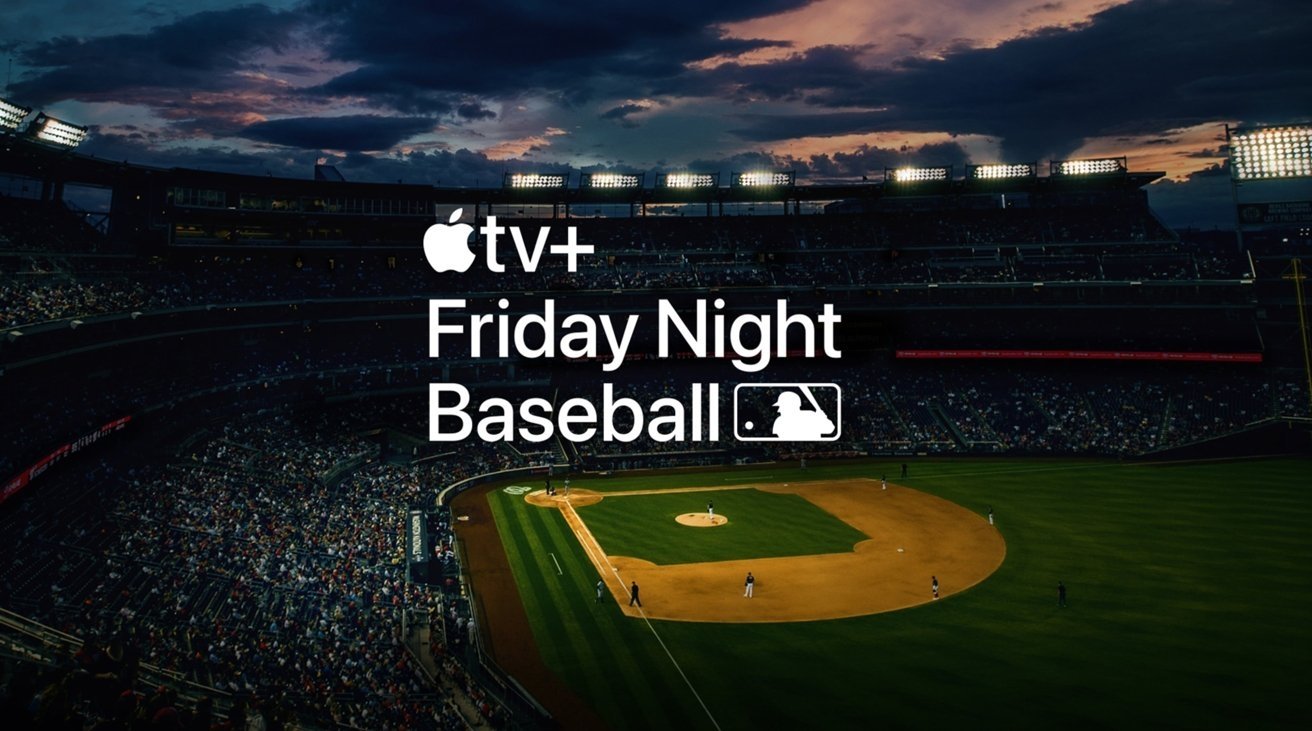 "Friday Night Baseball" will premiere on April 8 starting off with two marquee games broadcast via Apple TV+.
Released on Tuesday, the first half of the 2022 "Friday Night Baseball" schedule outlines all of the games that will appear on the service from April 8 until June 24. Each of the 12 Fridays includes two games from the MLB, broadcast live to viewers around the world.
The opening Friday on April 8 will start with the New York Mets playing the Washington Nationals at 7p.m. Eastern, followed by the Houston Astros at the Los Angeles Angels at 9:30p.m. Eastern.
Future matches along with other features of the broadcasts including pre- and post-game coverage, will be announced at a later date.
As part of "Friday Night Baseball," fans will be able to watch key games without local broadcast restrictions. The weekly double-header will be viewable in the United States, Canada, Australia, Brazil, Japan, Mexico, Puerto Rico, South Korea, and the United Kingdom, and will be free for a limited time without a need for an Apple TV+ subscription.
The "Friday Night Baseball" games will be viewable on any device that can play Apple TV+ content, including the Apple TV, iPhone, iPad, Mac, supported smart TVs, game consoles, and cable set-top boxes.
"Friday Night Baseball" is a major coup for Apple, with it venturing into the field of live sports broadcasting. It is believed that Apple paid around $85 million as part of a $115 million deal between it, NBC Sports, and the MLB.
The released first-half schedule follows:
Friday, April 8: New York Mets at Washington Nationals 7 p.m. ET
Friday, April 8: Houston Astros at Los Angeles Angels 9:30 p.m. ET
Friday, April 15: Tampa Bay Rays at Chicago White Sox 7 p.m. ET
Friday, April 15: Cincinnati Reds at Los Angeles Dodgers 10 p.m. ET
Friday, April 22: St. Louis Cardinals at Cincinnati Reds 6:30 p.m. ET
Friday, April 22: Texas Rangers at Oakland Athletics 9:30 p.m. ET
Friday, April 29: New York Yankees at Kansas City Royals 8 p.m. ET
Friday, April 29: Washington Nationals at San Francisco Giants 10 p.m. ET
Friday, May 6: Chicago White Sox at Boston Red Sox 7 p.m. ET
Friday, May 6: Tampa Bay Rays at Seattle Mariners 9:30 p.m. ET
Friday, May 13: San Diego Padres at Atlanta Braves 7 p.m. ET
Friday, May 13: Chicago Cubs at Arizona Diamondbacks 9:30 p.m. ET
Friday, May 20: St. Louis Cardinals at Pittsburgh Pirates 6:30 p.m. ET
Friday, May 20: Texas Rangers at Houston Astros 8 p.m. ET
Friday, May 27: Baltimore Orioles at Boston Red Sox 7 p.m. ET
Friday, May 27: Toronto Blue Jays at Los Angeles Angels 9:30 p.m. ET
Friday, June 3: Detroit Tigers at New York Yankees 7 p.m. ET
Friday, June 3: Atlanta Braves at Colorado Rockies 8:30 p.m. ET
Friday, June 10: Tampa Bay Rays at Minnesota Twins 8 p.m. ET
Friday, June 10: New York Mets at Los Angeles Angels 9:30 p.m. ET
Friday, June 17: Chicago White Sox at Houston Astros 8 p.m. ET
Friday, June 17: Cleveland Guardians at Los Angeles Dodgers 10 p.m. ET
Friday, June 24: Chicago Cubs at St. Louis Cardinals 8 p.m. ET
Friday, June 24: Detroit Tigers at Arizona Diamondbacks 9:30 p.m. ET