Apple launches new training & certification program for iPhone, iPad, Mac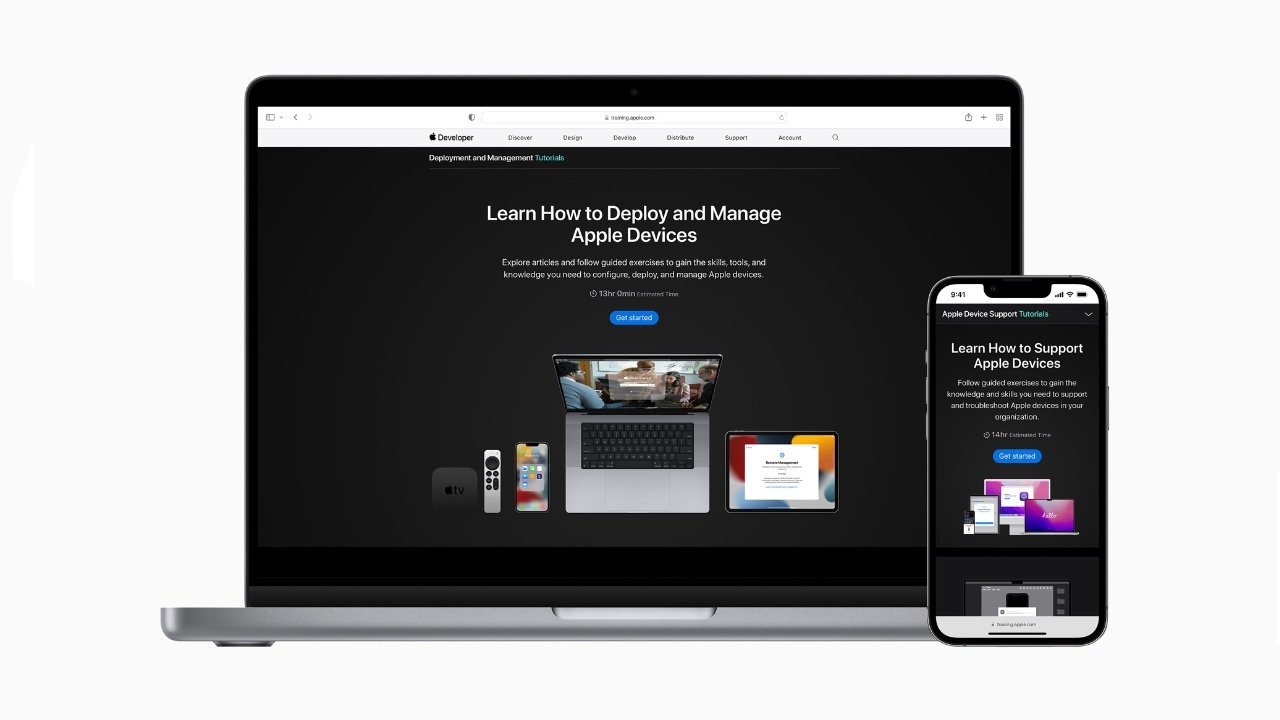 Apple has introduced updated training courses for IT professionals looking to be certified in deploying, managing, and supporting the Mac, iPhone, and all Apple devices in the workplace.
Apple has previously promoted its schemes for training educators how to use iPhone, Mac, and iPad, but it's now announced a more involved scheme for IT professionals. Following its new courses will get people certified in all aspects of Apple technology, which the company says is needed as its devices become ever more widely used.
"More people than ever are using Mac, iPad, and iPhone to do their best work, and the demand for Apple-certified IT professionals has never been greater," Susan Prescott, Apple's vice president of Enterprise and Education Marketing, said in a statement. "Apple Professional Training helps anyone with an interest in technology — whether they are changing careers or upping their skill set — pursue high-paying IT jobs with certifications that will stand out to potential employers."
"We believe deeply in inclusion in technology," continued Prescott, "so the new courses are self-paced and freely available, and we are working to ensure ability to pay isn't a barrier to earning Apple certification."
Two new courses have been launched, covering Apple Device Support, and then Apple Deployment and Management. Available on Apple's training site, they each conclude with a $149 exam.
Apple says that the resulting certification helps people stand out in the job market, and that this is needed as firms including Ford have been "seeking to hire talent to manage their Apple products."
"Transforming Ford and delivering great value to our customers is being fueled by technology," said Mike Amend, Ford's chief enterprise technology officer, "including enabling our people to do their best work with the best tools as we create the digital factory of the future."
"As part of that process, we're rolling out Mac as a choice for our employees," continued Amend. "Apple's new professional training certifications will help us attract highly talented IT people and see that they're successful carrying out our Ford+ growth plan."
The Apple Device Support course includes online exercises that cover tools, services and best practices. Apple estimates that it contains around 14 hours of content, which must be completed before taking the exam.
Completing that course enables people to then enrol on the Apple Deployment and Management course, which covers configuring and securing Apple products. Apple estimates that this course includes 13 hours of exercises and other materials.
In-person initiatives
While these two courses are online, Apple is also partnering with community colleges and universities to offer in-person preparatory sessions. A version of the deployment course was already trialled with the Austin Community College in Texas in 2020, and is now expanding to Maricopa Community Colleges in Chandler and Mesa, Arizona, this summer.
Further Community Education (CEI) institutions will be joining the program, and Alabama's Ed Farm education non-profit, will also be offering Apple courses.
At the same time, Apple has also partnered with the Mac Admins Foundation, where it is to offer vouchers to help students with financial difficulties.
"There's a lot to like about the all-new Apple Professional Training courses," said Tom Bridge, the Mac Admins Foundation's co-chair, "which give users a solid grounding in the concepts and theory around supporting and deploying Apple products."
"Furthermore, both Apple exams are fully representative of the depth and breadth of skills needed for success," continued Bridge. "We're excited to work with Apple... and ensure that the certification is available to anyone with the passion to take a new step forward in their career."
Apple says that it is launching these programs because jobs in computer and information systems are "projected to grow faster than the average for all occupations from 2020 to 2030." Its official training site has been offering courses since at least 1996, initially supporting sales people but more recently including professional training.
The new programs have expanded on previous courses, and been "completely redesigned and moved to an online, self-paced format."
These new courses continue Apple's work in education, including its entrepreneur training camp, and the development training program run by its Claris subsidiary.