iCloud Time Machine for Mac & new AirPort routers pop out of rumor mill - but hurdles abound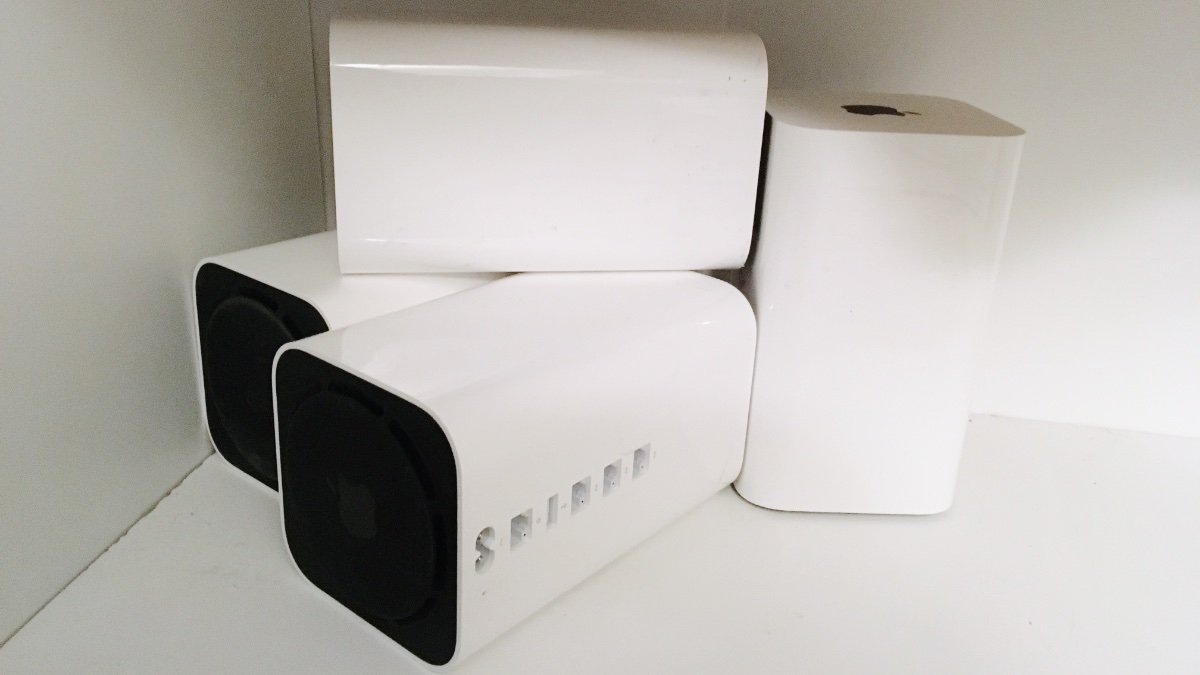 A questionable rumor appeared on Thursday morning, claiming that Apple is working on iCloud Time Machine and a new range of AirPort routers. Here are reasons why Apple may — or may not — be pursuing the idea.
The rumor is explicit about how Apple is working on an iCloud-centric Time Machine for Macs and new AirPort hardware. While the leaker in question has a good track record for future iPhone cases and the like when presented a few days before release, they are less so when discussing hardware.
According to what is reported by my source l on macOS 13 there should be a version of Time Machine (Mac backup system) completely redone, integrated with iCloud Drive. In addition, Apple is expected to introduce new AirPorts in November #Apple #AppleRumor

— Majin Bu (@MajinBuOfficial) May 26, 2022
It's been four years since the AirPort was discontinued, and the product itself was originally released in 2013 in the vertical tower form. The rumor mills have been talking for some time about new AirPort hardware, well before that discontinuation, with it only stopping in the last 18 months or so.
But, FCC filings on May 23 has apparently revived some rumors. In that filing, Apple details a device by name of "A2657" and its purpose seems to be as a network adapter of some sort.
We don't think it's a new AirPort, because the Wi-Fi on it only supports up to 802.11n and it also includes NFC which would be unusual to see on router. And at 32GB of storage it's not going to be a new version of AirPort Time Capsule.
The other part of the rumor on Thursday mentions a redesigned version of Time Machine that integrates with iCloud Drive. It would have to be a radical redesign, because this is hugely different than how iCloud Drive or Time Machine currently function.
Files that you delete from one Apple device are also deleted from all of your other devices. An ideal backup solution should prevent such deletion from syncing. On your iPhone and iPad you can make use of iCloud Backup, but that's more of a middle-ground between syncing and backing up.
Apple breaks down the differences in this support article. For example, device backups don't include data already backed up to iCloud elsewhere, such as iCloud Photos, Notes, and Calendar.
Pro and cons of iCloud Time Machine
From Apple's perspective, a first-party backup solution that keeps customers in the ecosystem is positive, and also fits into the company's vision of wireless devices. An ecosystem offering could also be positive for customers, because iCloud Time Machine service would undoubtedly be included in the all-inclusive Apple One subscription.
Apple needs to increase the storage available to customers to make this a viable service. Unless you set up multiple Apple IDs, the most storage you can buy is 4TB. For Mac backup, a more reasonable number is 10TB, and it's not at all clear what Apple would charge for that much space given existing pricing.
Speed is another factor to consider. Local network speeds are somewhat less than a 125 megabytes per second in the real world. This is in contrast to a large percentage of the US userbase having upload speeds not even hitting 5 megabytes per second.
If Apple is bringing back AirPort, it will likely continue as the Mac's main backup solution apart from external drives. Transferring files inside a local network is far faster than uploading to iCloud. And, downloading an internet-based backup to restore a completely crashed drive would take a very, very long time.
In that light, maybe iCloud Time Machine would work alongside AirPort. A 32GB device suggests that it would contain only the most recent snapshots of your Mac system. Older snapshots could be stored in iCloud as a long-term archive.
WWDC is near
Apple's Worldwide Developers Conference for 2022 is on June 6. If the rumor is true — and we're not saying it is, because a lot would have to happen for it to be true — it's possible we could see iCloud Time Machine announced at the keynote. Hardware wouldn't necessarily need to arrive at the same time.
Regardless if the iCloud Time Machine rumor is real or not, we're ready for new AirPort hardware.