The best alternatives to TweetDeck for the Mac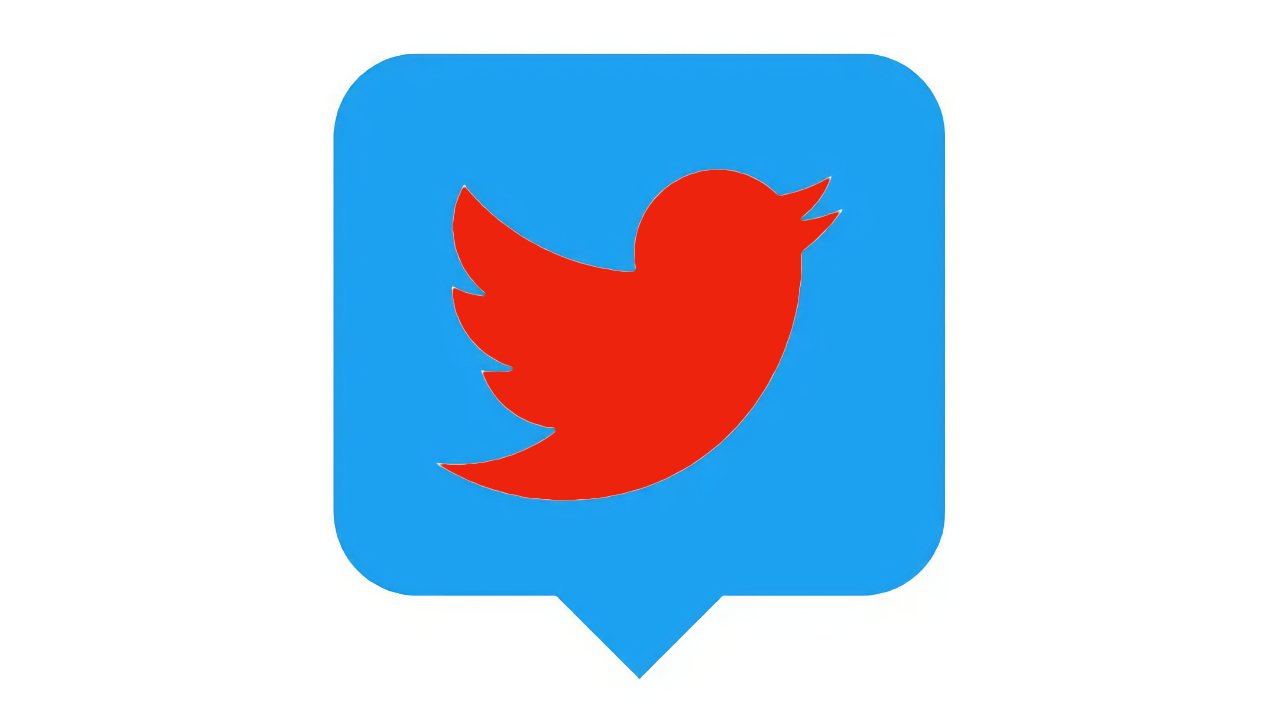 AppleInsider may earn an affiliate commission on purchases made through links on our site.
As Mac favorite TweetDeck announces its closure, here are the best apps to try if you want to continue using Twitter on macOS instead of in a browser.
TweetDeck will continue to work online, but the longstanding Mac app will now end on July 1, 2022. At least it's lasted longer than TweetDeck for iOS, which shuttered in 2013, two years after Twitter bought the once independent app.
Don't bet your own money against it ever coming back, though. Twitter's own Mac client was killed off in 2018, only to return in 2019.
It wasn't truly a return, though, as the official Twitter app for Mac only came back because of Apple's efforts with Catalyst. These days, Twitter for Mac is really Twitter for iOS, ported.
The same won't happen with TweetDeck, since there isn't an iOS version of that any more. The Twitter company expects TweetDeck users to move online, to use the app as a service within their browser.
Benefits of using a Mac app
If you want to use Twitter in your browser, go right ahead. You might have to put up with occasionally closing that tab by mistake, but otherwise, fine.
Except having it as a separate app meant you could leave it running on, say, a second screen. Or you could hide it until you were ready to lose some time on Twitter.
All of this is possible with the online-only version, all of it is more convenient with a Mac app. And when you use a Mac app, you don't lose everything because you're in a poor Wi-Fi area.
With TweetDeck and any of the Mac apps, you can always scroll to read back through the last few thousand tweets, even if you can't read or write any new ones.
And with TweetDeck for Mac, you could schedule tweets to be sent at times that suit you or, better, that suit your audience.
Alternatives to TweetDeck for Mac
There are really three direct alternatives to TweetDeck for Mac. They also each have the advantage that they have iOS equivalents.
Consequently, while the Mac and iOS apps are all subtly different, if you like one on the Mac, you will already familiar with it on the iPhone.
Twitter for Mac
Twitter owns the TweetDeck for Mac that it's shuttering, but it does also own Twitter for Mac. You would think that the official app made by the company would be the best option, but if it were, nobody would've stuck with TweetDeck.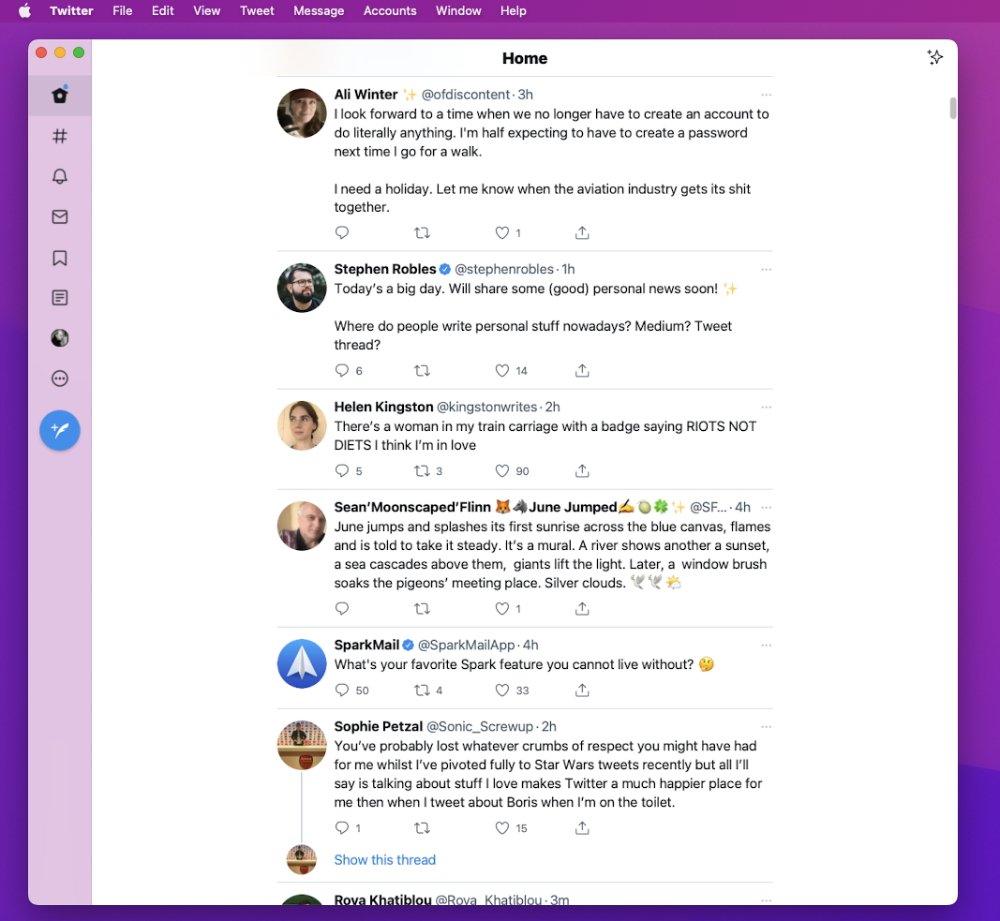 It's not at all a bad option if you just want to read Twitter and write the occasional tweet. Twitter for Mac is also fine with direct messages, and searching, too.
Plus Twitter for Mac is free on the Mac App Store.
Twitterrific for Mac
The hardest to spell of the apps, Twitterrific chiefly scores over Twitter's own app in its aesthetics. This was really the go-to app when Twitter's Mac app was gone, because it offered multiple timelines.
That made it useful when you were someone running two or more Twitter accounts that you had to keep an eye on at the same time. Or that you had to keep switching between.
Made by the Icon Factory, it also just looks good. On iOS, it's a subscription app, but the Mac, it's a $7.99 purchase.
TweetBot for Mac
Twitter, the company, giveth, and Twitter taketh away. All alternative Twitter apps require access to the service's APIs, and Twitter has variously been generous with this, and removed functions, too.
TweetBot doesn't try to keep up. It offers the core features of reading and writing tweets, plus it offers multiple timelines.
It just generally feels like more of a casual, consumer app where Twitterrific aims to be more hardworking somehow. But it also feels the lightest of the apps, because it runs in a narrow window, as if showing you what you need while not getting in the way.
Scheduling tweets
Any of these offers a good, easy to use way to read and write on Twitter. For the core functions like that, the main differences are aesthetic and it's remarkable how different they are.
But if you were a serious TweetDeck user, you probably used its ability to schedule tweets in advance. You can do that on the web version of Twitter, but you can't from any of these apps.
You also can't trick them. If you write a tweet when you don't have an internet connection, some apps offer to save it as a draft, but none will queue it up to go when you're back online.
There are services that you can use to schedule tweets, however. But none of them have Mac apps.
Still, if this is the function you need, you can check out Hootsuite and Buffer online. Yet if you're going to do that, you might as well use the familiar TweetDeck online instead.
Roll your own Mac app
There ought to be a middle ground. You should be able to take a website and turn it into a Mac app. Utilities such as Unite, or Coherence — both available as part of Setapp — ought to be able to make an app for you.
In AppleInsider testing, though, neither of those was able to make a satisfactory app out of the Twitter homepage. It could be possible to make one for the homepage of Twitter, and then sign in every time, but currently something about Twitter's site makes it hard.
Similarly, it's now possible to use iOS apps on Mac. It's not the most straightforward thing to do, nor the most satisfying, but it works.
It's just a shame that TweetDeck for iOS is long gone.