Hands on with Stage Manager & external monitors with iPadOS 16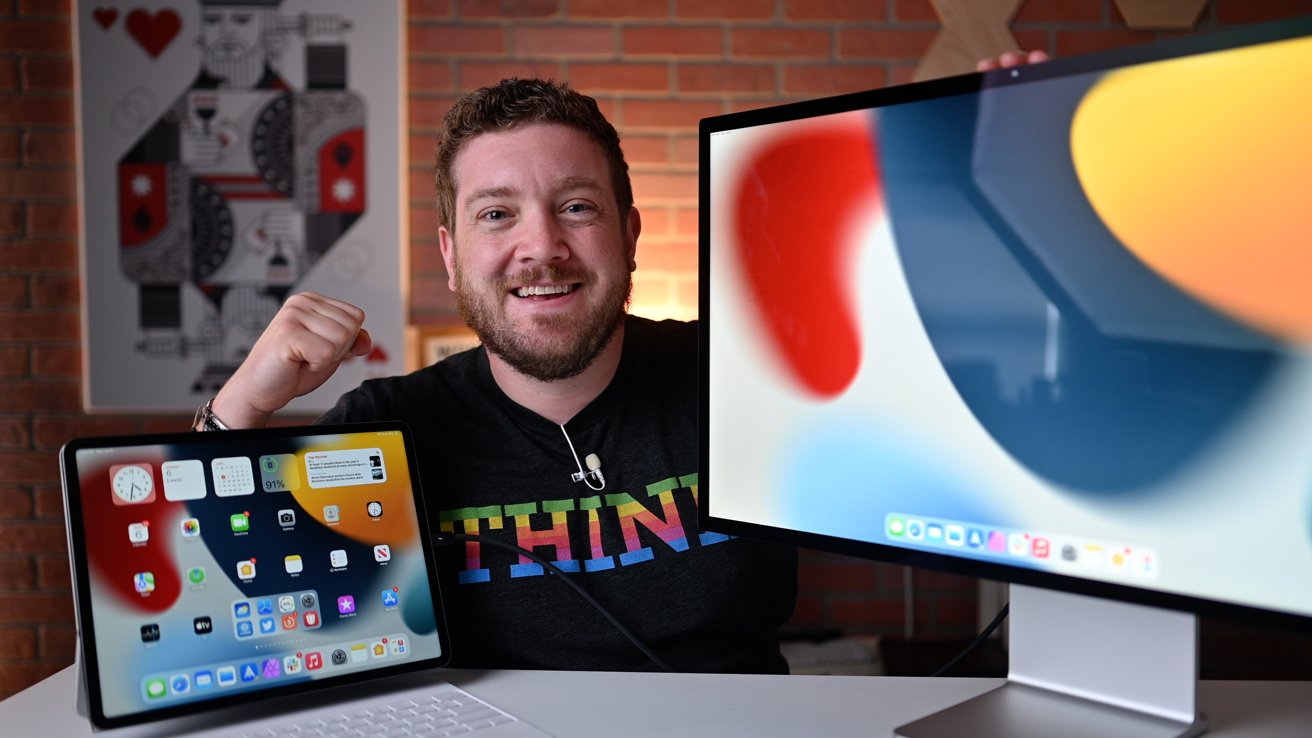 With iPadOS 16, iPad users can finally extend their display to an external monitor. Here's how the feature works in tandem with Stage Manager, another new feature in the forthcoming update.
In Apple's marketing, external display support has been described in the same breath as Stage Manager. Despite this, they are two distinct features that overlap in functionality.
Stage Manager is a new multitasking interface for iPad that allows overlapping windows, better organization, and the ability to quickly jump between groups of apps. You can enter this new interface on the iPad's display, and it is exclusively used on external displays.
Both Stage Manager and extending your display are limited to recent iPads. Only those equipped with an M1 processor are capable which means the M1 12.9-inch iPad Pro, the M1 11-inch iPad Pro, and the M1 iPad Air.
Using Stage Manager with iPadOS 16
Stage Manager is enabled via Control Center. By swiping open Control Center, you can tap the new Stage Manager icon to enable this new interface.
Now when you open an app, you'll see it in the center with other recent apps situated to the left. You can see all of these open windows and apps and jump between any of them with a tap.
Multiple apps can be drug onto the screen to be open at once. Each of the windows can be resized — as small as an iPhone screen — or up to full screen. They can be overlapped, just like on macOS.
There's a limit of four app windows that can be opened at once, which seems fine considering the space limitations of the iPad's native displays.
If you tap the three dots in the top bar of each app, you'll see various resizing options. When you're done with Stage Manager mode, it can be disabled from Control Center just as you enabled it.
How to extend your display
With iPadOS 15 and earlier, when an external display was connected it would mirror what was on the iPad's display.
This had few exceptions, such as when using a video editor or spreadsheet app. These would utilize the external monitor as a passive "viewer" rather than one that could be interacted with.
You could preview your video edits on the external monitor or see a high-level view of your spreadsheet while working. This was always very limiting.
Once you update to iPadOS 16, the external monitor will extend your display now by default. You'll see your dock along the bottom and be in Stage Manager whenever you open an app.
Both interfaces can operate independently, including leaving the iPad in full-screen mode and the monitor in Stage Manager. If you go to Settings > Display and Brightness you can adjust the arrangement of the display, choosing which side the iPad is situated.
When using your mouse, it will move between each display and you can drag and drop files, text, and images between the two interfaces without issue.
It's a great new way to make the iPad a more capable device and fulfilling a big request from users since Apple added mouse support.
Coming soon
At the moment, iPadOS 16 is limited to a developer beta. It will be available soon as a public beta in July, before a full release this fall.
Stage Manager and external display support are just a few of the many new features Apple is set to introduce.