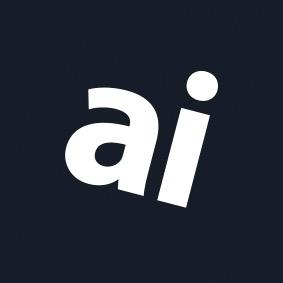 Why you can trust AppleInsider
Keychron Q8 Review: A good starter ergonomic & mechanical keyboard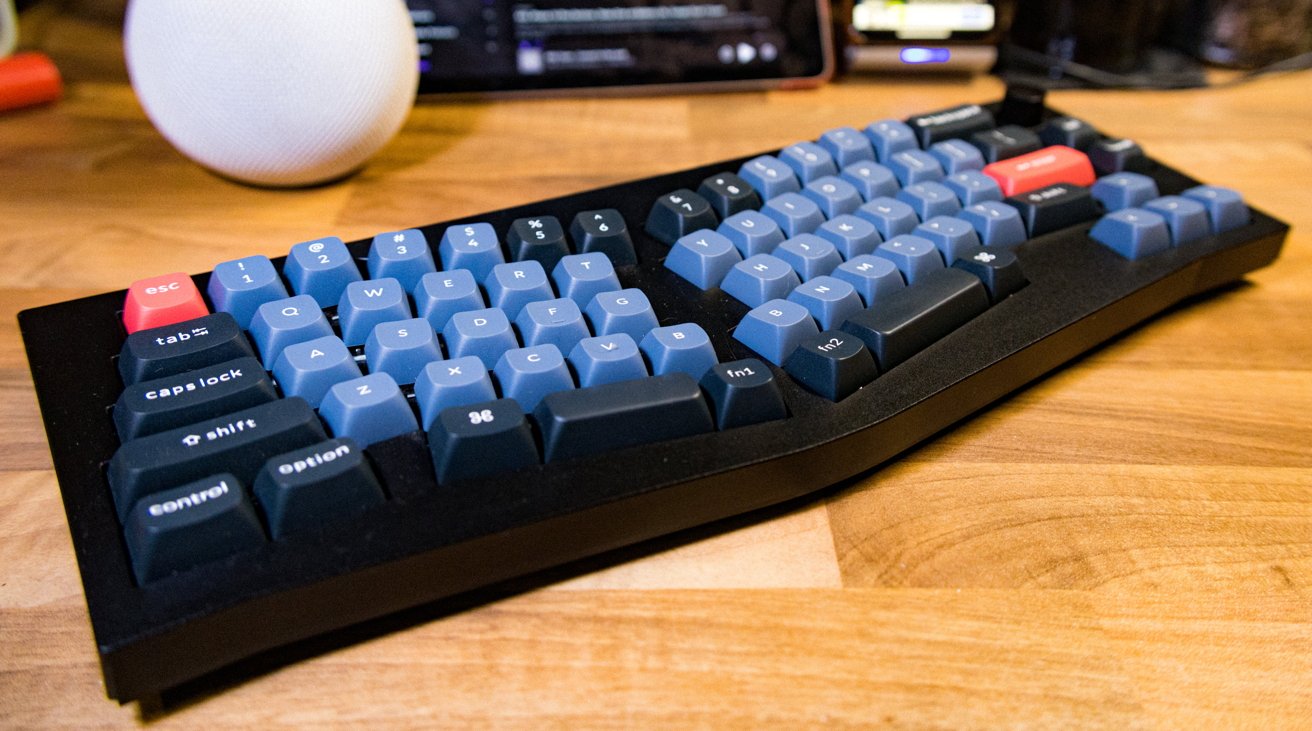 ---
The Keychron Q8 is yet another great entry point into mechanical keyboard ownership, but the Alice layout could be challenging for some typists.
Keychron has a history of creating great mechanical keyboards welcoming newcomers to the peripheral category. Typically offered in fully-assembled and barebone kits, the keyboards cater to those who want the benefits without any assembly effort and those who wish to explore customization in the future.
The Keychron Q8 joins the roster as another customizable keyboard with premium features, but this time, it focuses more on an ergonomic layout.
Keychron Q8 - Design
The Q8 is a very heavy keyboard out of the gate compared to your typical plastic-enclosured typing tool. Here, Keychron went with a full CNC-machined enclosure, with the fully-assembled version weighing 1,820 grams (4.01 pounds).
It has a compact size, too, at 136mm (5.4 inches) wide and 358mm (14.1 inches) long. The casing goes from a height of 19.8mm (0.78 inches) at the front to 31.5mm (1.24 inches) at the rear, excluding the height of the keys you install.
The wedge-shaped design gives you a 5% incline for the keys, though this isn't easily adjustable as the feet are fixed in place, and there are no movable elements to assist. Adding bigger rubber feet or wedging a pencil behind can help if a user desperately needs to change the height, but otherwise, it's entirely acceptable to use.
There's four rubber feet underneath, but this certainly won't be sliding around your desk as you type if it didn't have them. Its heft will put a stop to that.
The choice of 6063 aluminum and that heft offers a premium feel to the keyboard and a feeling that you're using a precision-made tool.
Around the back is a single USB-C port, which you can use with the supplied braided cable or one of your choosing. There's no Bluetooth connectivity option here as you may find with some other models, so you cannot use this wirelessly.
Beside it is a slider to switch between Mac and Windows layouts, but as we'll discuss, it's a little bit more than just flipping a few key positions around.
Keychron offers the Q8 in three main colorways, with Carbon Black joined by Silver Grey and Navy Blue, along with appropriately-colored keycaps.
To go with its exterior and to appease those who will want to take it apart and tinker, Keychron has also made an effort to get the keyboard to a place that can save effort for all users.
Between the top and bottom cases, the plate and PCB are sandwiched in place by a double gasket design. Along with using gaskets to hold the plate and PCB in place between the top and bottom casing, the casings themselves also have silicone pads to reduce sound resonance.
Keychron claims this helps the keyboard maintain the gasket structure flexibility and reduce the resonance caused by using large metal components.
There's also what is referred to as a "tape mod" already installed in the keyboard. A mod often undertaken by enthusiasts, it consists of a layer of tape that is applied to the bottom layer to tweak the sound typing keys produces to be deeper and less high-pitched.
Though this is a reasonably cheap mod for users to undertake for themselves, its inclusion is a nod to enthusiasts and saves a few minutes and strips of tape.
Keychron Q8 - Keys and Alice
The keys supplied with the keyboard are double-shot PBT keycaps in a new "OEM Spherical Angled" profile, using a rounder shape while having a similar height to the OEM profile.
They do seem a little different from typical keycaps, visually at least, and are completely OK for fast typing for long periods.
You can use them with Cherry MX-style keycaps, so there are many options available on the market if you want a significant visual change that's also relatively easy to implement.
The keyboard itself is in a 65% layout. This refers to a key layout that doesn't have the usual Numpad section, nor does it include a function key row. A 60% keyboard also eliminates some side buttons, such as Page Down and Up, but a 65% can keep these elements intact.
In the case of the Keychron Q8, it has 68 keys, including arrow keys, Del, and Home.
While you don't have a function key row, you still can access the functions by using the two Fn keys low down on the keyboard. Holding down Fn1 and pressing a number key provides the same effect as Apple's usual multimedia key functions, while Fn2 treats them as normal function keys.
Keychron supplies the Q8 with Option and Command buttons in place, but adds a small bag containing a Windows and two Alt keys, in case you want to alter the layout to better suit a PC.
It's also in what is called an Alice layout, one which aims to improve the ergonomics of typing by splitting the key into two sections. Each half is angled out to the side, reducing the strain on the user's wrists by being able to hold them straight, not bent.
This layout does throw up a foible in its key selection, as there are two B keys, one for each side. This may not be a problem for the split, but it may be an issue when buying future replacement keycaps, as you tend only to have one B in a set.
It can take a while to go to an Alice layout from a typical one, especially if you aren't classically trained in touch typing and favor one hand over the other. This writer repeatedly reached over the gap to type a T with their right hand, and ended up tapping the divide instead.
In short, there's a bit of a learning curve if you're not typing correctly. But if you want to ease the pressure on your wrists, it will be helpful to learn it.
Keychron Q8 - Switches and Customization
If you are feeling adventurous, the Keychron Q8 can accommodate attempts by keyboard enthusiasts and the curious. Unlike a major mass-produced cheap keyboard that may let you change just the keycaps, Keychron understands that you may want to actually take the keyboard apart.
Indeed, you can get a barebones kit of the Q8, which users can then properly mount their own choice of mods and assemble it how they want. Keychron even includes a keycap puller, switch puller, small screwdriver, and hex key in the box, specifically for disassembly and construction.
Keychron also includes some extra gaskets, screws, and feet in the box, just in case you ruin what's already installed.
Keychron includes Gateron G Pro switches for the fully-assembled version, in a choice of a linear Red, clicky Blue, and tactile Brown. The Red is quiet and probably more suited to office work and gaming, while typists probably favor the Blue, and Brown is a happy medium.
The switches are mounted in hot-swappable sockets on the PCB, which enables switches to be changed without soldering. The PCB supports 3-pin and 5-pin MX mechanical switches, so you could mod it to use different switches for different keyboard areas.
New screw-in PCB stabilizers are also used for specific big keys like the space bar to prevent wobbling. Third-party stabilizers from Cherry and Durock can also be used with the case.
AppleInsider was supplied a fully-assembled Q8 with Red switches. Audibly, it is quite pleasant and not too high-pitched while also providing a satisfying "thock" when bottoming out.
RGB lighting, a common part of the modern keyboard experience, is also provided using south-facing LEDs. As well as making the LEDs bright and visible to the user, it eliminates any interference when using Cherry-profile keycaps with the board.
The patterns are all controllable with the Fn1 key shortcuts, with Tab to turn it on and off, T and G to change speeds, Q and A to change the lighting effect, and W and S to manage brightness.
Keychron Q8 - The Knob
Not a common addition to keyboards, a knob in the top-left corner provides some extra functionality. Once set up, you can set the knob to control various elements of a Mac that work on a sliding scale.
For example, you could set it up as a volume control, giving a more tactile dial-like experience. It's also a button, so pressing it could be used to mute, among other features.
It's quite a nice addition to the keyboard, with definitive tactile points felt when turning, so you know how far you've twisted it.
Keychron Q8 - Via
While you could use the Q8 out of the box without any software changes, the way the keyboard is set up begs for tweaking. Configuration of the keyboard's functionality happens in Via.
The software is used to manage the keymap, so you can change what keys on the keyboard do when pressed. You can also set up key macros, adjust the lighting, and test that every key is functioning properly using the Key Tester.
Via is also used to manage the Fn1 and Fn2 keys and extra features they offer. The Q8 actually has five different layers of key layouts, numbered 0 to 4.
Layers 0 and 1 are the default layouts for Mac and Windows respectively, available at all times and selected between via the rear switch.
Layers 2 and 3 are deemed Mac and Windows Multimedia Keys layouts and come into play when Fn1 is pressed, and the rear switch is aligned to the correct one.
Layer 4 is the Function Key layer, accessed by pressing Fn2 and available across both Mac and Windows.
Despite the Multimedia and Function Key layer names, you could use Via to assign unused keys in these layers with extra functions. For example, you could set the bottom row of letter and punctuation keys under layer 2 to run macros using a simple keyboard shortcut.
This layer system allows for hefty customization by power users and certainly works around the limits of the 65% keyboard layout.
An ergonomic mechanical keyboard for beginners
As a keyboard in its own right, the Keychron Q8 is a luxurious choice for those who want a decent typing experience. Those who have lived using cheap keyboards will undoubtedly be spoiled by Keychron's hefty but highly enjoyable peripheral.
At $205 for the fully-assembled version with the knob, it'll take a bit of a justification to hand over that cash, but anyone who writes for a living and is willing to invest in their setup will certainly find reasons to go for this.
That you can also select the color, the type of switch, and can leave off the knob to save $10 are also nice bonuses.
The Q8's use of an Alice keyboard may take some rationalizing, especially if you're unprepared to learn to type properly, but there's always something like the Q3 if you want something a bit more normal and straight-laced.
Paying around $200 for a keyboard is indeed a luxury, but it is also a starting point for the potentially wallet-draining hobby of mechanical keyboards and customizations. Compared to some of the nose-bleed cost keyboard setups out there, the Keychron Q8 acts as a safer way to dip a toe in the water.
Since you can get the barebones kit without the keycaps or switches for $185, $175 without the knob, it's also a good way to gradually shift towards making your own keyboard by hand.
Regardless of reasons for buying it, the Keychron Q8 is a great premium keyboard with aspirations to offer more. You just need to be prepared to learn to type correctly.
Keychron Q8 pros
Solid construction
Well-implemented out-of-box mods
Tactile knob
Open to upgrades and customizations
Extensive options in Via
Keychron Q8 cons
Premium price could put some off
Alice keyboard layout takes practice
Height isn't adjustable
No wireless option
Rating: 4.5 out of 5
Where to buy