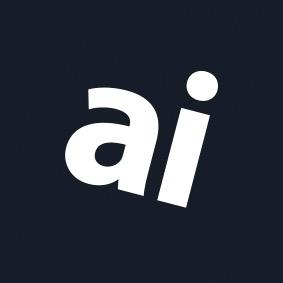 Why you can trust AppleInsider
Sonnet Echo Dual NVMe Dock review: Port extension & storage for your desktop Mac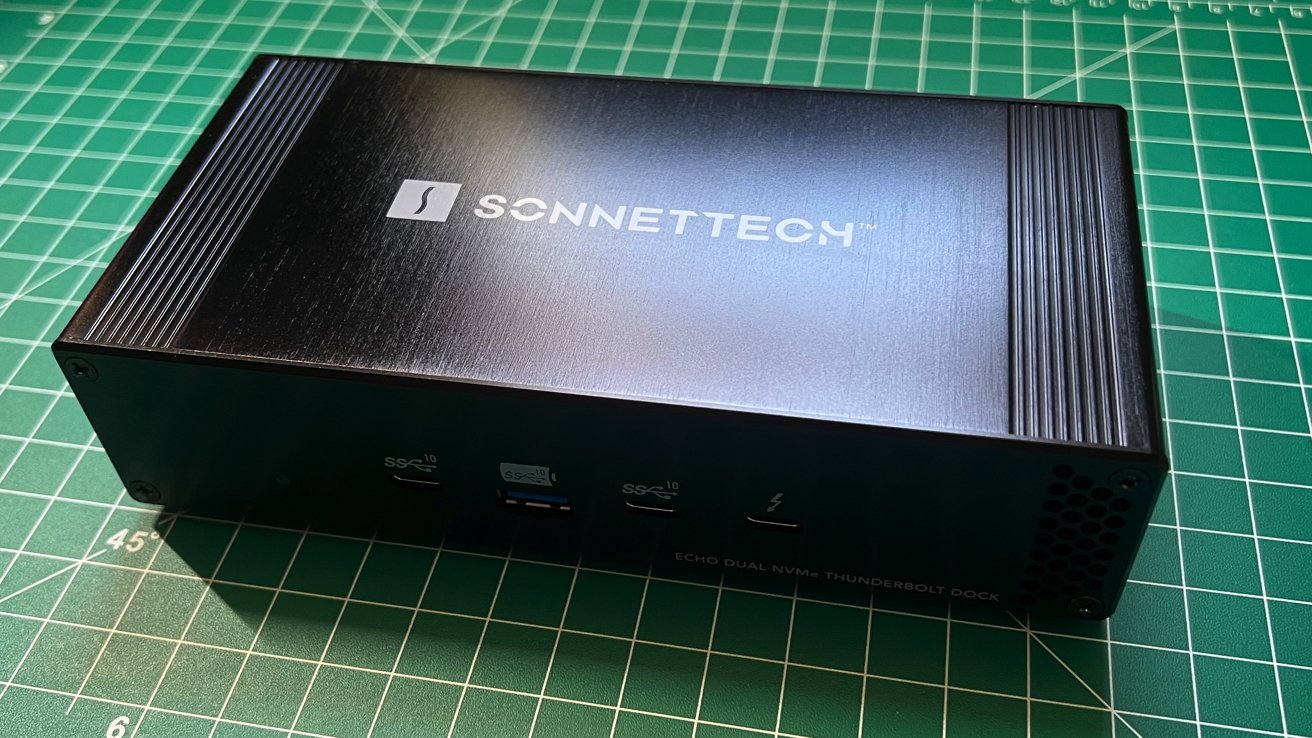 Sonnet Echo Dual NVMe Dock
4.0 / 5
---
The Sonnet Echo Dual NVMe Thunderbolt Dock promises fast storage and expanded connectivity for your Mac, but a lack of enough power to the host computer pares down the overall utility a bit.
Thunderbolt 3 is great, but most modern Macs just don't have enough ports, and that's aggravated on the lower-end of the product line. And, if your Mac is at the center of your desk because of aesthetics, cables snaking in five different directions looks cluttered.
To try and cut down the amount of larger items that you could need to have connected directly to your Mac, long-time Mac upgrade vendor Sonnet's latest answer is to combine extra storage with ports, in a single, easily hide-able, aluminum dock.
Sonnet Echo Dual NVMe Thunderbolt Dock - Specifications
Specifications
Sonnet Echo Dual NVMe Thunderbolt Dock
Starting Price
$349.99

Dimensions (inches)
6.8 x 3.4 x 1.8
Weight (pounds)
2.2
Ports
2 x Thunderbolt
2 x USB 3.2 Gen 2 Type-C,
Two USB 3.2 Gen 2 Type-A
Power Output
15W via Thunderbolt 3 to host,
7.5W to other ports
Storage Slots
2x single or double-sided M.2 2280 NVMe PCIe SSDs,

16TB capacity
Data Transfers
Up to 1,500MB/s for single SSD,
Up to 3,000MB/s for a RAID 0 set
A bit boxy
The Sonnet Echo Dual NVMe Dock is best described as utilitarian, boxy, even. It doesn't have the aesthetics to ideally be an on-show peripheral for your Mac, as it consists of a nondescript metal box with a bunch of ventilation holes and a small internal fan.
The top bears a grey Sonnet logo, with the front and back sides occupied by its various ports and connections. Philips-head screws are plainly visible from the front, two on the bottom, and one on the rear. Four Torx screws secure the back panel to the motherboard.
To us, it feels like the the design is less intended for open desk viewing, and more something to be hidden away, strategically placed for access but out of view.
As a nondescript box, it measures 6.8 inches long by 3.4 inches wide, and 1.8 inches deep, so it's reasonably easily hidden. The power brick is fairly chunky in its own right, at 4.9 inches by 2.8 inches by 1 inch, but not so much that it can't be tucked away.
At 2.2 pounds for the box and its accompanying sizable power adapter, it's also not a weighty system either.
At one end is a fan. It is a temperature-controlled unit that runs quiet normally, but speeds up when the internal air gets warm. We didn't hear anything in the way of whistle or whine from the fan while hammering it for disk speed testing, when used in a normal office environment.
Any port in a storm
The dock element of the device is serviced by a reasonable selection of ports on the front and back of the main unit.
On the front is a quartet of ports, consisting of a Thunderbolt peripheral port, two USB Type-C ports, and one USB Type-A port, as well as an indicator LED. At the back is a Thunderbolt computer port intended for the host, another USB Type-A port, the power connector, and a Kensington Lock slot.
Since it's intended to be used in one place, the Thunderbolt port to connect to your Mac has a ThunderLok 3 hole with the included cable clasp. The clasp wraps around the cable end, and a screw will keep the connection secure — so it's not going to suddenly unplug if moved during use.
The host's Thunderbolt port facilitates up to 40Gbps connectivity. We're still glad that there are basic cables that come with a device, but the actual utility is somewhat limited with the included 18-inch cable. Expect to pay a bit more for a longer cable.
The dock's main audience is the Mac, and it's clear. We did test it on a 12.9-inch iPad Pro, and you can connect to a Windows PC if you so choose. You're really only limited here on the drive format — but more on the storage aspect in a bit.
Minus the rear host computer Thunderbolt port, and the one on the front of the enclosure, all of the USB Type-C and Type-A ports are USB 3.2 Gen 2. They are all capable of 10Gbps data transfer rates with full UASP support, providing up to 7.5W of power per port.
The front Thunderbolt 3 port can also handle USB 4 plus slower connections. It can also be used to provide video to a Thunderbolt 3 or USB-C monitor, or to DisplayPort or HDMI monitors when used with an adapter.
Don't adapt, though. Avoid dongles. Instead, go native, and get a USB-C to HDMI or DisplayPort cable, if you don't have a USB-C native monitor. You won't be sorry.
Sonnet says it can support an Apple Pro Display XDR, a 5K display at 60Hz, 4K at 75Hz, 1440p at 165Hz, or a 1080p display at 240Hz, assuming proper OS support.
All of this power is supplied by the adapter, which is a 96W unit. However its 15W of power delivery is a little underwhelming, and far from what is needed to recharge a connected MacBook Pro, nor maintain anything else other than a MacBook Air under light load.
MagSafe to the rescue with new machines here, but we still prefer a single-cable approach to data and charging.
Internal storage
First of all, do not remove the Torx screws on the rear of the case. Access is granted by the removal of seven Philips screwdriver screws. When the back is removed, the unit includes a mainboard with a pair of ports designed for M.2 2280 NVMe PCIe SSDs.
Two SSDs can be installed, one per slot, with a single screw and post holding each stick in place.
According to Sonnet, the storage that can be installed can be single or double-sided, and be fitted either with or without a heat sink. Heat sinks are cheap, and sometimes already installed in your drive of choice.
According to Sonnet, it is possible to achieve data transfer speeds of up to 1500 megabytes per second for a single SSD, or up to 3,000 megabytes per second for a Disk Utility-set RAID 0 array. The figures are dependent on the speeds of the installed storage, as well as the connected host's performance.
With a pair of matched 2TB NVMe SSDs, we got about 2600 megabytes per second read and write from the dock with drives without heat sinks directly connected to a M1 Max 16-inch MacBook Pro, a Mac Studio, or a 2018 Intel-based Mac mini, and about 2700 megabytes per second with heat sinks. A single drive hit almost exactly the promised 1500 megabytes per second that Sonnet provided.
It is also possible to boot the Mac from the dock, but only from an individual SSD that hasn't been set into a RAID configuration. And, there are a few steps that you have to take on your Mac before you try to boot from any external drive, which are beyond the scope of this review — but we have link text">discussed them elsewhere and will do so again soon.
Utilitarian, and effective
The Sonnet Echo Dual NVMe Thunderbolt Dock is not a travel dock, nor one of those docks that will give you every port under the sun.
Instead, it is laser-focused on a few common ports, plus storage, all wrapped in a relatively compact package that's easily hideable on your desk. We think it's ideal for a Mac mini wedged next to a desk, or a Mac Studio perhaps on a rack near a desk, with a convenient port-extender on the desk provided by the Sonnet Echo Dual NVMe Thunderbolt Dock.
We're not going to delve too deeply into the cost-effectiveness of the dock. On top of the $299 for the dock, which is reasonable for Thunderbolt docks, the prices of NVMe storage swing radically at retail, based not just on the whim of the market, but on commodity prices too.
And then, there's the price for a longer Thunderbolt cable. Given the introduction of USB4 a long cable is cheaper than it has been, but it's still not what you'd call free.
That all considered, we like the Sonnet Echo Dual NVMe Thunderbolt Dock very much, and it does exactly what it says on the box. But, like the rash of other 15W Thunderbolt docks we've seen lately, we wish it delivered a little more power to the host computer. Otherwise, it's basically limited to the desktop Macs if a single-cable solution is desired.
We're intrigued to see what this concept, paired with gallium nitride, might bring in the not too-distant future.
Sonnet Echo Dual NVMe Thunderbolt Dock pros
High-speed storage in a small package
Good speeds with two NVMe drives
Easy access
Metal case
Sonnet Echo Dual NVMe Thunderbolt Dock cons
The storage to go in the device is not cheap, and truly huge capacities get exorbitant, fast
15W of charging power to the host computer is far too low for the MacBook Pro or anything Intel
18-inch cables are good to have included, but not practical for daily use for most
Where to buy the Sonnet Echo Dual NVMe Dock