Lofree 1% Transparent Keyboard review: Solid mechanical with unique look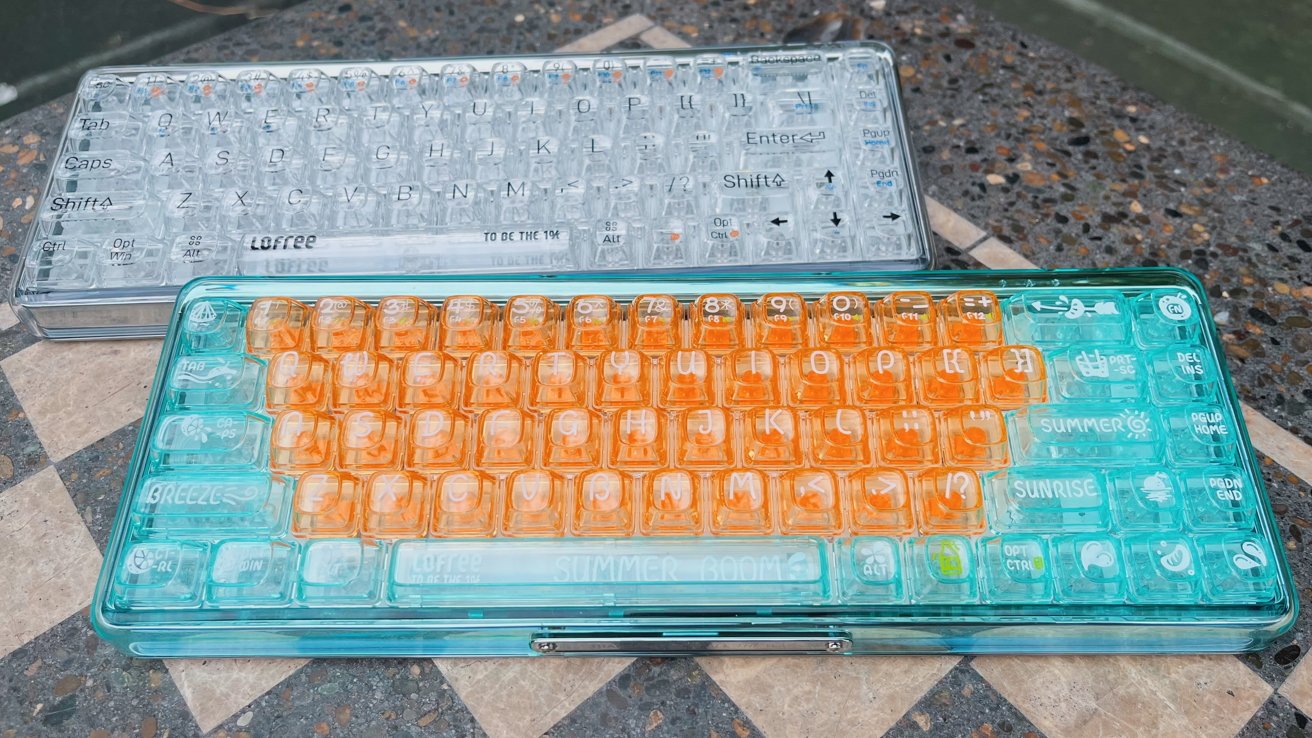 Lofree's 1% Transparent Keyboard line boasts linear mechanical switches, built-in LED effects — and transparent keycaps.
We love mechanical keyboards and are always on the lookout for new ones to add to our collection, especially if they bring something new to the table.
We got to check out two of Lofree's 1% Transparent Mechanical Keyboards to see how they stack up against our other favorites.
Lofree's 1% Transparent Keyboard - Design
The first thing you notice about Lofree's 1% Transparent Keyboards is that they are eponymously transparent. While the look may not be for everyone, it certainly is a conversation piece. We happen to like it quite a bit.
The original version boasts clear keycaps without any tint, making it feel a bit ethereal to type on. The base is silvery chrome.
The Orange Soda edition features soda-bottle green and transparent orange keycaps with a soda-bottle green base. We love the playfulness of this design and think it would look great in a themed setup.
Both versions feature pre-lubricated Kailh Jellyfish switches. These switches are linear, meaning there's no loud clicking when you press the key down the whole way.
Both also feature a USB-C charging port and a 60-hour battery life. In addition, they come with Bluetooth 5.1, which is nice if you want to pair them with a console or smart projector.
In addition to the transparent keycaps, both models have white LEDs that backlight the keys. We like the choice to pair this with white LEDs rather than RBG ones, as it feels more thematically appropriate. The LEDs can be set to a handful of different modes and have a few levels of brightness to choose from.
If there's one downside to the keyboards, they're only available in a 68-key — or 65% — layout. We'd love to see a higher key count available in future releases because we'd be interested in a full 104-key 1% Transparent keyboard — or at least a matching number pad.
Lofree's 1% Transparent Keyboard - Performance
The one thing we had to get used to when typing on the 1% Transparent Keyboards is how slick the keys felt. Our other mechanical keyboards and non-mechanical keyboards also tend to have a very slight texture to the keys.
These keycaps are glossy, making them a little foreign to type on at first. It's not a deal breaker, but it was something we had to get used to.
Of course, whether you prefer linear or clicky keys is a matter of preference, but we think the Kailh Jellyfish switches are fantastic for a linear set. There's a good amount of feedback without being overly noisy.
While the keys are certainly louder than something like an Apple Magic Keyboard, we don't think that it would irritate any coworkers, napping toddlers, or college roommates.
We paired it with both our iMac and our iPad and found that it worked great with both. We especially love the switch that allows you to toggle the layout between a macOS/iOS layout or a PC layout — no need to remap your keys at all.
The Lofree 1% Transparent Keyboard is a head-turner
Not everyone will want a completely transparent keyboard, but for those looking for something truly unique, the Lofree 1% Transparent Keyboard will definitely get attention.
Our biggest concern is that the price point is high, especially when compared to AppleInsider staff favorites like the Keychron K2 or the Keychron K2V2.
Still, it seems like a solid choice, and for those who aren't looking to build their own mechanical keyboards — a task that can get very expensive very quickly — but want something designed to stand out, this is a fantastic keyboard worth checking out.
Lofree 1% Transparent Keyboard - Pros
Unique, clear keycaps
Pre-lubricated linear switches are great for multiple environments
Decent battery life
Two colorways to choose from
Lofree 1% Transparent Keyboard - Cons
Glossy keys take time to get used to
Price point may be a bit high for some
Where to buy