OneOdio A10 ANC Headphones review: Great audio for those on a budget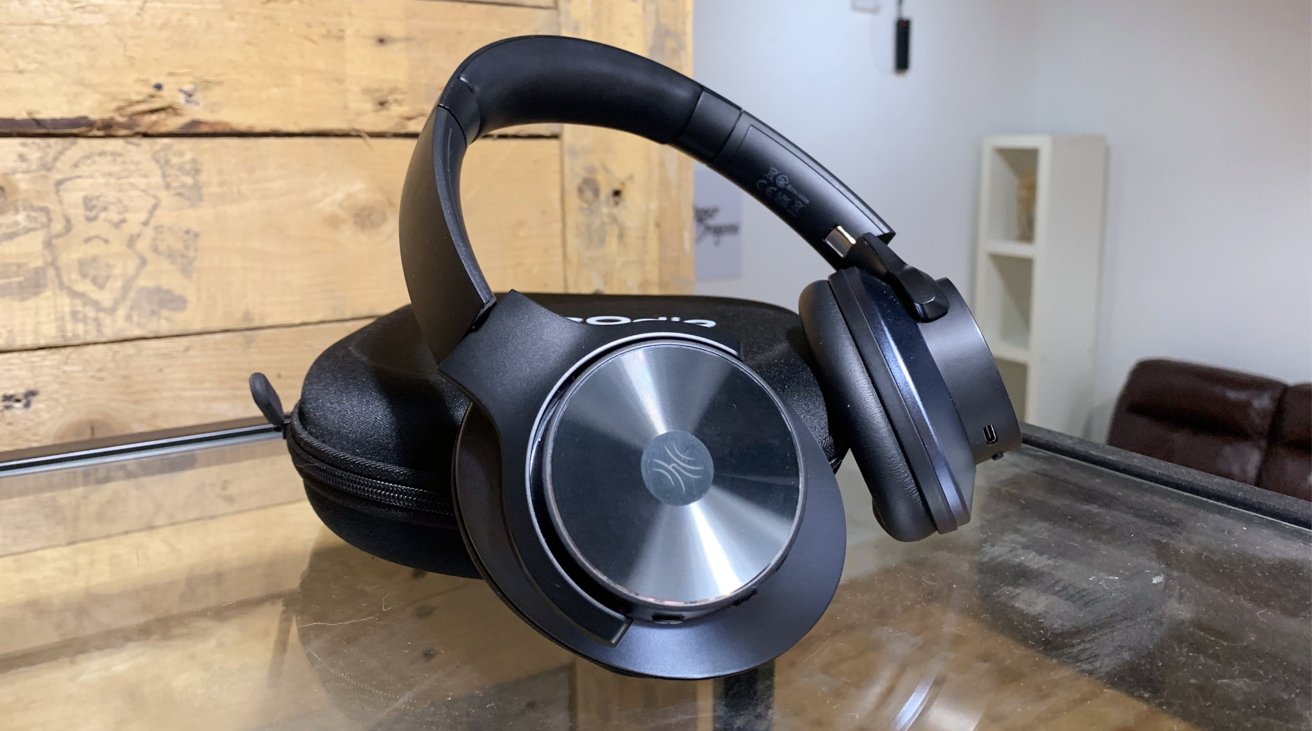 OneOdio A10 ANC Headphones
4.5 / 5
---
AppleInsider may earn an affiliate commission on purchases made through links on our site.
OneOdio's A10 ANC Headphones offer a lot of value for the price, with high audio quality, great ANC functions, and ludicrous battery life.
Active noise cancellation (ANC) has always been a feature associated with premium headphones. You always had to pay a lot to get it in a quality personal audio accessory.
However, with Apple's introduction of its AirPods Pro and AirPods Max lines that offer ANC, other vendors rushed to include the feature as part of their own products. Add in that this includes vendors who aim to provide cheap headphones and earphones to consumers on Amazon, and it becomes a shopper's nightmare.
They could pay for budget headphones with ANC, but since accessories in this bracket don't necessarily have a stellar reputation when it comes to quality, it's a risky purchase. Expectations for value headphones are going to be low, and that's always going to be a problem.
This does lead to finding the metaphorical diamond in the rough, and after spending time with the OneOdio A10 Active Noise Cancelling Headphones, it's safe to say they qualify as such.
The OneOdio A10 are headphones offering ANC features and a premium appearance at a value-focused price. Unlike some equivalents you'll find on Amazon, these actually deliver on what they claim.
OneOdio A10 ANC Headphones — Design
The OneOdio A10 are over-ear headphones that have a plastic external enclosure, but one that looks far from tacky. They have a premium-style appearance, complete with a circular-ribbed pattern on each earcup's outer elements, and there's enough of a shine to the plastic that it looks like brushed metal.
There are actual metal elements visible too, with the supporting headband visible when you expand the size of the headphones.
At the top is a nicely cushioned section for your head, while the earcups are surrounded by a similarly-soft circular cushion that's really comfy to wear. Inside each earcup, you'll see a giant "L" or "R," indicating which way you should wear them.
Each earcup also rotates around, so the headphones can lay flat. There's also a hinge built into the band on either side, so the headphones can fit down even smaller and can go into the accompanying OneOdio-branded case.
The band offers a surprising amount of comfort and size options. This writer's big head wasn't a problem, and it seems the headphones can accommodate people with physically larger skulls too.
At 295 grams (10.4 ounces), they are light enough to be wearable for hours at a time without too much trouble. Aided and abetted by the comfortable cushions, of course.
That case is a fairly basic affair, with a plain fabric outer and inner lining, a zip around the outside, and elastic to keep the headphones in place while stored. While there's no real padding inside the casing, it seems to be protective enough for the headphones.
On the underside and to the rear of each earcup are the controls and LED indicators. On the right are three buttons, used for volume, power, and pairing, while the left has just one, dealing with ANC.
There are also two ports, with a headphone jack on the right and a USB-C connection on the left. You are supplied with cables for each, including a USB-C to USB-A cable that's used for recharging.
OneOdio A10 ANC Headphones — Audio and ANC
Pairing over Bluetooth 5.0, the headphones can connect to a maximum of two devices at the same time, such as an iPhone and a Mac, at a range of up to 33 feet. This is good as you can get alerts coming from two devices at the same time, though you can only hear music from one.
You don't have to use Bluetooth, as you could use the 3.5mm headphone jack and cable to physically connect to your devices. However, you cannot use the wired connection at the same time.
With audio piped through, you also have the option of using Transparency Mode and ANC Mode, using the left-hand button. Pressing the ANC button cycles users between Transparency, ANC On, and ANC Off.
A pair of dual noise-detecting microphones are used to pick up and filter up to 95% of low-frequency ambient noise, which leads to a very good ANC system. While it doesn't block everything out, it does a pretty decent job of it.
The Transparency Mode is just as you would expect, with it amplifying speech while reducing music so the user can hear the outside world clearly. There is an odd feeling that Transparency Mode is a little louder than what you'd actually hear with the headphones off, but your mileage may vary on this point.
As for audio quality, it uses a pair of 40mm dynamic drivers for a good even sound. The bass is present but not overpowering, and music sounds nice and clear.
A built-in CVC 8.0 mic is also provided for voice calls and for speaking to Siri and other digital assistants. The quality isn't something that you'd consider broadcast-worthy, but it's more than enough to be heard in online conversations.
As a budget-focused pair of headphones, you don't have a companion app that other premium models may have. You're limited to your device's own EQ settings if you want to tweak the audio, which isn't the end of the world.
OneOdio A10 ANC Headphones — Battery Life
OneOdio claims the A10 can offer up to 50 hours of usage with ANC active from a single charge. That figure reduces to 45 hours on Bluetooth with ANC off, or 35 hours on Bluetooth with ANC features enabled.
After multiple times of draining the headphones through normal use, these estimates seem accurate, and for good reason. These headphones pack an 800mAh battery, so lengthy usage time estimates certainly make sense here.
Recharging is performed through USB-C, either using the supplied cable or one of your own. You don't get provided a power adapter, but that's not really a problem at this time.
Actually recharging the headphones is rapid, with them able to regain charge in about two hours, depending on the power source. A five-minute charge results in enough power to run for about two hours, so you're not going to be without music for long.
A surprisingly great audio package
The OneOdio A10 are value-oriented headphones that provide very good audio quality for Bluetooth and wired connections. They're also lightweight and very comfortable to wear for a wide range of head sizes.
That it includes a very usable ANC function complete with Transparency Mode is also fantastic at this price point. That, along with its massive battery life and quick charging capability makes the OneOdio A10 a formidable pair of headphones.
The pricing is also astounding at $79.99, as it's certainly punching above its weight class. These don't feel like sub-$100 headphones, more something in the $100 to $150 price bracket.
Ultimately, the OneOdio A10 ANC Headphones are what you could want from Bluetooth personal audio accessories when you're on a budget. You could spend your way to better, but it's hard not to love these for the price.
OneOdio A10 ANC Headphones — Pros
Lengthy battery life
Great audio quality for the price
ANC and Transparency
Very comfortable to wear
OneOdio A10 ANC Headphones — Cons
Microphone quality for calls could be better
Rating: 4.5 out of 5
Where to buy