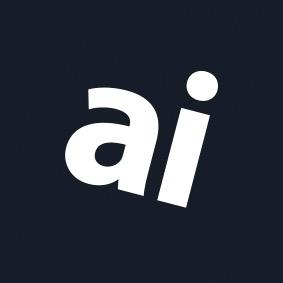 Why you can trust AppleInsider
Meross Smart Garage Door Opener review: Not your father's garage door opener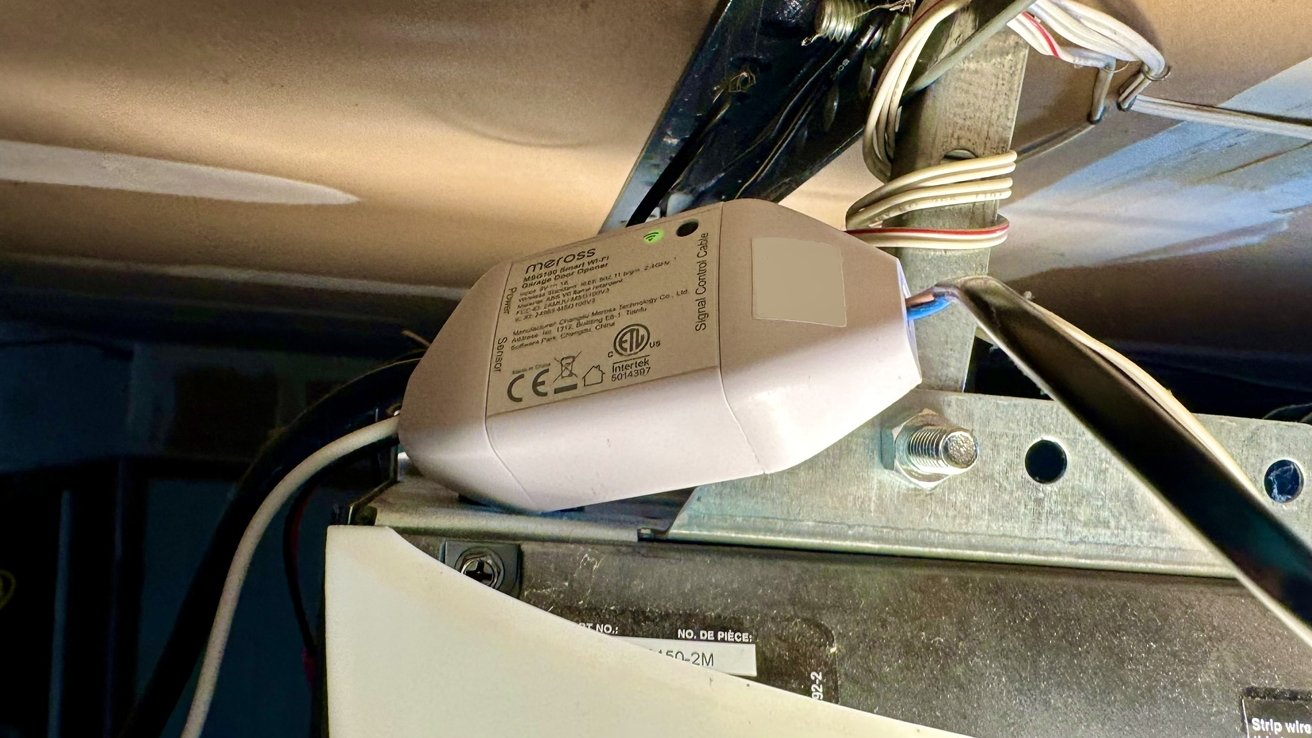 Meross Smart Garage Door Opener
4.0 / 5
---
The Meross Smart Garage Door Opener is HomeKit-compatible, and allows you to control and know the status of your garage door right from your phone, wherever you are.
Just like with any HomeKit accessory, you can control them from anywhere. This means that you can open or close the garage door when you're not at home.
With deep HomeKit integration, the Meross Smart Garage Door Opener may be the smart home accessory you did not think you needed but is one that is useful to get.
Meross Smart Garage Door Opener set up
The Smart Garage Door Opener is operated through a small white box that has four cables coming out of it. One is for power — where you have to plug it into an outlet, another is for two wires that plug into your garage door opener, and the last is for the sensors to know if your garage door is open or closed.
While you may think that setup would be difficult, it is relatively easy to do.
You do not need a newer garage door system to have the accessory work with it. The garage door system that was used in this review was installed over ten years ago and works quite well with the accessory. You can check compatibility on Meross' website.
You want to follow the instructions on your phone when setting up the Smart Garage Door Opener to know which wires go into which ports and how to test the system box to know everything is set up correctly.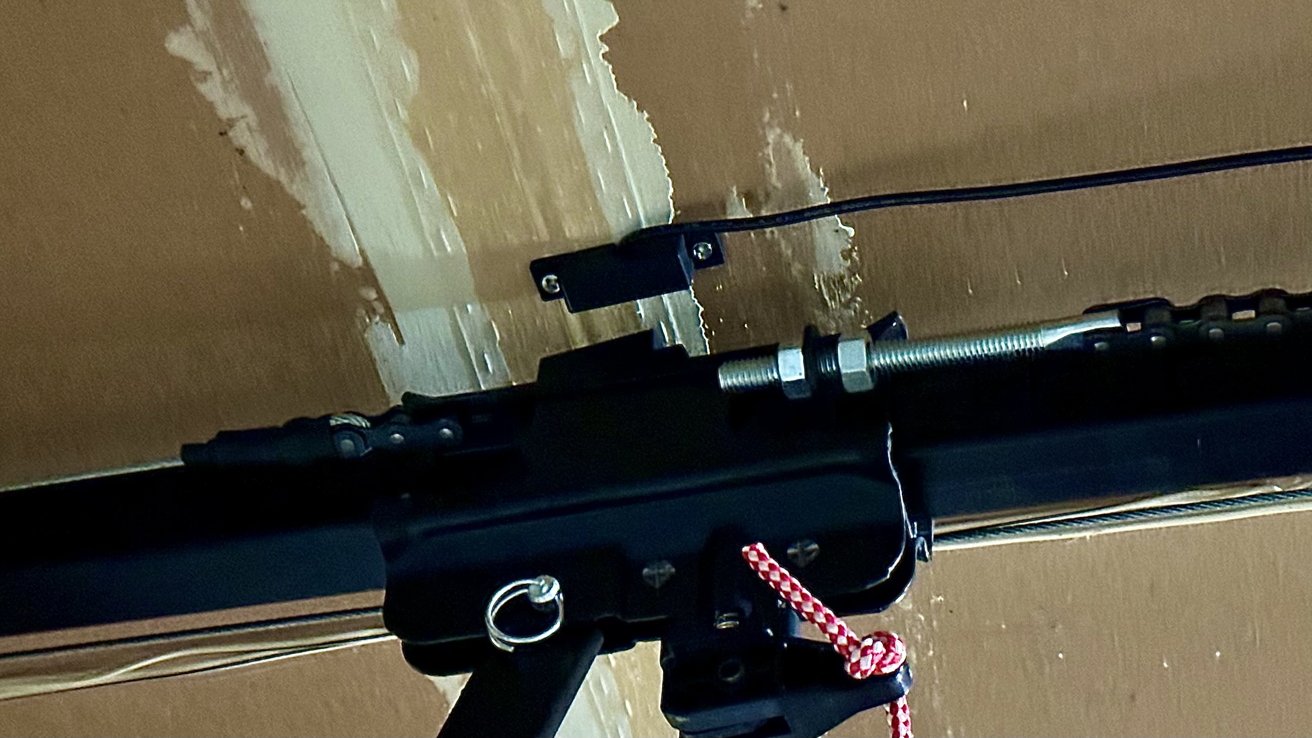 When installing the sensor — that tells you if the garage door is opened or closed — you can run the black wire that connects to the sensors along your garage's ceiling. The wire is very long, so there should be no worry if it will reach the end of your garage or not.
Both sensors are magnetic, so you can attach it to part of your garage door that moves when opening and closing it. One sensor will be connected to the black wire, and it should be placed above the magnetic one that moves. One way to place it over one another is by screwing it into the ceiling for a secure fit.
When the two sensors are together, it will indicate that the garage door is closed, but when they have pulled apart, it will indicate that the garage door is open. You can test this out before installing the seniors to make sure everything is working accordingly.
The box that the wires are connected to is small and light and can place on your existing garage door system or taped to the ceiling of your garage. It is where you decide that it fits best.
Meross Smart Garage Door Opener and HomeKit
The garage door's functionality is as you would expect it to be — it opens and closes your garage from your iPhone. It also will tell you the current state of the garage door.
Setting it up with HomeKit is very easy and simple. You scan the HomeKit code, wait for the application to recognize and pair with the device, and then you set it to the room that it is in (obviously the garage) and its name.
When the Smart Garage Door Opener is all paired up, you can open and close the garage door through the Home app or Control Center, and even add it to Automations you have created. You can create one that closes the garage door automatically when you leave your house — if you wanted.
Being connected to HomeKit means that you can also use Siri to operate your garage. You can tell her to open or close it, but to open it, your device must be unlocked for safety reasons.
No matter how you control the garage door, you will get a notification stating if the door has been opened or closed. You can disable the notifications if you do not want them through the accessory's settings.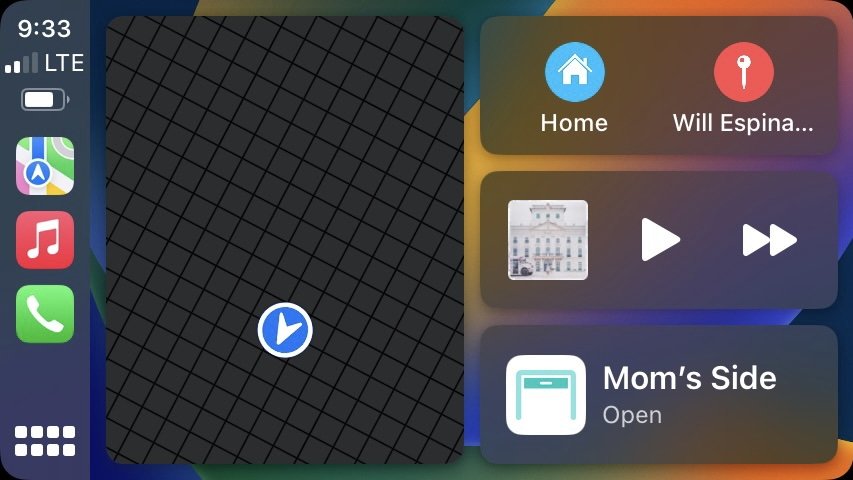 One area that was useful to use the Smart Garage Door Opener was with CarPlay. When in the dashboard view, an option to control your garage door will appear in the bottom right of the screen when in proximity to the accessory.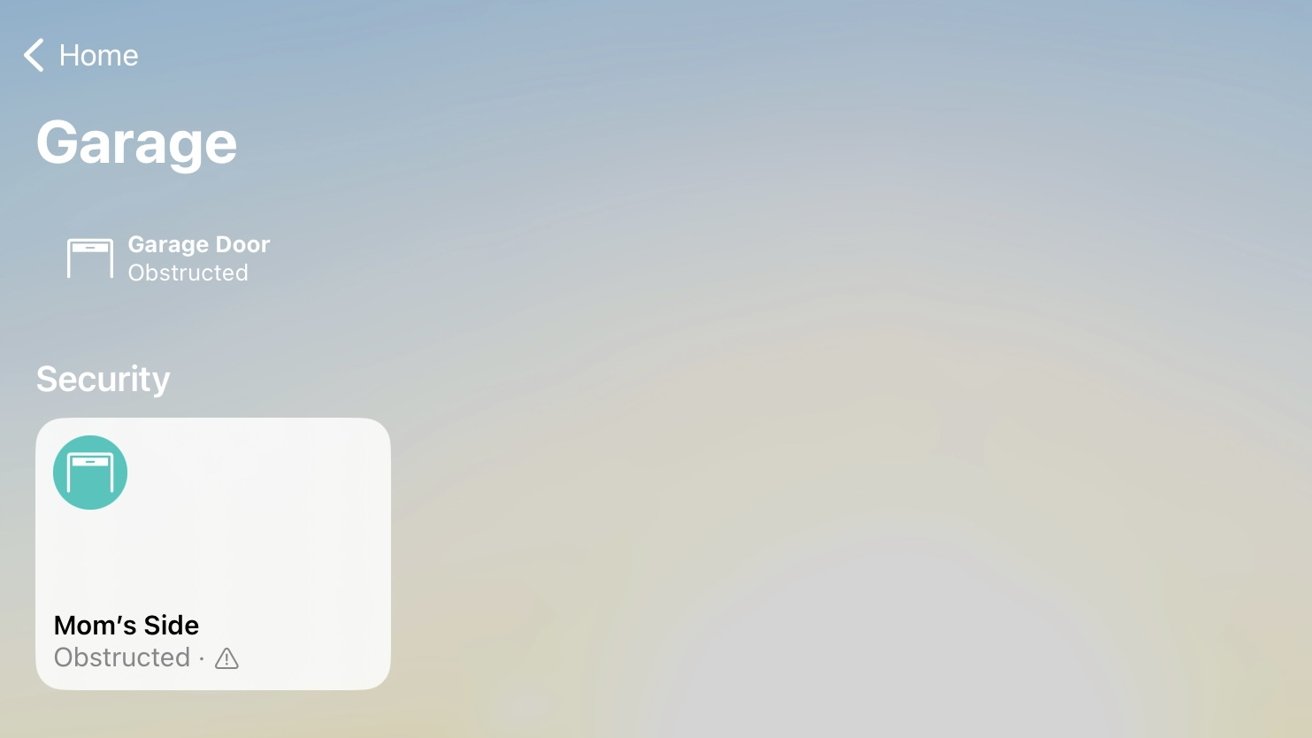 Under the Garage Door icon in the Home app, it will say the current state of the garage door, and sometimes it will say "Obstructed." Your garage door will still work, and you can open and close it from your devices, but it will not say if it is opened or closed within the Home app.
This isn't fabulous if you're using it as a monitor when you're way from home.
The app does not give you any more detail into how to fix the issue, or what is obstructed. Going into the Meross app and changing the Opening Time to 25 seconds in the accessory's setting has seemed to help people resolve the issue.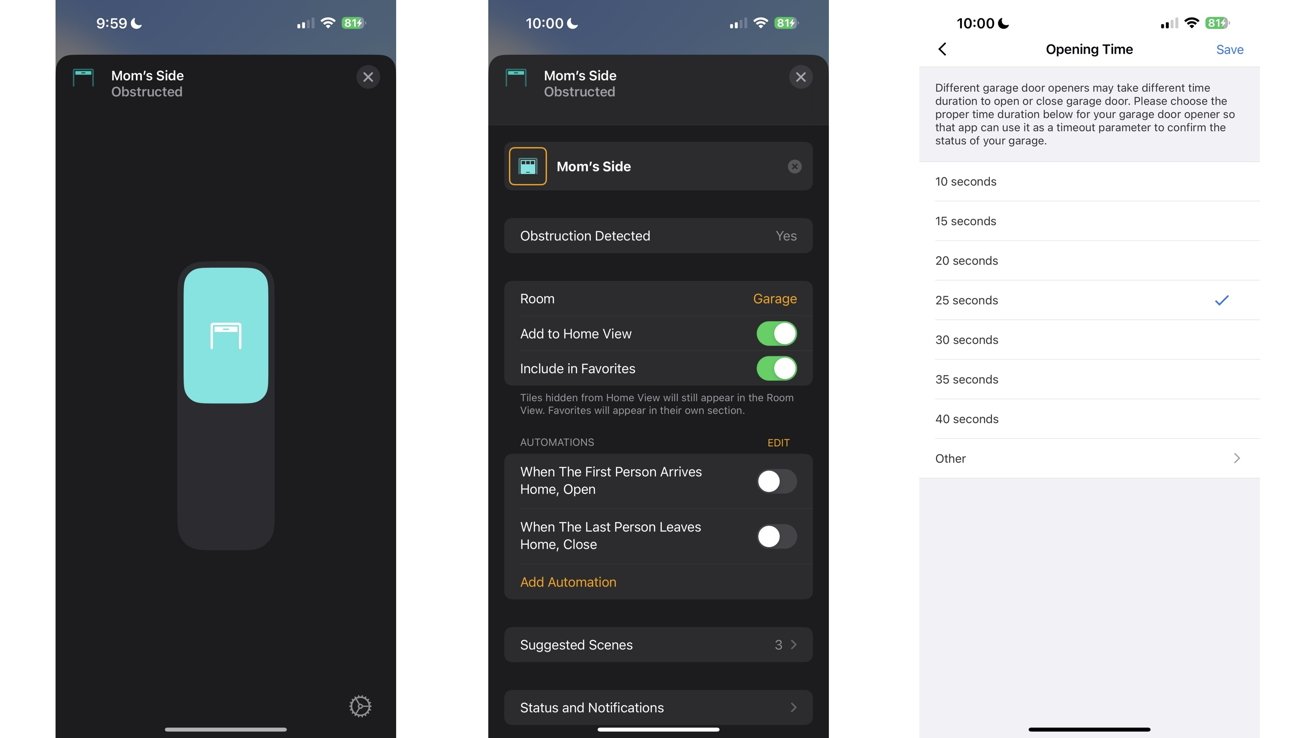 Other than the Obstructed warning under the Smart Garage Door Opener's tile in the Home app, the accessory works very well with little-to-no lag time when operating it.
The accessory can be controlled from any Apple device that has the Home app installed or can access it.
Meross Smart Garage Door Opener pros
Easy to install
Easy to use and understand
Easy to connect to HomeKit
Little to no lag when operating
Gives optional reports when the garage door is opened or closed
Accessible from CarPlay
Works with older garage door systems
Meross Smart Garage Door Opener cons
"Obstructed" warning appears a lot when nothing seems to be wrong
Can say the garage door is opened when it may be closed (or another way around)
Meross Smart Garage Door Opener verdict
The Meross Smart Garage Door Opener is a great HomeKit accessory to add to your smart home when you want to be able to control nearly every aspect of it.
The setup process may seem daunting when first looking at it, but once you are doing it and complete it, you realize it was very easy to do. Also, the accessory is compatible with a lot of garage door openers, and you do not need a most recent one either.
The ease of use and integration with the Home app is deep and spreads out across the whole ecosystem — from Control Center to CarPlay. You can operate your garage door from nearly any device, and your security is put at the forefront with the need of unlocking your device to open your garage.
While there is the message of "Obstructed" when one is detected, and the accessory sometimes gets confused if the garage door is open or closed, these are small missteps that rarely happen and fix on their own in a quick manner. It also does not take away from the function of the accessory; it still works as it should.
A smart garage door opener may not be on the top of everyone's smart home wish list, especially for people who may live in apartments or do not have a garage. But, if you are looking to upgrade your house and be able to control your garage from the comfort of your couch, then the Meross Smart Garage Door Opener may be the best fit for you.
Rating: 4 out of 5
Where to buy
The Meross Smart Garage Door Opener retails for $49.99, and is periodically on sale for around $39.99 on Amazon.