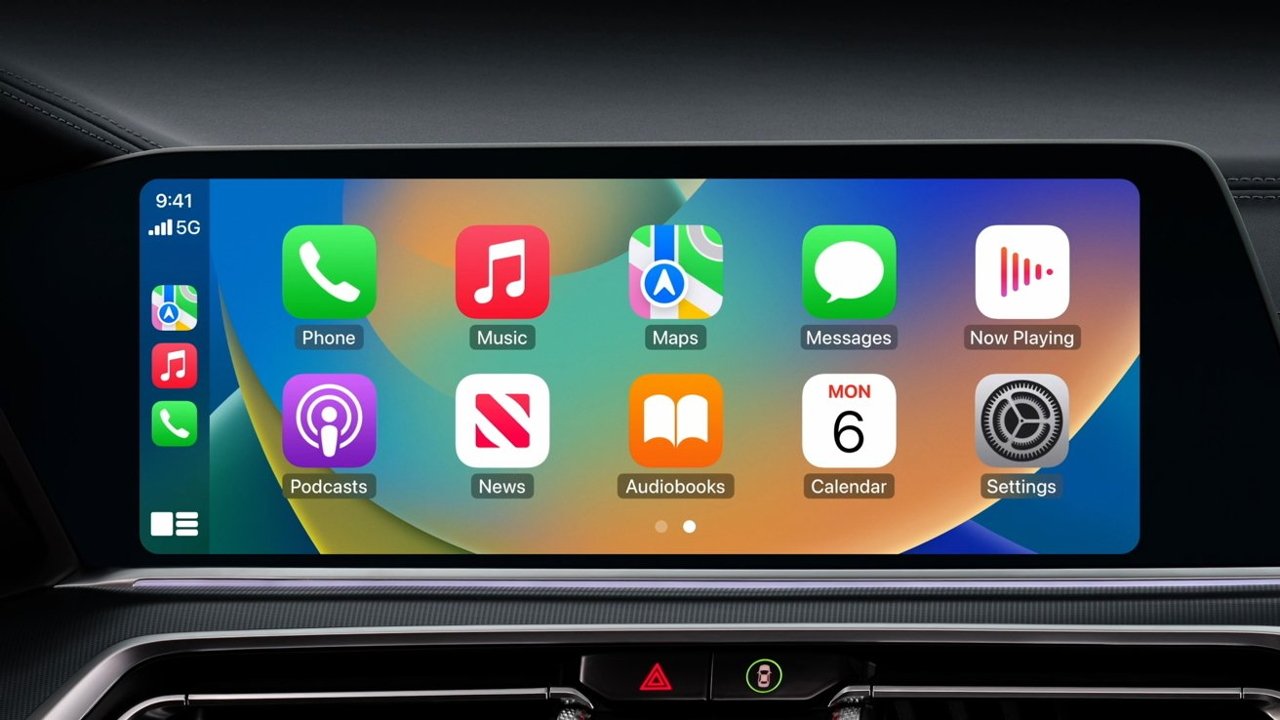 Summary
CarPlay is Apple's platform for using iOS devices in cars, allowing drivers and passengers to connect their iPhones and iPads to the entertainment system of the vehicle. By doing this, the car is able to use a wide variety of the iPhone's features, including managing calls and messages, using Apple Maps for navigation, and playing music.
Features
● Allows car infotainment unit to access iPhone features
● Access to compatible iOS apps
● Uses touchscreen and existing media controls
● Can be controlled hands-free using Siri
● Also able to be used wirelessly
---
Apple introduced CarPlay in 2014 as a way to get the most out of a supported infotainment system. Rather than pay for in-car GPS or cellular signals for expensive navigation apps and in-car messaging services, Apple proposed users just use the device they already own and pay for. In doing so, all of the needed iPhone functions are presented to the driver in a way that may reduce distracted driving.
What is CarPlay?
Apple CarPlay is the company's standard for connecting an iPhone or iPad to the infotainment unit of a vehicle. This allows the driver and passengers to augment functions from an iOS device with the entertainment system, replacing the existing interface and functions with an iOS-inspired screen.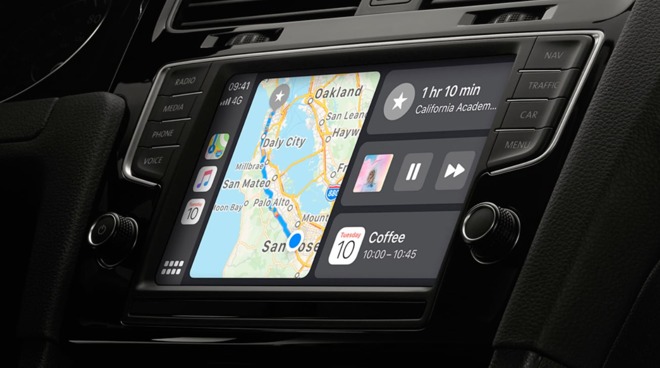 CarPlay's main interface
For example, the car's navigation system is replaced by Apple Maps, which can take advantage of addresses from calendars, emails, messages, and contacts to try and predict where the driver may want to travel to, providing prompts on the infotainment unit's screen with suggested destinations. Apple Maps can also be used to search for nearby gas stations, coffee shops, and other facilities during a journey.
By connecting to the iPhone, CarPlay allows the car itself to turn into a speakerphone, allowing hands-free calling and answering, and extra in-call controls. Text messages received through iMessage can be read out, or audio messages played, with the option to continue the conversation by dictating a reply. Hands-free communication is all handled by Siri.
Podcasts and iTunes content stored on the connected iOS device can be browsed and played through the entertainment system, using the car's media controls. Subscribers of Apple Music can access the service while on the move, with other audio apps also accessible using CarPlay, including Spotify, Slacker Radio, Pandora, and NPR One.
Drivers are also able to invoke Siri behind the wheel, usually by pressing a voice control button or using "Hey Siri" on supported models. This allows all of CarPlay's functions to be accessible without interfering with driving. As with iPhones, requests for Siri can be made to place calls, respond to messages, and to play music, among other functions, and is the core way for drivers to interact with CarPlay.
While CarPlay does allow access to an iPhone's functions, it is worth noting that it isn't an operating system for a car's entertainment unit, and cannot be used independently of an iOS device. A connection with a host device is required in order to make it work, and apps cannot be installed onto CarPlay like they can on an iPhone or iPad.
CarPlay setup
Apple advises CarPlay can be used with the iPhone 5, as well as all later iPhone model releases. While it will work best with newer releases of iOS, it is possible to use an iPhone running iOS 7.1 with CarPlay.
In the majority of cases, users need to connect their iPhone to the vehicle using a Lightning-to-USB cable, with some car manufacturers identifying a designated CarPlay USB port with a symbol. After making the physical connection for the first time, the user must confirm they wish for CarPlay to access data stored on the iPhone, with later connections automatically invoking the CarPlay interface.
For some setups, it is also possible to set up CarPlay wirelessly, allowing it to work over Bluetooth instead of requiring the cable. This can be set up within the General section of Settings on the iPhone, where an option for CarPlay will offer a list of vehicles the iPhone can communicate with.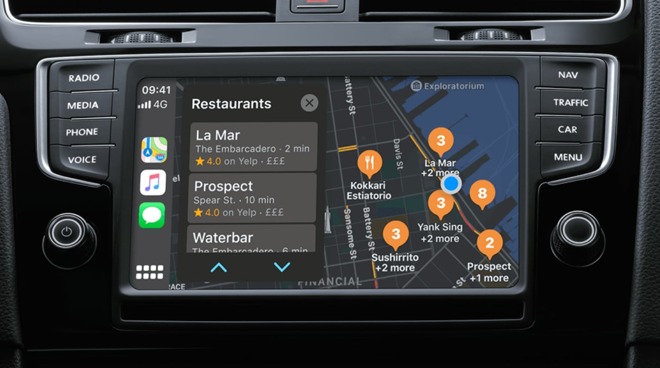 Viewing a map in CarPlay
Controls and Siri
There are three main ways to interact with CarPlay once it has established a connection with the iPhone. For safety while driving, as well as to obey laws relating to mobile phone usage while behind the wheel, CarPlay can only be used through the car's infotainment system, and not via the iPhone itself.
The first way is to use the existing controls used by the infotainment unit. Buttons and knobs can be moved to change settings within CarPlay, in a similar way to other standard functions of the entertainment system, and can also extend to media controls located near or on the steering wheel.
If the entertainment system uses a touchscreen, CarPlay functions can also be accessed by tapping this display. This may be the most intuitive way of using CarPlay, due to being similar to how an iPhone or iPad functions, though in-app navigation will be simplified compared to normal iOS apps in order to account for the car's motion.
Lastly, drivers can also interact with CarPlay using Siri, by holding down the home button on the CarPlay home screen until hearing a beep, then making a request. In some vehicles, drivers can also trigger Siri by holding down a voice control button on the steering wheel, until the beep sounds.
As with the version on iPhones, Siri can respond to a wide variety of questions, such as the current time or if a certain store is open. As the driver can only hear responses and cannot be distracted by looking at a screen, Siri cannot provide answers to web queries that have long answers or would normally refer the user to searches.
Siri can also be used to perform a variety of actions, including those relating to calls, messages, music, and navigation. It is even possible to request actions for third-party CarPlay-supporting apps through Siri.
Third-Party Apps
While Apple offers support for many important functions within CarPlay, including music playback, navigation, messaging, and access to Siri, developers are able to add support for CarPlay within their own apps. Apple's developer resources contains a number of guides to help add this functionality to iOS apps.
Due to the nature of driving, Apple's guidelines highlight a need for developers to make interactions with the driver as brief as possible, and to "never command the driver's attention." Voice interaction using Siri is encouraged, due to not needing the driver to let go of the steering wheel, while on-screen information should be "minimal, relevant, and requires little decision making" by the driver.
The majority of popular third-party CarPlay apps are, as one would expect, audio related. Competitors to Apple Music, including Spotify and Pandora, offer access to their streaming music services through the vehicle's infotainment interface using CarPlay, instead of forcing users to change playlists and songs using their iPhone.
In July 2017, Google joined its competitors in providing access to the Google Play Music app within CarPlay. Google Play Music is notably the first Google app to appear on Apple's automotive app platform, beating more natural choices such as Google Maps and Waze. Third party navigation services were added with iOS 12, thus allowing Google to provide its various navigation apps to the platform.
Individual broadcasters have also taken advantage of CarPlay to provide their content in vehicles without using traditional broadcast radio services, with apps including NPR One and MLB At Bat providing on-demand streams of popular shows. SiriusXM added support for CarPlay to its iOS app on November 30.
Listeners of podcasts are also covered, with Overcast and Castro among the more popular apps available today. iHeartRadio app users gained a new podcast option in late November, for listening to podcasts from the service in their vehicles.
While messaging apps are obviously not as easily accessible with CarPlay, some functionality can be used by some services. Apps including Skype and Facebook Messenger support Apple's CallKit framework, which allows incoming calls from services to behave similar to iOS' built-in Phone app on the lockscreen. This framework also works with CarPlay, so messaging app calls can be handled while driving in the same way as normal phone calls.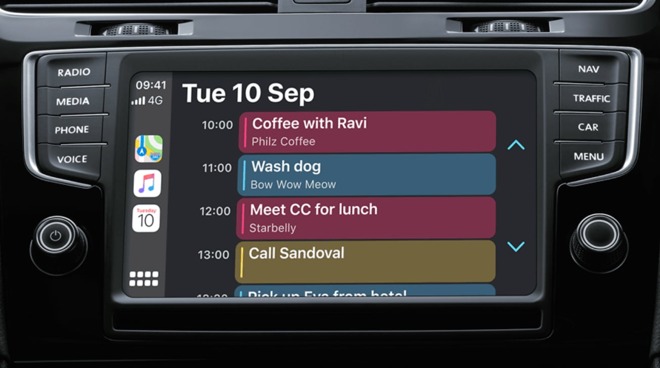 The Calendar view in CarPlay
CarPlay Updates
iOS 14
While not announced or even releasing until this fall, some code leaks have given us some insight into what is next for CarPlay in iOS 14. A new wallpaper API will allow users to download apps that manage their device wallpaper, and that may extend to the display in your car.
The home screen may have the ability to display custom wallpapers and even change their appearance based on being set to light or dark mode.
Additional evidence from the leak shows that Apple Maps may be improving their business listings as well. Allowing drivers using Siri to find locations based on seating availability, IMAX showings, or children discounts.
A few leaks suggest a new API related to the car is coming, called CarKey. It is unknown how much this will interact with CarPlay, but there may be some interface element. Apple's API may allow users to designate iPhones or Apple Watches to act as a digital car key via NFC or BLE. The CarKey API code suggests that BMW may be the first to support it, but it is unknown if th feature will make it to the final release.
iOS 13
Carplay received a major overhaul in iOS 13, with the software bearing a modernized design that matches the rest of the operating system. While the grid-based Home screen was still available, the left shelf has been tweaked and reorganized.
Joining the version are new apps for Settings and Calendar. The former gives options to toggle Do Not Disturb While Driving and Siri Suggestions on the Dashboard, as well as altering its appearance, while the latter offers a list of upcoming appointments and options to navigate to each.
The user interface can be set to alternate between light and dark modes automatically, switching over with the state of the sun, but it can also be set to be in dark mode persistently, though the same cannot be done for light.
The new Dashboard view fills half the display with the map while the other half shows Siri suggestions, the Now Playing widget, and any upcoming appointments.
Siri also received an upgrade, with a new voice and the ability to interact with third-party audio and navigation apps. Support for "Hey, Siri" is also included, so Siri can be invoked without pressing a button.
In iOS 13.4 Apple added the ability for third party map apps to take advantage of the re-designed dashboard. Now, once updated, apps like Google Maps can display their map data in the map pane.
iOS 12
The key changes for CarPlay in iOS 12 focused on mapping applications. For Apple's own Maps, it replaced its mapping data with its own in-house data instead of relying on third-parties.
Third-party map and navigation app support was also included, with Google Maps and Waze the first such apps to take advantage of the feature.
Performance improvements for audio apps were also made, including smoother animations and quicker startup times.
Older versions
In iOS 10.3, CarPlay was updated to make it easier for users to switch between apps. Replacing a small permanent link to Apple Maps, the left menu now shows a set of three icons, based on how recently they were used within CarPlay or when the host iPhone is used away from the vehicle.
While this may seem to show the last three apps used, including third-party apps compatible with CarPlay, there are some caveats to what apps are highlighted in this task switcher.
One of the icons will always be for Apple Maps, with its position set based on its usage compared to the other two apps. A second spot is taken up by either Apple's native Phone or Messages app, again depending on which one was used last, with the Phone icon also showing the current call time below.
The remaining app highlighted in the switcher is effectively the most recently used app, taking into account the apps occupying the other two spots.
Limitations
While CarPlay could be seen as an improvement on existing car infotainment options, it is worth noting that the majority of the features it provides lean heavily on the connected iPhone. Some car elements that can be controlled via the standard entertainment system software are unable to be altered within CarPlay.
For example, a driver cannot ask Siri to turn on or change the temperature of the air conditioning system. While online radio station streams can be accessed within CarPlay apps, the built-in car radio system is inaccessible within CarPlay.
To get around this restriction, car manufacturers usually include a way to temporarily access the entertainment system's standard menu to make the changes. A pre-existing voice control system can also be used for similar tasks that Siri is unable to accomplish.
Car manufacturers supporting CarPlay
Most of the major car manufacturers include options for CarPlay support in their vehicles, with over 500 models to choose from that either currently have it or are planned to gain support in the future.
Apple provides an up-to-date list of models with CarPlay support on its website for more than 60 car producers, noting in many cases if CarPlay is available in a previous year's model as well as this year's version.
Potential car buyers do need to bear in mind that the list only covers models that could have a CarPlay-enabled infotainment unit, as it may only be available in an upgraded entertainment package, or in certain grades of model.
For example, Honda's 2018 Accord announcement in July 2017 advised CarPlay will be standard on the 2.0T trim, but optional on the 1.5T and Hybrid models. For Subaru's 2019 Ascend SUV, on the other hand, CarPlay support will be available on every trim option.
For those wanting CarPlay but got the wrong package with their vehicle, there is still another way to get it without resorting to an aftermarket solution. A small number of car producers, primarily Kia and Hyundai, are providing retroactive upgrades for CarPlay, updating the in-car entertainment system's software to get it going.
In March 2017, Mazda confirmed it will start supporting CarPlay in its vehicles sometime that year. At the same time, it added its name to the short list of companies providing retroactive upgrades for earlier models, with cars sporting a Mazda Connect system able to use CarPlay, with "potentially minimal hardware addition needed" for it to work.
Ford issued a software update for its 2016-model vehicles equipped with SYNC 3, adding support for CarPlay to the entertainment systems. While it can be updated via a dealership or USB, notably cars with Wi-Fi hotspots were able to recieve the update wirelessly for the first time.
Toyota, one of the world's biggest auto producers, was a long-standing opponent to CarPlay, by actively using its own in-house platform instead of copying its competitors. In 2018, Toyota changed its plans and brought CarPlay to its 2019 model lineup.
Commercial vehicle drivers can also find themselves being able to take advantage of CarPlay in the future. The first non-consumer vehicle producer to do so, the Swedish semi truck producer Scania included support in its infotainment systems for new trucks since 2017, with units in older models also able to be upgraded if they support voice control.
Volvo followed shortly after Scania, with upgraded versions of its VNL semi-truck line gaining the feature.
CarPlay is also not limited to vehicles with four or more wheels. In October 2017, Honda announced its gadget-laden Gold Wing release for 2018 has CarPlay compatibility, which made it the first motorcycle to support the software platform.
Depending on the car producer, CarPlay may be a paid extra, though in the case of some BMW cars, it became a subscription item. BMW charged an $80 annual fee for access to CarPlay, claiming it went towards the cost of ongoing testing and development of the software in its infotainment system.
BMW did receive some pushback from a 2018 initiative to charge an optional "lifetime" fee of $300 for 20 years of access instead of annual fees. In December 2019, BMW indicated it was changing its policy in the United Kingdom, providing access to CarPlay free for the lifetime of the vehicle.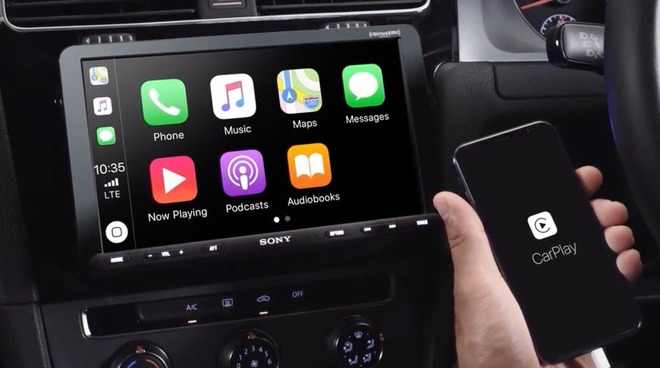 Sony XAV-AX8000
Aftermarket options
CarPlay is not just limited to the entertainment systems included in new vehicles, as a number of head unit manufacturers are offering after-market upgrades for older vehicles, adding support for CarPlay and other extra functions.
While in many cases the replacement head unit fits into the slot where an existing screen-centric infotainment unit was fitted, not all vehicles offer enough space for such a large unit to be installed. In some cases, the vehicle only offers a single-DIN space for a replacement radio, but this can still be utilized.
For example, Sony's XAV-AX8000 offers an 8.95-inch display that hovers in front of the head unit itself, one that can be adjusted for optimal placement in a variety of different vehicle setups.
In cases where space is available to install a larger unit, one option is the Pioneer AVIC-W6400NEX, a relatively simple to install head unit that boasts a 6.2-inch touchscreen, wired and wireless CarPlay support, Siri Eyes-Free, and the ability to play DVDs.
In the case of existing head units that have CarPlay but lack wireless support, options like the CarPlay2Air dongle offer a way to take advantage of a car's USB ports to perform the same function.
CarPlay competitors
Some major car manufacturers use their own custom software for their in-car entertainment system, for example Ford's Sync, BMW ConnectedDrive, and Cadillac's Cue. While these will vary between manufacturer in terms of features, many do offer smartphone-related functionality, including call answering and hands-free messaging.
While this does give drivers an alternative to CarPlay, one that works across multiple different types of smartphone, iPhone users may prefer to use CarPlay as an interface instead.
Android device owners have their own version of CarPlay, in the form of Android Auto. Working in a similar way, Android Auto allows drivers to connect their Android smartphone to the vehicle's entertainment system and use many of the features from their mobile device, including Google Maps, and Google Voice Search instead of Siri.
Since CarPlay only works for iOS devices while Android Auto functions only with Android smartphones, it's probably better not to think of the two platforms as competitors, more as ways for drivers to take advantage of their smartphone's features, regardless of operating system.
In many cases, both for the car manufacturer's own infotainment system and aftermarket solutions, both CarPlay and Android Auto are supported in the same head unit.
Despite the usefulness of CarPlay, car manufacturers are slowly working to create a separate connectivity system that will work with all devices. The SmartDeviceLink Consortium, which counts Ford, Toyota, Mazda, Suzuki, and others in its membership, aims to create an open platform that allows mobile devices to connect with the entertainment system, but in a way that keeps the car producers in control.
Unlike CarPlay, which uses the iPhone to perform most tasks while using the entertainment unit as an interface, the consortium wants to instead bring as much of the processing as possible into the car's system, leaving connected smartphones as a terminal for data transfers and calls. The platform will also allow manufacturers to maintain control of how the interface looks and functions, rather than replacing it with CarPlay's user interface.
So far, Ford has been the biggest supporter of SmartDeviceLink, pushing it as an industry standard while still providing CarPlay and Android Auto support in its systems.
Essential Reading