How Apple Watch sleep tracking can help you lose weight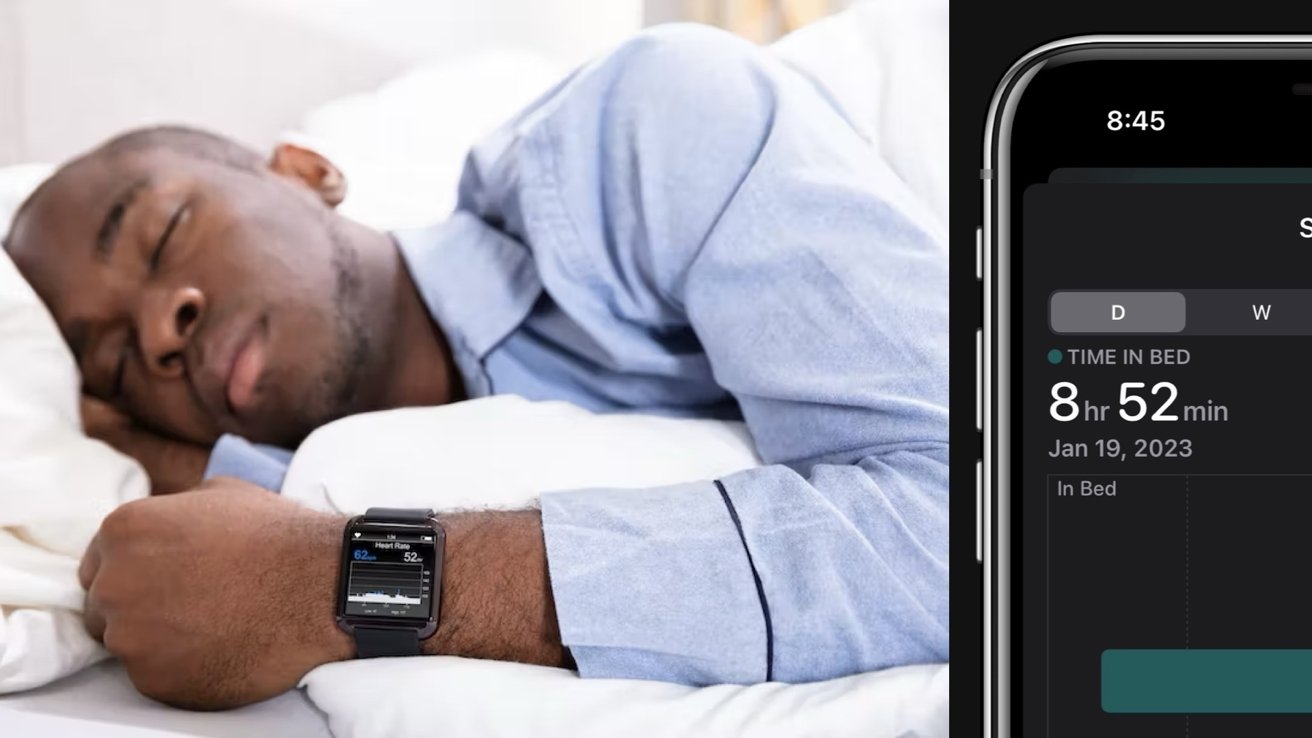 Besides sweating along to Apple Fitness+ workouts, there is important data stored in your iPhone that you should focus on when it comes to fat loss: sleep.
Poor sleep quality and duration can lead to weight gain, metabolic disorders, and an increased risk of otherwise preventable health conditions.
While numerous studies are underway to divulge the connection between poor sleep and obesity, existing research tells us that there is in fact a positive correlation between consistent good sleep quality and a healthy, maintainable body weight.
Negative effects of poor sleep
Studies suggest that individuals who sleep less than six hours nightly are more likely to be obese.
If you are not clocking in at least seven hours, it is likely that you feel sluggish, dizzy, and have an insatiable appetite for calorie-dense foods that are sweet, fatty, and starchy.
When you are sleep deprived, the sheer thought of exercising will exhaust you, and engaging in your favorite exercise activities could be unsafe.
Poor sleep is marked by increased oxidative stress, higher cortisol levels (the fight or flight hormone), glucose intolerance, and insulin resistance.
In addition, the longer you are awake during the day, the more chances you have to eat. Getting persistently poor sleep might also disrupt your natural circadian rhythm, which can lead to weight gain.
How Apple Health can aid your sleep and fat loss goals
You don't need an Apple Watch in order to track your sleep at night. Sleep in the Health app on the iPhone automatically tracks your time in bed based on your iPhone usage at night.
If you are wondering about the accuracy of sleep tracking without the Apple Watch, iPhone usage data suggests that the average American checks their phone at least once every ten minutes. Your phone assumes that if you haven't checked in for a few consecutive hours, you are likely asleep.
To track sleep accurately without an Apple Watch, make a point of not checking your phone after you go to bed. This way, your sleep data will be more accurate.
If getting into bed is difficult because of work or hours spent scrolling on TikTok, set a Go to Bed reminder on your iPhone to ensure you are getting those eight hours.
Viewing your sleep history
It is easy to view your sleep history on your iPhone to see your average time spent asleep.
After gauging your sleep hours, you can set an intentional goal to put into action, whether that's getting to bed earlier or putting your iPhone out of reach so that you're not waking up and checking it during odd hours of the night.
To view your sleep history
Open the Health app on your phone
tap browse at bottom of the screen
tap Sleep
We suggest keeping Sleep saved as a favorite so that it can be accessible from the Summary page in the Health app.
Tracking sleep with Apple Watch
If you have an Apple Watch and wear it to bed, Sleep data will be more comprehensive. However, if wearing an Apple Watch tempts you to check notifications on your wrist during the night, consider forgoing purchasing a watch for this purpose.
For sleep data to be collected by your watch, sleep tracking must be enabled for at least 4 hours each night.
The bar graph by default is set to D for daily. You are also able to tap W at the top of the chart to view your sleep history for the past week, M for the past month, and 6M for the past 6 months.
Tap Show More Sleep Data and select a category to review a full rundown of your sleep details, including stages, amounts, and comparisons.
Those who wear an Apple Watch Series 8 or Apple Watch Ultra can compare changes in wrist temperature data. A change in your wrist temperature could indicate illness or injury.
How to improve your sleep
While not everyone has the luxury of getting consistent good rest (parents of newborns, we see you), there are steps you can take to improve your sleep quality.
Improving sleep quality
Sleep in a pitch dark room
Don't check your phone at night — the light might signal to your brain that it's time to rise
Avoid eating right before bed
Try meditation, foam rolling, reading, or light stretching before going to bed
Shoot for thirty minutes of heart-elevated exercise at least 5x a week
Leave your phone out of bed — reserve your bed as an area for sleep, not scrolling
Don't let consistent poor sleep hinder your fat loss goals.
As a trainer, we often ask clients what is getting in the way of your goal, XYZ. Whether that's sleep disruption due to notification checking at night, not moving enough during the day, or not balancing everyday stressors with active relaxation techniques, you and only you know what is keeping you from your goals.
Check Apple's sleep metrics to see where you currently stand, and make a conscious choice to make sleep a priority in 2023.
For the best sleep apps, check out this post.