Inside Apple Third Street Promenade: a luxe temple in SoCal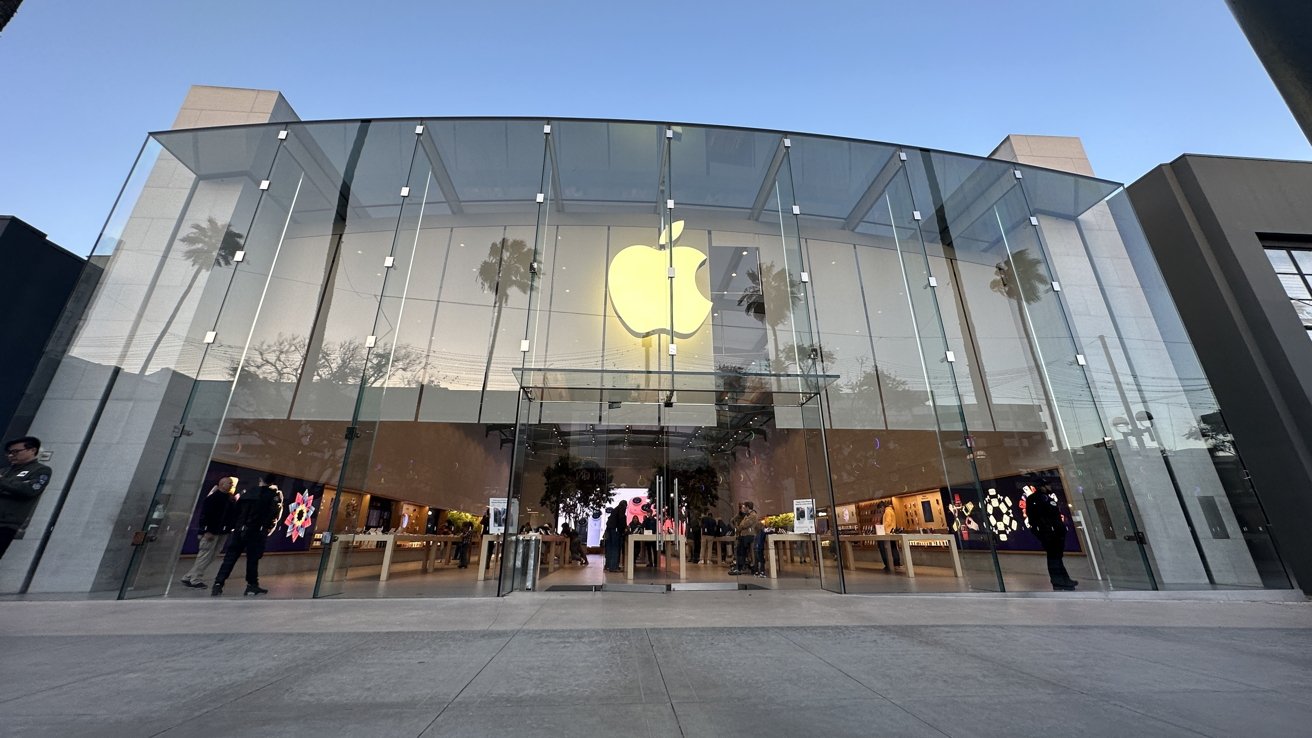 Continuing an occasional series profiling Apple's most interesting retail stores, AppleInsider ventures to Apple's Third Street Promenade store in Santa Monica, California.
Located on Santa Monica's infamous shopping esplanade, Apple Third Street Promenade draws the eye despite the competing sights and smells of the promenade, like perfume emitting from clothing stores, the homely cinnamon-butter aroma of pretzel stands, lights of street performers, and the cacophony of excited yells and foot traffic.
Apple is now an expert in creating buildings that are architecturally and aesthetically pleasing, drawing us inside whether or not we need new tech. This particular Third Street location has about it a sense of temple-like "calm," offering the mind a rest from the hubbub outside.
The design is well suited for California, where houses made of glass are conducive to status, wealth, and success. Now a global empire and a celebrity in its own right, Apple represents all of these things.
Inside, Apple Third Street Promenade has the look and feel of a sanctuary, where excited voices funnel into an echo-like hum associated with a temple. The temple aesthetic is further exemplified by the store's infamous glass facade. And inside — potted foliage, grey clack brick walls, long, wooden tables, and dimmed lighting fill the browser with a sense of tranquility.
Accessibility: get out those car keys
Los Angeles is known for its year-round temperate weather, celebrity sightings, traffic, and sunlit beaches. It is not, however, known for adequate (or safe) public transport. Apple Third Street Promenade is reachable first and foremost by car.
Don't attempt to park on the street, as the posted signs detailing when, for how long, and for how much you can park confuse even the savviest of travelers.
To get to Apple Third Street Promenade, park at Parking Structure 6 on 1431 2nd Street. Park high in the structure and take the stairs for views of sunsets, palm trees, ocean, and Malibu — off in the distant hills.
If you're European and think lattes are milky American devilry, get your caffeine fix at Espresso Cielo, located beside the parking structure.
Once caffeinated, walk a quarter-mile along the Third Street Promenade to reach the Apple Store.
It is a beautiful palm tree-lined stroll and a mere four-minute walk.
Closed, closed, closed
Because of COVID-19 and the decline of in-store shopping (that has yet to recover nearly three years later), foot traffic has significantly decreased on Santa Monica's infamous Third Street Promenade.
Apple was likely not anticipating that their minimalist design would, too, foreshadow the resulting minimal amount of shoppers as a result of the pandemic. Pre-COVID, rows of merchandise were pored and fought over by dozens of customers at a time.
In 2023, vibrant businesses on Third Street Promenade have been forced to close by decreasing in-person sales while online retailers like Jeff Bezos' Amazon boom, littering the promenade with darkened windows, for lease, and red closed signs in once popular buildings.
Apple was going for a peaceful atmosphere, but not for crickets. This is the case for many outdoor malls in Southern California, making the consumer wonder if in-person retailers and malls will soon become obsolete.
History, Layout, Design
Once named the Santa Monica Mall in 1965, the boardwalk pedestrian-only mall was modernized and rebranded as the Third Street Promenade in 1989. The esplanade is ocean adjacent, and one of California's many open-air, pedestrian malls that capitalize on California's warm, sunny weather.
The 17,550-square-foot Apple Third Street Promenade was once a tri-tier Borders bookstore.
It was reconstructed into its modern, sleek design in 2012, leaving no remnants of the bookstore. With a price tag of $5,700 per foot, this Apple store rivals the most luxurious of retail properties located on Rodeo Drive in Beverly Hills.
Once Apple Third Street Promenade opened, the smaller Apple store down the street shut its doors.
Like any resplendent Apple store with thick glass walls, foot traffic and the booming of street performer amps are immediately silenced once the heavy doors close behind you. Just as diving into a good book immediately silences the outside world, Apple Third Street Promenade has been designed to do the same — so that you can focus only on the content within — and buy, buy, buy.
The building itself is a rectangular, one-story, minimalist space with grey brick that climbs to a crisscross metal beam ceiling. The ceiling itself is glass, with built-in sun shades for sweltering California beach days. This allows browsers to be swathed from the front of the building and from above in a pinky-orange California sunset, a daily occurrence in Los Angeles.
The store precedes Apple London Brompton Road, furnishing the inside with potted trees, foliage, and natural finishes throughout for a green feel. In addition to potted trees, spot-lit ferns protrude from the wall, adding to the calming atmosphere.
There are a number of wooden cubes in the back for sitting while you wait to see your Apple genius for service, as well as a large television to watch. The television displays information about new products as well as how-to's and dates for Apple learning seminars, conveying the information and adverts silently, to maintain the unfussed, temple-like tranquility of the store.
Like many Apple stores, there is a designated corner Pickup area for the collection of online orders along a lengthy, wooden desk. There is ample seating while you wait.
Apple stores across Los Angeles
California has the most Apple locations in the U.S., with 54 Apple Store locations in California alone. There are fifteen Apple stores in the county of Los Angeles, with only a few of them boasting this earthy, temple-like aesthetic instead of the sterile, hospital-like fluorescent feel of some of the smaller hole-in-the-wall storefronts within indoor shopping malls.
Other notable Apple stores in Los Angeles include The Grove location, another outdoor esplanade. This location has a less beachy, performative feel in its location and is shrouded in luxury, including valets, fountains, string lights, and the pleasant echoings of Frank Sinatra and Billie Holiday throughout the mall.