India's first Apple Store teased before Tuesday's grand opening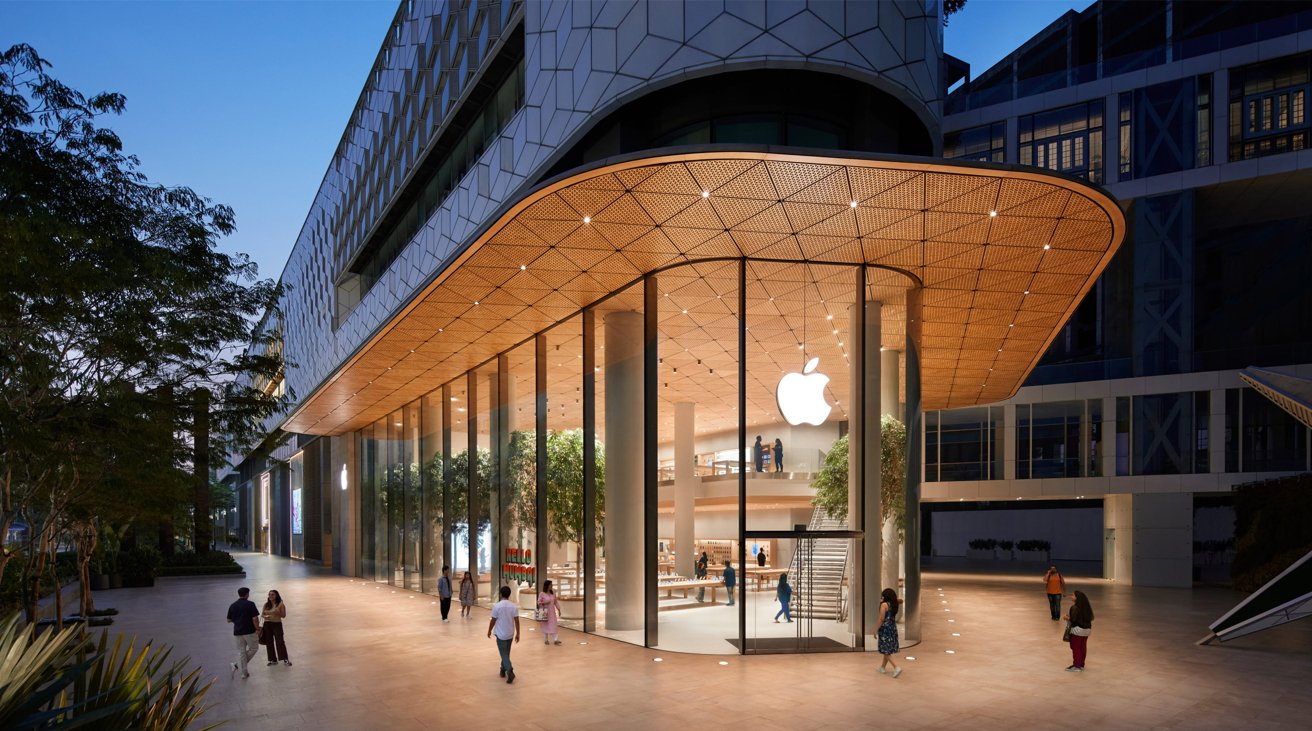 Ahead of Tuesday's opening, Apple has given a sneak peek into its Apple BKC store in Mumbai, showing off a handcrafted timber ceiling and its energy efficiency credentials.
Apple will be opening its first Apple Store location in Mumbai on Tuesday, with customers able to visit the outlet at the Bandra Kurla Complex. Before its official opening, Apple has shared photographs of the retail outlet.
Sporting large glass walls and high ceilings, the store features a tiled ceiling made from wood. All the triangular tiles are hand-crafted, made from 408 pieces of timber, and with a total of 1,000 tiles across the entire ceiling.
The wood theme continues throughout, with over 450,000 timber elements in total. At the front are two stone walls sourced from Rajasthan, and to the right, a 14-meter-long stainless steel staircase to the cantilevered mezzanine.
Over 100 employees will be working at the store, capable of speaking over 20 languages. For customers who don't want much interaction, there's also an Apple Pickup kiosk.
For the Tuesday opening, a Today at Apple series titled "Mumbai Rising" will run, with the sessions including:
Music Lab: Deep Listening in Urban Spaces with Sandunes
Photo Lab: Portraits of Resistance with Prarthna Singh
Design Lab: Every Poster Tells a Story with Boomranng Studio
Art Lab: Drawing Homage to Mumbai with Kohla
As part of Apple's push for energy efficiency, the store is designed to be one of the most energy-efficient in the world, thanks to the use of a dedicated solar array. Without any reliance on fossil fuels, the store runs on 100 percent renewable energy and is operationally carbon neutral.
"At Apple, our customers are at the center of everything we do, and our teams are excited to celebrate this wonderful moment with them as we open our first retail store in India," said Deirdre O'Brien, Apple's senior vice president of Retail. "Apple BKC is a reflection of Mumbai's vibrant culture and brings together the best of Apple in a beautiful, welcoming space for connection and community."
Apple BKC opens on Tuesday, April 18, at 11 a.m. IST.
It won't be Apple's only store in India for long, as Apple Saket in New Delhi will be opening soon.