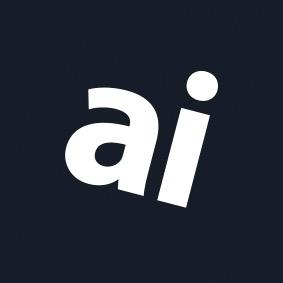 Why you can trust AppleInsider
Elecom Pantograph Wired Mini USB Keyboard review: Multilingual value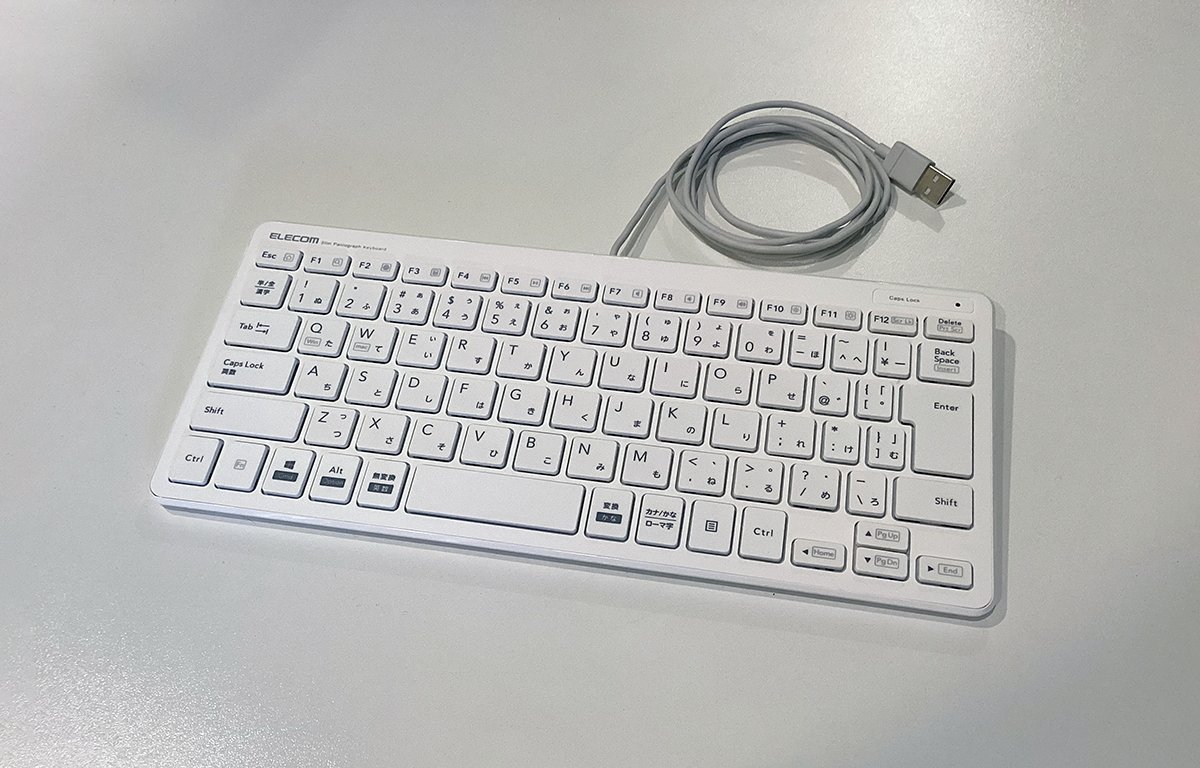 Elecom Wired Mini Thin Keyboard Pantograph TK-FCP096WH
4.0 / 5
---
Elecom's Wired Mini USB Pantograph Keyboard makes a nice travel companion for your Mac, although it is a bit heavy.
Popular Japanese electronics maker Elecom offers a small, clever, high-quality USB 2 keyboard - model TK-FCP096WH - which works with Macs and most PCs.
Elecom is a fairly popular brand in Japan and is known for its quality. Dozens of top electronics stores, such as Bic Camera, and others all over Tokyo carry Elecom's products.
As with most things Japanese, the keyboard keeps with Japan's aesthetic ideals of smallness and understated beauty.
Features
It is a small portable keyboard slightly larger than Apple's own current model wireless aluminum Bluetooth keyboard. It uses a wired USB 2 connection, but the lack of USB 3 shouldn't be a problem since the amount of data used by keyboards is tiny.
The rear of the keyboard has six large rubber feet, and a slightly raised area at the top with a weight inside to provide the keyboard with both a slope and a little heft. Along with keeping it from sliding around on your desk, the internal inert weight also gives the keys a more solid feel when typing.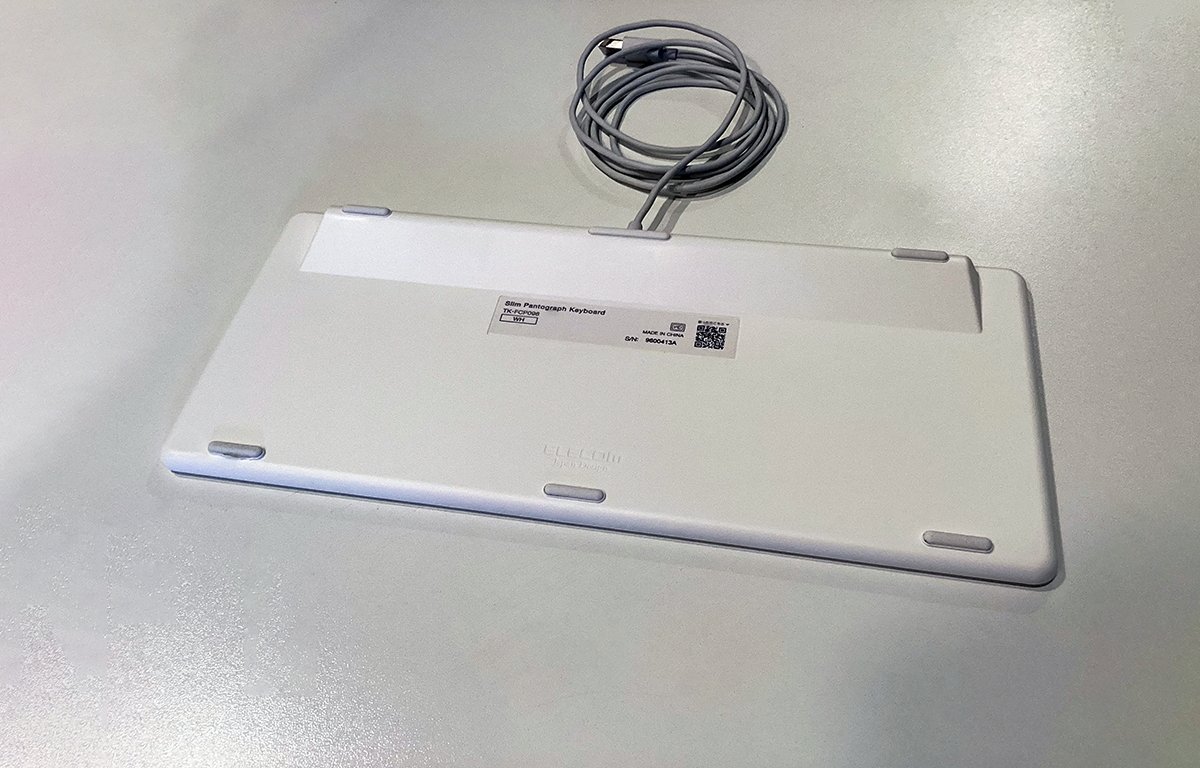 The added weight, however, does make it slightly heavy for travel - weighing in at just under a pound versus nine ounces for Apple's wireless compact keyboard.
The keyboard's non-removable USB cable is approximately four and a half feet in length and uses a standard USB-A connector.
The underside round edges have a unique shape and curve to them, somehow making the keyboard easier to pick up than most computer keyboards. It's a curve that is just enough to slip your hand under, but hardly noticeable when you look at it.
Keys and Pantographs
Overall the device has a solid feel - with quality plastics throughout, and special key mechanisms called Pantographs. These devices were originally used to trace small images by hand to create larger copies on paper, and had two inverted movable "V"-shaped sides connected in the center with two round joints.
Pantographs slide open and closed vertically, and their use as key switches is ingenious as they give the keys a smooth but solid click.
Key faces include both English and common Hiragana characters for English and Japanese use. The use of a language key allows you to switch between either of the languages.
There are also a few special-use keys for computers found only in Japan.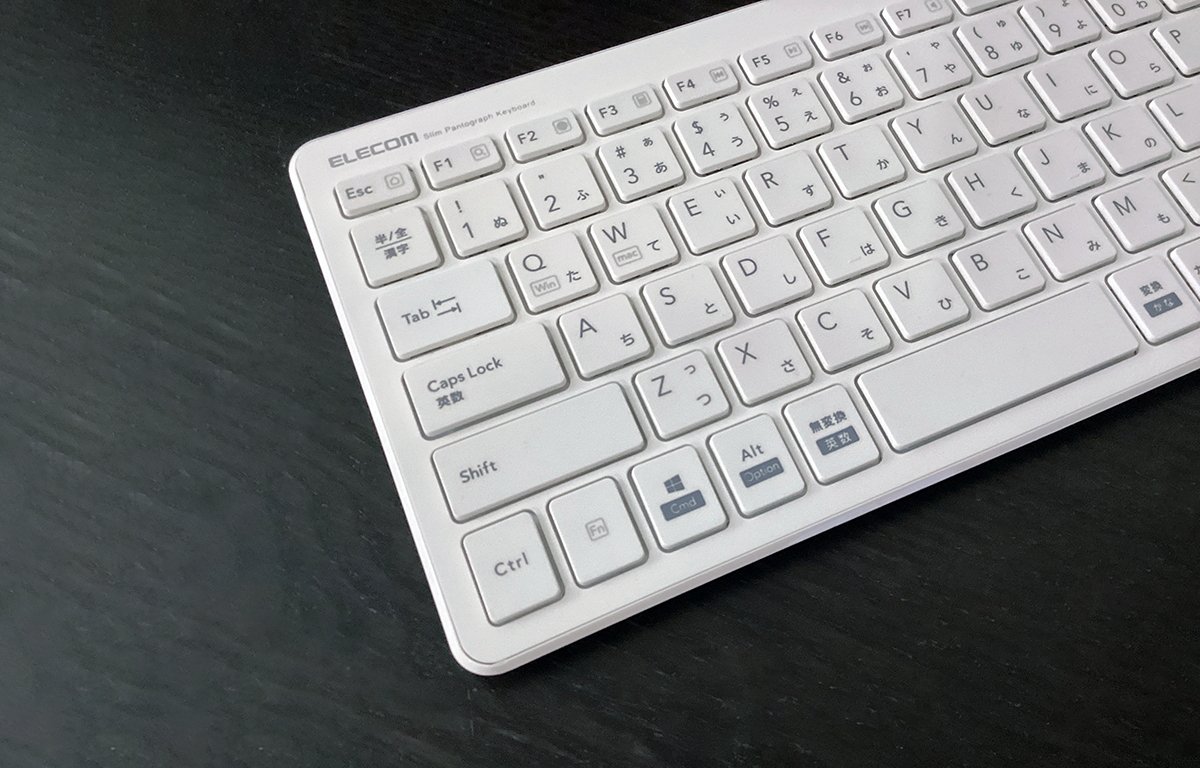 Although the TK-FCP096WH isn't a full-sized keyboard and thus lacks dedicated PC keys and a numeric keypad, Elecom has thought of a solution anyway: Page keys are located on the arrow keys, and are accessible using the function key.
Likewise, most other PC and Mac function keys are found on other keys via the use of the function key:
Eject and Mac media keys are found across the top on the Esc, number, and Delete keys accessed via the function key.
PC Scan Lock, Print Screen, and Insert keys are found on F12, Delete, and Backspace keys, respectively, also accessed via the function key.
There are both physical Mac and PC (Backspace) Delete keys.
There are Mac Command and Option keys on the physical Windows and Alt keys.
There are two physical control keys on either side of the spacebar.
These key combos mean you get nearly the full range of both Mac and PC/Windows keys on a compact keyboard for both platforms. The only major key missing is Apple's Touch ID key found on Apple keyboards.
There is also a tiny green Caps Lock LED at the top right corner which lights when the Caps Lock key is engaged.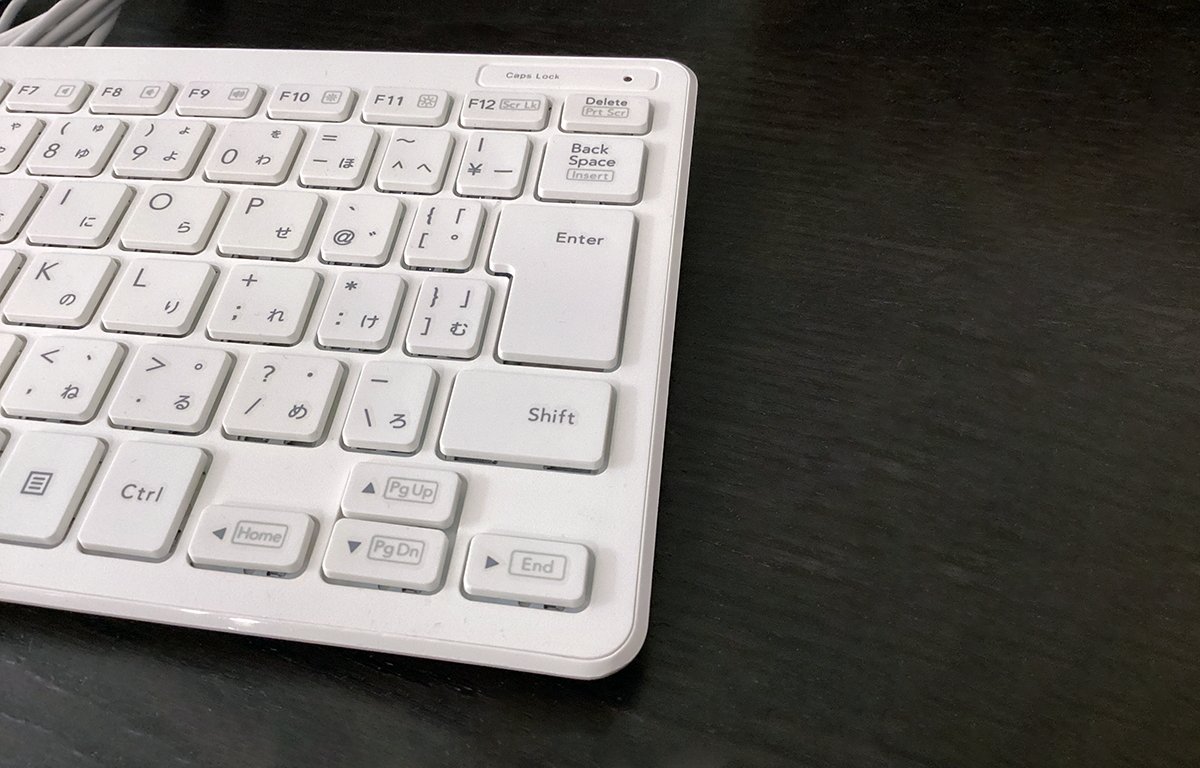 The TK-FCP096WH comes in both white and black, although the black version is extremely difficult to find both online and in retail shops in Japan itself.
Overall Elecom has created a fine, quality keyboard, with simple, clean design and great keys - but you will feel the little extra weight if you carry it in your travel bag. It's not grossly heavy, but the extra weight is noticeable.
Considering the low cost - less than half of Apple's Bluetooth keyboard - it makes a nice addition to your travel kit.
Elecom Wired Mini USB Pantograph Keyboard — Pros
Small, with quality materials.
Sleek design.
Long USB cable.
Multilingual.
Custom keys for both Mac and Windows.
Low cost.
Elecom Wired Mini USB Pantograph Keyboard — Cons
A bit heavy for travel.
No numeric keypad.
Rating: 4 out of 5
Where to buy
You can purchase the TK-FCP096WH on Amazon US and other western sites, although the device is imported from Japan so additional shipping may or may not apply.
You can also find it at several large Japanese electronics shops online, such as Bic Camera, if you can find one that ships to other countries.
Elecom also makes small portable drives, mice, Ethernet switches, and other small computing devices.