Amazon Fire Max 11 is a $229 tablet aimed at productivity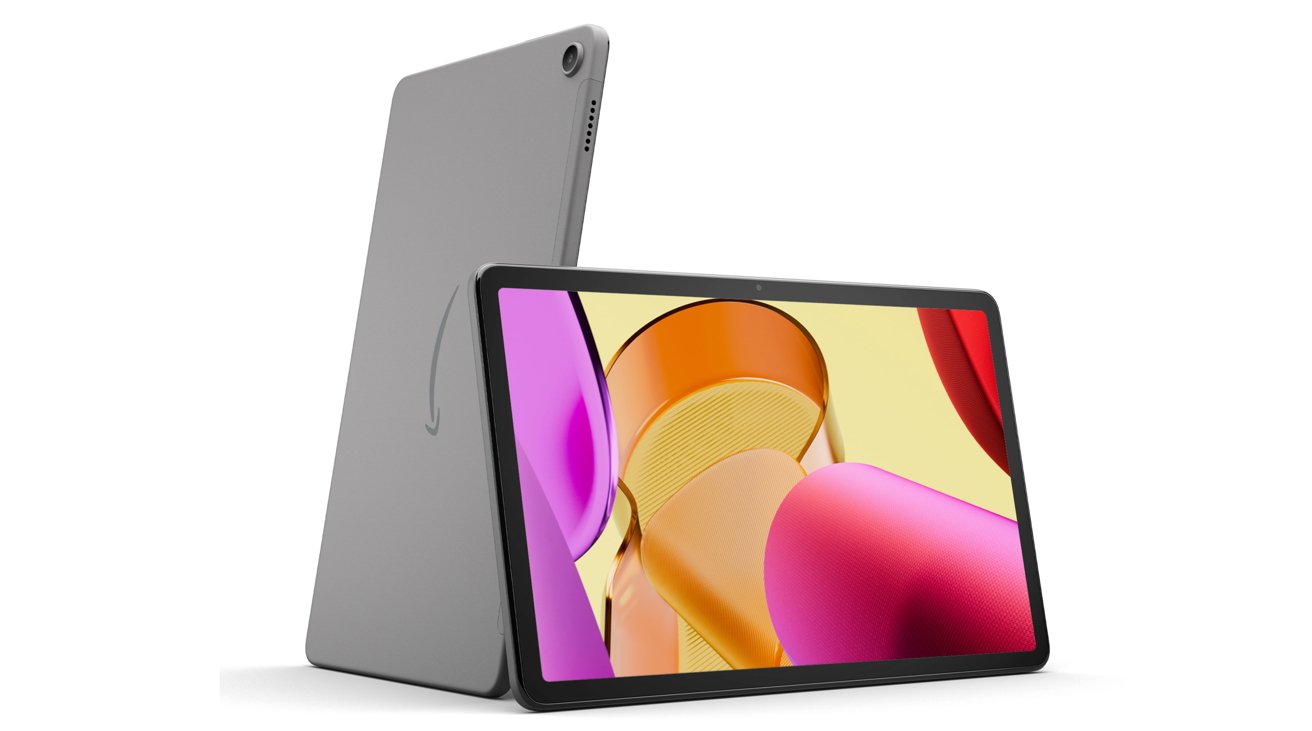 Amazon's latest Fire Max 11 tablet is the retailer's largest, and one it has aimed at the entry-level iPad to be a low-cost productivity tool.
Revealed by the major online retailer on Tuesday, the Amazon Fire Max 11 is claimed to be the most powerful tablet it has produced. It has an 11-inch display with a 2,000 by 1,200 resolution, which makes it the biggest on Amazon's tablet roster.
Inside the Fire Max 11 is a 2.2GHz octa-core processor with 4GB of memory, which is said to be "almost 50% faster" than Amazon's next-fastest tablet. On the front and back are 8-megapixel cameras, with a pair of microphones used for audio capture.
For security, the power button includes a built-in fingerprint sensor. It also offers dual-band Wi-Fi 6 and Bluetooth 5.3 connectivity, a USB-C 2.0 connector for charging and audio, and to supplement its 64GB or 128GB capacity options, a microSD card slot that can hold up to 1TB.
Battery life is rated at up to 14 hours of usage, and it will fully recharge in under 3.5 hours when used with a 15W adapter, or under 4.2 hours if you use the included 9W adapter.
Unusually, Amazon takes a swipe at Apple, by comparing its "sleek aluminum design" and strengthened glass as being three-times as durable as the 10th-generation iPad.
Along with the Fire Max 11, Amazon also introduces a Keyboard Case and a Made for Amazon Stylus Pen, which can be bundled with the tablet.
The magnetically-attached Keyboard Case has two customizable shortcut keys and 15 preprogrammed shortcut keys, as well as trackpad gesture support. The Stylus Pen, which can last for up to six months per battery charge, is a USI 2.0 certified stylus.
Shipping from June 14 but available for preorder, the Fire Max 11 starts from $229.99 for the 64GB with Lockscreen Ads, $244.99 without. The 128GB capacity model is available only without Lockscreen Ads, and costs $279.
The Productivity Bundle, including the Keyboard Case and Stylus Pen, starts from $329.99.