iOS 17 continues personalization push & makes big adds to Messages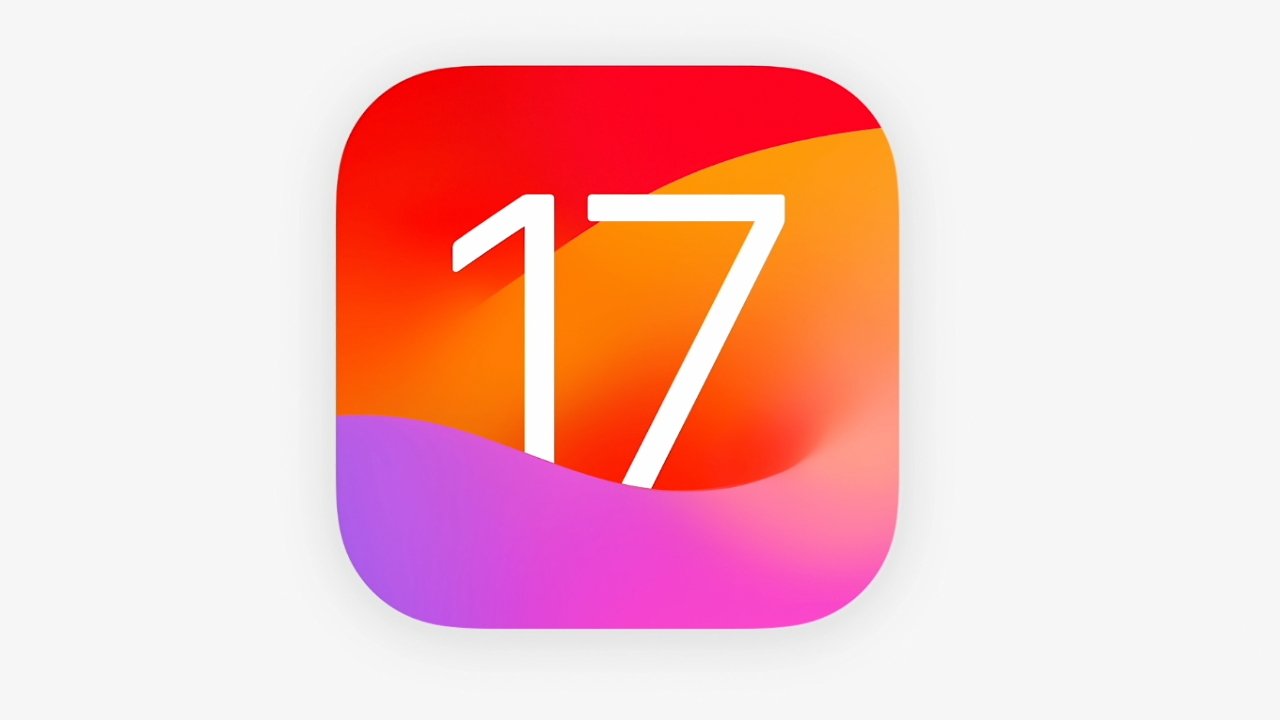 Following months of rumors and speculation, Apple has used WWDC 2023 to reveal iOS 17, its next milestone operating system release for the iPhone.
Shown off during the annual Worldwide Developer Conference keynote on Monday, the launch of iOS 17 is a continuation of the well-known iPhone operating system for another year. Set to arrive in the fall when it will be preinstalled on the iPhone 15 range of devices, iOS 17 will offer users of all compatible iPhones, the usual selection of improvements to existing features and apps.
"With iOS 17, we've made iPhone more personal and intuitive by deeply considering the features we all rely on every day," Craig Federighi, Apple's senior vice president of Software Engineering, said. "Phone, FaceTime, and Messages are central to how we communicate, and this release is packed with updates we think our users are going to love."
"We've also reimagined AirDrop with new ways to share," he continued, "[plus] autocorrect gets even better, and we're introducing all-new experiences with Journal and StandBy, plus so much more. We can't wait for everyone to try it."
Apple says iOS 17 will require an iPhone XS or later.
Calls and messaging
The most immediately visual update to the iPhone with iOS 17 is the introduction of Contact Posters for Apple's Phone app, and third-party calling apps too. It provides a new lock screen image for contacts, which appears when they phone.
If users can't or don't want to take a call right away, iPhones on compatible carriers will as ever take a message via the regular Visual Voicemail. However, now a further Live Voicemail will display a real-time, on-screen transcription of the message as it is being left.
This transcription resembles the lyrics display in the Music app, with large, clear writing to help users get the details, or decide to answer.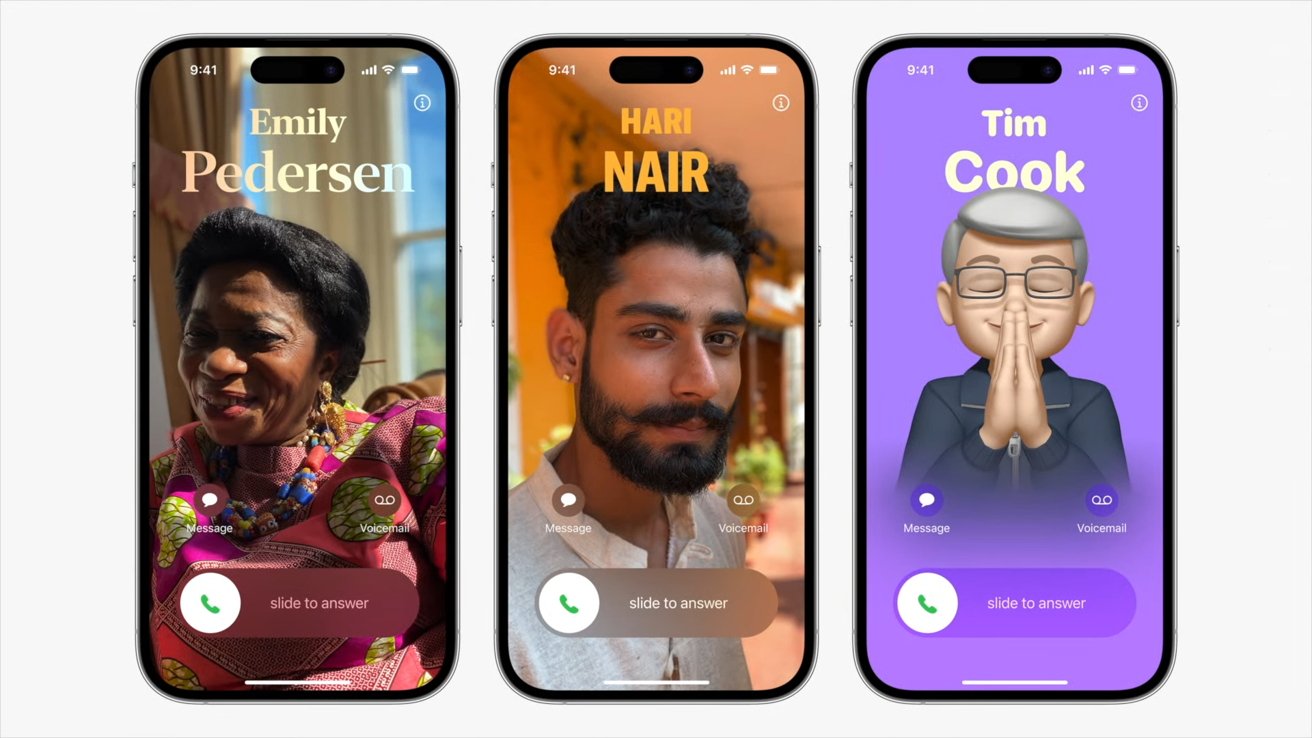 It's now going to be possible to leave audio and video messages over FaceTime — and FaceTime is being extended to the Apple TV, too. Using the existing Continuity Camera on iPhone, users "users can initiate a video call directly from Apple TV, or start the call on iPhone and then hand it off to Apple TV, to see friends and family on their television."
Alongside video and audio, Apple says that the new FaceTime includes a greater range of Reactions, "such as hearts, balloons, fireworks, laser beams, rain, and more."
Messages
As ever, Messages gets a great deal of attention in the new iOS update. It's been updated with a Catch-Up arrow, taking users to the first unread message of a conversation.
Messages will also include in-line responses for threaded conversations.
Then Messages also gains a new sticker experience, as well as a new app drawer to make it easier to get to the elements you want to use.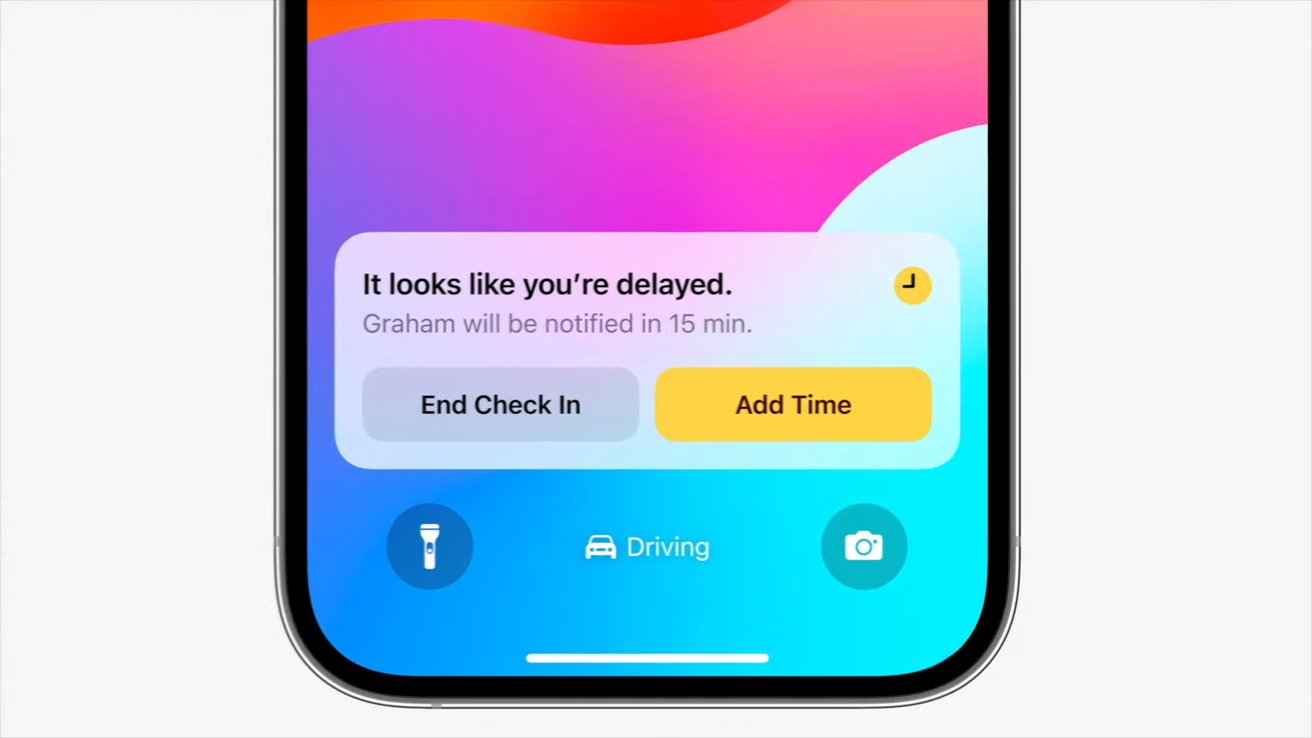 Messages also adds an important new safety feature that, if a user chooses to allow it, will let selected friends or family automatically be notified that the user has got home safely. "In cases when they're having trouble getting home, are delayed, or have a low battery," iOS 17 can also send notifications "such as the location of the user."
AirDrop and NameDrop
The term name dropping will never be the same again. For 2023, AirDrop has been updated to allow users to swap numbers with others, while an entirely NameDrop has been added.
NameDrop lets users share selected contact details with others, simply by bringing iPhones close together. NameDrop will also work with Apple Watch, although not until an update later in 2023.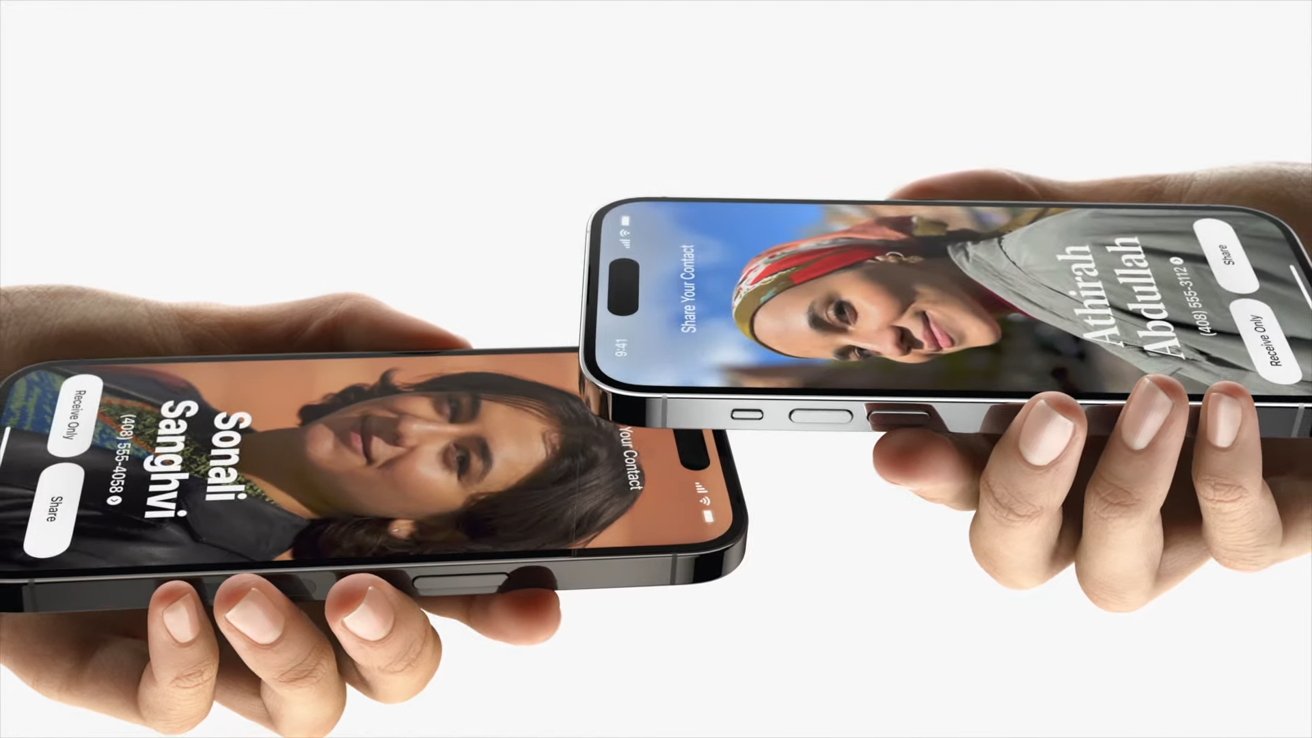 In cases where users are transferring large items but you have to depart out of Wi-Fi range, AirDrop will continue the transfer over the Internet.
Intelligent Input
When users need to type or to dictate instead of automatically share existing text, the keyboard in iOS 17 has been improved. The existing Autocorrect feature has had a new transformer language model added for the keyboard, making it more accurate.
Sentence level autocorrections will now deal with grammatical mistakes, as well as typing ones, and can revert them if necessary.
It will also behave more sensibly if you want to type a "ducking word," as teased by Craig Federighi.
Journal
Keeping a journal has been an extremely useful habit for those who do it, with the process being cathartic as well as a way to formalize thoughts, and to reflect on events from the past. Subscribers to Day One know this well, but now Apple is working on a free app to offer what appear to be the same benefits as that popular third-party one.
The new Apple Journal app not only provides a way for users to fill in what they did, but its integration with other iOS elements can help flesh out entries.
For example, by using Find My and location services, the app could work out who the user visited or spent time with, and where they went. This then provides a prompt for users to work from for their journal entry, alongside other data points like music played throughout the day.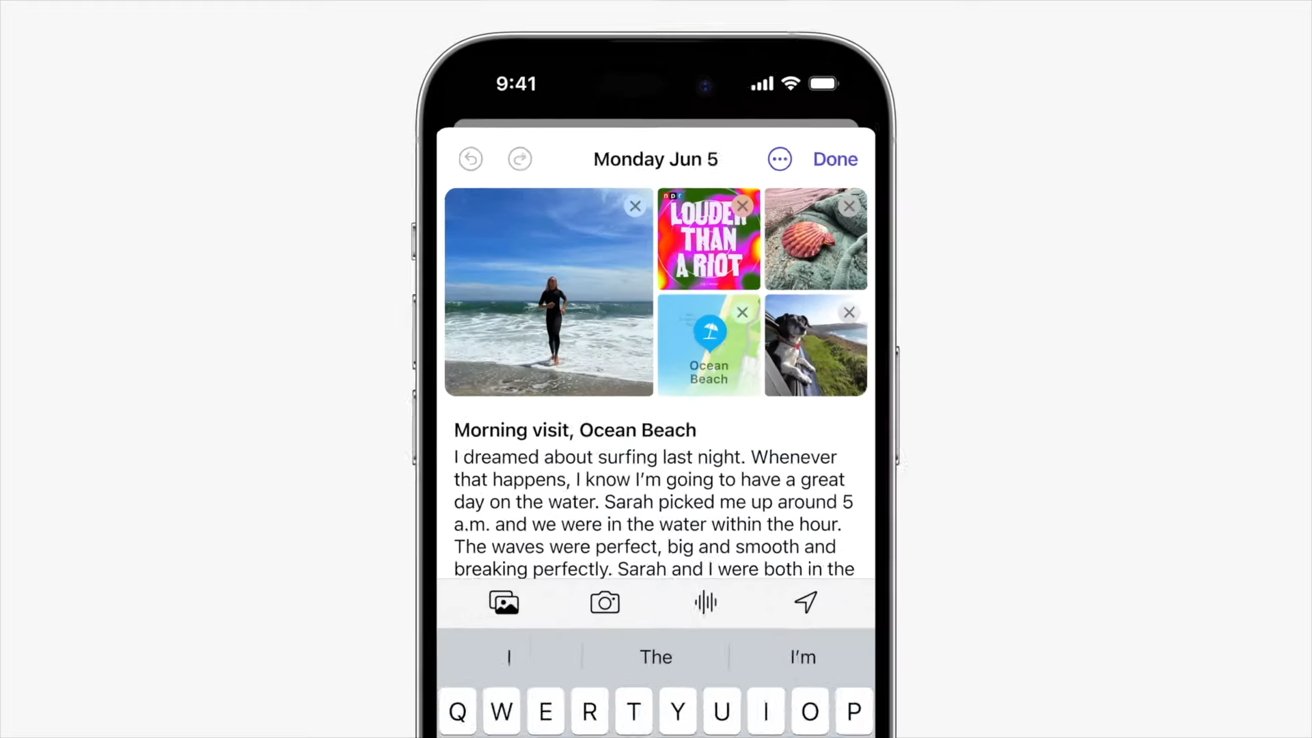 With end-to-end encryption, on-device processing, and the ability to lock a Journal, Apple promises it will also be a very private feature.
Both the Journal app and — for developers — the Journalling API, will be released later in the year, after the main launch of iOS 17.
Stand By
Acting like Nightstand mode for Apple Watch, Stand By will show a clock interface when the iPhone is charging and locked. This primarily offers a clock view, but there's more data you'll be able to use.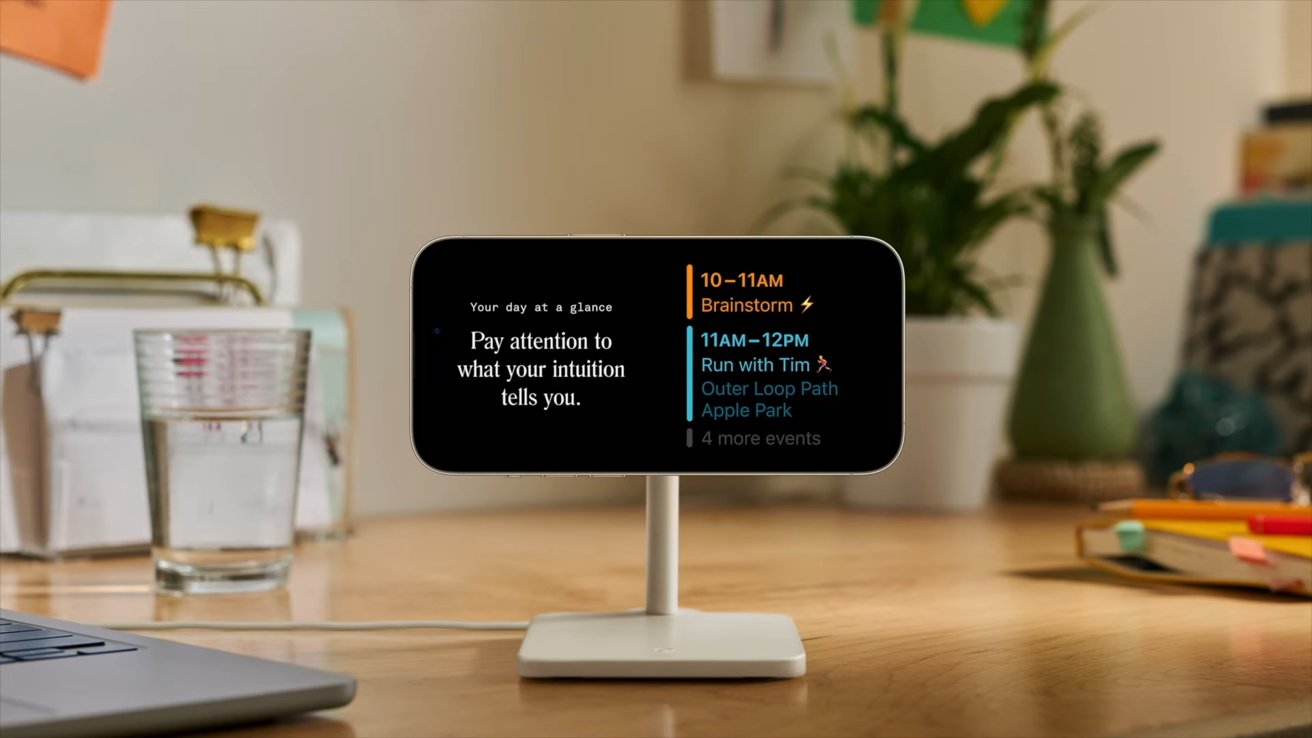 Glanceable widgets, notifications, and smart home notifications and controls will be usable from the mode.
Providing at-a-glance information in this way brings the iPhone into smart home hub territory, or at least eliminates the need for such a device next to your bed if you use the iPhone to wake yourself in the morning.
Bye "Hey" Siri
For Siri users, a big change is the removal of "Hey" from the "Hey Siri" trigger phrase. Now, all you'll need to say is "Siri."
Siri will also work with back-to-back commands, so that a user can ask a series of questions without having to stop to repeat the "Siri" trigger word each time.
Accessibility
Before WWDC, Apple did confirm iOS 17 was on the way, at the same time as revealing a number of accessibility features and changes that it was rolling into the update.
The headline accessibility changes were Live Speech and Personal Voice. The former allowed users to type out statements to be read aloud during phone and FaceTime calls, as well as in-person meetings.
The latter, Personal Voice, gave an opportunity for users to take advantage of machine learning to create a version of their voice, which in turn could be used in Live Speech.
Other features included Assistive Access to help users with cognitive disabilities to navigate the interface, and an update to Detection Mode in Magnifier called Point and Speak that can read out text labels a user points to with their finger.
When to get iOS 17
As usual for an iOS release, end users will have to wait until the fall to install and use iOS 17. This is to coincide with the release of new iPhone models.
Developers will usually be able to download and install the first developer beta for iOS 17 a short time after its announcement, sometimes later in the same day of the keynote itself.
A public beta is also typically offered, but generally that surfaces a few rounds into the developer beta testing cycle.