Hands on with Apple's new Pro Macs — Mac Pro & Mac Studio with M2 Ultra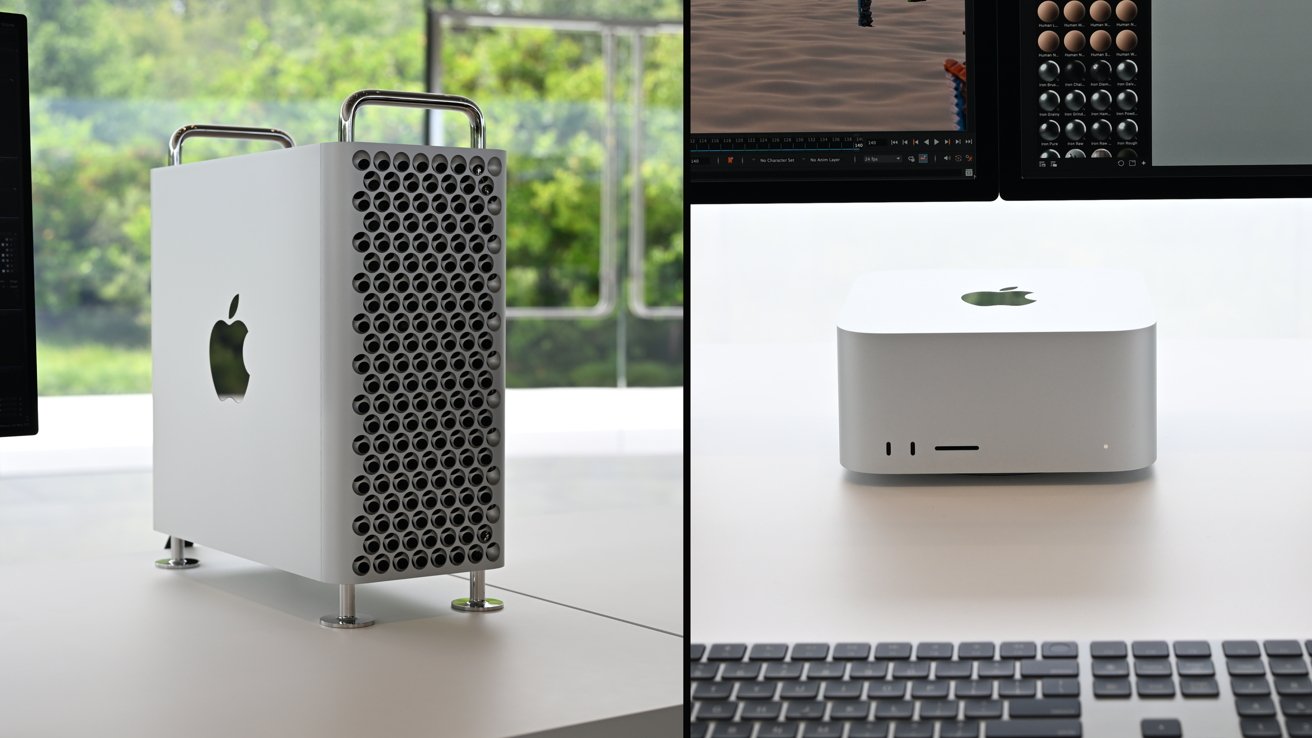 During Apple's annual developer conference, it showed off new versions of the Mac Pro and Mac Studio — each equipped with M2-series chips. And I got to test them out ahead of their debut.
I was in person at Apple Park this year for Apple's annual developer conference. This typically software-focused event had an unusual number of hardware releases that were highly anticipated.
If you haven't already, be sure to check out my hands-on with the new Vision Pro and new 15-inch MacBook Air. Here, I'm going to be focusing on the two new pro-level machines.
An updated Mac Studio
From the outside, the updated Mac Studio looks identical to the last generation. You wouldn't be able to discern the new M2-powered version from the previous M1 model.
Apple made one change to the I/O. The HDMI port was now updated to version 2.1 to allow for higher-resolution external displays and higher refresh rates.
In total, with the M2 Ultra, the Mac Studio can run up to eight 4K displays, six 6K displays, or three 8K displays — all at 60Hz.
Internally, you can now choose the M2 Max or M2 Ultra to power your Mac Studio. Apple says that "developers can build new versions of apps at warp speed, with up to 25% faster performance than M1 Max," and "motion graphics designers using After Effects can render up to 50% faster than M1 Max."
In the demo area, Apple was running Maya on the latest Mac Studio to show off how easily it could create 3D graphics. The whole demo felt incredibly smooth with the power of the M2 Ultra and Maya now running natively on Apple Silicon.
Apple Silicon Mac Pro
I used the 2019 Mac Pro for quite some time, eventually migrating to of Apple Silicon in the last year. Now, Apple's high-end desktop supports Apple Silicon as well, completing Apple's lengthy transition.
With the new model, Apple has continued to use the same chassis that is unveiled with the 2019 model. It has the cheese grater-looking front with the 3D spheres cut from the metal cover.
Eagle-eyed observers will notice one external change Apple made. There are now eight total Thunderbolt ports.
Two ports are located on the top while there are now six on the pre-installed I/O card on the back. That also leaves six PCIe cards for users to install their own cards.
With the 2019 version, users could change and upgrade both the memory and the graphics card. Both of those are now built into the M2 Ultra, and conventional PCI-E video cards from AMD are not supported at all.
Examining the internal of the chassis, Apple has repurposed where the memory used to be installed as the new home of the SSD slots. Apple now sells its own SSD upgrade kits for users to install more storage post-purchase.
Unfortunately, these SSD modules aren't compatible with the last-gen machine.
In the demo area, Apple was nice enough to remove the heat sync to allow unobfuscated access to the M2 Ultra. I was able to see truly how massive this new chip is.
It was the size of a tennis ball and oddly, had a sideways-facing Apple logo rather than vertical.
Available soon