Crime blotter: Police officer indicted for 2021 Apple Store punch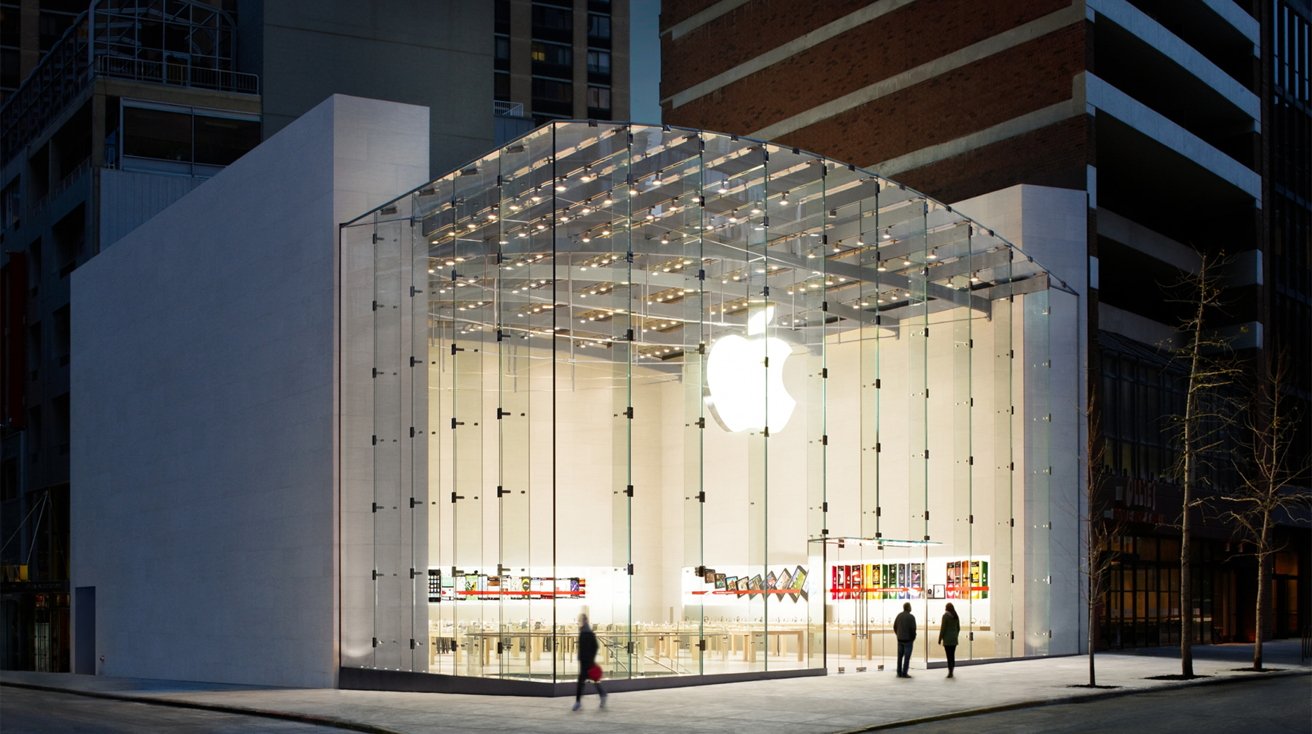 In the latest Apple Crime Blotter, alleged Apple Store thieves are accused of speaking Pig Latin, a sentence is set in Minneapolis thefts, and an iCloud investigation leads to an officer's arrest.
The latest in an occasional AppleInsider series, looking at the world of Apple-related crime.
NYPD officer indicted for Apple Store punch
There have been a lot of crimes committed in and around Apple Stores in New York City over the years, but an especially unique one led to an arrest in mid-July.
Per The New York Daily News, a New York City police officer has been indicted on charges that he punched a man inside the Upper West Side Apple Store in 2021, at a time when he was on duty.
According to prosecutors, the victim was being escorted out of the store due to "allegedly disturbing customers." The officer went on to grab the man and eventually punched him in the face.
The officer, the newspaper said, had been given an opportunity to plead down to a harassment violation, but he refused.
Accused Apple Store thieves in Australia spoke Pig Latin
A pair of Australian teenagers are accused of stealing $60,000 worth of iPhones and other items from an Apple Store in that country- and prosecutors say they spoke to each other in "Pig Latin" to disguise their intentions.
According to Canberra Times, the two were recorded speaking that way. Another report, from The Daily Telegraph, said one of the thieves had agreed to plead guilty to "his role in plundering the tech giant's storefront" in the January 2022 theft.
The defendant and his co-conspirator, a minor, arrived at the store with a claw hammer at 4:30 a.m. They got into the stockroom and took 29 iPhones, nine sets of AirPods, and 10 pairs of Beats headphones.
Stolen Apple products found after high-speed chase
Pennsylvania state troopers found $30,000 in Apple products and luxury clothing following a high-speed chase, reports WTAJ.
The accused thieves were driving 110 miles per hour along I-80 when troopers tried to stop them. After their speed got as high as 130 miles per hour, the accused thieves went into a ditch, and the chase continued on foot.
They were eventually apprehended, and the stolen items were found in their car. One of the two men, per the report, was charged with resisting and evading, while the other was hit with charges of fleeing, theft, drug possession, DUI, and "a slew" of traffic violations.
Prison sentence in Minneapolis iPhone theft ring
A 19-year-old St. Paul man has been the latest to plead guilty in connection with the massive iPhone theft ring that operated for over a year in downtown Minneapolis.
According to KSTP, the defendant received three and a half years in prison, following his guilty plea to racketeering charges.
The theft, which mostly entailed going up to intoxicated people, earning their trust, and then either stealing their phones or using the phones to transfer money to themselves, ran between June 2021 and May 2022.
Police in Tampa warn of phone theft ring
In a similar story in Florida, police say thieves have been targeting people in Tampa's Ybor City section in order to steal their phones.
Per ABC Action News, the Tampa Police Department has arrested a man who they say has been stealing phones, and using apps on them to access the owner's banking information.
Like in the Minneapolis case, thieves are targeting people who have been drinking, and sometimes ask to borrow their phone to make a call. Other times, it's more of a standard armed robbery.
"Don't use the same pin for CashApp as you would use to get into your iPhone," a Tampa detective warned.
The man arrested has been charged with organized fraud of $20,000 to $50,000, fraudulent use of a credit card, robbery by sudden snatching, and robbery with a weapon.
UPS employee arrested for stealing iPhones, other merchandise
A United Parcel Service employee has been arrested for stealing packages and attempting to sell them on Facebook Marketplace. According to WUFT, the items included "thousands of dollars worth of Apple and Android products," including iPhones, as well as jewelry.
The man was caught, per the report, when one of the victims discovered some missing items on the man's wife's Facebook page and was able to match the serial numbers.
iCloud investigation leads to arrest of officer for fabricating threatening texts
A police officer in Ossining, N.Y., who had claimed to have received threatening text messages from colleagues had in fact sent them herself, per the Rockland/Westchester Journal News.
Following her initial complaint, the woman's iPhone and iCloud account was searched, and it showed that she had sent them herself and that the numbers sending them were "controlled" by her.
She was charged with three counts of first-degree filing a false instrument and four counts of third-degree falsely reporting an incident.
Former Delaware trooper, convicted of theft, has been sued
A former Delaware state trooper who was convicted and sentenced to prison in January for stealing more than 100 iPhones from a logistics company has now been sued by that company, which also named Delaware State Police.
According toWDEL, the trooper, who was released from prison in June, had been convicted of stealing from TotalTransLogisitics, a Delaware company, while on duty there.
Now, both the trooper and the State Police agency are being used for "trespass, conversion of goods in its possession, interference in contractual relations with customers, and interference with existing and future business opportunities."
The police agency is accused of "wanton or gross negligence" in failing to supervise the ex-trooper.
Apple Watch Ultra stolen by Swiggy Genie delivery man
India's e-commerce company Swiggy is under fire after a delivery man for its Swiggy Genie service was accused of stealing an Apple Watch.
India Today, which cited a social media post, reports the device's owner had attempted to retrieve his Apple Watch Ultra through the service, but "was left shocked when the delivery person made off with the valuable device."
The watch owner had left it at a friend's home, he arranged it to be delivered through the Genie service. However, the delivery person canceled the order, blocked communication, and kept the Watch. The owner went on to track the device to a Swiggy warehouse and got it back.