Wedbush says it's 'when not if' Apple will buy ESPN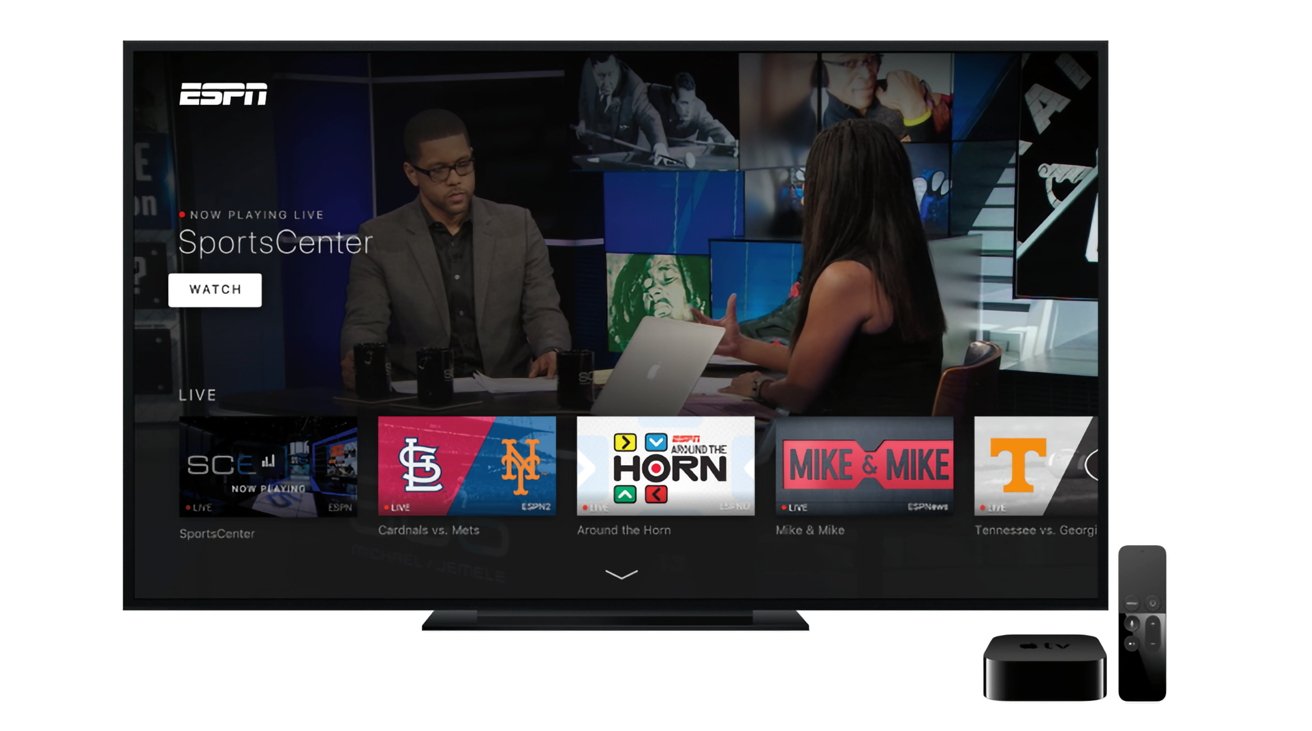 Analyst Dan Ives says that sports channel ESPN is the "perfect fit" for Apple TV+, and predicts Apple will acquire the station in the next six to nine months.
ESPN is currently owned by The Walt Disney Company, and there have been ceaselessly wild predictions that Apple should or must or will buy the whole Disney firm. Now Wedbush analyst Dan Ives is scaling down those expectations by focusing solely on ESPN, but at the same time is adamant that Apple will buy it.
"I believe it's a matter of when, not if ESPN and Apple get together," Ives said on CNBC's "Last Call" show.
"I think Apple is really the perfect fit. And I think this is something for Cupertino that they're looking to go after. Live sports content is the golden goose."
Rather than an acquisition, Apple has previously been rumored to become a strategic partner of ESPN.
Ive says that's possible, but is certain Apple will buy ESPN outright instead. His comments follow how Lionel Messi's joining Inter Miami CF has doubled subscriptions to Apple's MLS season pass.
He argues that Apple TV+ needs content and that sports will give it that, plus the costs of sports rights mean it will be the largest firms who get them.
"It's a new age," he continued. "And I think when you look at Apple, I mean, you're talking about coming here historically has never done acquisitions of this size, but you have 200 billion that they could ultimately go after and more."
"And I think it's just the start of Apple, Amazon, and others just going more and more after sports content," said Ives. "You look at ESPN, to me, it's just the perfect fit for Apple. either as a strategic partnership minimum, but we believe an acquisition could clearly happen here as we look into next six to nine months."
Buying ESPN is a "no brainer"
"ESPN as an acquisition or strategic partnership to Apple a no brainer," wrote Ives in a note to Wedbush investors seen by AppleInsider. "There is only one asset in our opinion that would accomplish this goal [of live sports on Apple TV+] and it potentially could be on the table depending on the Disney strategic overview and ultimately where [Disney CEO Bob] Iger and the Board land on this asset."
"We believe Apple would be much more interested in the ESPN asset than Disney overall as Cupertino is focused on a number of other key strategic initiatives with an acquisition of the Mouse not making a ton of sense in our view," he continued. "That said, acquiring ESPN ($50 billion+ price tag likely) would make a ton of strategic sense, gain valuable sports content, major TV rights across each of the major professional and college sports packages, and change the cross-sell opportunities and attractiveness of Apple TV looking ahead while putting Apple on the sports map globally speaking.
ESPN is an American channel and Apple has shown that it tends to want global rights to any sport it covers. It is possible to watch ESPN overseas, but in each territory where it's available, it is bundled with other services and it's not clear how the potentially complex contracts would work if Apple wanted to bring the service under its own streaming network.