Belkin launches Qi2 wireless charging pad, 4-port USB-C charger and more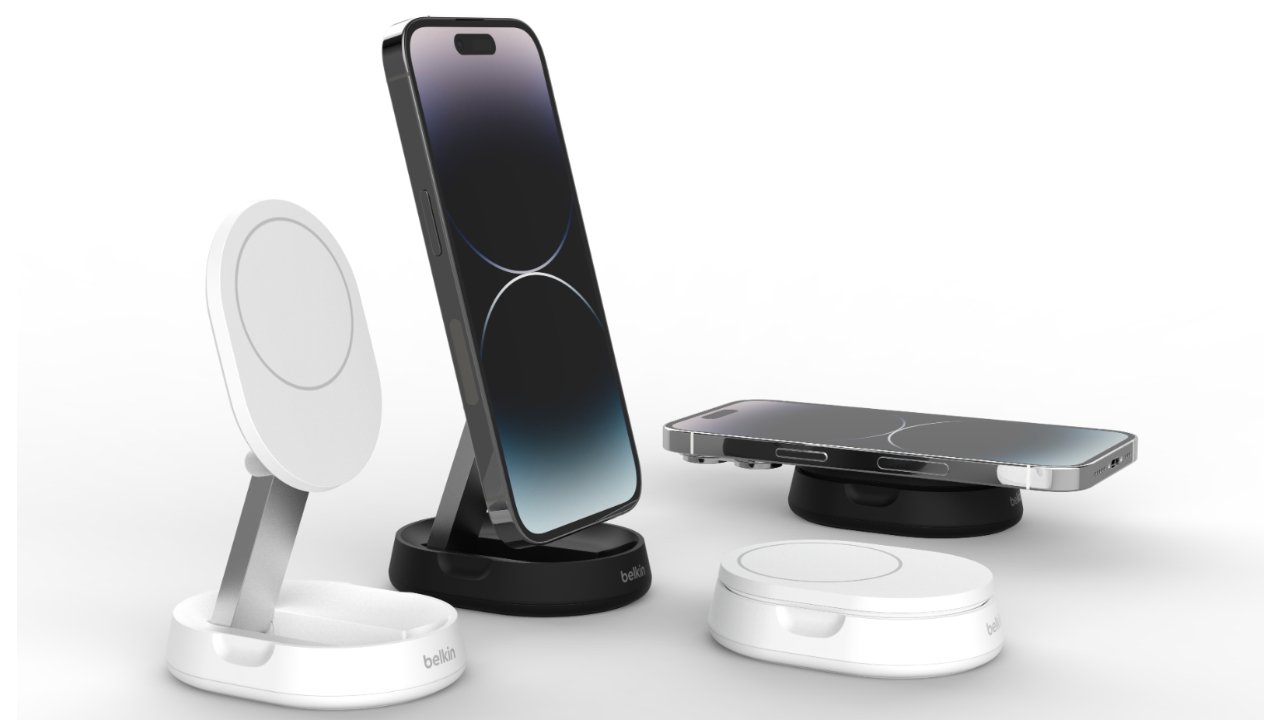 Long-time iPhone accessory maker Belkin has unveiled eight new devices, including Qi2 wireless chargers, a power bank battery, and a Thunderbolt 4 hub.
Less than a month after it released its 2-in-1 wireless charging pad with MagSafe, Belkin has launched a comprehensive range of chargers — as well as audio headsets.
Qi2 Charging pads
The new range includes what Belkin calls a BoostCharge Pro 3-in-1 Wireless Charging Pad with Qi2. "Leveraging the new Qi2 standard, this...offers perfect alignment and faster charging for Qi2-enabled devices at 15W, and Qi charging at 5W for Belkin SoundForm earbuds or other Qi-enabled devices," says the firm.
It's MagSafe compatible, includes a USB-C port, and is intended to be easy for travelers to pack away. Belkin has not announced a price for this model yet, but it will be available from later this year.
Available from the start of Q1 2024, there's a BoostCharge Convertible Qi2 Wireless Pad to Stand. It's a charger that can be used flat or propped open for FaceTime calls while charging.
Also in this BoostCharge Pro range, but actually available to order now from Belkin.com, is the BoostCharge Pro Universal Easy Align Wireless Charging Pad 15W, which costs $40. This is a single, large charging plate that can charge Qi-enabled devices at up to 15W.
Wall chargers and a hub
Belkin has launched a BoostCharge Pro 140W 4-Port GaN Wall Charger, which is available for $130 from the manufacturer. It's a large, single wall charger or plug, which includes a GaN charger that offers three USB-C, and one USB-A port.
"Charge a MacBook Pro at full speed or fast-charge an iPhone and iPad while charging two additional devices at the same time with the 140W 4-Port GaN Charger," says Belkin.
The company is also releasing a 25W hybrid wall charger and battery Power Bank. Featuring PD3.1 PPS technology, it can be used to charge devices directly from a wall socket, or via its built-in battery. It will be released later this year.
Belkin has launched a Connect 5-in-1 Thunderbolt 4 Hub, which is available now for $200 from the company.
It delivers power up to 96W and can daisy chain up to six devices. The Connect 5-in-1 has 4 Thunderbolt 4 ports, 1 USB-A port, up to 40 Gbps data transfer speeds and dual monitor support.
Lastly, Belkin has released two wireless headsets, one for children and one more for people making a lot of phone calls. Both are available now, with SoundForm Inspire Kids costing $40, and SoundForm Adapt Headset costing $50.