Apple's full-year results drop for the first time since 2019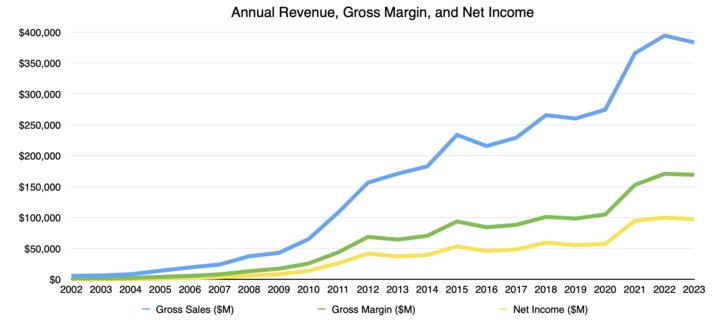 Despite beating Wall Street estimates for the quarter, Apple's whole-year revenue has dropped year-over-year for the first time since 2019.
As part of its quarterly earnings report, Apple posted annual gross revenue of $383.29 billion. This figure is down 2.8% year over year from $394.33 billion.
That's a bigger drop than 2019, when Apple saw a 2% year-over-year reduction.
Apple's annual gross margin also shrank, dropping to $169.15 billion. This is a 1% year-over-year drop from $170.78 billion.
Operating expenses increased significantly, rising 6.8% to $54.85B from $51.35B, while research and development costs rose 14% year over year from $26.25 billion to $29.92 billion.
The news comes despite an array of new product introductions in the quarter, including the iPhone 15, Apple Watch Series 9 and Apple Watch Ultra 2, although all of them were released after the quarter began. It also marked the first full quarter of sales from Apple's Q3 product launches, which included the 15-inch MacBook Air model, refreshed Mac Studio and M-series Mac Pro.
Net sales by category only showed growth in one segment: Services. Otherwise, Apple posted lower year-on-year net sales in every category: iPhone, Mac, iPad, and Wearables, Home and Accessories.
Apple on Thursday also reported results for the fourth quarter of 2023, with revenue of $89.5 billion. This marked the fourth consecutive quarter of declining sales reported by the company.
For the fourth quarter, Apple managed $89.5 billion of revenue, down from $90.1 billion reported in Q4 2022. The reported earnings per share were declared to be $1.46.