iMessage blue bubbles come to Nothing phone — assuming you provide iCloud login info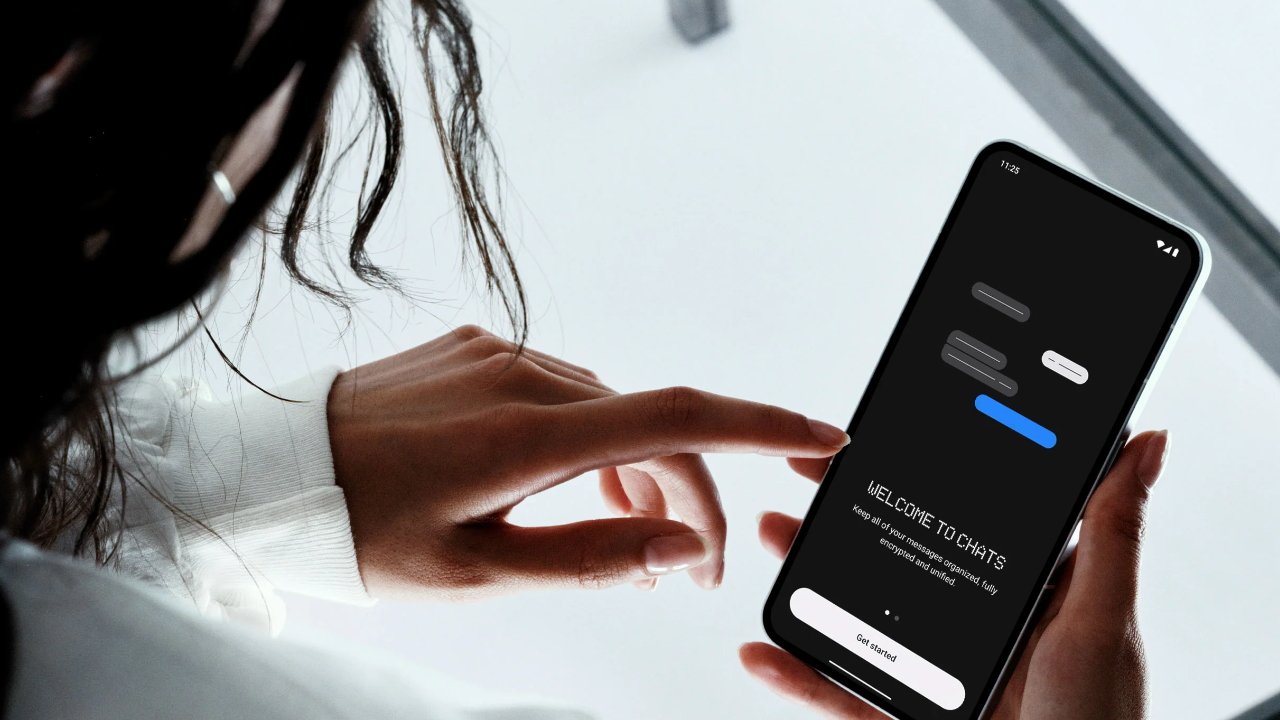 The makers of the Nothing Phone (2) are launching Nothing Chats, which lets Android users who share their Apple ID send messages in the iPhone's regular blue bubbles.
Nothing makes the well-received Nothing Phone (2), and one of these is required to use the new Nothing Chats. The mimicking of iMessage is done by New York-based technology firm Sunbird, and displayed in the Nothing messages app.
Sunbird says that an Apple iMessage account is required, though the company insists that it does not "capture, store, nor have access to your username, password, or any other personal information."
"We were kind of frustrated because we saw in the data that a lot of our Nothing Ear users were actually iPhone users," said Nothing's Carl Pei in a promotional video. "Majority of our smartphone users do not come from iPhone, they come overwhelmingly from Android."
"So we were like, they like our design because they're buying our earbuds," he continued, "but they're not buying our phones because maybe there's ..some other kind of barrier to switching."
Nothing concluded that it was messaging that was holding back iPhone users from switching. Specifically the issue that there is a stigma to being the only person whose messages are in an Android green bubble instead of an Apple blue one.
Bring on the blue bubbles.

We believe in windows, not walls. If messaging services are dividing phone users, then we want to break those barriers down.

So... we've developed iMessage compatibility for your Phone (2). pic.twitter.com/kArTGfXlQO

— Nothing (@nothing) November 14, 2023
That does appear to be real, but it's certainly only real in the US. Nonetheless, Nothing wants to crack the US market, so it is introducing Nothing Chats to North America, Canada, the UK, and Europe.
"We were like, how can we do something about this?" says Pei. "And started looking at the different teams working on this problem... and we got in touch with the Sunbird team."
"We quickly grouped together and came up with this kind of naughty idea," he continued.
According to the Washington Post, Nothing Chats works very well — except when it doesn't. Messages can't be edited as they can on iOS, for instance, and most significantly, sometimes messages don't get through unless sent repeatedly.
In its promotional video for the service, Nothing is critical of Apple for not adopting RCS, the messaging service Google keeps pressing the company to support. That ignores how Google itself doesn't consistently use RCS, and that arguably RCS doesn't fully work.
Plus Nothing claims that Apple's refusal to support RCS "limits features between Android and iOS," which is true, but also "that risks user privacy," which is not.
Apple has not commented on Nothing Chats, but Pei says he expects Tim Cook to take notice. "I'm working under the assumption that Tim Cook is going to watch this video," he says in the promotional launch, "and he won't be happy with it, he will be forwarding it to people within the company."
Launching on November 17, 2023, Nothing Chats will require a Nothing Phone (2), which starts at $599, and is available via Amazon.