2017 iMac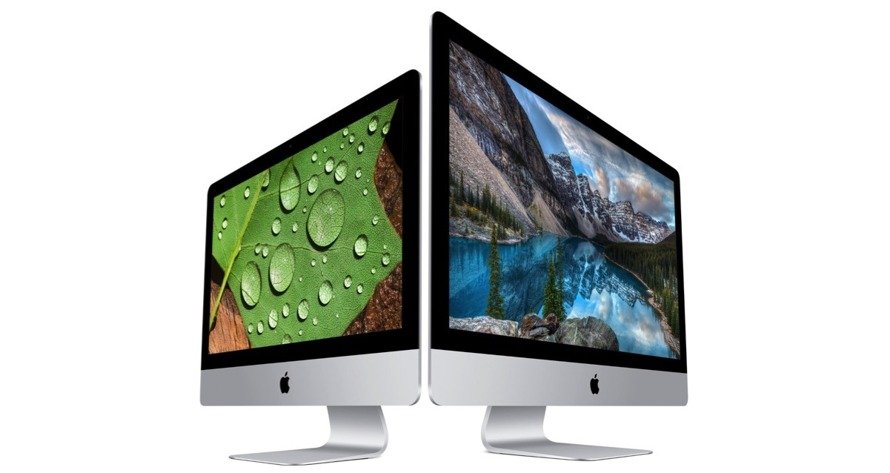 ⚠️ This content has been preserved for historical or organizational purposes, but is no longer being maintained. It is unlikely to be updated further and may contain duplicate or outdated information.
Revealed during WWDC 2017, the 2017 iMac range provides more powerful hardware for content creation, including brighter 4K and 5K displays, external GPU support over Thunderbolt 3 as part of macOS High Sierra, and upgraded Radeon Pro 500-series GPUs.
Brighter Retina 4K, 5K displays
10-bit dithering
21.5-inch, 27-inch screens
Configurable with up to 64GB RAM
Two USB-C connectors with Thunderbolt 3 support
External GPU support under macOS High Sierra
50-percent faster SSDs
---
Get Apple News Directly in Your Inbox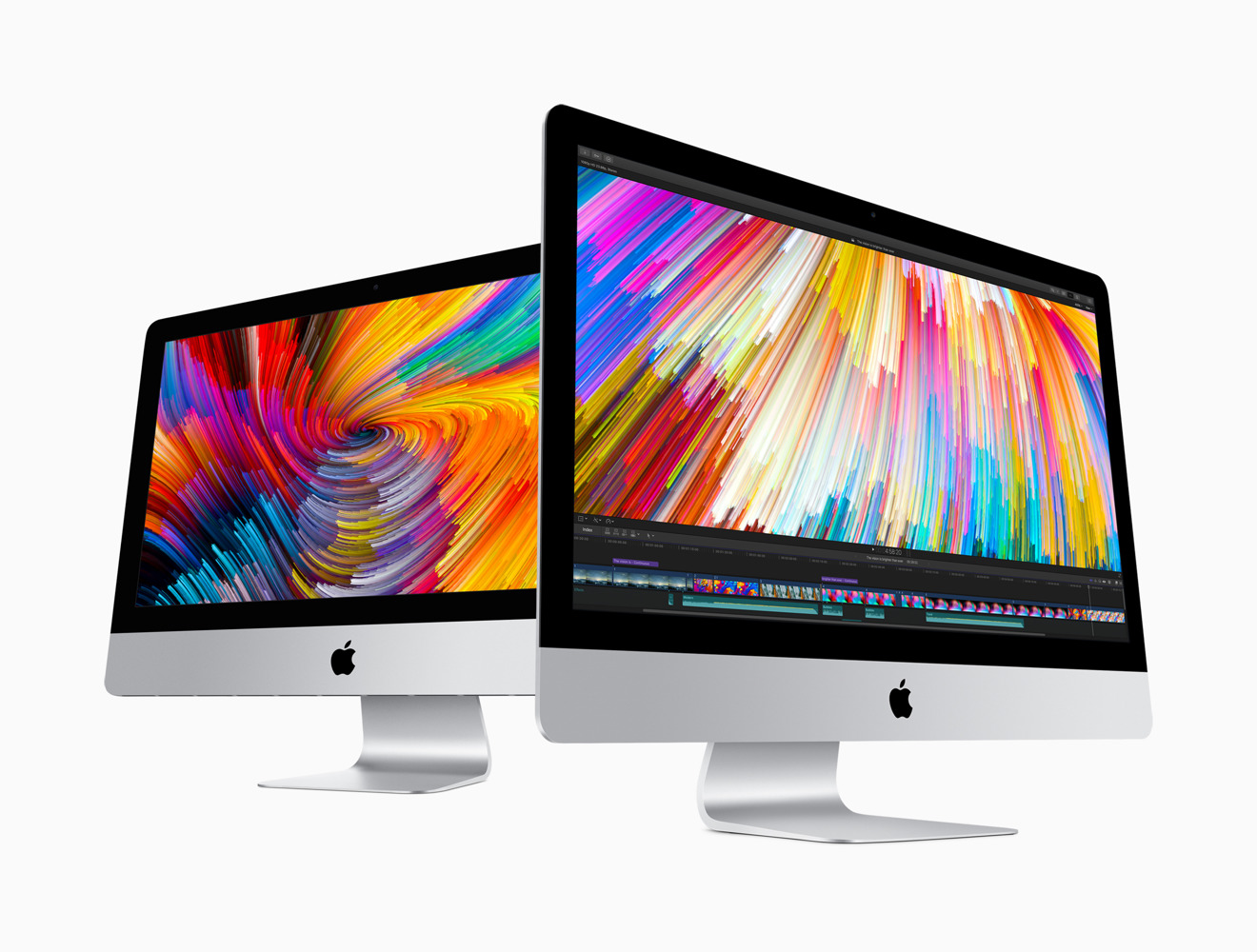 Following an interview in early 2017 confirming Apple was preparing to introduce higher performance iMacs aimed at the "pro" user market, Apple used its WWDC 2017 keynote to launch a revamped iMac lineup with improved specifications.
The updated iMac range features faster Intel "Kaby Lake" processors clocked at up to 4.2GHz, up to 4.5GHz with Turbo Boost. The new models also offer support for double the amount of memory of the previous iMac generation, configurable with up to 64 gigabytes of RAM.
Displays
Three different display options are available in this version, with a 1080p sRGB screen joined by a Retina 4K 4096-by-2304 P3 display in the 21.5-inch models, while the 27-inch iMac boasts a Retina 5K 5120-by-2880 P3 display.
The new 4K and 5K screens offer 500 nits of brightness, an increase of 43 percent on the previous model, as well as a 1200:1 contrast ratio. The displays also have 10-bit dithering, and are capable of supporting a billion colors.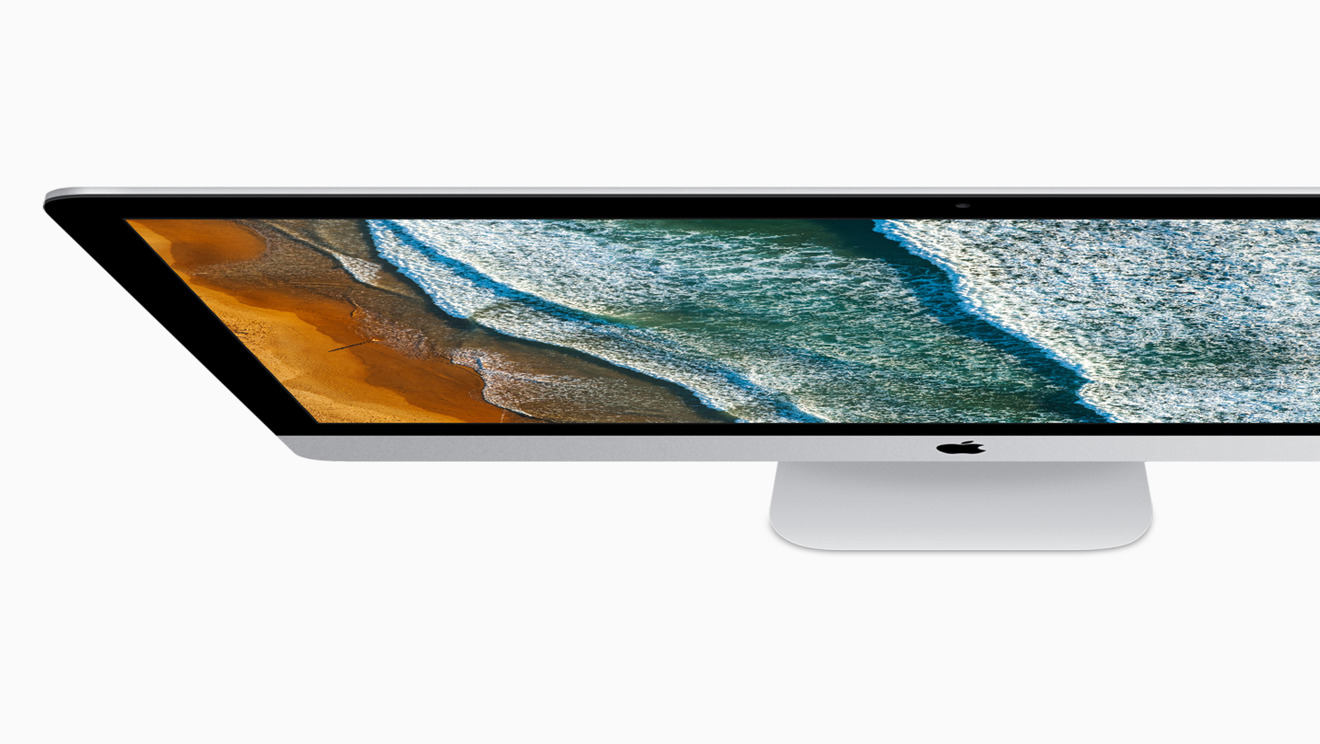 Graphics, Inside and Out
To drive these new displays, the 4K and 5K models include new Radeon Pro 500-series discrete GPUs, equipped with up to 8GB of vRAM. This provides up to three times faster graphical performance in the 21.5-inch model, and a 50-percent performance upgrade for the 27-inch version.
Information from AMD reveals the Radeon Pro 570, 575, and 580 GPUs available in the 5K iMac are far more powerful than the Pro 550, Pro 555, and Pro 560 used in the MacBook pro from 2016 and 2017. It is noted that the Pro 570 provides nearly double the performance of the Pro 560, while the Pro 580 is 2.9 times faster in single precision processing than the Pro 560.
All new iMacs will be equipped with two USB-C connectors that also support Thunderbolt 3. Apple hopes professionals will use these connections with the external graphics card support arriving as part of macOS High Sierra in the fall, potentially giving professionals a processing boost in their work.
Apple has also strongly suggested the ability to connect to an external GPU would be an ideal way to drive virtual reality experiences.
Other Specifications
For storage, the Fusion drives will be standard on all 27-inch iMacs, up to 2TB in capacity, with 50-percent faster SSD speeds. The Fusion Drive is also standard on the highest-specification 21.5-inch iMac, with options for SSDs and 5400RPM hard drives also available for the screen size.
All of the new iMac configurations will also have four USB3.0 Type-A ports, 802.11ac Wi-Fi, Bluetooth 4.2, a Gigabit Ethernet port, and an SDXC slot.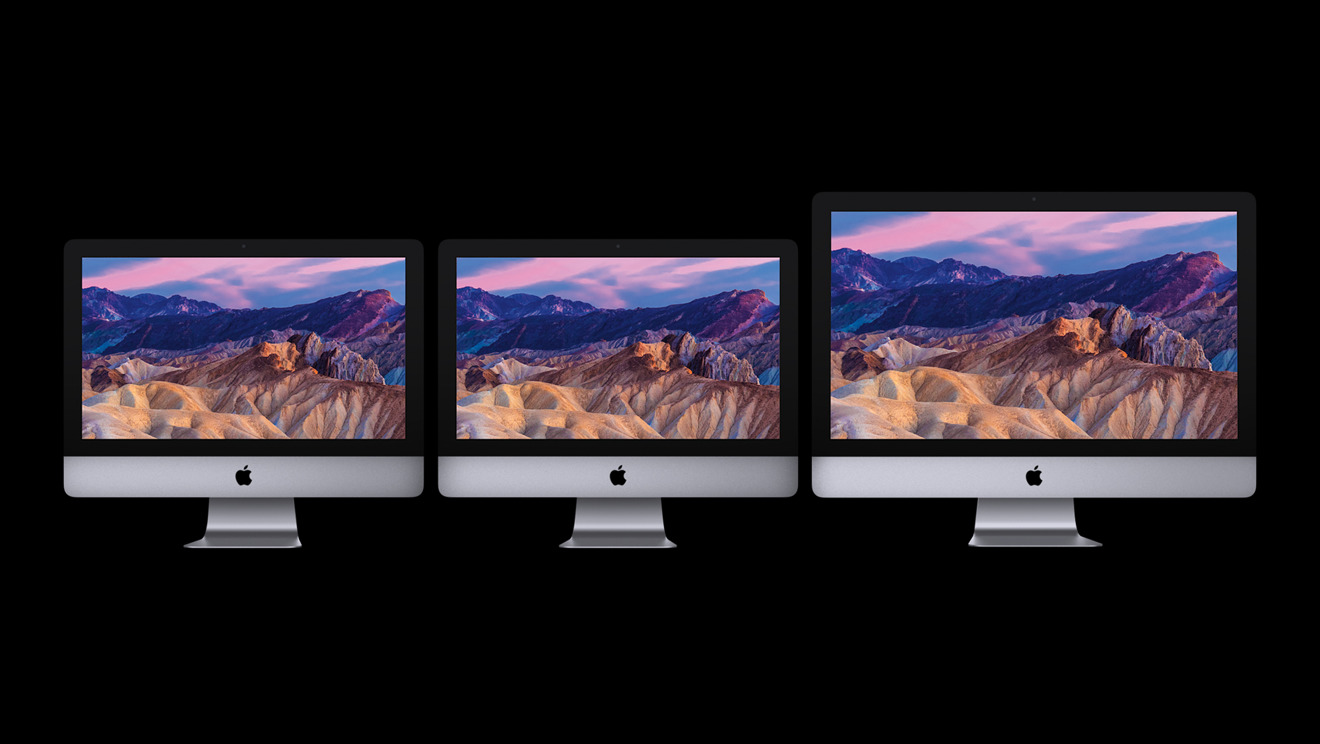 Base Models
The non-4K 21.5-inch iMac starts from $1099, and uses a 2.3GHz i5 processor, and a 1TB 5400RPM hard drive, though this can be upgraded to a 256GB SSD at an extra cost.
The 4K 21.5-inch iMac starts from $1,299, equipped with a 3.0GHz quad-core i5 processor, a Radeon Pro 555 GPU, 8GB of RAM, and a 1TB 5400 RPM hard drive. Moving up to the same display type with a 3.4GHz processor, 1TB Fusion drive, and the Radeon Pro 560 GPU increases the cost to $1499.
The larger 5K 27-inch iMac has a quad-core 3.4GHz i5 processor in the base model, as well as a 1TB Fusion Drive, and the Radeon Pro 570 GPU for $1799. Upgrading to the quad-core 3.8GHz i5 processor with a 2TB Fusion drive, and the Radeon Pro 580 GPU brings the price up to $2299.
The new iMac models were made available to purchase straight after the WWDC 2017 keynote.