2016 MacBook Pros with Touch Bar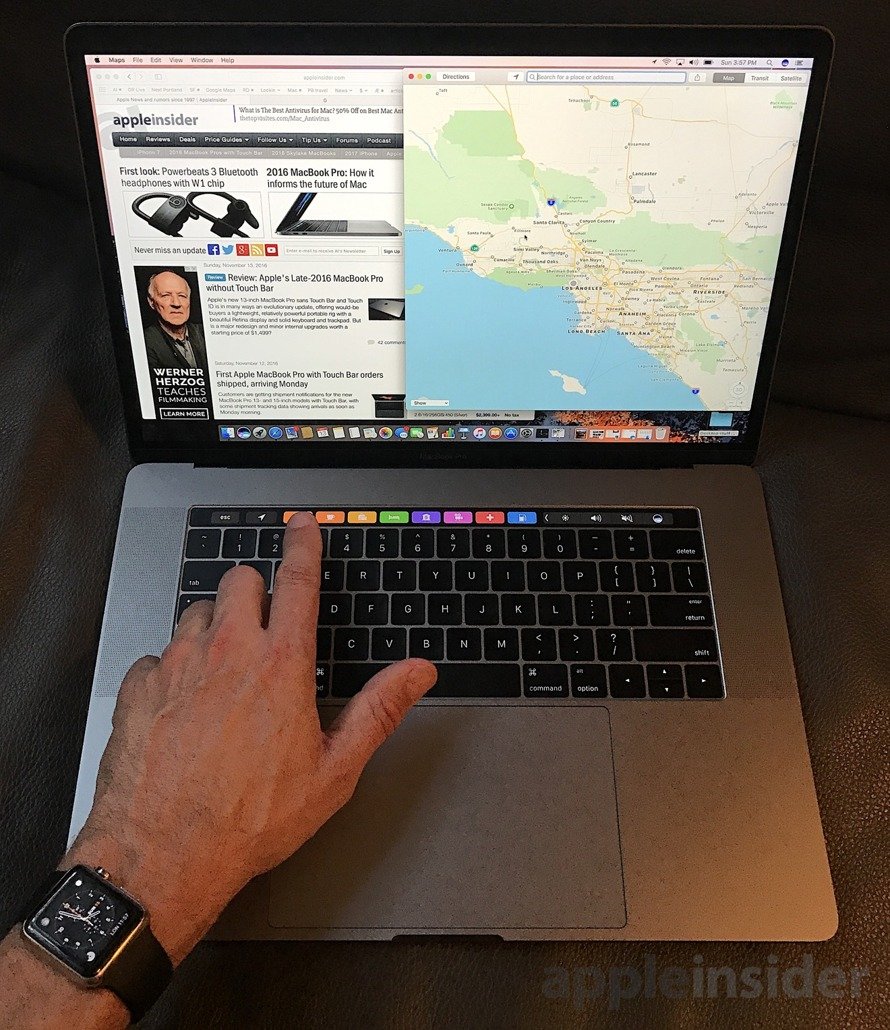 The MacBook Pro saw major upgrades during Apple's live event on October 27, 2016. The portable is thinner, lighter and faster. New features include a larger trackpad, a new keyboard, Touch Bar, Touch ID and four Thunderbolt 3/USB-C ports. The 2016 MacBook Pro is a major redesign to Apple's flagship notebook.
● November shipping date
● OLED Touch Bar and Touch ID
● Faster 7th-gen Intel CPU
● 10-hour battery life
● Screen sizes of 13" and 15"
● Faster SSD
● Speaker redesign
● New, thinner chassis
● 4 USB-C ports with Thunderbolt 3 support
● Space grey and silver color options
● 130% faster graphics
● 67% brighter display
● 17% thinner and 13% lighter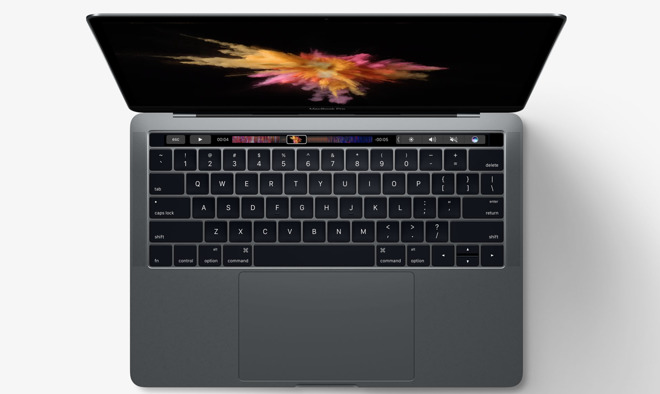 Touch Bar replaces function bar
The next-generation MacBook Pro has axed the traditional function keys and has replaced them with a Retina, multi-touch Touch Bar. The new Touch Bar allows for quick access to frequently used tools, such as straightening photos, inserting QuickType suggestions, invoking Siri, and more.
The Touch Bar is also application-specific, providing users with dynamic buttons and input options based on the task they are currently doing. It is also developer-customizable, and contextually displays menus and other features.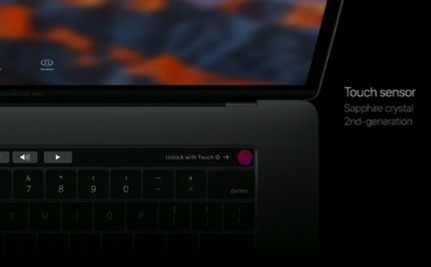 The Touch Bar has allowed Apple to also implement Touch ID on the new MacBook Pro models. The sensor is embedded in the upper right of the Touch Bar with a Sapphire lens, and a secure enclave implementation with Apple's new T1 chipset.
Touch ID now allows purchases with Apple Pay directly from the MacBook Pro. Users can also conduct a quick user switch via touch to the Touch Bar's sensor. The macOS identifies the user and authenticates based on the pre-registered fingerprint alone.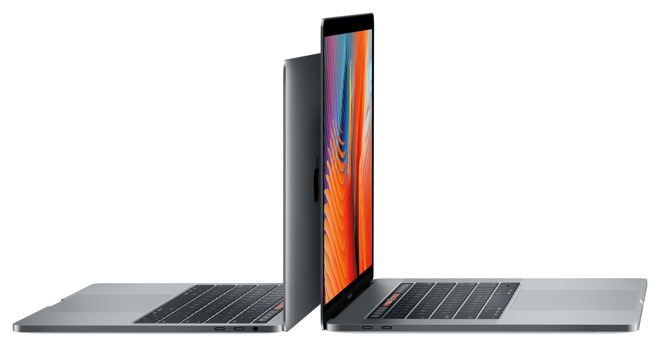 Thinnest and lightest models yet
This MacBook Pro is the thinnest and lightest MacBook Pro ever made, coming in sizes of 13 and 15 inches.
The 13-inch MacBook Pro features an Intel Core-i5 processor, while the 15-inch model offers a discrete AMD GPU.
The 13-inch model is 14.9 millimeters thin, or 17 percent thinner than the previous generation. It's also 23 percent smaller in volume and weighs 3 pounds, almost a half a pound less than its predecessor.
The 15-inch model is 15.5 millimeters thin, or 14 percent thinner than the last model. It also has 20 percent less volume and weighs in at 4 pounds.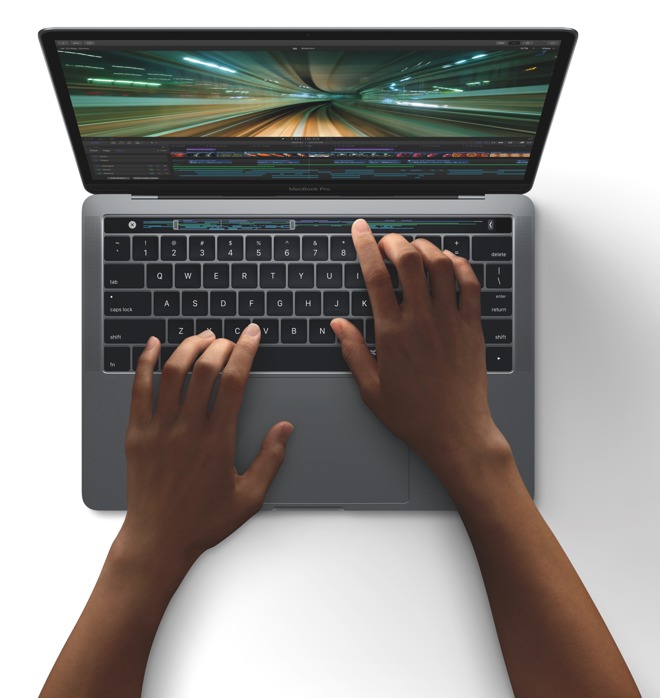 Force Touch Trackpad and New Keyboard
A new Force Touch Trackpad was also introduced that is twice as large as the trackpad on the previous generation. The keyboard also has an all-new design with a second-generation butterfly key mechanism.
Internal Specs
The 15-inch MacBook Pro includes an Intel Core i7 sixth-generation quad-core chip. It also offers Radeon Pro graphics with the AMD Polaris architecture, 2.3 times faster than the previous generation. The 13-inch model does not have discrete graphics but instead relies on an integrated Intel Iris GPU.
SSD storage runs up to 3.1 gigabytes per second —up to 50 percent faster —and can be configured with up to 2 terabytes of capacity. However, examinations of the 15-inch MacBook Pro with Touch Bar found that the SSD is surface mounted to the motherboard, with no apparent mounting allowing for easy removal or storage upgrades. This stands in contrast to the MacBook Pro 13-inch model without the Touch Bar, which clearly had a removable SSD.
Even the fan blades have been redesigned, allowing the MacBook Pro to be cooler and quieter. New speakers fit into a smaller space but put out more volume. Apple says that it has redesigned the speakers to connect directly to system power, allowing up to three times more peak power. The net effect is claimed to be up to 58 percent more volume and bass that's as much as 2.5 times louder.
The MacBook Pro lineup remained in screen sizes of 13 and 15 inches and offer high-resolution Retina displays.
The Retina display offers brighter LED backlighting and a 67 percent higher contrast ratio. It's also the first Mac notebook to support wide color.
Color options for both models are silver and space grey.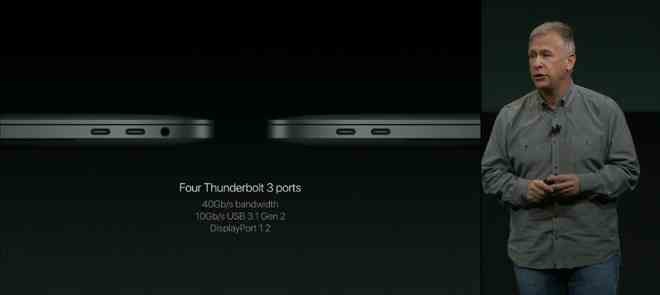 USB-C
The 13- and 15-inch models have four Thunderbolt 3 ports in the USB-C form factor. Any one of the four ports on either MacBook Pro can be used as a charging port as well. The Thunderbolt 3 delivers up to 40 Gbps of throughput and can support up to two 5k displays.
An Apple Support Pages document covering Thunderbolt 3 connectivity says late-2016 MacBook Pro port data speeds "vary slightly" depending on the model. Of note, the 13-inch version with Touch Bar delivers full PCI Express bandwidth, and thereby lower throughput, to only two of its four ports. Specifically, the two ports on the notebook's right-hand side provide full Thunderbolt 3 functionality, but have reduced bandwidth, while the left pair retains full PCIe throughput. By comparison, the15-inch MacBook Pro model supports full PCIe bandwidth on each of its four Thunderbolt 3 ports, as does the 13-inch MacBook Pro without Touch Bar for its two ports.
Optical audio out through headphone jack dropped
AppleInsider has learned that optical audio output capability found on previous MacBook Pro models does not exist on the 13-inch MacBook Pro with function keys, and is likely not on the higher-end models either. The technical specifications for the new MacBook Pro on all 13- and 15-inch models list the audio port as simply a "3.5-mm headphone jack" with no other amplifying information. In the 2015 (and earlier) MacBook Pro, and every other Mac model with optical audio out on the 3.5mm jack, the listing is amplified with a statement like "support for audio line out (digital/analog)."
AppleInsider was told that the feature was removed due to a lack of customers using the functionality and that there are "plenty of USB-C zero-latency professional peripherals are available now, or coming very soon" featuring optical audio out connectivity.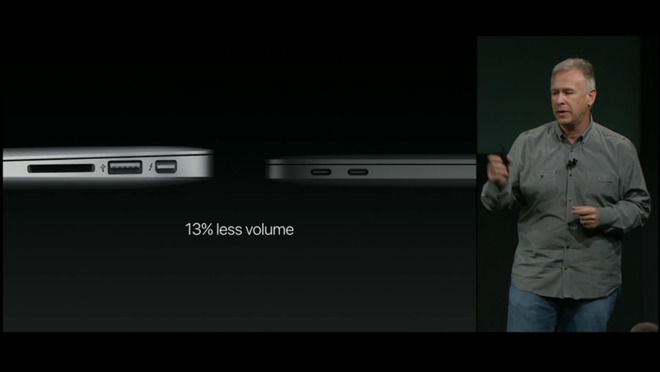 13-inch MacBook Pro replaces MacBook Air
The entry-level MacBook Pro is being touted as a replacement for the MacBook Air. This entry-level model comes with a 2.0GHz dual-core Intel Core i5 processor, 8GB 1866MHz memory, a 256GB PCIe-based SSD1, Intel Iris Graphics 540 and two Thunderbolt 3 ports. The main thing it lacks is the Touch Bar introduced in the other two MacBook Pro models.
The 13-inch MacBook Air is still available for purchase, for now, but the 11-inch model will be discontinued. The entry-level 13-inch model is 12 percent thinner than the current MacBook Air and 13 percent smaller in volume. It remains the same weight.
The 13-inch MacBook Pro is priced starting at $1,799 while a 15-inch model starts at $2,399. The entry-level MacBook Pro is $1,499.
To grab the lowest prices on Apple's new MacBook Pro with Touch Bar, see AppleInsider's Mac Price Guide. You'll also be able to tack on an AppleCare extended protection plan at a lower price than if you purchased from an Apple Store.