» » »
How to use Double Tap on Apple Watch Ultra 2 & Apple Watch Series 9 in watchOS 10.1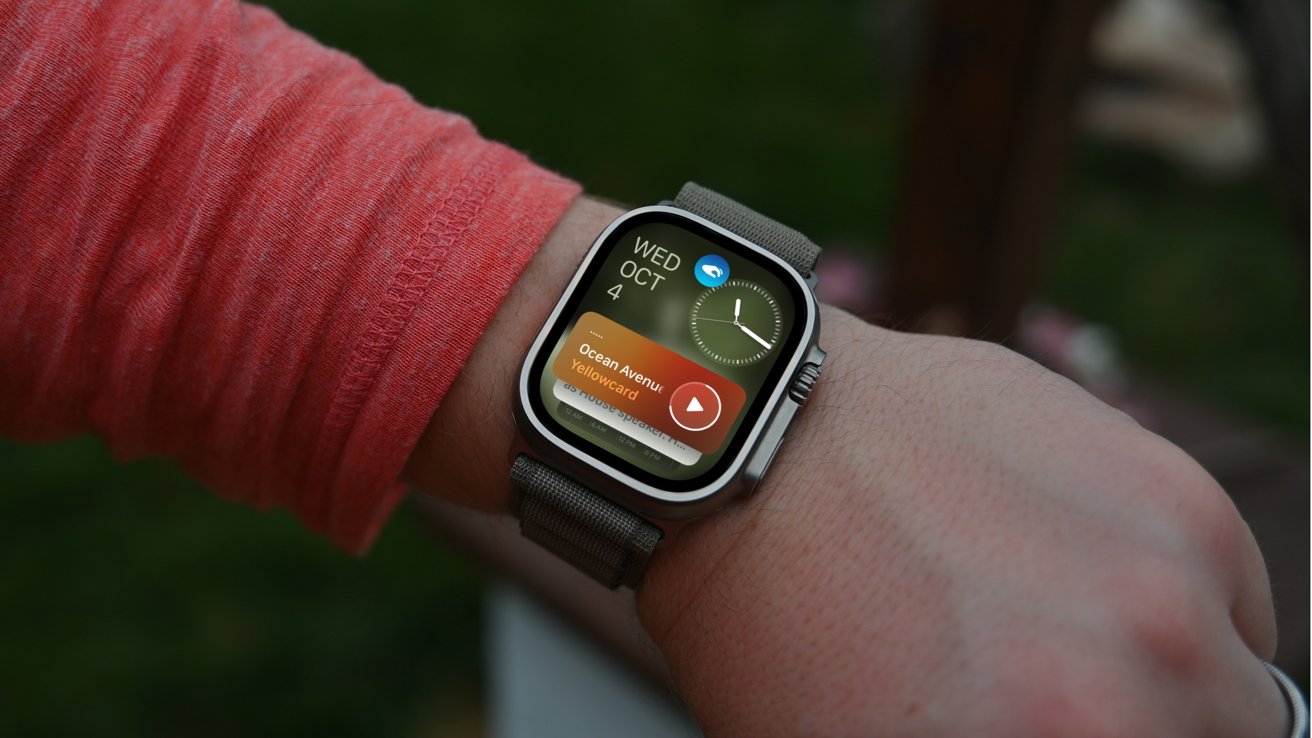 Double Tap is a feature coming to Apple Watch Series 9 and Apple Watch Ultra 2 in watchOS 10.1. Here's how to set it up, what you can do, and how you can customize it.
We've been testing out Double Tap on our Apple Watch, and have found it a useful new feature. It's great for taking care of common tasks, without needing a second hand.
The feature is currently in beta testing before it will be released to all users of the new watches.
How Double Tap works
The new Double Tap feature works by tapping your index finger and thumb together in quick succession. In doing so, it will trigger an action on your Apple Watch.
When you use Double Tap, a small blue icon mimicking the Double Tap gesture will appear at the top of the screen.
It's similar to a previously-available Quick Actions feature found in prior-generations of Apple Watch, but takes better advantage of the S9 SiP found in the latest Apple Watch Series 9 and Apple Watch Ultra 2.
The S9 system-in-package is a powerful new chip and analyzes tiny movements in your Apple Watch that it detects from the gyroscope and accelerometer and combines that with changes in the blood vessels in your wrist it discerns with the heart rate monitor.
As long as you have watchOS 10.1 — currently in beta testing — and a new Apple Watch, you can try out Double Tap for yourself.
What can Double Tap do
The simplest explanation of Double Tap is that it will replicate tapping the primary button on screen. That works in a notification, in an app, or elsewhere in watchOS.
If you are in the stopwatch app, Double Tap will start or stop the timer. Double Tap can take a photo in the Camera app. Of course it can also control media playback by playing or pausing your content.
One of our favorite ways to use Double Tap is to access the Smart Stack. Double Tap from the watch face and the Smart Stack will rise from the bottom of the display.
Every time you subsequently initiate a Double Tap, it will move to the next widget in the stack. It's a great hands-free way to check out your rings, the weather, the news, and more.
Another great use is when you have an incoming message. When a message appears — whether though iMessage, Slack, or others — you can Double Tap to send a reply.
After the Double Tap, it will start a reply and begin listening for you to dictate your message. A second Double Tap gesture will send the message.
Different apps will do different things with Double Tap and you'll have to try it yourself to see how it interacts. If it ever doesn't work, the icon will bounce back and forth on screen, letting you know that nothing has happened.
How to customize Double Tap
Double Tap will be enabled on your Apple Watch by default once you upgrade to watchOS 10.1. If you want to disable it, you can go to Settings > Gestures > Double Tap to turn it off.
There are two ways to customize Double Tap based on your preferences. First, you can choose what happens during media playback.
You can to to have it play/pause any movies or music that is ongoing or you can Double Tap to skip to the next track/chapter.
The second set of options is for the Smart Stack. The default option is to move to the next widget in the stack but if you prefer, you could select and open the active widget.
When watchOS 10.1 will be released
You will need watchOS 10.1 installed on your new Apple Watch, which is currently only available in beta testing. Apple hasn't announced a go-live date for watchOS 10.1 but we have a window of when to expect it.
Apple has said that Double Tap will arrive for users in October, so we'd expect the update to arrive by the end of the month.