» » »
How to use Visual Look Up to identify laundry symbols in iOS 17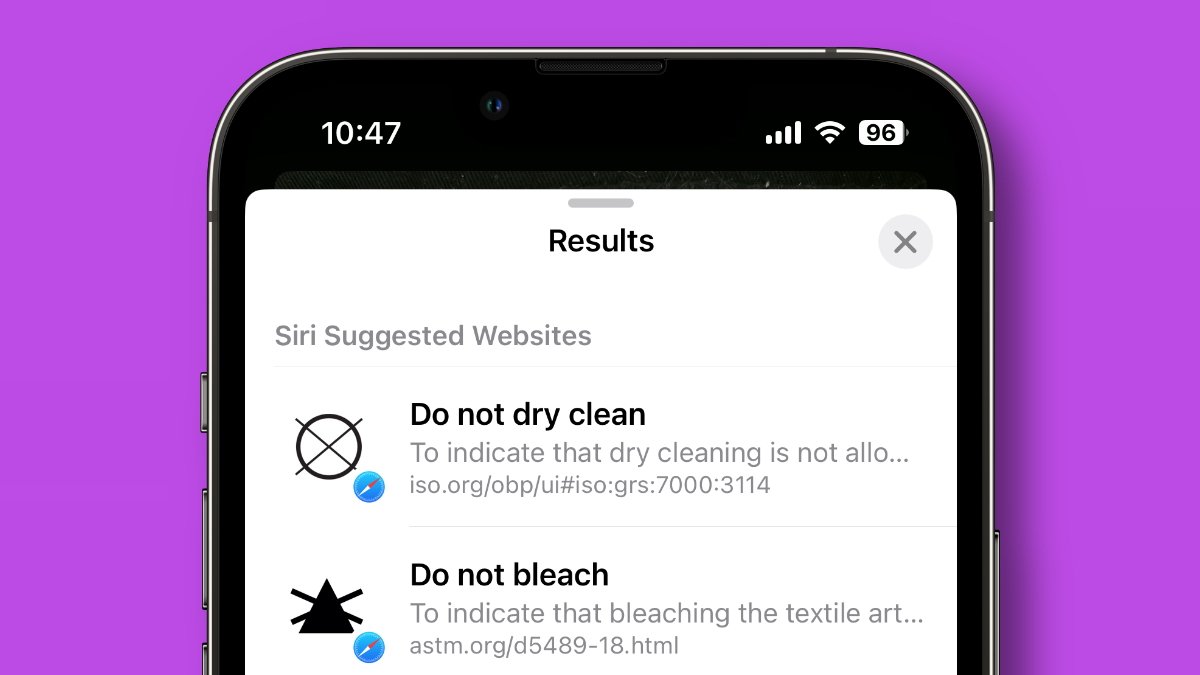 Doing laundry is now simpler because of iOS 17, as the Photos app has gained the ability to recognize and provide explanations for laundry symbols. Here's how to use it.
Apple has steadily been approving its Visual Look Up functionality in the Photos app. It's a feature introduced by Apple in iOS 15 and later versions.
Visual Look Up
This feature can be particularly useful for identifying plants or animals, learning more about landmarks, or finding out information about books or artwork. It's part of Apple's broader push into using machine learning to enhance user experiences and is helpful in various scenarios.
Educational Purposes: If you're out in nature and come across a plant or animal you don't recognize, Visual Look Up can help identify it and provide information about it. This can be a great tool for learning more about the natural world.
Travel: When you're visiting a new city or country and come across a landmark or building you're unfamiliar with, Visual Look Up can identify it and provide historical context or other interesting facts.
Art Appreciation: If you're at a museum and want to know more about a piece of art, Visual Look Up can identify the artwork and provide information about the artist and the context in which it was created.
Convenience: Visual Look Up can save you the time and effort of typing out a search query. Instead, you can just take a photo and let your iPhone do the work.
Although the the effectiveness and accuracy of Visual Look Up can depend on the quality of the photo and the distinctiveness of the object being identified, it's a cool way to discover more information about photos.
In iOS 17, laundry symbols are the latest addition to things that can be recognized in photos.
Laundry or care symbols are pictograms printed on clothing tags or labels to indicate how a particular item should best be cleaned. They provide guidelines for washing, drying, ironing, and bleaching.
Some clothing tags provide the symbols alongside care instructions, such as "Don't bleach," "Don't iron," or "Dry-clean only." However, some tags only have the symbols without the instructions, which makes it confusing to follow the proper laundry instructions.
Doing laundry is dull enough without you having to consult manuals or ask online what the icon of, say, a "P" in a circle with a straight underline is. (It means "mild dry cleaning using solvents.")
An iPhone using on iOS 17 can come to the rescue in with questions like that.
How to identify laundry symbols in iOS 17
First, take a photo of a laundry tag with symbols, such as a circle with an X over it or a black triangle.
In the Photos app, swipe up on the photo or tap on the "info" symbol at the bottom that looks like an "i" inside a circle.
It may take a few seconds to appear, but you'll see "Look Up in Laundry Care" under the caption text field.
Tap on that, and it will show the icons it has identified, plus an explanation of each symbol on the clothing tag means.
There is a little more. Underneath any such explanation, there is a website address and if you tap on that or the text, you're taken to a page on on iso.org that details the agreed standard definition for the symbol.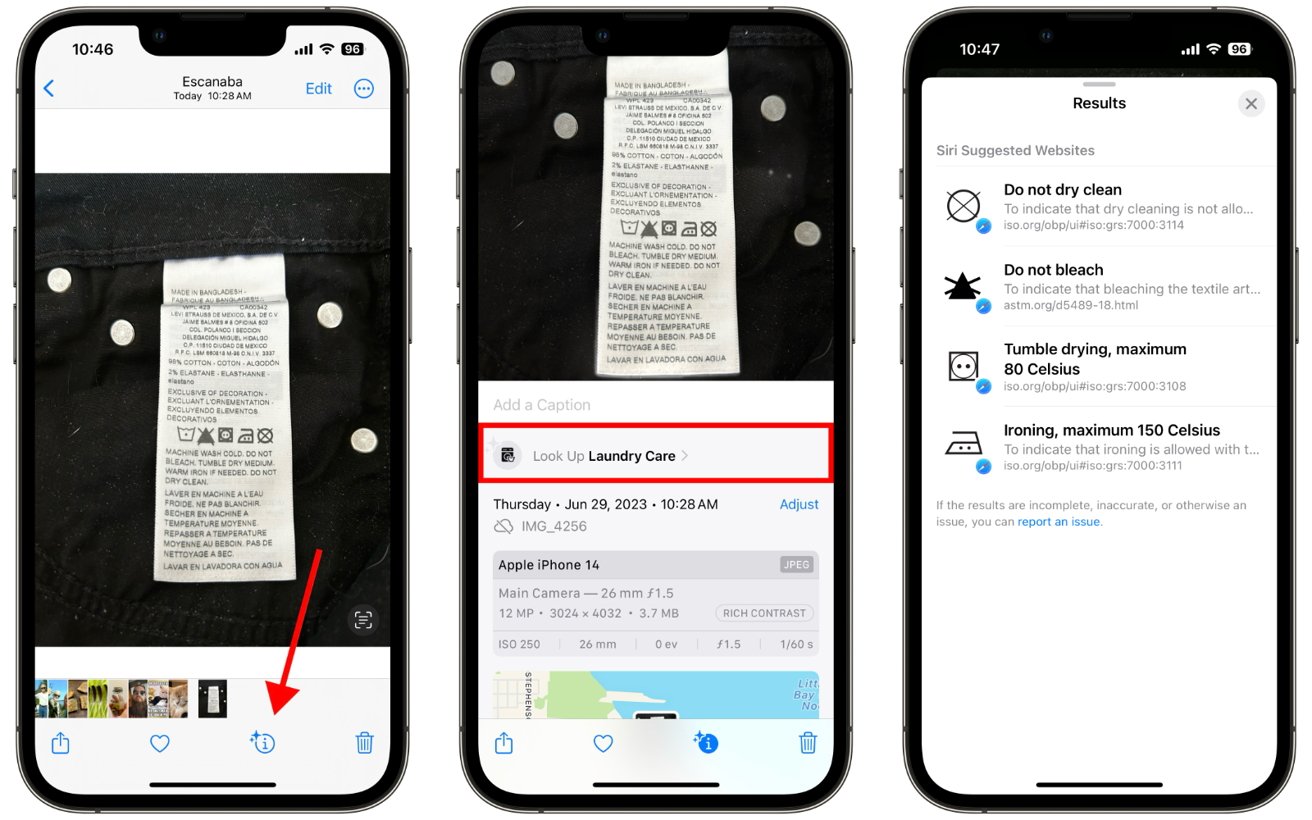 Visual Look Up is supported on the iPhone SE (2nd gen or later) and the iPhone Xr or later.