» » »
The best apps for iPhone 14 & iPhone 14 Pro photography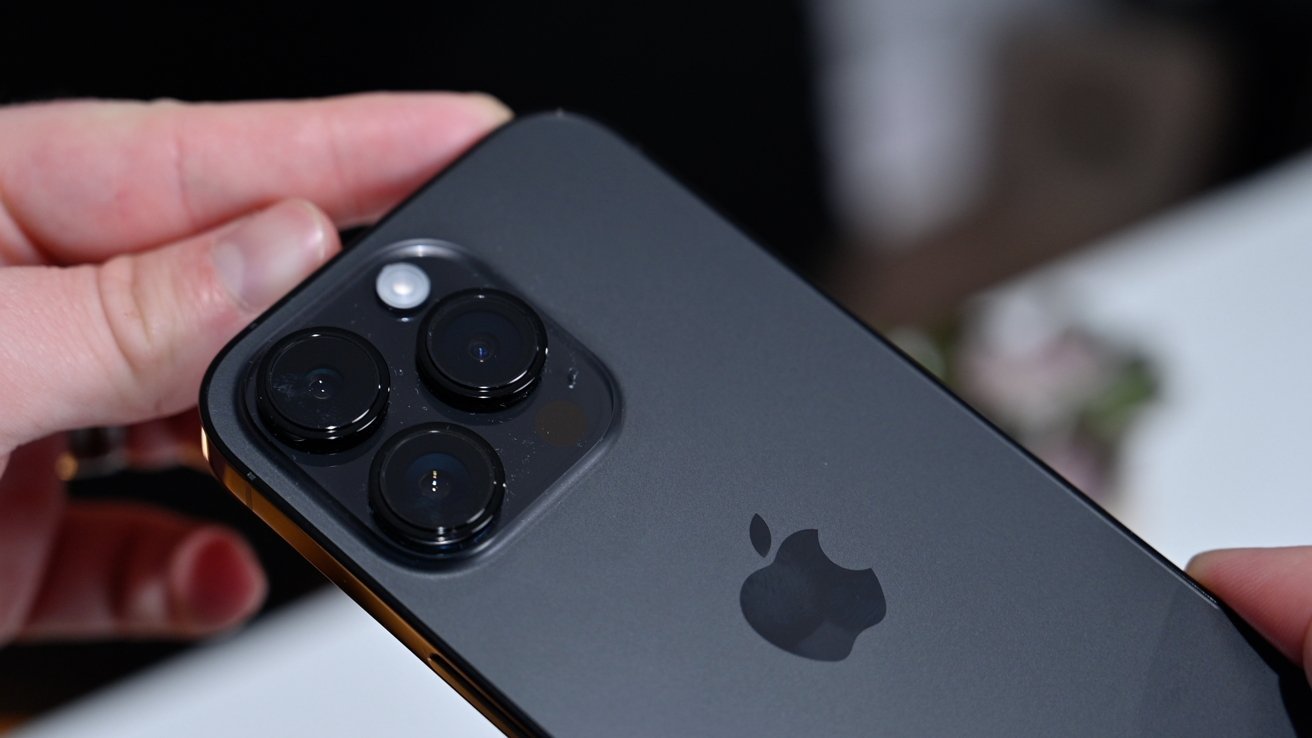 AppleInsider may earn an affiliate commission on purchases made through links on our site.
The new 48-megapixel sensor in the iPhone 14 Pro will enable some great photography. If you need more than Apple's app, here are the best app choices.
Apple's iPhone is synonymous with photography, with the company repeatedly marketing its smartphone with its Shot on iPhone campaign. Hobbyists and professional photographers enjoy using the camera that's almost always with them, and a search for Apple's hashtag #ShotoniPhone shows you can produce a great picture from the hardware.
With the introduction of the iPhone 14 Pro, Apple's also taking a significant step with its sensors, with the Main camera now sporting a 48-megapixel version instead of the usual 12-megapixels.
The additional resolution and other tricks like the Photonic Engine will almost certainly spark the imaginations of photographers to create more inventive works with the iPhone's imaging hardware.
One thing that could hold photographers back from creating a masterpiece on their iPhone is the camera app. Geared towards typical users who may not necessarily have the expertise of a photographer, the included camera app could be considered reasonable to use, if a bit basic.
If you want more control over the image, you have to turn to third-party camera apps. These can replace the built-in camera app entirely and offer users new controls and ways to take a photograph.
Here are AppleInsider's picks for other camera apps you can download and use to capture the perfect image.
Halide Mark II
One of the best pure-photography apps on the market and a 2022 Apple Design Awards winner, Halide Mark II offers a lot of control over the iPhone's camera.
This includes manual focus, which features the Focus Loupe and Focus Peaking to make sure what you want in focus really is. Other manual controls include managing exposure, such as shutter speed, ISO, and white balance, while a grid overlay with a built-in leveling notification will ensure the image is as level as possible.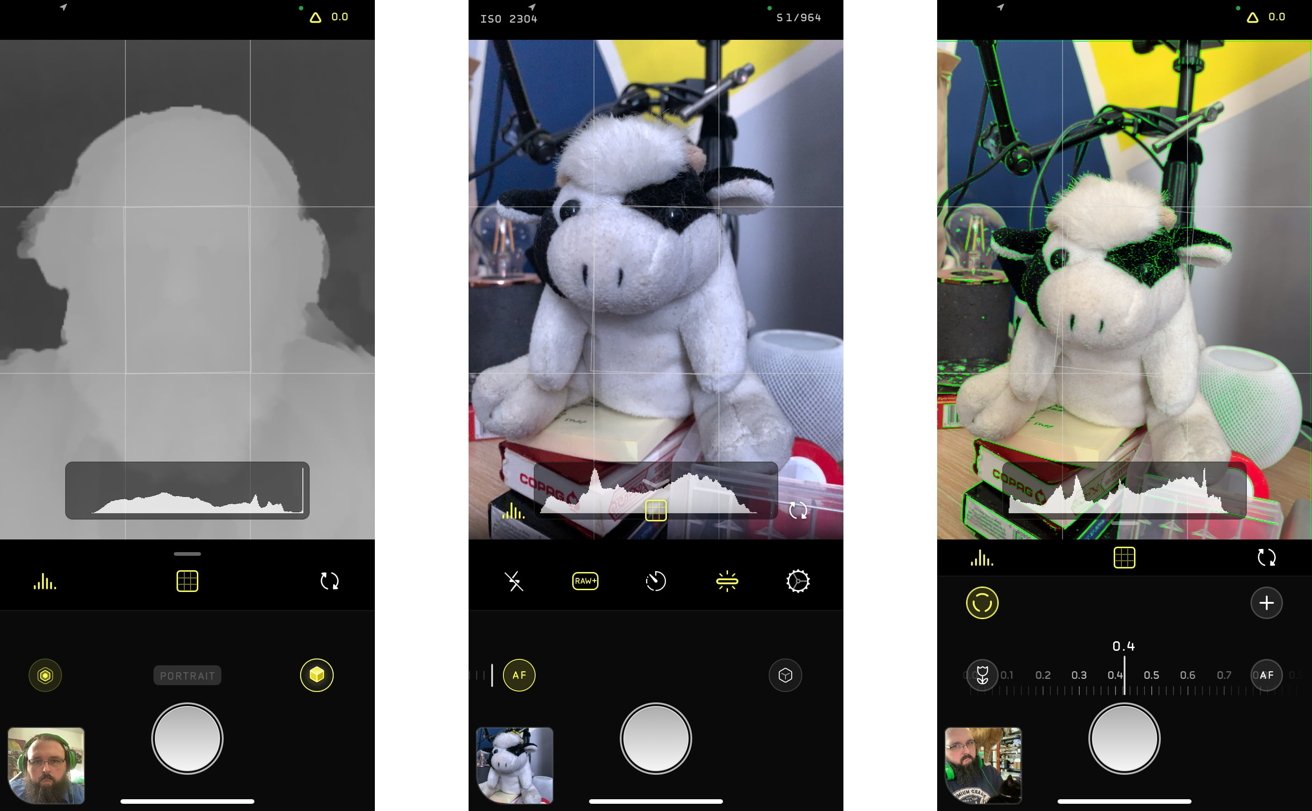 Halide Mark II provides histograms, color zebra stripes, and XDR (Extended Dynamic Range) 14-bit RAW streaming waveform views for those with more exacting needs.
Naturally, there's RAW and ProRAW support and instant development. If you're using an iPhone camera with a depth-sensing capability, such as the TrueDepth camera array on the front, you can even access a visualizer to see the depth of various elements of the picture before you take it, and you can even control the level of the depth effect too.
With customizable controls and gesture support, it's hard not to fall in love with Halide Mark II.
Halide Mark II requires iOS or iPadOS 14 or later to function, and weighs in at 26.1MB. After a seven-day trial, Halide Mark II requires a subscription at $2.99 per month or $11.99 per year, though you can also get it as a one-time purchase for $59.99.
ProCamera
The ultra-straightforward interface of ProCamera makes it a flexible camera app which can handle everything from quick snaps to more planned shots. If you want a fast image, you can leave it run with automatic settings, but many options are available beyond that.
You have manual and semi-automatic modes, with a manual focus with focus peaking, exposure compensation with Zebra Stripes, manual white balance control, live histograms, and a portrait mode with a depth preview of bokeh-based images.
Supporting RAW, ProRAW, TIFF, JPG, and HEIF, ProCamera also provides a few more professional-grade features, including gray card calibration and lightbox, and can be remotely controlled from an Apple Watch.
It can also handle video, up to 4K HDR, complete with manual controls, continuous video focus, high bitrate recording, and support for Bluetooth, Lightning, and USB microphones.
After you've taken a photograph, you can also use ProCamera to edit it to perfection instead of using a dedicated editing tool.
Requiring iOS or iPadOS 14.1 or later and taking up 121.6MB, ProCamera costs $14.99 for the main feature set.
Assorted in-app purchases and subscriptions are also available to provide some of the more high-end features. For example, under the ProCamera Up subscription for $0.99 per month or $7.49 per year, it unlocks an automatic perspective correction tool, exposure bracketing, a private Lightbox folder, and specialty photo filter sets.
Adobe Lightroom
Best known as a tool for editing photographs alongside Photoshop, Adobe Lightroom is a very well-known and highly-used tool among photographers. However, where the mobile version differs from its desktop counterpart is that you can use it as a camera app in its own right.
After opening Lightroom, you can tap on a blue and white camera icon to load up the included camera feature.
Adobe divides the camera into three usage categories, with Automatic providing a simple shooting experience, while Professional and High Dynamic Range provide more detailed controls for taking the shot.
Manual controls, including exposure compensation, white balance, ISO, exposure time, managing focus, and other typical options, are present. Added on top are options for grids, a level, aspect ratio options, a timer, highlight clipping warnings, and an exposure lock.
Along with these, Lightroom also plays into its editing background by providing a selection of presets that you can preview the image in before taking it.
Once taken, these images become available to edit and tweak in the primary Lightroom experience.
While the main app is free, including the camera function, Adobe has subscriptions for more advanced features. This broadly covers the main Lightroom functionality for editing photographs, managing and storing archives, cloud storage, synching with other platforms, and other options that feed into the primary desktop experience.
Adobe's subscriptions range from the Photography plan including Lightroom for desktop and mobile, Lightroom Classic, and Photoshop for $9.99 per month, to the full Creative Cloud package for $54.99 per month.
Existing Adobe subscribers who have Lightroom as part of their plan can use the mobile app at no extra charge.
VSCO
If filters and presets are more your thing, you may want to try out VSCO. While, again, known for editing images, VSCO does offer a camera capability, albeit not as limitless compared to the others, since it chiefly deals with the post-processing of images.
The point of VSCO is that you have access to hundreds of different presets that can transform the photograph from your typical iPhone shot to one that mimics other styles, such as different types of film. You can also perform many different adjustments, such as adding grain and textures, crop and skew, and more advanced edits too.
When taking a photograph, the controls are a bit more restrained, including zoom, flash, adding a grid, and managing exposure levels, but the extra bits are also important. For example, you can use a Prism effect to create a second zoomed-in element to the image, or introduce light leaks to the shot, or add color filters.
Key to these is that they apply in a preview before you take a photograph, so you know exactly what the final image will look like. At least, the image before you start applying filters and presets.
On top of this, VSCO also adds in video editing, a montage mode, and extensive community features to try and encourage you to push your photography and editing forward.
VSCO supports iOS 14 or later, weighing in at 149.2MB. The initial download is free, with a brief trial, but it requires a subscription to access the main library, at $29.99 per year.