» » »
Tested: Mac Studio with M1 Max vs. Mac Studio with M1 Ultra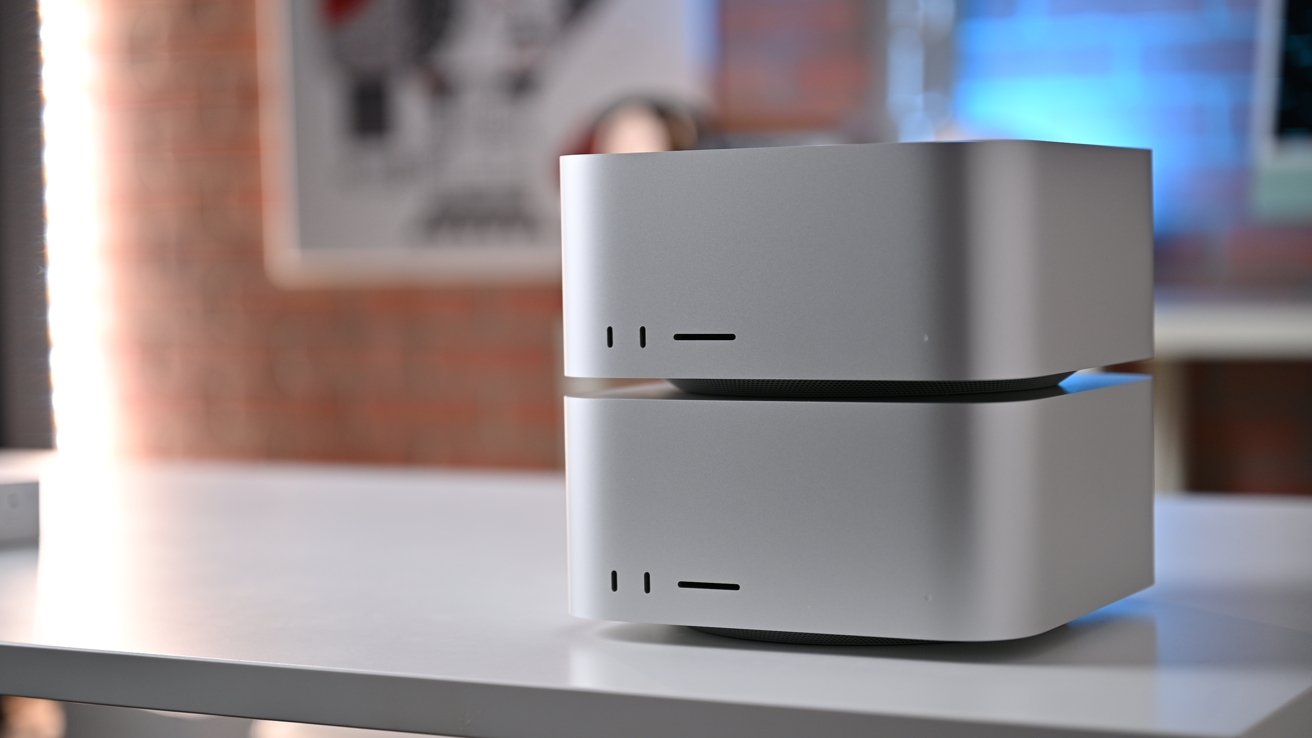 They look the same, they're both impressive, but one Mac Studio configuration costs twice as much as the other. We test the differences between the M1 Ultra and M1 Max versions.
Two machines, both alike in dignity — and both with so much to offer the professional working in the creative, science, and engineering industries. There are key differences, however, and not only in how one is double the cost of the other.
If you have the budget for a Mac Studio with M1 Ultra, it's worth going for because it will handle your workload now and hopefully far into the future. There are still considerations, though, that can make it cost more than its base $3,999.
But for that price, you could buy two base-level Mac Studio machines with the M1 Max. If you're working in a team, that will be tempting option - though only if the performance is good enough.
That's chiefly performance as in how well and fast the processor works for you, but it's also about exactly how the machine fits into your workflow.
| Â | Mac Studio with M1 Max | Mac Studio with M1 Ultra |
| --- | --- | --- |
| Base price | $1,999 | $3,999 |
| RAM | 32GB or 64GB | 64GB or 128GB |
| CPU | 10-core | 20-core |
| GPU | 24-core | 48-core |
| Neural Engine | 16-core | 32-core |
| SSD | 512GB | 1TB |
| Front ports | 2 x USB-C, 1 x SDXC | 2 x Thunderbolt 4, 1 x SDXC |
| Back ports | 4 x Thunderbolt 4 ports, 2 x USB-A, 1 x HDMI, 1 x 10GB Ethernet, 1 x 3.5mm headphone | 4 x Thunderbolt 4 ports, 2 x USB-A, 1 x HDMI, 1 x 10GB Ethernet, 1 x 3.5mm headphone |
Beyond the processor choices
The obvious, headline difference between the Apple's two recommended base versions of the Mac Studio is the processor inside them. But there is more.
If you buy the base Mac Studio with M1 Max, then in part you are getting:
32GB RAM
512GB SSD
2 x USB-C front ports
Whereas if you buy the Mac Studio with M1 Ultra, those three specifications change to:
64GB RAM
1TB SSD
2 x Thunderbolt 4 front ports
You can upgrade the base M1 Max version to 64GB RAM for $400, and go from 512GB SSD to 1TB SSD for $200. That would raise the price to $2,599.
That's $1,400 less than the base M1 Ultra version. So it's no longer enough that you can buy a second Mac Studio, but it's still a substantial help toward buying a new Studio Display.
What you can't change are the front ports. Whether they are USB-C or Thunderbolt 4, it is a genuine boon having them available on the front like this.
It means that when your workflow requires you to repeatedly add and remove external storage, or cameras and so on, that it is much more convenient. It's not as if turning the machine around is difficult, but it easily becomes so if the ports on the back are full with short cables.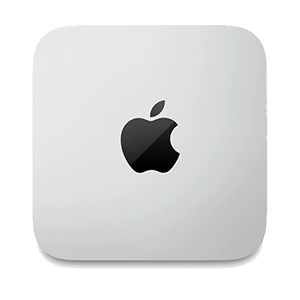 Apple Mac Studio
---
The 2022 Mac Studio can be configured with the M1 Max chip -- or the brand-new, high-end M1 Ultra chip. The latter supports up to 128GB of RAM.
That convenience is the same whether it's USB-C or Thunderbolt 4 ports on the front. What's different is the data transfer speed. If you're in a broadcast operation then the the speed difference could well be significant to you.
Perhaps most of the time, though, for most people with most workflows, the speed difference in this won't be noticeable. Or if it is, it won't be important.
Whereas the local storage, the 512GB SSD in the base M1 Max version, could be.
This is debatable, as there are many workflows where 512GB is fine. That could be because the files and documents being worked on are not very big, or they are very temporary.
And it can be because masses of storage are just a WAN connection away from you.
However, people who have found 512GB to fine are not people who've ever been held up by Final Cut Pro soaking up every byte of available space. There are things you can do to mitigate this, including using external drives for everything.
But having more internal storage makes life easier, even if you don't consider yourself to be producing complex, or long, videos.
As for RAM, we've now had unified memory for long enough that we know Apple is correct, you can do more with less. Compared to regular RAM, this unified memory is exceptional.
However, it also limited and if anything is to press up against the limits, it is the kind of high-volume, high-resolution, and perhaps fast workflows that the Mac Studio is built for.
The issues over RAM and SSD storage are the same with the Mac Studio using M1 Ultra. Except the base model of that comes with 64GB RAM and 1TB SSD storage, which is more likely to be sufficient for most users.
When you buy the M1 Ultra version, though, you do get one more benefit regarding RAM. It's that you have the option to go to 128GB RAM.
It will cost you a further $800, but it's an option you don't get with the M1 Max edition.
Benchmarks
We threw a litany of benchmarks at both machines once we got them in our studio, testing everything from Geekbench to 8K video exports. The two models we picked up were both base models, one with the M1 Ultra and the other with M1 Max.
Starting with our browser test, we ran the Speedometer benchmark from BrowserBench that tests a machine's ability to run web applications. The M1 Max managed 293 runs per minute while the M1 Ultra earned 292 runs per minute. Effectively the same when the margin of error is considered.
In Geekbench 5, our M1 Max Mac Studio got a 1798 single-core and a 12822 multi-core. The M1 Ultra variant pulled a similar 1786 single-core score but an impressive 23778 multi-core score. This is due to difference between the 10-core M1 Max and the 20 cores found in the M1 Ultra.
Cinebench revealed similar numbers. The M1 Max version scored 1535 and 12389 on the single and multi-core R23 tests respectively while the M1 Ultra earned a 1535 and a 24210 on the single and multi-core tests.
Affinity Photo now has its own benchmark that tests vector performance on the CPU and raster performance, taxing both the CPU and GPU. We looked primarily at the combined scores for CPU and the GPU. The M1 Max scored a 947 for the CPU and a 22537 for the GPU. The M1 Ultra came in with a 1879 for the CPU and a 33668 on the GPU.
Geekbench's Compute graphics test echoed those results. When running on Metal, the Geekbench 5 Compute test scored a 60629 on the 24-core M1 Max GPU and a 91938 on the 48-core M1 Ultra GPU. A roughly 50 percent increase for the M1 Ultra graphics.
Ungine Heaven is started to become a bit dated, and it still runs under Rosetta rather than natively on Apple silicon, but we can still see the difference in how these machines handle these graphics. When this gaming-specific benchmark runs, the M1 Max averaged 94 frames per second with a 2371 score and a max frame rate of 186.4. The M1 Ultra earned an average frame rate of 102 FPS, a score of 2584, and a maximum frame rate of 187 FPS.
These maxed out at roughly the same frame rate, but the M1 Ultra scored just a bit higher and kept the frame rate just a bit higher throughout.
Testing the built in storage, our 512GB SSD on the M1 Max earned a 4629.7MB/s write speed and a 5180.3 MB/s read speed on the BlackMagic Disk Speed Test. This was below the 1TB module in our M1 Ultra machine that earned a 5163.2 MB/s write speed and a 5226.8 MB/s read speed. The larger the SSD the faster they tend to be, so keep this in mind as you choose your storage configuration.
In Final Cut Pro, we exported multiple videos and saw varying degrees of performance difference. Unless you're doing very high end production, you likely won't see a huge difference in video performance, even with the additional encode and decode engines on the M1 Ultra.
When exporting a one hour 4K video as "Apple compatible," both machines took a nearly identical 18 minutes to finish. When we exported an uncompressed 4K video in Apple ProRes that was 16 minutes long, it took a minute and 14 seconds on the M1 Ultra and a minute and 30 seconds on the M1 Max. As you continue to increase the resolution and complexities of your videos, this gap will increase between the two machines.
We tried exporting an 8K video as well uncompressed from Apple ProRes and the M1 Max took five minutes and five seconds while the M1 Ultra took four minutes and 42 seconds.
It does come down to the processor
Ultimately, however, the two considerations that will affect your choice between these models are the processor and the cost. We won't know until the Mac Studio is out and subjected to real-world tests, but to say the very least, the M1 Ultra version is certainly going to be faster than the M1 Max.
And then there's the matter of the media engines. The M1 Max has one video decode engine, two video encode engines, and two ProRes encode and decode engines. Because the M1 Ultra is effectively two M1 Max chips, it has two video decode engines, four video encode engines, and four ProRes encode and decode engines.
How much this matters depends very much on what you do with the machine. If you're a photography-centric user, these won't matter. If you're a videographer, they absolutely will.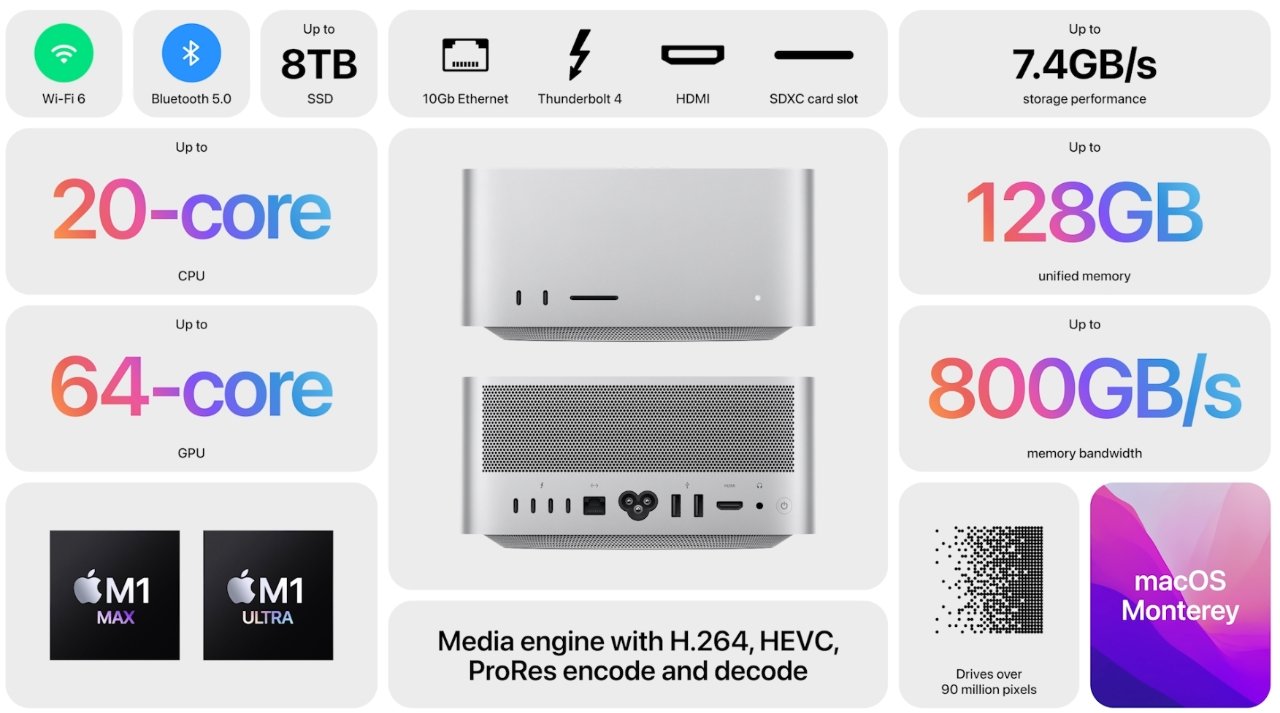 It matters where you're coming from
Apple may get some switchers coming to the Mac for the first time because of the Mac Studio. But the odds are that most users will already be on the Mac, and which Mac they're on plays a part in which Mac Studio they choose.
Perhaps you're in a company where you and many colleagues all rely on a whole series of Mac Pro machines. In that case, the M1 Ultra is the best choice. You could swap to it now, maybe selling off the Mac Pro collection.
Or you could transition over to Mac Studio by just replacing the odd Mac Pro as you need.
Equally, you could be on a Mac mini at present. If you are, then it's likely to be because your typical workflow and workload have not been so high that you've had to switch to a Mac Pro.
Switch to a Mac Studio with M1 Max instead. It's sufficiently better and faster that you will immediately appreciate the difference, plus it probably has enough performance that you've got room to grow your workflow for years.
If the Mac Pro and the Mac mini are at the extremes, in between there are the users who are on an iMac, an iMac Pro, or a MacBook Pro.
Mac Studio with M1 Ultra will certainly always beat all of those, but the Mac Studio with M1 Max probably will, too.
It's hard to quantify your current workflow, and its harder still to compare it to somebody else's. And if there's anything that high-end Mac users have in common across the media, science, and other industries, it's that workflows change.
Maybe you have periods that are feast or famine, but overall the workflow tends to increase. Which means in an ideal world, everyone would just by the Mac Studio with M1 Ultra.
In the real, practical world, though, the likelihood is that the M1 Max version is going to be sufficient for most people, most of the time.
How to save on Apple's Mac Studio
Apple's Mac Studio desktop is already on sale at select retailers, with the best Mac Studio deals offering $200 to $400 off retail models at press time.