» » »
Compared: Safari vs. Chrome vs. Firefox vs. Edge on macOS in 2022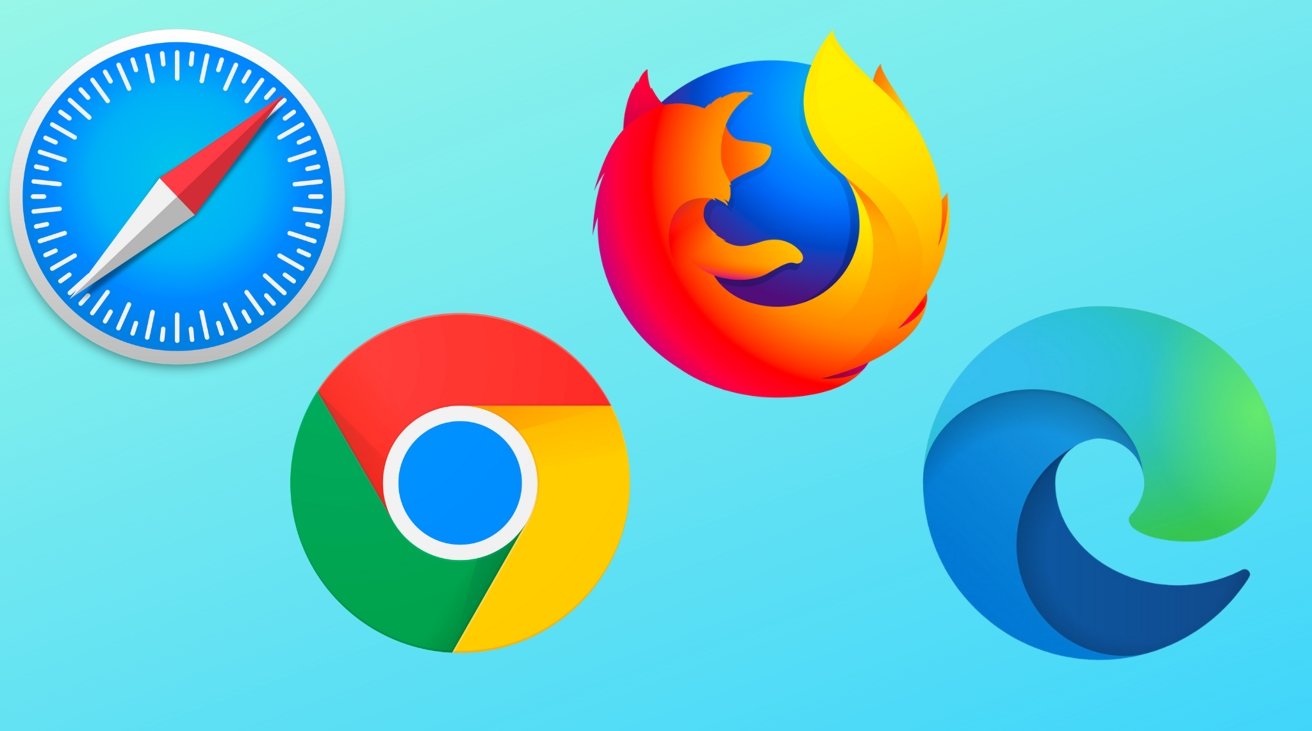 The most popular browsers on macOS are Safari, Google Chrome, Mozilla Firefox, and Microsoft Edge, and each have their specialties. Here's how the four stack up on macOS.
The truth is, the perfect browser doesn't exist. Each of the four most popular macOS browsers has its own set of strengths and weaknesses, just based on the engine that's used for web rendering, and what the developers of the big-four have prioritized.
While the best browser for the individual varies on use case, and which websites behave the best on any given browser, there are a series of benchmarking tools that can measure performance on synthetic tasks.
Browser benchmarks
We tested each browser on three different testing platforms: JetStream 2, Speedometer, and MotionMark.
JetStream 2 is a JavaScript-benchmark that scores browsers based on how quickly they can start and execute code, which translates to faster JavaScript performance. Since JavaScript is used on most web browsers, it's a good test of snappiness for code-intensive sites.
MotionMark is a graphical browser testing suite that measures the ability to render complex web pages. Think a page that has complicated graphics and animations. A higher score results in smoother transitions and animations.
Speedometer 2.0 determines the responsiveness of a browser when running web applications. Among the three, it's the truest option for testing real-world performance across many popular websites and online services. A good example is adding tasks to a to-do list in a web app.
Chrome came out on top in JetStream 2 testing, while Safari took second place.
Safari was the fastest in MotionMark benchmark testing.
Speedometer testing showed off interesting results, with Firefox and Edge coming in first and second, and Safari in last place.
Different testing platforms result in different scores, so your own mileage may vary. Safari was the best for graphical performance, for example, but its responsiveness lagged behind others. Choose what specific metrics are most important to you.
Safari
For Mac users, Safari is an institution. It's the default browser on Apple platforms and is generally lightweight and efficient. As you'd expect for an Apple product, Safari also emphasizing privacy while you browser online.
From the very first boot on a new Mac, Safari is instantly available and configured for easy, private browsing. That makes it the best choice for the most non-technical among us, since you won't need to download and install anything. Safari "just works" out of the box.
It also features the tighest integration across Apple's other devices and systems. You can use Continuity to easy hand-off your browsing between your Mac and any iPhone or iPad you have around. If you need to buy something with Apple Pay, you can authenticate purchases with Face ID or Touch ID.
Safari also features some strong privacy protections, including mechanisms aimed at mitigating cross-site tracking and ad targeting. It features a built-in password manager that allows you to save and store passwords — with easy autofill options — across your Apple devices.
As an Apple-made product, Safari is the most convenient option on this list for Mac users — particularly those who own multiple Apple devices. It's also a good choice for the privacy conscious, though it isn't the fastest and it doesn't yet have a strong extension marketplace.
Pros
Default Mac browser with effortless setup
Strong privacy protections
Integration with other Apple products
Cons
Not the fastest or most responsive browser in some testing
Lackluster support for add-ons and extensions
Google Chrome
Google Chrome is a massively popular browser, and a particular favorite of those who routinely use extensions to customize their web experience. It's the most-used web browser in the world, and it's faster and more RAM-efficient than it used to be. Chrome is even currently speedier than Safari on macOS.
The browser also has one of the world's most extensive list of add-ons, plug-ins, and extensions. From plugins focused on online privacy or to video content downloaders, there are around 190,000 extensions in total to choose from. You can also choose from a number of different themes and customization options.
Intelligent Google-made features include automatic site translations and deep integration with the company's online tools and services — so it's great for those who rely on Gmail, Google Docs, or another Google service. Syncing between Google apps on different devices is also top-notch.
However, Google is a data company that relies on collecting information about its users. While the company has taken steps to bolster its privacy reputation, it's still a company that makes money on harvesting data. Those who are particularly privacy-conscious will probably want to look elsewhere.
It's hard to go wrong with the world's most popular web browser, particularly with its seamless workflow features and customization options. However, if you are even slightly concerned about online privacy, you may want to go with another option.
Pros
Simple to learn, fastest option in some cases
Syncs your Google account across other devices
Extensive list of extensions and add-ons
Cons
It's Google — so not that private
Is a RAM and CPU hog
Firefox
Mozilla Firefox is one of the only popular and mainstream browsers to have started life as an open source project. It's still a free and open source browser with a hefty focus on privacy and security, which could make it a good fit for those who want a Google Chrome alternative.
Because of its open source nature, users are free to explore Firefox's code — and they do. The browser doesn't have any hidden secrets or data-harvesters. It also features some excellent built-in privacy and security protections, including Enhanced Tracking Protection and an extensive list of customizable permissions.
Firefox was also the first browser to actually offer third-party extensions and add-ons. Although it might not have as many extensions as Google Chrome, you'll still find a hefty list of options ranging from privacy add-ons to customizable themes for your browser.
Although Firefox has some cross-platform integration between its app and built-in Pocket support, it isn't as seamless as Chrome or Safari. If speed if your primary concern, it's also important to note that Firefox isn't the fastest browser by most metrics.
Users who want an open source browser or are committed to Mozilla's mission of keeping the internet open and free will find a browser after their own hearts here. For the average user, however, another browser on this list might be a better fit.
Pros
Completely free and open source
Extremely customizable with extensions, themes, etc.
The best option for hardcore privacy
Cons
Not the fastest or most RAM efficient
Synchronicity isn't as robust
Edge
Microsoft Edge is the spiritual successor to Internet Explorer that was first released in 2015. Originally HTML-based, Microsoft overhauled the browser to be based on Chromium, which is the same underlying software used to make Google Chrome.
As such, Microsoft Edge is now much more competitive than it used to be. It's far from a Google Chrome clone, but you should expect a similar level of performance from it. Some users believe that Microsoft Edge even feels snappier than Chrome on a Mac.
Because it's Chromium-based, Microsoft Edge also has a list of extensions similar to Chrome. It also sports a number of unique features, such as a "Collections" ability that lets you save information like text or webpages to a built-in notebook. There's also a vertical tab bar, a built-in read aloud feature, and an easy native screenshot tool.
It's a solid option for anyone that doesn't like Safari and wants an alternative to Google Chrome because of privacy reasons. If you use a Microsoft account like some use a Google account, then Edge might also be a solid option.
Pros
Snappy, lower RAM and CPU usage
Unique features like Read Aloud and Collections
Good performance in most metrics
Cons
Can be slower than Chrome in terms of pure performance
Syncing isn't as strong as Safari or Chrome
The perfect browser doesn't exist, but you can pick and choose what you need
There's no clear answer for what the "best" browser on macOS is. However, some browsers are better suited to specific tasks than others.
When it comes to smooth JavaScript execution, Chrome is in the top spot with Safari a close second. Safari, according to the MotionMark testing, handles complex web pages better than any other browser.
Firefox, interestingly enough, may be the fastest when it comes to general everyday web apps.
Of course, there's also the issues of extension support, privacy, and synchronization across other devices. Many of the browsers are evenly matched on these metrics, but some excel in specific areas like privacy or cross-platform integration.
But, unlike on iOS, you aren't effectively stuck with one browser core technology. These four browsers, and several more, are available on macOS, and can be run in parallel.
While we don't recommend running all four unless you're a web developer or unit case tester, two or three different browsers can be run at-will, if any given browser doesn't handle your work case well.