Topic: Kevin Lynch
04/24/2019, 08:04 am

It feels like we've always had Apple Watches, but it's only a very few years since the first ones were shipped to customers. Yet if it's still really a new product, you can trace rumors of Apple's work on it back to at least 2010.
07/03/2018, 10:07 pm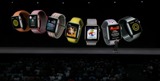 One of the new watchOS 5 features demonstrated by Apple's Vice President of Technology Kevin Lynch at its Worldwide Developer Conference in June was "raise to Siri," a new Machine Learning shortcut that will invoke a Siri listening session without pushing a button or speaking the "Hey Siri" trigger phrase. It's now working in the latest beta versions, including beta 3 released today.
03/19/2013, 11:03 pm

Just hours after word leaked that Apple had poached Adobe's chief technology officer, the Internet is ablaze with the question of what, exactly, the iPhone maker plans to do with Kevin Lynch.