Apple turns to Twitter for official Apple Music tech support
By AppleInsider Staff
Wednesday, October 14, 2015, 07:37 am PT (10:37 am ET)
Users who need help with the newly launched Apple Music subscription streaming service can now turn to an Apple-controlled Twitter account for technical support.




The official @AppleMusicHelp account went online on Wednesday, offering live assistance for Apple Music users during set hours. The account is advertised as active seven days a week, from 6 a.m. to 8 p.m. Pacific Time.

Apple representatives controlling the account have thus far requested more details via Twitter direct message from users seeking assistance.

The new account joins the official Beats by Dre Support presence on Twitter, which debuted in July.

Though Apple has a number of specialized Twitter accounts, including a newly launched profile dedicated to App Store games, it still does not have a main @apple account. Chief Executive Tim Cook and other company executives are, however, on Twitter with personal accounts.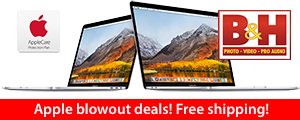 2018 13" Touch Bars
Price
Save
2.3GHz/8GB/256GB (Gray)
$1,699.00+
$100
2.3GHz/8GB/512GB (Silver)
$1,879.00+
$20
2.3GHz/16GB/512GB (Gray)
$2,099.00+
$100
2.7GHz/16GB/512GB
$2,449.00+
$50
2.7GHz/16GB/1TB
$2,849.00+
$50
2018 15" MacBook Pros
Price
Save
2.2GHz/16/256GB/555X
$2,215.00+
$185
2.2GHz/32/1TB/560X
$3,449.00+
$50
2.6GHz/16/512GB/560X
$2,575.00+
$224
2.6GHz/16/1TB/560X (Gray)
$2,999.00+
$200
2.6GHz/32/1TB/560X (Gray)
$3,399.00+
$200
2.6GHz/32/2TB/560X (Gray)
$3,999.00+
$400
Click here for dozens more configurations
+ Free shipping within the contiguous U.S.
Lowest Prices Anywhere!

13" MacBook Pros
Price
You Save
3.1GHz/8GB/256GB Gray
$1,679.00
$120.00
3.1GHz/8GB/256GB Silver
$1,704.00*
$95.00
3.1GHz/8GB/512GB Gray
$1,849.00*
$150.00
3.1GHz/16/512GB Gray
$2,099.00
$100.00
15" MacBook Pro
Price
You Save
2.8GHz/16/256/555 Silver
$2,199.00*
$200.00
2.8GHz/16/256/560 Gray
$2,299.00
$200.00
2.9GHz/16/512/560 Gray
$2,599.00
$200.00
2.9GHz/16/1TB/560 Gray
$2,999.00
$200.00
3.1GHz/16/512/560 Gray
$2,799.00
$200.00
3.1GHz/16/2TB/560 Gray
$3,899.00
$300.00

*

price with Promo Code:

APINSIDER

prices.appleinsider.com for more configurations