Apple seeds iPhone X-specific version of iOS 11.2 beta 2 to developers
By Roger Fingas
Friday, November 03, 2017, 02:39 pm PT (05:39 pm ET)
Hot on the heels of the phone's global launch, Apple has released an iPhone X version of iOS 11.2 beta 2 for developers.




The code is available through Apple's developer portal, or else as an over-the-air update for iPhones with the correct profile installed. The release also means than an iOS 11.2 backup created with another iPhone can be installed on an X.

Beta 2 was originally seeded on Monday, but Apple specifically omitted the iPhone X, presumably because most developers wouldn't have access to one until now. A public beta emerged on Wednesday.

iOS 11.2 is largely a minor release dealing with issues such as a Calculator bug, but does incorporate a Now Playing widget for Apple TV media in Control Center. For developers it introduces SiriKit commands for the HomePod, which should ship next month.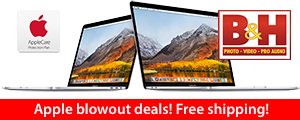 2018 13" Touch Bars
Price
Save
2.3GHz/8GB/256GB (Gray)
$1,699.00+
$100
2.3GHz/8GB/512GB (Silver)
$1,879.00+
$20
2.3GHz/16GB/512GB (Gray)
$2,099.00+
$100
2.7GHz/16GB/512GB
$2,449.00+
$50
2.7GHz/16GB/1TB
$2,849.00+
$50
2018 15" MacBook Pros
Price
Save
2.2GHz/16/256GB/555X
$2,215.00+
$185
2.2GHz/32/1TB/560X
$3,449.00+
$50
2.6GHz/16/512GB/560X
$2,575.00+
$224
2.6GHz/16/1TB/560X (Gray)
$2,999.00+
$200
2.6GHz/32/1TB/560X (Gray)
$3,399.00+
$200
2.6GHz/32/2TB/560X (Gray)
$3,999.00+
$400
Click here for dozens more configurations
+ Free shipping within the contiguous U.S.
Lowest Prices Anywhere!

13" MacBook Pros
Price
You Save
3.1GHz/8GB/256GB Gray
$1,679.00
$120.00
3.1GHz/8GB/256GB Silver
$1,704.00*
$95.00
3.1GHz/8GB/512GB Gray
$1,849.00*
$150.00
3.1GHz/16/512GB Gray
$2,099.00
$100.00
15" MacBook Pro
Price
You Save
2.8GHz/16/256/555 Silver
$2,199.00*
$200.00
2.8GHz/16/256/560 Gray
$2,299.00
$200.00
2.9GHz/16/512/560 Gray
$2,599.00
$200.00
2.9GHz/16/1TB/560 Gray
$2,999.00
$200.00
3.1GHz/16/512/560 Gray
$2,799.00
$200.00
3.1GHz/16/2TB/560 Gray
$3,899.00
$300.00

*

price with Promo Code:

APINSIDER

prices.appleinsider.com for more configurations