Apple filing depicts interactive Dashboard cube interface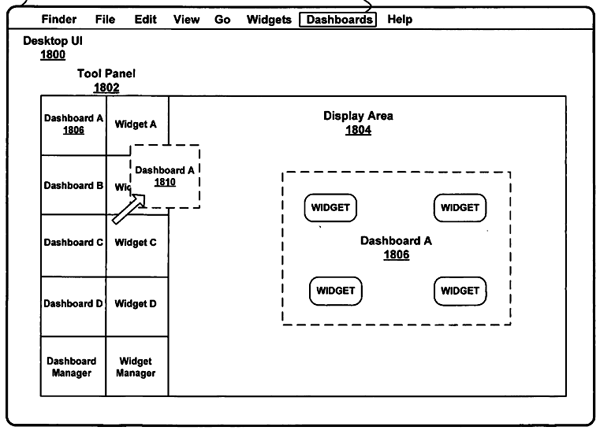 AppleInsider is supported by its audience and may earn commission as an Amazon Associate and affiliate partner on qualifying purchases. These affiliate partnerships do not influence our editorial content.
A revision to Apple's Dashboard software may offer users the option to choose between multiple widget user interfaces, including a three-dimensional cube environment, a new company filing has revealed.
Filed February 1, 2006 under the heading "Multiple Dashboards," the 45-page patent application lists the Mac maker's vice president of platform experience Scott Forstall amongst the engineers credited with the proposed interface concepts.
While the existing versions of Apple's Mac OS X operating system offers a single repository and graphical interface view for managing Dashboard widgets, Forstall's proposal would expand the concept to allow users to create and configure multiple Dashboards views to manage the increasing number of widgets available for download across the Internet.
For example, one Dashboard view could contain widgets related to work, while another would house those widgets related only to personal matters. Different trigger events — such as different key combinations and menu selections — would be used to trigger various Dashboards workspaces into view.
According to the filing, different Dashboards could contain one or more of the same widgets and "state" information for a widget could be maintained separately for each Dashboard in which the widget appears, or it can be commonly maintained across all Dashboards in which the widget appears.
"Different Dashboards can be available or 'owned' for different users of a computer or other electronic device, such that each user can only access their own Dashboard(s)," Apple said in the filing. "A user can specify a Dashboard as being available to other users, if desired. A user can also specify, for any or all of the Dashboards he or she creates, whether other users are permitted to make changes to the Dashboard(s)."
In one implementation of the proposed concept, multiple Dashboards could could be managed through a familiar tab interface, where each Dashboard includes a tab and a tab panel. "When the tab is activated (e.g., mouse click), the tab panel corresponding to the tab is moved to the front and activated," the company explained. "The tab panel can include one or more enabled widgets which can be interacted with by a user, application, etc."
Each tab would be labeled with an appropriate title and other information indicative of the theme or content of the Dashboard, and could minimized and stored in a configuration bar when not in use.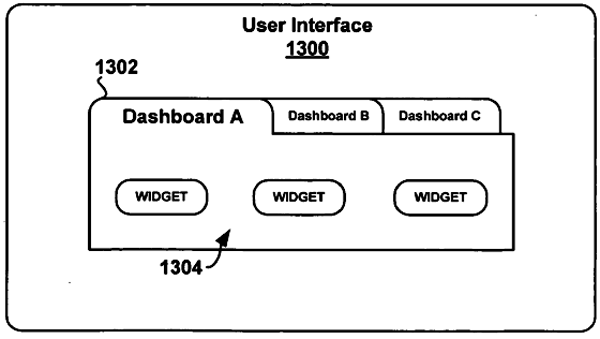 In another potential implementation, Apple illustrates a geometric scheme for organizing multiple Dashboards through a cube interface.
For example, Apple said, a cube can display a Dashboard or Dashboard icon or other selectable object associated with a Dashboard on the front-facing side of the cube. The user could then manipulate a control mechanism (e.g., a scroll bar, key, mouse over, etc.) for controlling the animation of the cube.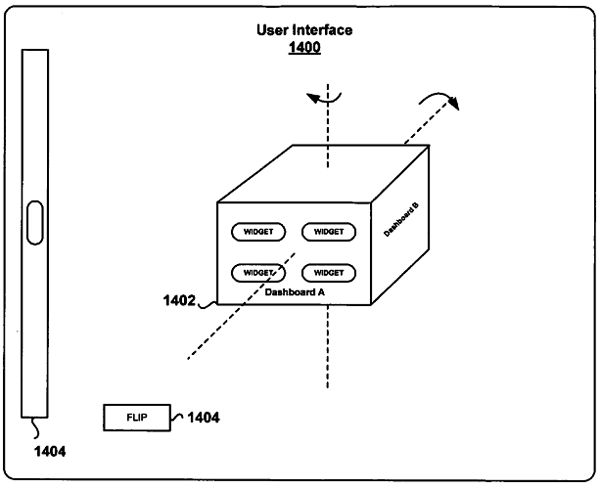 "For example, with each quarter rotation the front-facing side of the cube displays a different Dashboard icon, image or other Dashboard indicia that can be static or have at least some portions animated," the filing states. "Thus, a user can quickly review available Dashboards by 'spinning' the cube about one of its axes. The user can also click a flip button to rotate or spin the cube to see another Dashboard."
By using animated two- and three-dimensional graphical objects to display Dashboards, more than one Dashboard can be visible to the user at a given time, Apple explained.
Other Dashboard interface concepts proposed in the filing include a Dashboard Configuration Bar and Dashboard Rolodex.
The patent filing, which was first noted on Macintosh news site MacNN, also lists amongst its inventors Imran Chaudhri, John Louch and Eric Peyton.