Apple preps third iPhone software update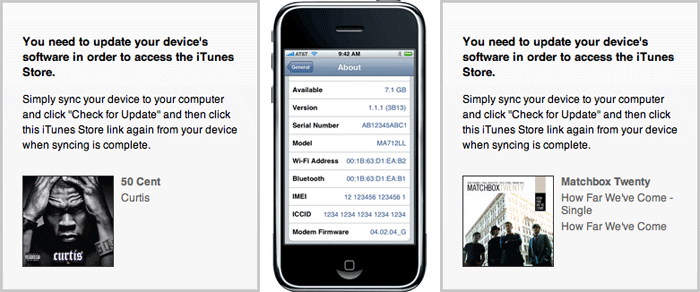 Apple this month is expected to release a third software update for its iPhone that will add new features and improve overall stability of the handset's embedded Mac OS X operating system.
Among the feature additions expected in the release is support for the company's recently announce Wi-Fi iTunes Music Store, which lets iPhone and iPod touch users shop a mobile version of the iTunes Store over a Wi-Fi connection.
Attempting to access the Wi-Fi store from an iPhone with the current version of the handset's firmware (1.0.2) yields an dialog box instructing users to upgrade their phone's firmware.
"You need to update your device's software in order to access the iTunes Store," the dialog says. "Simply sync your device to your computer and click "Check for Update" and then click this iTunes Store link again from your device when syncing is complete."
Separately, Apple on its iPhone website has posted product imagery showing an iPhone running firmware version 1.1.1. It's unclear whether the version numbering shown is indicative of the forthcoming update or simply an arbitrary mockup.
One person who claims to be familiar with the upcoming iPhone update has said the software could arrive as early as Monday.