Apple's worldwide share of PC market now 3.2 percent - report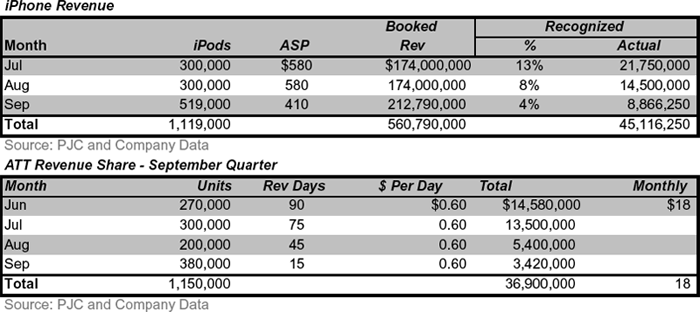 Record-setting shipments of more than 2 million Mac systems during Apple Inc.'s fourth fiscal quarter of 2007 has pushed its share of the worldwide PC market ahead another 200 basis points to 3.2 percent, according to investment bank Piper Jaffray.
"Apple shipped 2.16 million Macs in the September quarter [and] IDC estimates that 66.85 million PCs were shipped worldwide in the September quarter," analyst Gene Munster wrote in a research note to clients Tuesday. "Therefore, Apple's market share rose to 3.2 percent."
The Cupertino-based firm's slice of the global computer market has risen from 2.5 percent in March — just six months ago — helped by strength in its notebook systems and the recent introduction of redesigned all-in-one iMacs.
Munster told clients that he expects the trend of Mac market share growth will continue due to a combination of factors presently coming together, including the iPod and iPhone halo effect, a new operating system, a strong direct sales channel, and a strong brand awareness among others.
"Mac market share is at a historic high, and on October 26 Apple will release a new version of its operating system, Mac OS X Leopard," he wrote. "In itself, we believe Leopard's sales performance will be similar to that of Tiger; adjusted for the larger Mac OS X user base of approximately 23 million, we expect Leopard to add approximately $240 million [in revenues] to the December quarter."
But more importantly, Munster said, he believes Mac OS X is a meaningful factor in the decision to buy a Mac. As such, he sees the software helping Apple continue to increase its share gains at a measured pace over the next several years.
Meanwhile, the Piper Jaffray analyst also used his research note Tuesday to delve further in to the mystery surrounding the percent of service revenues from iPhone customers that AT&T is sharing with Apple under the pair's exclusive carrier agreement.
Apple said Monday that its "iPhone and Related Products And Services" totaled $118 million for its fiscal fourth quarter, a large portion of which is believed to be the company's share of the service fees from AT&T.
"We believe this equates to $18/sub/month factoring in Apple's estimate of approximately 250,000 iPhones that were sold to be unlocked to operate on a carrier other than AT&T (unlocked iPhones do not contribute to the revenue sharing totals," Munster explained.
The analyst also told clients that he was surprised by Apple's guidance for its current December quarter — its first fiscal quarter of 2008 — which was significantly above Wall Street's consensus estimates at per-share earnings of $1.42 on sales of $9.2 billion.
"With Apple becoming notorious for providing overly conservative guidance, the biggest surprise of the quarter may be that the December quarter outlook was ahead of Street consensus," he wrote. "Apple's product lineup for this holiday season is undoubtedly its strongest ever and we believe this will allow the company to achieve and likely exceed expectations."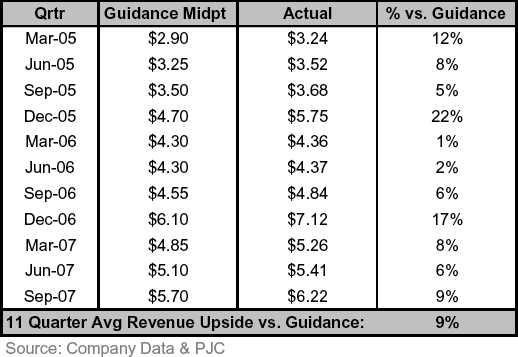 Apple has typically beat its own guidance by an average of 9 percent over the past 11 quarters, the analyst explained, but said that scenario seems unlikely for the December quarter.
Munster maintained his "Outperform" rating on shares of Apple, raising his price target once again from $211 to $222.