Primate benchmarks Apple's new 8-core Mac Pro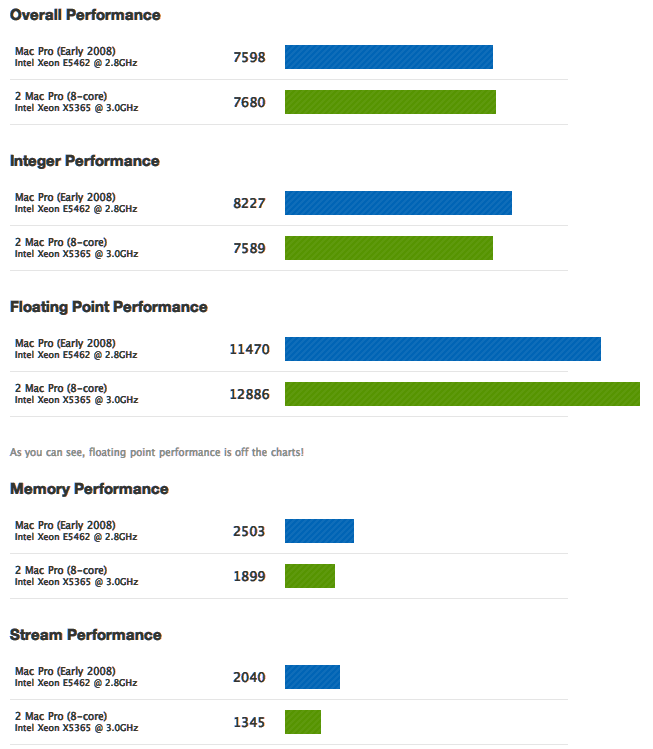 AppleInsider is supported by its audience and may earn commission as an Amazon Associate and affiliate partner on qualifying purchases. These affiliate partnerships do not influence our editorial content.
Just days after its introduction, the folks at Primate Labs have grabbed hold of one of Apple's new 2.8GHz Harpertown-based Mac Pros and pit the system against its 3.0GHz Clovertown-based predecessor in a set Geekbench benchmark tests.
The results saw the new Mac Pro with its two 45-nanomete (nm) quad-core 2.8GHz chips and 2GB of 800MHz DDR2 RAM nearly match the overall performance of the previous-generation Mac Pro, which employed two 65 nm quad-core 3.0GHz chips and 1GB of 667MHz DDR2 RAM.
While the Harpertown Mac Pro trailed the Clovertown machine in floating point performance, it bested the system in integer, memory and stream performance. Overall, the Hapertown Mac Pro achieved a Geekbench 2 score of 7598 compared to the Clovertown Mac Pro's 7680.
The results are impressive, notes Primate, when you consider that the new Mac Pro is much more affordable than the old Mac Pro. Apple also offers the latest Mac Pro at speeds of up to 3.2GHz — a configuration which should handily trounce the 3.0GHz Clovertown machine in each and every benchmark.