How the MacBook Air stacks up against other ultra-light notebooks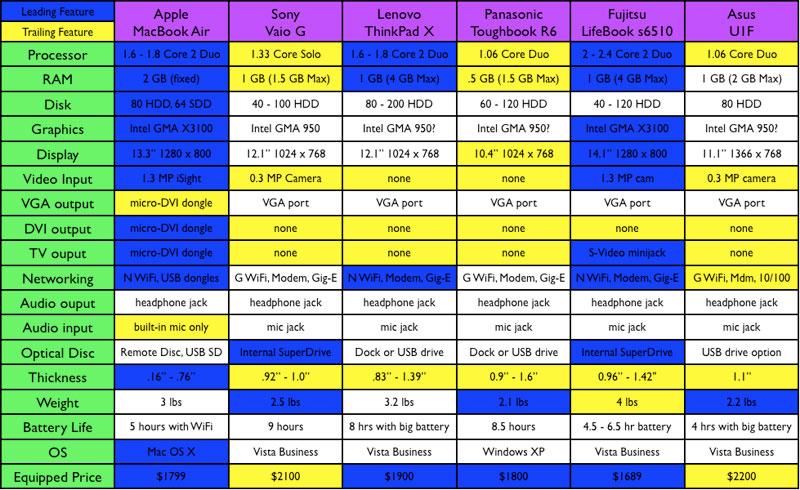 AppleInsider is supported by its audience and may earn commission as an Amazon Associate and affiliate partner on qualifying purchases. These affiliate partnerships do not influence our editorial content.
At last year's Macworld Expo, Apple's dramatic unveiling of the iPhone divided the world into two camps: those who were excited about the state of the art being pushed, and those who were irritated that Apple was the one doing it. This year, the role of the iPhone is being played by Apple's new MacBook Air.
As with the iPhone, Apple wasn't inventing a new category of product when it announced the MacBook Air. The ultra light notebook category has been steadily refined and advanced by Sony, Panasonic, Fujitsu, Lenovo, and many others; each manufacturer has delivered product lines designed to match their customers' needs.
Sony targets high end consumers; it leverages its physical media engineering prowess to build DVD burners into most of its models, something that few other light notebook makers even attempt to do. Sony's Vaio line is splashy and feature rich, but isn't commonly regarded as well built or durable.
Panasonic is known for its ruggedized Toughbook line, designed to operate in rough environments. Its models commonly trade off high end performance and features for extremely light weight and compact size. That relegates Panasonic's fans to mobile business users, and makes it less appealing to mainstream consumers.
Lenovo, which bought up IBM's PC division, continues the venerable ThinkPad line as a highly regarded workhorse that delivers top performance in a thin but well constructed case — all work and no play. ThinkPads are also known for their long usable life and their fingertip controllers rather than trackpads, something that polarizes users for or against based on their personal preferences.
Fujitsu is another leader in light and thin notebooks, but also makes more general purpose machines that borrow from its leading edge thin designs. Its larger sized lines are powerful and economical while still remaining thin and fairly light. Fujitsu also makes Tablet PC convertible machines with the flip-around monitors that have yet to prove popular because they are gutless and expensive.
Asus, best known for its popular $350 EEE PC toy notebook, is also making inroads into the light notebook business. It's targeting low powered thin models with small but higher resolution displays than most of the competition.
Of course there are many other makers of light notebooks. Dell and HP both make lighter notebook models, but none are really comparable to the top competitors in the ultralight market; instead, those two companies target the mass market, which hasn't yet started chasing light thin notebooks because of the engineering tradeoffs they require to drop the pounds and millimeters and their commensurate price tags.
With Apple now competing fiercely against Dell and HP for mainstream notebooks and rapidly gaining market share, it's no surprise that Apple is leading the two contenders in its move into the ultra light notebook market.
Who is in the market to buy an ultralight Mac? Apparently Apple's market research is telling the company that it's well heeled business people who demand mobility first. Steve Jobs has previously talked a lot about building cheaper things that can be sold in volume rather than expensive things that target a niche market. The iPod, iPhone, Apple TV, and other recent products all fall into lower priced devices that the majority of Apple Store buyers can afford.
How The MacBook Air Stacks Up Against Other Ultra Light notebooks.
So what about the Air? At $1799, the new model is nearly twice the cost of an entry level MacBook. Clearly, it's not directed primarily at education. However, compared to other ultralight notebooks, the Air is very competitively priced. While clearance deals can be found among last year's models, the current Sony Vaio G series, Lenovo ThinkPad X60, Panasonic Toughbook R6, Fujitsu LifeBook s6510, and Asus U1F are all at least within $100 of the Air, and most of them are priced significantly higher when configured with the same processor, RAM and other core features of Apple's entry level Air configuration.
The Illusion of Features in Complex Configurations
Apart from the models I looked at in detail, all of the ultralight makers also maintain various other model numbers and lines that all deliver slightly different mixes of features. The common thread is that each model also offers a bewildering variety of options unto itself. However, it appears that all of this choice is largely designed to mask reality behind attractive sounding numbers.
Base model prices frequently exclude Bluetooth and Wireless N and most of the models ship with 1GB of RAM or less in the default configuration, neither of which could be described as reasonable when running Windows Vista to do the actual work buyers expect to do with their new ultralight notebook.
Also, many ship with a lean battery which the manufacturer includes primarily to advertise a slim profile and light weight. Over half of the models I looked at recommended a big strap-on battery that made the unit considerably heavier and bulkier, just to pull off the advertised "maximum" battery life ratings. Additionally, while most of the models advertise around 8 hours of battery life, they hit that target by turning off WiFi. When wireless is turned on, they actually achieve about 4 hours of use, based on tests performed by reviewers. Apple only advertises one number for the MacBook Air: 5 realistic hours of life with WiFi running.
On page 2 of 2: How to Be Thin; What's Missing in the Air; and The Very Hot Air.
Different manufacturers target their own intended market by specializing in one area or another. Sony skimped on CPU performance, graphics resolution, and display size in the Vaio G series to deliver a thin light notebook with a DVD burner, and in doing so scraped the high end of the price comparison. The Lenovo ThinkPad piles on everything from performance to RAM expandability and a full assortment of ports to deliver a full featured machine in a tight but not extremely small package. Panasonic's Toughbook drops features across the board to deliver a very light and thin notebook with a tiny 10.4" screen.
And Apple: it matches the top performance of the ThinkPad, bundles in Bluetooth and WiFi N as standard, delivers a larger 13.3" screen at higher resolution, while matching the ThinkPads weight and remaining thinner at its thickest point than all the other models at their thinnest. And in price, the Air matches the Fujitsu LifeBook, which at 4 pounds and 1.42" thick, is closer to being a full sized machine, and considerably thicker than even Apple's entry level 1" thick MacBook.
Apple also throws in a full featured 1.3 MP video conferencing camera. Many of the ultralights don't include a camera, and those that do, like the Sony and Asus models, commonly use a far poorer quality 0.3 MP unit that won't result in satisfactory pictures. Apple also built in DVI video output allowing the Air to drive a 24" digital display, and analog TV output in addition to the VGA output that most other notebooks settle upon.
What's Missing in the Air
The art of engineering is as much about leaving things out as it is building things on. Apple made some risky decisions with the Air that other manufacturers weren't likely to try anytime soon. If the Air succeeds, expect them to start copying, as indeed they should. That's how the state of the art is pushed.
For example, Apple simplified RAM configuration by making one: 2GB standard, with no room for expansion. That means that the Air comes with enough RAM to be highly usable, while lacking the option to drop in more DIMM cards at some point in the future when 2GB won't seem like very much. Of course at that point, the Air itself will likely be obsolesced by a more powerful version, and third parties will likely start offering a mail in option to solder on higher density chips. The main use for more RAM is running intensive applications, something that nobody with an Air should be planning to do; it's a mobile unit, not a desktop replacement.
How do competitors' compare? They all ship 1GB of RAM, but many of them can't even support more than 1.5GB total. Only the LifeBook and ThinkPad can expand to 4GB, and do so by being physically bigger. The other problem for notebooks not running Mac OS X is that no matter how much RAM you install, Windows only lets you use 3.3GB of it because of its 32-bit limitations. As Fujitsu warns: "When 4 GB of memory is installed in a Genuine Windows Vista system, approximately 3.3 GB is addressable memory; the upper memory is reserved by Genuine Windows Vista for hardware usage."
Apple also doesn't offer a wide range of hard drive options. There are in fact only two: an 80 GB HDD and a 64GB option to use a Flash RAM Solid State Drive at an expensive $999 premium. Of course, users will have the ability to pop open the Air and install their own hard drive as prices of SDD fall and capacities of HDDs rise. Apple doesn't match the 120GB HDD options other makers offer because the MacBook Air uses smaller format drives and the 120GB version of those drives, such as the one used in the iPod Classic, are simply too big to fit in the notebook because they require additional physical platters. Again, the Air is designed to be mobile, not an all encompassing data repository or a film editing workstation.
There's also no option to hang an extended capacity battery unit off the back end of the Air. Presumably, users will need to carry a charger and keep it plugged in whenever they plan to work for longer than 5 hours. Since Apple's battery rating applies to having WiFi on, the actual life you'd get in a plane should be longer. Of course, planes also have power sockets, too.
Apple also dropped additional USB ports, FireWire, and Ethernet ports, expecting users to do their business with a single USB jack. For users who desire the mobility of the Air, not being able to tether to an Ethernet cable seems like a non-problem. Until Apple did it, who could imagine a notebook shipping without an Ethernet port? A variety of other ultralight limitations have been worked around in software for the Air:
a more capable multi-touch trackpad that goes far beyond what a finger joystick or standard pad can do.
Remote Disc networking and discovery software that makes an optical disc drive largely unnecessary.
a Wireless Migration Assistant that magically imports settings and files from another computer.
That package of features gives Apple the simplicity of marketing two MacBook Air configurations: the $1799 base model with a HDD and a high end $3100 model with the fastest processor and futuristic SDD storage. Everyone else is left marketing the many configurations of the s6510 and the X61 and the G-11 alongside their C291NW/G and P1610 and R61e, T61, and X61s. Apple also sells a MacBook and MacBook Pro line. Imagine which model names will make any sense to consumers and be something they can remember.
Even if Apple's MacBook Air wasn't competitive in its raw performance, its graphics display, its weight and size, and its pricing, the fact that its models stick out as well designed machines in easy to understand configurations should make the Air a hot seller.
The fact that Apple will be showcasing the new model in its own white-hot retail stores will also help push Air out the door rapidly. The company's sky-high satisfaction ratings from everything from Mac OS X 10.5 Leopard to the iPhone should also help fuel uptake of the new Air.
The burning question that remains is: what's up next from Apple?